High Quality Protective Gloves
High-quality race gloves with all the right features but at an astoundingly low price.
Veloce has been developing a line of motorcycle clothing, and when they sent this pair of "Legionnaire" gloves a few weeks ago their website wasn't even up and running.
They never mentioned pricing, and I had no idea about how much the gloves cost until about 3 minutes before I started this review, when I visited their site to get some background information on the company.
After riding with the gloves for a couple of weeks and looking them over carefully as we were taking the photos, I had assumed they were probably selling for something in the neighborhood of, oh, maybe $200 or so?
I figured they were direct competitors to high-end products like the aptly-named Hurt Schizo gloves, which cost a beyond-outrageous $300.00+ or maybe the Teknic Speedstars at $180.00.
But unless my eyes are deceiving me, the list price for these Veloce Legionnaire gloves is only $95.00. How they're making any money is beyond me, because as far as I can tell, these gloves seem to be the equivalent of the best motorcycle race gloves we've seen.
In fact, I just went back to their website to check again, and yes — the current list price is $95.00.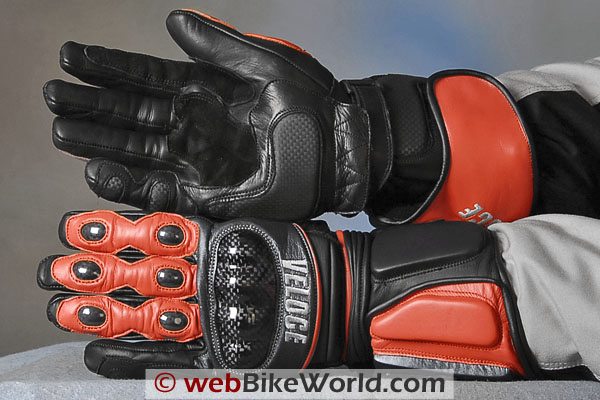 ---
Where to Buy Veloce Legionnaire Gloves
Check Reviews & Prices on Amazon
Check Reviews & Prices On RevZilla
Also: Motorcycle Jackets, Motorcycle Gloves, Motorcycle Boots, Motorcycle Pants
---
More on Veloce Gloves
The company is developing other types of gloves and race leathers (including their "real" full race glove, the Primus), all with an interesting marketing twist: "The inspiration for our entire line came from Roman times and the Roman Army.", they told us.
Thus the names like "Legionnaire" and "Primus" for the gloves, along with "Emperor", "Centurion" and the like for their upcoming line of men's, women's and even children's leather clothing.
They have an interesting "History & Fun Facts" section on their website that describes the background and meaning of the names.
"The Romans were reputed to have the best armor available which contributed significantly to their success on the battlefield", Veloce says, so when you think about it, the use of Roman terminology actually works.
And the Veloce logo is a highly stylized eagle, another symbol used by the Romans in battle.
"Our goal going into this venture was to provide riders optimum or "best possible" protection at an affordable price, while still be able to offer comfort.", according to the company.
"During the inception of our designs, we consulted with riders from across the country who rode different types of motorbikes, from styles to riding environment.
Thus, we have naked bike riders giving us their feedback at the same time as track sport-bikes riders. It was a unique opportunity to see and hear what people actually wanted in their safety apparel."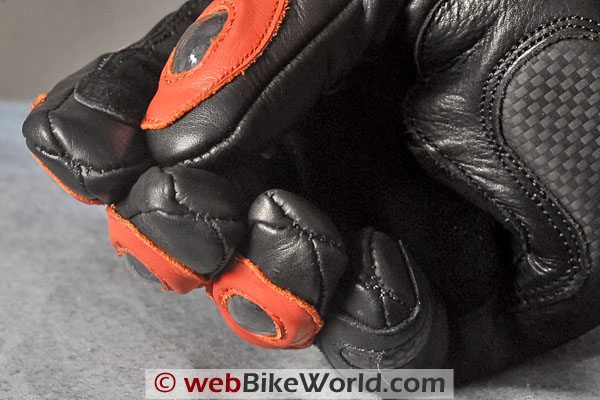 ---
Where to Buy Veloce Legionnaire Gloves
Check Reviews & Prices on Amazon
Check Reviews & Prices On RevZilla
Also: Motorcycle Jackets, Motorcycle Gloves, Motorcycle Boots, Motorcycle Pants
---
Glove Details
Veloce uses "naked leather" in their products. Apparently, this is the first cut taken from the hides, and it's supposed to be the most supple — and the most expensive.
I'm not sure if that's what makes the Legionnaire gloves look and feel so nice, but the leather, especially in the gauntlet, feels about as supple as any I've experienced. In fact, I thought maybe it was goat or kangaroo at first, it's that good.
The Legionnaire gloves have all the right features, including carbon fiber knuckle protectors over the first, second and knockout knuckles.
The big carbon fiber protector over the big knuckles floats on a separate section, and it's even nicely lined underneath — where no one would see it, by the way — with soft fleece.
The gloves also feature plenty of double stitching around the wear points, including the extra padding located on the heel and the pinky finger.
The gauntlets have 3 big memory foam padded sections, and the back of the wrist is articulated, a feature not often seen even on gloves costing a lot more.
The gauntlets fit over lined winter textile jacket sleeves, as we discovered during our recent cold weather, so they should be big enough to fit over a pair of race leathers.
A wrist strap and gauntlet closure secure the gloves to the rider's hand on the bottom side of the wrist with hook-and-loop fasteners.
The sizing apparently runs slightly large; Veloce sent us a pair in size medium, and although I normally take a size large, these fit. I'd say the gloves run maybe 1/2 size big; in other words, a medium seems to be equivalent to what I'd expect in a tight size large.
I had some trouble at first squeezing the gloves on my relatively skinny mitts, and I had to give a few tugs to stuff my fingers up inside and then I had to push the leather down in between each digit.
But after about 3-4 rides the leather started to get broken in and the gloves are feeling good.
But just keep in mind that these are cheetah-like race gloves and not the bulky winter waterproofs you're probably wearing right now, so thick or stubby fingers may be more difficult to fit.
I expect this pair will loosen up even more after they're fully broken in.
You'll notice as you read our many reviews that the fingers of motorcycle gloves are stitched using either "box" construction or the hidden stitch style.
There are pros and cons and fans and detractors of both; the box style keeps the stitches on the outside for better theoretical comfort on the inside, and they can be made to fit thicker fingers.
Internal or hidden stitch construction keeps the stitches on the inside so they don't abrade and burst during a crash.
That's the theory anyway, but like most things in life, it's not always black and white. I've worn box-stitched gloves that are uncomfortable or too bulky and I've also worn gloves with hidden stitches that I didn't notice.
The Legionnaire gloves have what looks like a sort of hybrid construction, as you can see in the photo below showing the fingertips.
The stitches are internal, but the fingers have four sections of leather that come together in the shape of an X at the fingertip.
So they're sort of a box section but using internal stitching.
The gloves have a bit of lining on the inside and although I can feel a seam here and there, overall they're comfortable for a race-style glove and I'm confident they'll be more so over time.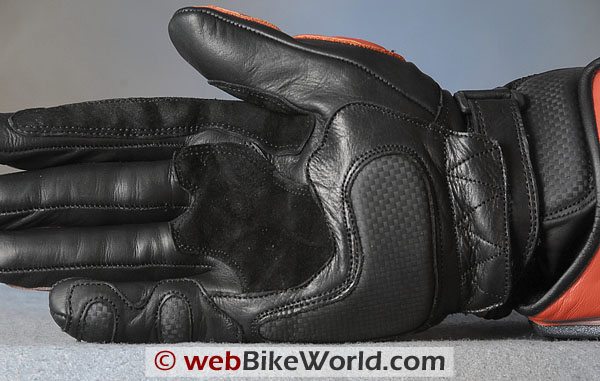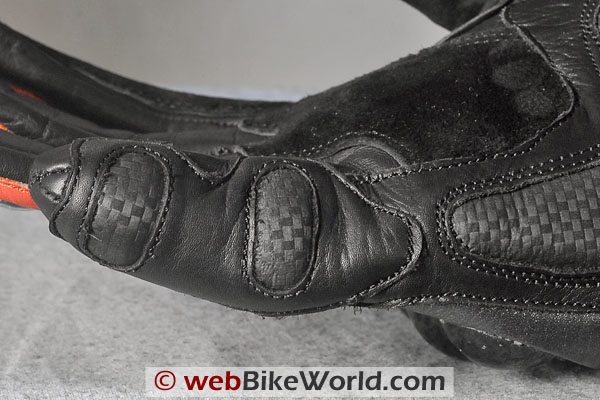 The gloves are very well made — extraordinary actually, considering the price. They even feature some nice leather piping along the backs, but this is probably one place where the Veloce sewing machine operators got a bit carried away.
There's a fine line between too few stitches and too many; too many stitches in too small of an area can actually weaken the leather, and that's apparently what's happened on this pair where the piping meets the sides.
You can see in the close-up in the first photo below that there are too many stitch holes through the end of the red piping.
In the second photo, you can see what happened after stretching the gloves over my hands a few times; the piping pulled apart, right where the stitches weakened the leather.
In this case, it's not really a big deal because the piping is more for show than go. Also, this pair was from the first production batch so it may be related to that.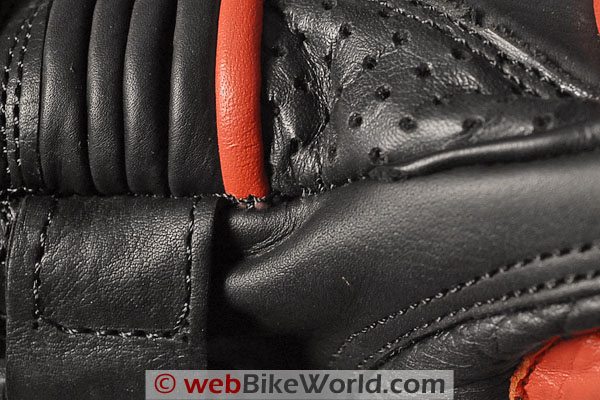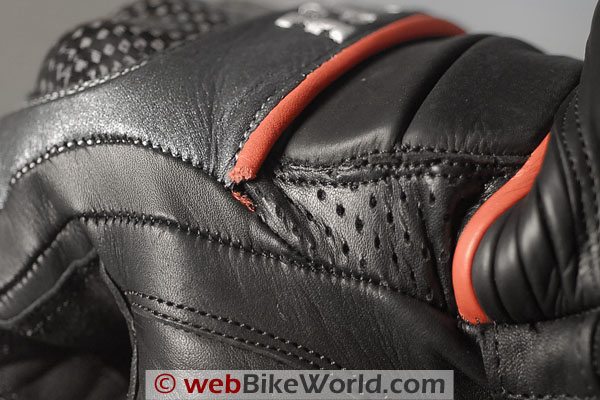 Conclusion
The Veloce Legionnaire gloves are loaded with features at a great price.
It's nearly impossible to truly evaluate and compare the protective qualities of motorcycle gloves to determine how well they will perform in a crash, but from what we can tell, these seem to be equivalent to gloves costing two to three times as much.
w

BW

 Review: Veloce Legionnaire Motorcycle Gloves
List Price (2007): $95.00
Made In: Unknown
Colors: Black with Red, Blue or Black.
Sizes: XS-XL
Review Date: December 2007