Legionnaire 2 Gloves Review Summary
Legionnaire Gloves Image Gallery
Revised version of the original Veloce Legionnaire gloves now with added features and upgrades. The Legionnaire gloves still offer very high quality at a very reasonable price. In This Series:  Part 2:  Veloce Primus Gloves. We first reviewed the Veloce Legionnaire motorcycle gloves in December of 2007 (review) and were impressed with their comfort, quality and features, all at an amazingly low price. The few quibbles we described in that review have been addressed by Veloce and the new version of the Legionnaire gloves also feature a few upgrades to make these gloves an even better bargain.
It isn't often that a motorcycle leather or glove manufacturer demonstrates a real passion for their products. This is partly because motorcycle gloves have more or less become a commodity item. Just about anyone can source a design from an overseas supplier, throw on a logo and buy a couple of pallets with a variety of sizes and colors.
How do I know? We get about a half-dozen emails a day with such offers, and I've followed up on a few just to see what it would take to build the "webBikeWorld Ultimate Glove". Don't worry though: with barely enough time to get out for a ride, there's simply no way I'm going to get involved in a retail operation. Trying to run the annual webBikeWorld Spring Sale is hard enough (sorry, I had to get the plug in there somewhere!).
But there are a few glove retailers who I assume are just in it for the money. Sometimes the importer doesn't know motorcycle gloves from garden gloves, so it's "Buy 'em, mark 'em up and move 'em, out the door.
With lots of money is spent on marketing…
By the way — this strategy is also used for just about anything that's for sale in our sport, including motorcycle clothing, accessories and even helmets.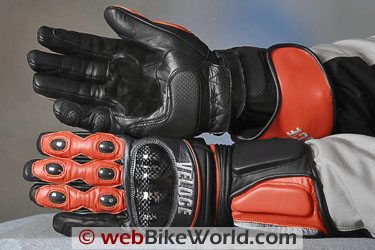 So it's very rare indeed to find a designer or importer who actually cares enough — and knows enough — to actually develop and specify the design, materials, patterns, stitching and quality for gloves that will really do the job.
Which pretty nicely describes VeloceGear.
We're impressed — they took all of the feedback from our review of the original version of the Legionnaire gloves, along with comments and suggestions from owners, and went to work on "Version 2.0", which are now available for sale.
Frankly, I've never come across a company that seems top be so obsessed with motorcycle gloves. They've continued to communicate with us since the original review for feedback, suggestions and discussion.
My impression is that they are very serious about their products, and it shows.
The updated "Version 2" of the Legionnaire gloves are equally as impressive as the originals, and they now includes a few new features that improve both the performance and looks.
And guess what? The price hasn't changed! The Legionnaire gloves still sell for $95.00.
VeloceGear has also introduced the new "Primus" race glove (review) that is covered in Part 2 of this two-part series. The Primus is the flagship of the Veloce line.
They feature kangaroo palms; a venting system on the fingers and thumb; attached 3rd and 4th race-style fingers and a doubled gauntlet. The Primus gloves carry a list price of $169.00, which is also an excellent bargain for race gloves of this caliber.
The Legionnaire "Version 2" Motorcycle Gloves
But prospective owners won't have to worry about feeling shortchanged by spending "only" $95.00 on the Legionnaire gloves. The Legionnaire gloves have many of the high-end features found on top-line gloves costing twice as much.
The overall look and feel of the updated version of the Legionnaire gloves is even better than the originals.
The "Veloce" logo that was stitched into the leather on the back of the hand in the original may have looked good, but some owners didn't like to see all those stitches perforating the leather.
The new version features VeloceGear's "SPQR" trademark embossed into the silvery-gray contrasting leather surrounding the carbon fiber main knuckle protector.
My 6 years' of Latin from high school and college has long become rusted, but I believe SPQR is an acronym for "Senatus Populusque Romanus", or "The Senate and People of Rome".
This was — and is — commonly seen in many inscriptions in ancient Roman times, and I remember it shown on the flags of Roman legionnaires in the Latin textbooks.
VeloceGear has been channeling ancient Rome and using the Latin naming conventions for all of their motorcycle clothing. They have a slightly different take: SPQR stands for "Salvus Praesto Qualitas Raffinato", translated by VeloceGear as "Safety, Performance, Quality and Refinement".
As far as I know from my half-Italian ancestry, "raffinato" is Italian, meaning "to refine". I thought "refinement" was roughly translated as "excolo" in Latin, but probably only a Latin savant would know (or care) about that.
In any case, some may think it all a bit hokey, but as a student of ancient Rome, I think it's an excellent idea and I can definitely see the connection between Roman armor and philosophies and protective motorcycle gear.
Materials and Construction
The leather used in the Legionnaire gloves is 1.2 mm thick cow hide — good stuff. It's very supple, and as you can see in the photos of the contrasting red sections, there are plenty of doubled-up layers to add protection.
The large molded carbon fiber main knuckle protector "floats" on a completely separate body of leather and it's well-padded underneath. The hand sizing across the palm is generous — none of that tightness we've found on many "race" styled gloves from other manufacturers.
VeloceGear says the gloves are sized for American hands, which I assume means, uh, "thicker than average"?
My hands are by no means beefy, but the gloves fit about 1/2 size big, which actually leaves a bit of extra room for the swelling that occurs when gripping the handlebars or sweating.
However, the fingers on this example are a bit too long, and an email to VeloceGear leads me to believe this pair is from an early production run and VeloceGear has assured us that the sizing will be correct on production models.
Other new features include the semi-sticky palm/finger wear pad overlay, which is double-stitched and has the cool "SPQR" logo. The material does provide better grip, especially when the grips are wet, as I can attest.
The downside is that the extra layer of wear pad and the thick leather palms, in addition to the full lining in the Legionnaire gloves conspire against providing the same level of grip feel as the Primus gloves with their thinner kangaroo skin palms and smaller wear patches.
Although, as you'll read in that review, the lining slightly attenuates grip feel on the Primus gloves also.
The Legionnaire gloves feature a covered wrist attachment and a standard gauntlet attachment; both secure with hook-and-loop. I can not pull the Legionnaire gloves from my hand when the wrist strap is secured, so they pass this crucial test.
Comfort and Feel
The gloves are comfortable overall, realizing, of course, that these are semi-race or sport-touring or street/track-day gloves and not touring gloves. So ultimate comfort takes a back seat to performance.
I might be able to do without the full lining, but they are nice and comfy and the material is soft. That thick leather may take some time to fully break in though.
[ADDENDUM:  I forgot to mention temperatures. My feeling is that the Legionnaire gloves are appropriate for riding in temperatures ranging from 12 to 24 C (about 55 to 75 F), give or take 2 C or so.]
After Burn and I took the photos of the Legionnaire Version 2.0 (or should that be "Exemplum Duo"?), I realized we have standardized on our glove reviews to the point where we ended up with nearly the exact same set of photos for both gloves.
So here's a pictorial representation of the differences between Legionnaire Exemplum Unus and Duo: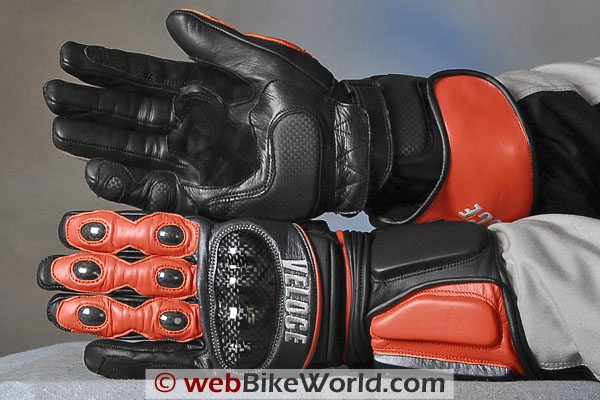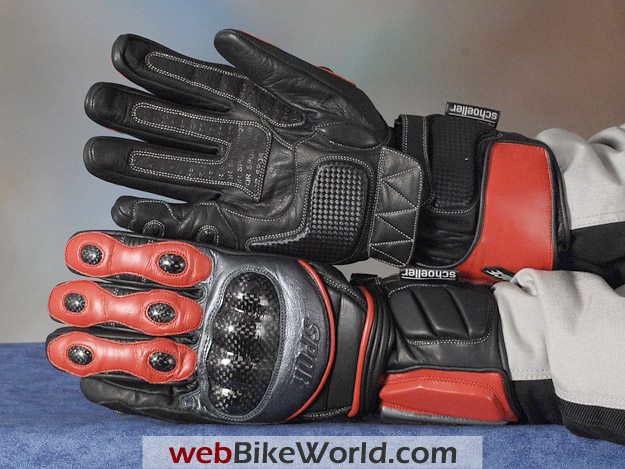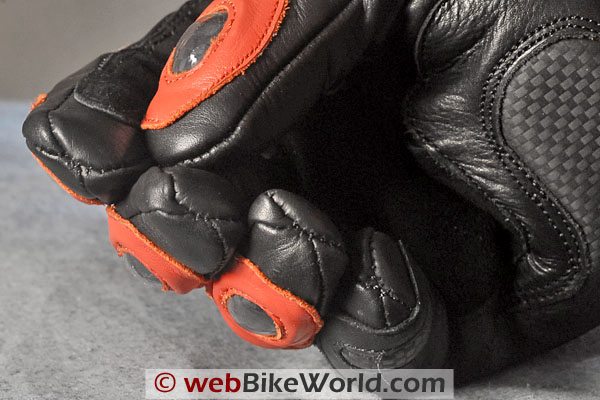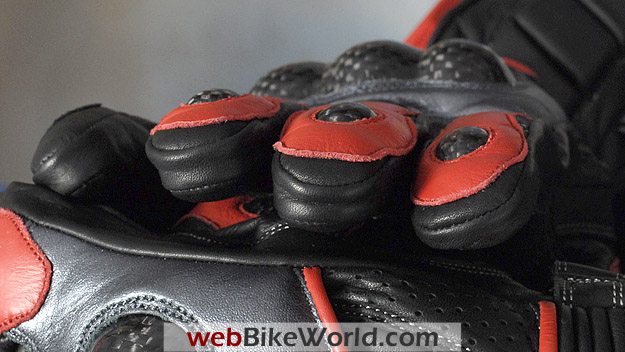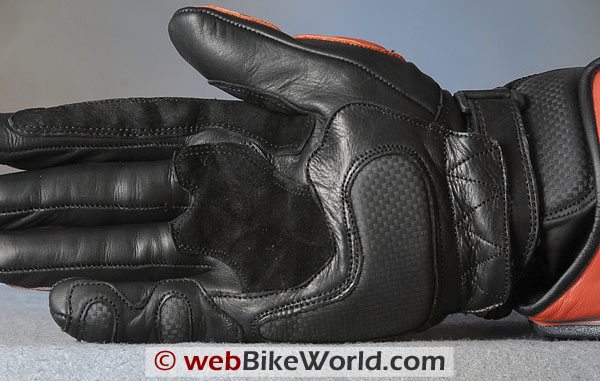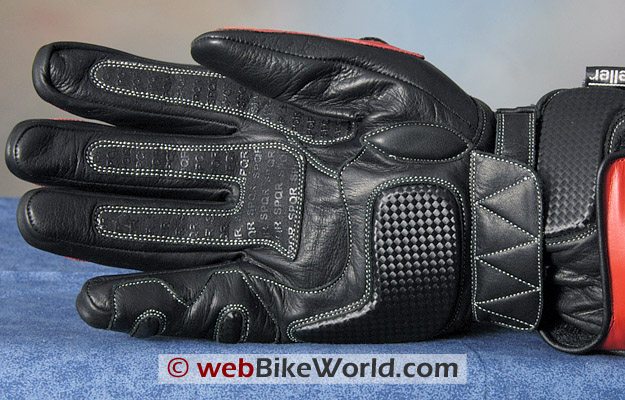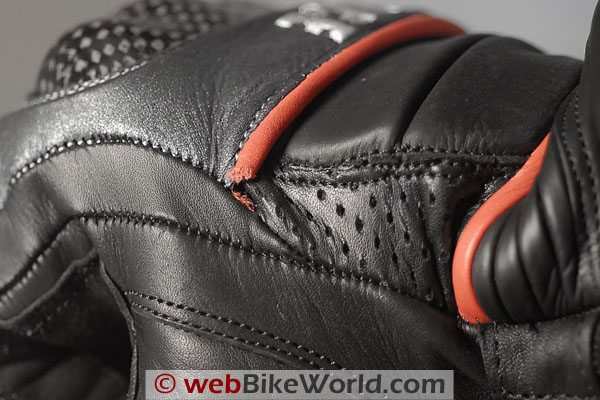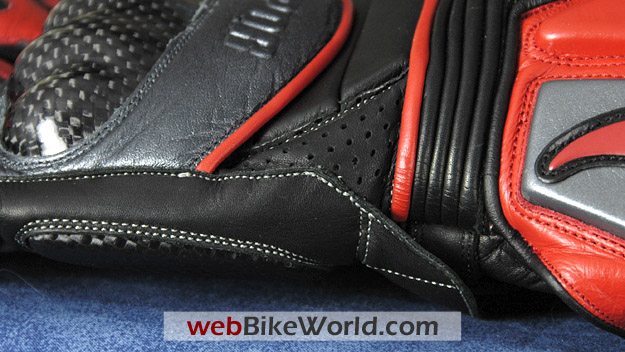 Conclusion
The Veloce Legionnaire gloves are loaded with features at a great price. It's nearly impossible to truly evaluate and compare the protective qualities of motorcycle gloves to determine how well they will perform in a crash, but from what we can tell, these seem to be equivalent to gloves costing two to three times as much.
Part 2: Veloce Primus Gloves
w

BW

 Review: Veloce Legionnaire 2 Motorcycle Gloves
List Price (2007): $95.00
Made In: Pakistan
Colors: Black with Red, Blue or Black.
Sizes: XS-XL
Review Date: April 2009
Note:
 For informational use only. All material and photographs are Copyright © webWorld International, LLC since 2000. All rights reserved. See the webBikeWorld® 
Site Info page
. Product specifications, features and details may change or differ from our descriptions. Always check before purchasing. Read the
Terms and Conditions
!
Owner Comments and Feedback
---

Editor's Note: Fortunately, many riders assisted in various stages during the development of this product; unfortunately, this means that I can't post comments for the product due to the inability to determine potential conflicts of interest. Sorry!
---
Follow-up From VeloceGear (Updated 5/09): "We would like to thank you for an objective review of our gloves. We appreciate your site's candid feedback about our products and appreciate how detailed your reviews are. You provide a valuable informative service not only to consumers, but also to us as manufacturers.
We would like to comment on some things from your reviews. With regard to our SPQR motto, we appreciate your understanding of how ancient Rome and her army serves as our inspiration. We were further impressed by your grasp of Latin and the translations of our SPQR and Rome's Indeed, Raffinato means to refine.
We do state that we do loosely translate it to Refined – as in to refine is to end with something Refined. Excolo unfortunately would not have worked. Great work! And Exemplum Duo – Nice touch!
With regard to the women's apparel, we did our best to research factual historical data of women's roles in Rome's history. We came across the names Achillia and Amazon during such research. These names were Greek inscriptions found on a marble carved relief from Halicarnassus (Bodrum, Turkey).
This historical piece can be seen at the British Museum. We named our women's apparel Achilliaand Amazon to honor these female warriors with the same level of honor as their male counterparts – as we did with our men's apparel. Additional, the term Gladiatrix was actually a term used in Rome for female Gladiators / Fighters. However, we decided not to use this term or name.
Since our first review, we spent a fair amount of time researching new manufacturing partners. After a thorough search, we decided upon a Pakistani company. We share a passion to excel with our new partners and we hope the benefits of this new partnership show in our new product line. Our new partners are ISO certified and use modern technological manufacturing processes and materials to deliver the best possible products.
With regard to the Primus, we decided on TPU for the knuckle cover primarily for safety reasons. The material has excellent abrasion properties. It also offer betters shock absorption and G-Force deceleration and dispersion on impact.
Because it has a slight give on impact, it helps disperse the impact forces across a wider area thus transferring less impact force to the rider's knuckles.
Additionally, as the Primus is geared or targeted towards a racing environment, there is less chance of shards of debris or shrapnel like pieces left on the track in the event of a crash – and though a minimal benefit, we at least hope this means the trailing riders do not suffer a puncture from glass like shards from C/F.
We once thank you for taking the time to review our products.
Sincerely, Veloce Gear USA."