Protect Your Second Favorite Organ!
Well, spring is in the air and chances are, if you haven't got your chance to hit the road in your Harley Davidson yet, you are probably getting symptoms of the H-D fever by now. The truth is that a true motorcycle enthusiast never shies away from getting out on the open road. Though some people just don't like wearing a motorcycle helmet, a real rider knows the law, and how to ride safe and smart.
In the world of motorcycle helmets, there are countless types to choose from. Motorcycle helmets are designed with a good deal of thought, which focuses on the design and protection that is needed on the road.
In addition to its utility, some people prefer choosing their motorcycle helmets to make a style statement and switch their requirements from safety to heavy designed helmets, which are fittingly known as novelty helmets.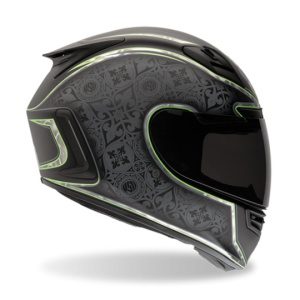 Carbon Fiber Helmets
Motorcycle helmets that are made from real Carbon Fiber are the lightest and lowest profile motorcycle helmets that are still able to meet, and in some cases exceed, the DOT Certification standards.
Besides the weight and small size of the Carbon Fiber helmets, the fiber weave design is also far better at absorbing forces of an impact compared to most other helmet materials.
Carbon fiber, a material known for its high strength to weight ratio, offers everything a rider needs, from rigidity, corrosion resistance, to electrical conductivity and fire resistance.
The Open Face Helmet
As far as motorbike helmets go, the open-face is a classic retro style motorcycle helmet, and is one that we (well most of us) have grown up watching in Wesley Anderson movies, and as much as I like the genius of Wes Anderson, it still doesn't provide the protection of the full-faced motorcycle helmet.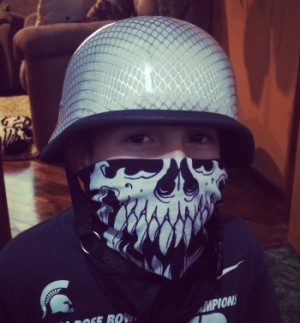 The Shorty
The half helmet or 'the Shorty' as it is popularly known, offers the minimum amount of protection while still hovering within the circle of the law.
The Shorty comes with or without a visor and in various colors, sizes, textures and designs.
The biggest problem with this type is that they have the tendency of shifting a bit more while a person jostles around on their bike.
When it comes to safety and the law, you might not get a ticket in a Shorty but you might scrape your chin on the cold tar.
The Full Face
The full face helmet offers the most when it comes to protection. As compared to the other kinds, full faced helmets really have no competition as most people prefer them because of their various uses, such as blocking out the wind, rain, dust and rays of the sun, and of course, because they also protect your head.
Most Harley/Chopper enthusiasts look forward to displaying their works of art (their bike) whenever they ride, so it's only natural that they will look for a helmet that will be the final touch to their art (read bike).
Women's Motorcycle Helmets seem to do a "fabulous" job at this. Other novelty helmets are unique in their own right and do provide some protection to the rider on the road.
The helmets come in different airbrush designs that are custom-made according to the biker's personality. The following are some of the more famous types of novelty helmets.
Types of Novelty Helmets:
Size it Up:
To get the right sized helmet, you should measure the circumference of the head just like you would with a headband, one inch above the ears and eyebrows. If you are looking for a full faced motorcycle helmet, it should fit comfortably and not be too tight. Here are some of the sizes available.
X-Small (XS) = 19 1/8″ – 20″
Small (S) = 20 1/8″ – 21″
Medium (M) = 21 1/8″ – 22″
Large (L) = 22 1/8″ – 23″
X-Large (XL) = 23 1/8″ – 24″
XX-Large (XXL) = 24 1/8″ – 25″
Choose a Lid for Your Melon:
Let's face it, riding a bike without a helmet is dangerous, but like the true 'American way', I resent anybody telling me which type of motorcycle helmet is good for me.
On the other side of the divide, some people also like to make the argument that helmets cause accidents, which is a point I would agree with, if it were true.
The bottom line is, when it comes to safety while you're on the road, be smart and pick up a helmet. But before we talk about novelty helmets, you should first go to the store and check out the different styles of motorcycle helmets that are available in the market.
Pinstripes- A novelty not to miss.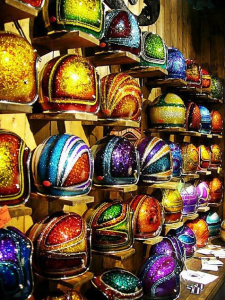 Pin-striping on any helmet is considered an art, and one the can be applied to all types of helmets. While it is not for every type of biker on the road, a custom paint job is one of those status symbols that offers it own bragging rights – when you do it your self.
Here is a primer on pin striping the infamous motorcycle helmet.
Spikes, Crystals, and other accessories
Just how you choose to accessorize your new accessory is up to you. I can only present the tip of the fancy-dancy iceberg in the world of helmet accessories(my man-card limits me to spikes). Here are a few:
Better Material Makes a Better Helmet:
Due to their customized design, novelty helmets have gained a considerable amount of fame amongst motorcycle enthusiasts and motorcycle helmet collectors. They are mostly built by using plastic or fiber glass, which do offer a considerable amount of protection to the rider along with making them look cool.
Recently, these custom helmets started getting produced out of higher strength materials, and some are stronger than there DOT counterparts.
50 Coolest Helmets
We can't have all this talk about novelty this, and accessorize that – without talking about the 50 coolest helmets of 2014.
Now this list (pictures included) will be sure to get you thinking about your next helmet project.
Helmet Ratings: They're there for a Reason!
There is also a rating system which is given to motorcycle helmets by the road safety authorities. Two of which are:
The DOT Standard:
The DOT rating system simply indicates that all motorcycle helmet manufacturers should meet the basic DOT standards, without any actual testing on the helmets themselves. DOT ratings are quite simple to come by, and almost anybody can make and sell a helmet with a DOT sticker.Fortunately (for bikers), DOT inspection personnel periodically buy helmets and send them to independent labs for testing to assure that they meet the required safety standards.
The Snell Standard:
The Snell rating system is much more stringent when it comes to rating motorcycle helmet manufacturers. It is also completely voluntary, which means that helmet manufacturers can choose whether or not they wish to meet Snell's advanced safety guidelines or not.
The safety standards of Snell are set to levels that only the best, most protective motorcycle helmets can meet. The Snell standard is based on actual testing on actual motorcycle helmets.
Where do I buy a badass novelty helmet?
Conclusion – Are you a real biker?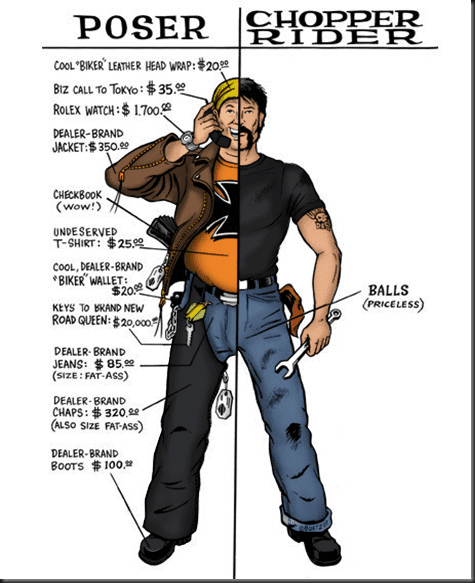 There are close to 800,000 novelty helmets that are sold each year in the United States alone, and those numbers continue to rise. So, if you are a biker without a helmet, get back to the store and remedy that mistake, right now.
 Ride Safe, and may your ride be Badass!