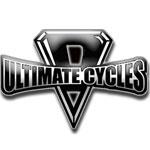 Bought from the US custom shop Ultimate Cycles Inc in Newburgh NY where it used to belong to Justin Barnes. The former OCC painter who built this bike, painted it and dubbed it the "Ultimate bar hopper" This bike is nuts in the paint department. Justin must have used a fire hose to push out this much gold flake! The chop now resides in Saudi Arabia with new owner Rayed E!
Built In: Saudi Arabia Bike Style: Chopper
Image Gallery
---
Ultimate Bar Hopper Bike Specifications – Ultimate Cycles Inc.