UClear HBC200 Image Gallery
February 23, 2012 – UClear formally announced the new UClear HBC200 "Force" intercom system at the 2012 Dealer Expo.
We reviewed the original UClear HBC100 (review) last year on webBikeWorld and were very impressed.
The HBC100 is a unique intercom, with a microphone system that uses their military-spec, patented "Adaptive Beam Forming" technology.
Instead of a cumbersome microphone boom, each UClear speaker has a small appendage that isolates the rider's voice from the background noise.
It looks like something that shouldn't work, but it does — and it works very well indeed.
H.B.C. wrote in the review of the HBC100 "The use of advanced algorithms to process high speed sampling of the environment results in very fast, very accurate and very effective suppression of background noise."
And since a boom mic is not used as part of the system, the UClear intercom package is smaller and lighter.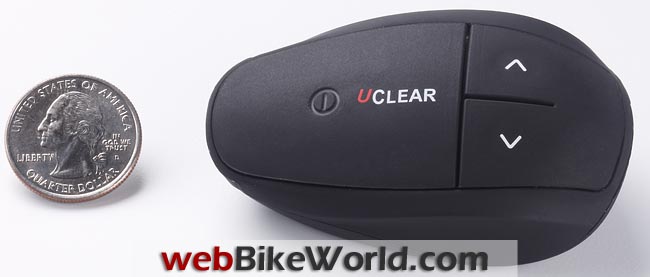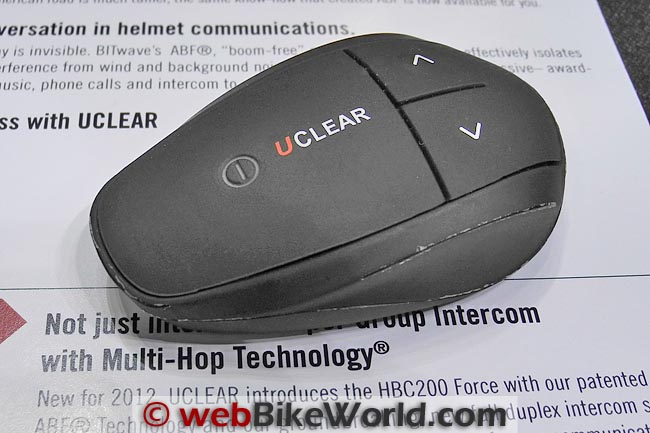 The new HBC200 improves on the HBC100 by providing up to a claimed 700 meter, full duplex bike-to-bike talk range between intercoms.
The HBC200 system can connect up to six intercoms. This means that six riders in a line formation at the maximum distance means that the rider in front is 3,500 meters or 3.5 km (over 2 miles) from the rider at the end of the group, but all four riders can communicate in full duplex on this "network"!
This capability is provided by the new patent-pending UClear "Super Group Intercom with Multi-Hop Technology", developed from their military communications background. UClear said they are working on a firmware update for up to 8 riders to connect.
UClear said that they first wanted to make sure the intercom voice quality in the HBC200 is as clean as it is on the HBC100. Their next goal was to add the ability to connect more intercoms, which will be done via a firmware upgrade to the HBC200.
The HBC200 is scheduled for release some time around the end of March 2012 and it will have a list price of $249.99 each or $449.99 for the dual pack.
UClear Super Group Intercom With Multi-Hop Technology
(From a UClear press release) – Unlike many helmet communicators on the market today that use SCO links for intercom with limited or no retransmission capabilities, packets with errors are silently discarded. This will lead to poor speech
quality especially in high noise environments.
The HBC200 "Force" intercom is set up like a mobile ad-hoc network (MANET) which is able to send information packets (i.e., your voice conversation), much like an email or SMS text message but in a time sensitive manner which delivers real time conversation with no degradation of voice quality.
With traditional intercom headsets, if the data is lost or degraded then the entire message is compromised. But by transmitting data through Multi-Hop, the user's voice message is captured and any degradation in the voice packet is instantly repaired and re-sent in real time.
Multi-Hop was designed under a military platform to allow for communication in critical, highly noisy battlefield environments. The application was then applied to motorcycle group communications where conversation can be limited, due to, for example, engine noise.
The UCLEAR HBC200 series helmet communicator can be installed in just about any helmet and used for motorcycling, snowmobiling, motocross, ATVs or ski/snowboarding.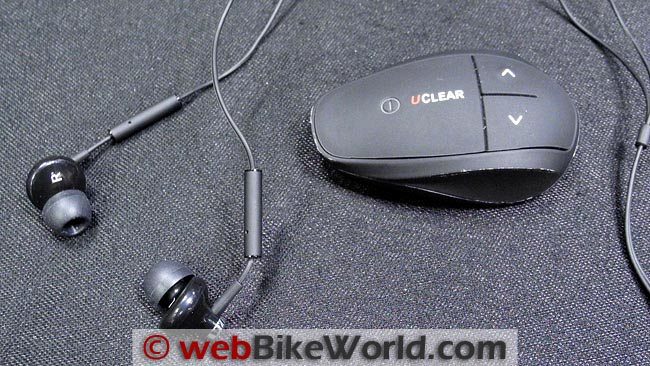 UClear UEA100 and UEA200
[asa2 tplid="6″]B00JQTTCK0[/asa2]
UClear also announced two universal earbud speakers with built-in microphone: the UEA-100 and UEA-200 (photo above).
The system provides the same functionality as the speakers with the built-in Adaptive Beam Forming (ABF) microphones as the UBC100 and UBC200, but in an earbud form factor. This was designed to help protect the rider's hearing, which is significant issue for bikers who have been riding for years without hearing protection.
The UEA100 is the standard version of the earbuds (the microphone can be used with UClear intercoms only) with the built-in ABF mic.
The UEA200 is an enhanced version of the earbuds (the microphone can be used with UClear intercoms only) with ABF with "dynamic sound" for enhanced sound quality.
These earbud accessories allow riders use a UClear intercom control unit with or without a helmet. Like the mic on the HBC100 and HBC200, it incorporates the BITwave patented Adaptive Beam Forming and Noise Cancellation technologies, which eliminates need for boom microphone. The earbud speakers also provide stereo quality output.
The UEA100 and UEA200 are expected to ship in March as well. Note that wearing earbuds while riding or driving may not be legal in some areas.
More: UClear HBC 200 Review  |  UClear WT-300 Bluetooth Adapter Preview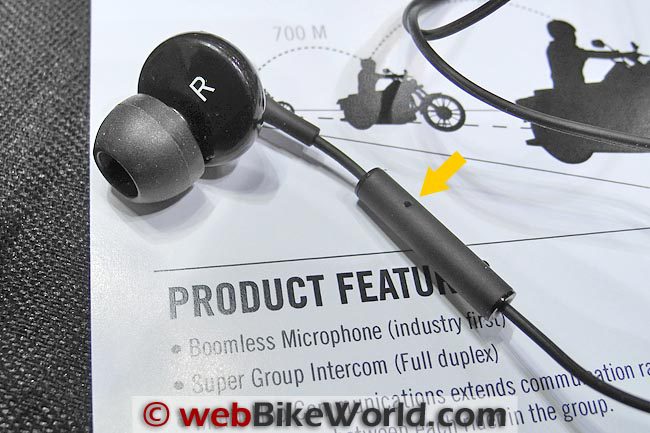 More: 2012 Dealer Expo Live Reports
Publication Date: February 23, 2012
Note:
 For informational use only. All material and photographs are Copyright © webWorld International, LLC since 2000. All rights reserved. See the webBikeWorld® 
Site Info page
. Product specifications, features and details may change or differ from our descriptions. Always check before purchasing. Read the
Terms and Conditions
!
Owner Comments and Feedback