Four-wheel drive works in cars, so why hasn't two-wheel drive taken off?
Several manufacturers have courted the idea for motocross or trail bikes. However, none has taken it up seriously because it makes the bike heavy, expensive and it's only really useful in mud and sand, although having a light front wheel is also important in those conditions.
However, two-wheel drive could be a useful function for bigger and heavier adventure bikes such as the BMW R 1200 GS, Ducati Multistrada, Yamaha Super Tenere, Honda Africa Twin and others.
Sick of waiting for manufacturers to provide something, Swiss mechanical engineer Guido Koch has patented a two-wheel-drive system called the DT-A, based on a KTM 990 adventure bike.
The most notable difference to other systems is that it makes the bike 40kg less.
Two-wheel-drive KTM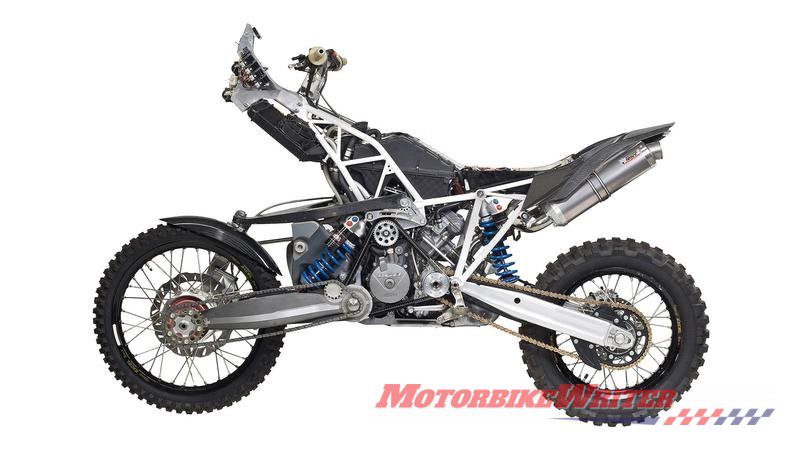 Guido is seeking funding to take his conversion into mass production.
His DT-A retains only the engine, rear wheel, swingarm and brakes from the KTM 990. 
To accommodate the drive on the front wheel, he has used a single-arm swingarm linked via a chain to the LC8 engine.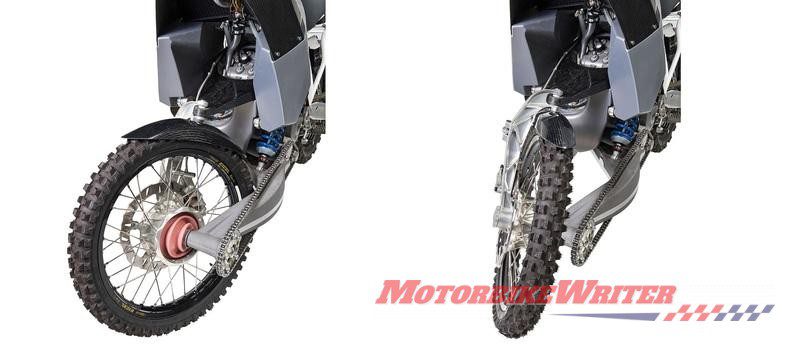 The chain runs parallel to the rocker and is mounted in both swing axles. Engine output is via a belt that picks up the drive torque through a freewheel directly on the pinion.
To prevent excess load, it sends power to the front wheel only when the rear wheel experiences more than 5% slip or loss of traction. 
There is a switch to override the system and revert to gearwheel drive.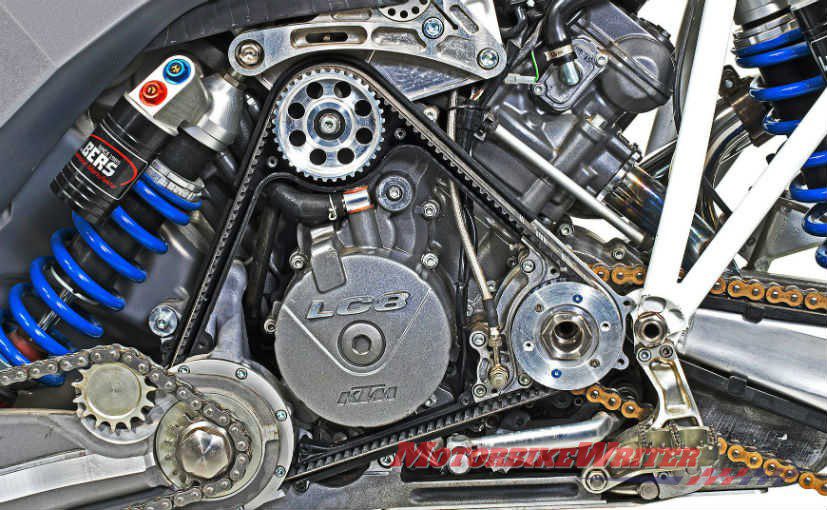 To accommodate the new front end, the steering uses a trailing arm and auxiliary linkage with a homo-kinetic joint so power to the front wheel runs smoothly even with large steering angles. 
The front swing arm is supported by a strut directly on the newly drawn mainframe. Steering head angle and caster are adjustable.
Interestingly, the bike has three fuel tanks with a combined 26.5-litres capacity for adventure touring.
Two-wheel drive is not new
BMW announced a 2WD R 1200 GS on April 1, 2017. Of course, it was an April Fool's Day joke.
However, it was no joke when BMW accessories company Wunderlich released a 2WD conversion kit for the GS in 2015.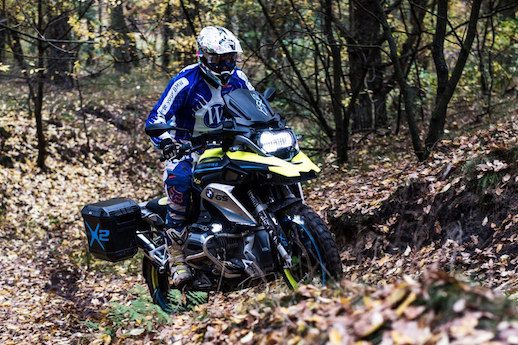 There have been several other two-wheel-drive motorcycles before, most notably Yamaha's 2WD system called 2-TRAC. They used it to tackle the Dakar Rally but it wasn't very successful and never made it into mass production.
Yamaha's PES2 electric bike is 2WD and the Japanese company has a patent for a new 2WD system with an electric motor driving the front wheel.
It takes sense with electric motorcycles because the motor can directly drive the wheels without any extra weight. The Kiwi invention Ubco 2×2 uses this method.
Other 2WD products and concepts include the Christini dirt bikes, Suzuki Nuda concept, Rokon, Ural 2WD outfits and Australia's own Drysdale stroker which was intended for the Australian Army.