Two riders died in separate intersection crashes in South East Queensland yesterday (3 July 2019) where it appears a vehicle has crossed the rider's path to turn into a side street.
Details are not clear in the first incident early yesterday morning on the Brisbane Valley Highway.
However, in the second incident about 6pm yesterday, police say a utility crossed the path of the rider to turn into a side street.
It is identical to another crash on Monday in Brisbane's north where a rider was injured when a ute crossed his path to turn into a side street.
A Sydney rider also died in a similar crash with an approaching truck turning into a side street last month.
In the latest sad fatality at Regency Downs near Gatton, west of Brisbane, the rider was travelling south on Gehrke Road when a utility travelling north turned into Lorikeet Road.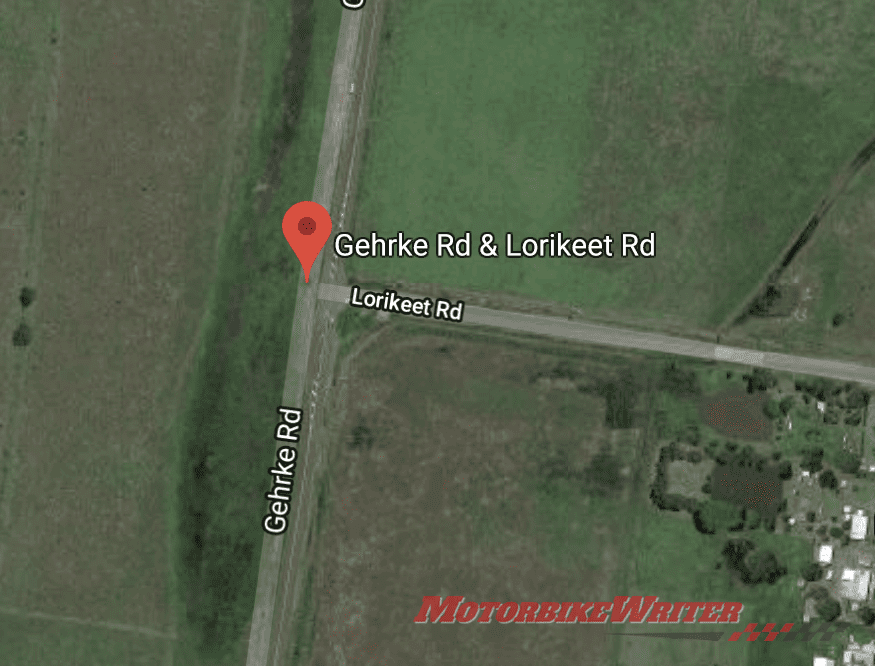 "As the ute turned, it struck the motorcycle causing the rider and pillion passenger to be thrown from the bike," Queensland Police say.
"The motorcycle rider, a man in his 30s, was pronounced deceased at the scene.
"The pillion passenger, a woman in her thirties, was taken to Ipswich Hospital with non-life-threatening injuries."
The ute's driver, a 17-year-old girl, and her 17-year-old male passenger were not injured.
The Forensic Crash Unit is investigating.
No charges have yet been laid in any of the above incidents.
Our condolences to the family and friends of those riders who passed away and our best wishes to injured riders and pillions.
Intersection crashes
This recurring crash scenario is not coincidence.
It is one of the most common accidents involving motorcycles and other vehicles.
In fact, it is the first of four common crashes with other vehicles depicted in this NSW TRansport vidoe.
The result can be lethal as the rider hits the car in a t-bone fashion, rather than a glancing blow.
Be suspicious of any approaching vehicle if there is a side street they could turn into.
If the approaching vehicle has its indicators on, assume the driver may turn without giving way to you.
Be suspicious of any approaching vehicles that slow down. Even if they don't have their indicators on, they could still be about to turn across your path.
Slow down and prepare to take evasive action.
You can alert the driver to your presence by blowing your horn or flashing your lights, although the latter jay appear an invitation for them to proceed.
In such a crash the rider may be completely blameless.
However, it doesn't matter whose fault it is if the rider is dead.