Now you can turn your regular clothes into protective riding gear by wearing Kevlar-lined undergarments, says Draggin Jeans who warn about deceptive labelling by some manufacturers.
Australian protective motorcycle Draggin Jeans have released their K-shirt ($249) and K-Leg ($279), allowing you to wear what you want over the top and still be protected from abrasion.
They are made with their RooMoto lining which is used in their jeans and jackets and has more than six seconds of abrasion resistance. You can also fit optional CE-approved armour.
We have found the RooMoto lining can be fairly hot and prickly in summer, but Draggin says it's breathable and softens with washing and wear.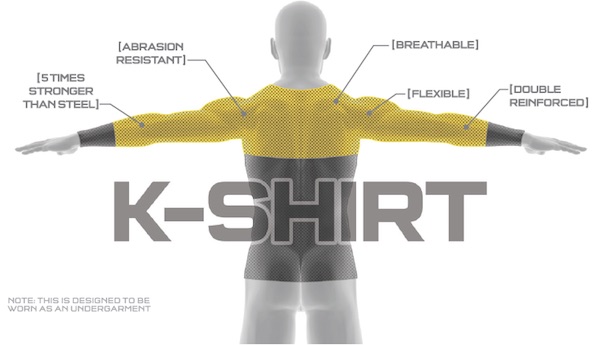 The K-shirt comes in sizes small to 3XL and the pants in sizes extra-small to 2XL and should be suitable for men and women.
Draggin sales manager William Cope has warned riders to be aware of "inappropriate standards for performance claims" by some manufacturers.
This follows recent claims by the company that Euro labelling can be confusing and deceptive.
Will says a common standard used by some motorcycle clothing brands is EN388 which is a standard appropriate for gardening gloves, not motorcycle protective gear. 
"I think this is a very serious issue that needs to be addressed head on to educate riders about what they are being told," he says.
"The expectation is from both riders and trading standards bodies that businesses will properly apply any standards, be they compulsory or not." 
He says the European standards riders should be looking for when they buy protective motorcycle clothing is: EN13595-1 and EN13595-2, in either level 1 or 2.
He says the suitable standard for armour is EN1622, followed by a letter which represents where the armour should be worn. For example S = shoulder, E = elbow, K = knee, etc.