Tucano Urbano Handlebar Muffs Image Gallery
So stylish they're liable to get stolen, the Tucano Urbano design keeps hands warm and dry without sacrificing control.
Mention handlebar muffs to most riders and you'll conjure up an image of a grubby courier on a rat bike held together with duct tape and malice.
Muffs are for warmth, definitely not for elegance.
Trust an Italian company, Tucano Urbano, to change that with their smart, sleek neoprene muffs.
Design
Unlike large, boxy handlebar muffs which enclose the handlebar and the switchgear, the Tucano Urbano design is mitten-shaped.
The switches for lights, indicators, horn, etc. are outside the muff where you can see them, but they can be operated from within thanks to the nifty thumb area.
Tucano Urbano ("Urban Toucan") make four different styles of handlebar muffs: plain with a stripe ("Nero"), Shark ("Squalo"), Bear Paw ("Orso"), or wavy pop-art stripes ("Optical").
All are black with silver print and they're all bursting with Italian style and originality — and will guarantee double-takes.
With their streamlined appearance, these are sure to be more aerodynamic than the usual square-ended muffs — or am I entering the realm of fantasy now?
Materials
The Tucano Urbano muffs are made of neoprene, with every feature that implies. In other words, they're light, flexible and smooth to the touch, they look great, and they keep the cold and wet at bay.
The inside edges have a fleecy lining to help keep the heat in. The silver print is reflective, though it isn't explicitly marked as a safety material (e.g. Scotchlite).
The metal rings that slip over the handlebars aren't rustproof, and as winter means rain and salt, they will probably gain a few rust spots while in use. These aren't noticeable when the muffs are in place, however.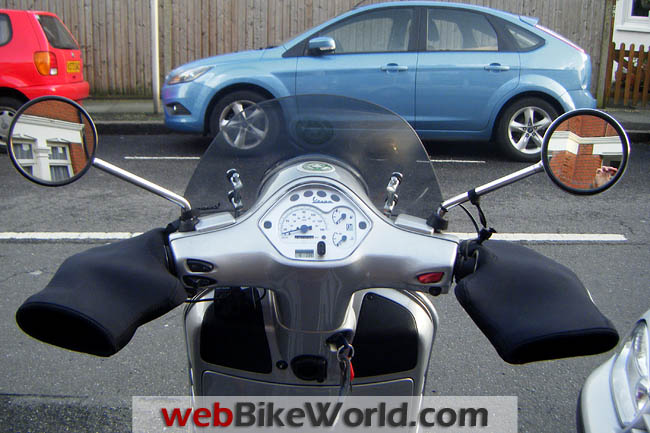 Fit
Scooter riders are the target market for Tucano Urbano products, but these muffs would also fit motorcycles.
They slip straight over the handlebars, with a large metal eyelet for the grip and a slit for the brake lever.
Both pairs I've owned were second-hand donations from friends and came without instructions, but installation is pretty self-explanatory. (I'm told there are somewhat rudimentary instructions printed on the packet if you buy new.)
There's a soft fabric ring to slide along the handlebar inside the muff, sealing any gap between eyelet and grip. Two semi-circles of hard plastic cup the grip and are held in place with cable ties.
The R361 version of the muff is designed specifically for bikes and scooters with metal handlebar ends, while R360 is for models without bar ends. The difference is a rubber socket on the R361 which fits over the bar end for greater security.
I've used the non bar end version on a scooter with bar ends, and there were no dire consequences.
The majority of the five or ten minutes these take to fit is spent trying to get the cable tie to stay around the plastic half-circles. This involves fiddling around blind, inside the muff, and is very awkward.
When fitting the muffs to my Vespa GT, the problem was compounded by my heated grips. Because these are thicker than standard grips, the diameter was too large for the plastic fittings to go round properly.
Eventually I gave up and left the plastic bits off entirely. The muffs move around a little when I remove or insert my hands, but there's no effect while I'm riding.
If you absolutely insist, I've found just using one half of the circle (of the snap-together plastic clip) is easier and gives a firmer hold than attaching both. There are also two straps which loop around the mirror stems and connect to the muffs with a snap buckle.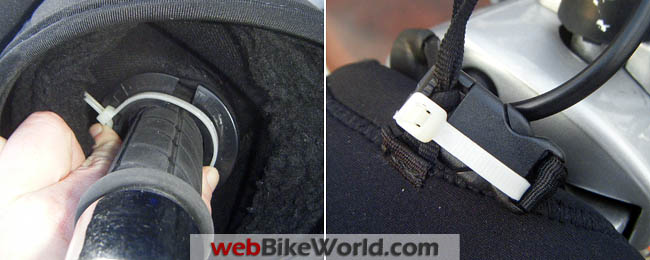 Security
Since they're designed to be put on and taken off with the changing seasons, rather than as a permanent addition to the scooter or motorcycle, the fittings are by their nature insecure.
The mirror stem straps and the cable tie fastenings should be enough to deter casual theft. It is, however, possible to remove the muffs with a little effort if someone really want to — as I discovered when I returned to my scooter after work one day to find my beloved and much-admired bear paws had been stolen.
This is unfortunate, because it's not really practical to remove the muffs every time you leave your bike unattended.
When I fitted a new set, I used extra cable ties to fasten the two parts of the mirror strap buckles together. A persistent thief will still be able to make off with my muffs, but – fingers crossed – they've remained in place so far.
Control
Before I fitted the muffs, I was concerned about how easy it would be to get my hands in and out, and to operate the handlebar-mounted controls.
Operating the switches was something I mastered quickly; the thumb section of the muff gives good dexterity, and I was surprised by how well I could feel through the material. I do miss finding a switch sometimes — but, to be honest, I do that without the muffs on too.
Getting my hands on and off the bars, however, does take noticeably longer than it does without the muffs installed. At speed, the mouth of the muff is pressed shut and it can take me a couple of tries to reinsert my hand, which makes me briefly panic.
It's also difficult to make hand signals. (What? Don't you use hand signals?)
On a recent outing, a friend riding behind me observed that my brake light occasionally flashed when I couldn't have been braking. I concluded that at speed (60mph+) the muff had been forced back by the wind and pressed on the brake lever.
I didn't notice any untoward braking myself, so it's probable the pressure was only enough to activate the light rather than the brakes themselves.
Since then I've taken care to pull the muffs well back over my hands, towards me, so there isn't a large empty space at the finger end. This seems to have resolved the problem, but it's something to be aware of.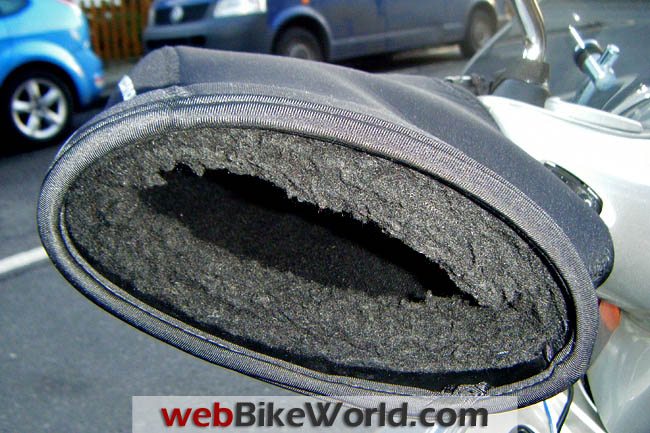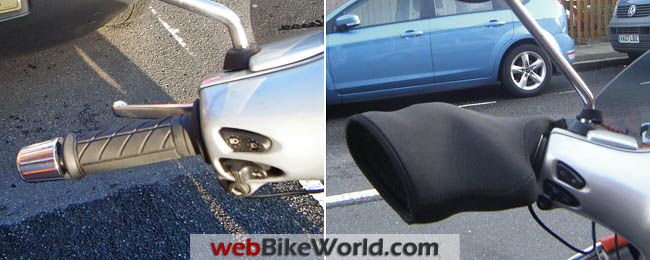 Wind and Weatherproofing
The thick neoprene of the muffs does a superb job of protecting my hands from the elements, with no gaps for rain or draughts to sneak in.
Where they really score, though, is in combination with heated grips.
When using heated grips without muffs, your palms get warm — sometimes uncomfortably so — but the back of the hands still suffer wind chill. With the muffs and the heated grips, not only is the wind chill factor removed but the grips warm up the insides of the muffs, creating very cosy little cocoons for your hands.
And because my hands are protected from the rain, the extra bonus chill from wet gloves is eliminated too. Previously, even with heated grips, my fingers would start to hurt on long, cold journeys. Now my hands are comfortable on days below freezing point, even on long rides and at speed.
Conclusion
I'm still not sure I like using handlebar muffs. It may only take a fraction of a second longer to get my hands on the bars, but emergencies arise swiftly and that fraction might be vital.
I can't help feeling that if I happened to be wiping my visor and suddenly needed to brake, my safety could be compromised.
However, motorcycling is all about compromises between safety and comfort, and the distraction of chilly, painful fingers is surely just as dangerous.
The Tucano Urbano muffs in combination with heated grips keep my hands wonderfully warm, and a warm biker is a relaxed and alert biker.
More wBW Heated Clothing Reviews  |  Motorcycle Glove Reviews
w

BW

 Product Review: Tucano Urbano Handlebar Muffs
Manufacturer: Tucano Urbano
List Price: £30 – £35
Colour and Styles: Nero (plain black), Squalo (shark), Orso (bear paw), Optical (pop-art stripes).
Made In: Unknown
Sizes: N/A
Review Date: February 2011
Notes: Model: R361 (bar end model) or R360 (non bar end model).
Note:
 For informational use only. All material and photographs are Copyright © webWorld International, LLC since 2000. All rights reserved. See the webBikeWorld® 
Site Info page
. Product specifications, features and details may change or differ from our descriptions. Always check before purchasing. Read the
Terms and Conditions
!
Owner Comments and Feedback
---
From "S.B." (02/11): "Thanks for the great review, keep 'em coming (especially the scooter related stuff)!
I just wanted to add that I have these muffs, and I could not ride in the winter (New York City) without them. They are unbeatable for keeping out the cold.
It took quite a search until I found somewhere to order them from since they are not available in the U.S. And when I say not available, I mean it! Not eBay, none of the scooter "warehouses", no one carries them.
I purchased mine (as well as some other Tucano Urbano accessories) from a UK store with a major web retail operation and I highly recommend them.
My muffs came new with tags and instructions at a discounted price (which is not common in the UK. They were priced at £31.90 (roughly $52.00).
Shipping is a little expensive coming from the UK so it helps if you buy more than just the muffs or you can get a few orders from friends, etc. to split the cost.
The only issue might be that I recall them closing out some items from their winter stock so I don't know what they may have left, but the Muffs where still in stock. Good luck."