Riders are the winners in the recent "battle" between Troy Bayliss and the motorcycle industry representative body. The Australian motorcycle industry has taken a rare common sense approach by granting Troy Bayliss Events approval to run official motorcycle shows. The result will be well-organised events with full industry participation and loads of entertainment and displays for riders.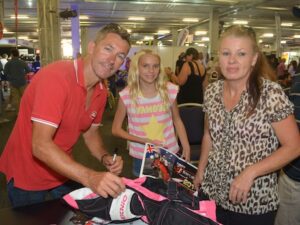 The Federal Chamber of Automotive Industries has been organising motorcycle shows in major capital cities for several years with some competition from private organisers. This situation only served to divide the loyalties of manufacturers and stretch the resources of accessories companies to attend the events. However, the professionally organised Troy Bayliss Events sprung up last year announcing it would host events in Brisbane in March and Melbourne in November, prompting the FCAI to abandon its planned Sydney show.
Members of the FCAI attended the Brisbane Moto Expo in March and were obviously happy with what they saw and have now surrendered. In an official statement they say they have entered a "long-term partnership" with Troy Bayliss Events for future Moto Expos.
Troy Bayliss says he was "stoked" with the crowds for the Brisbane Moto Expo, particularly the number wo stayed back on the Saturday evening to watch the scrambles events featuring a stellar line-up of 18 world and national champions including three-time World Speedway champ Jason Crump and World Supersport champion Chris Vermeulen. He says he hopes to have similar racing events at the Melbourne Moto Expo in November. "I look forward to announcing some special guests for Moto Expo Melbourne along with a fresh and exciting entertainment line-up," he says.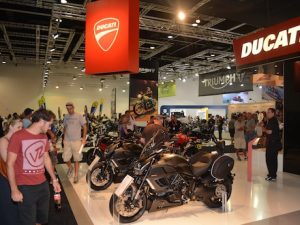 Troy Bayliss Events spokesman Mark Peterson says they had learned a lot from their first Brisbane Showgrounds event and promised the Melbourne Moto Expo would have even more surprises.  "Melbourne will have a few more surprises," Mark says. "That is what we are all about. It's about value for money and being innovative. We have a few things up our sleeves yet for Melbourne. We are toying with a few ideas."
He didn't rule out another racing event and says the recently refurbished Melbourne showgrounds would have more room and a more cohesive flow than the Brisbane event. He says the Melbourne showgrounds has a 10,000sq m hall, a 3000sq m secondary hall and 10,000 sq m of space outdoors, plus a main arena with 4500 seats. "People won't see the same show as in Brisbane," he says. "We are not a carney show, we are a good quality show."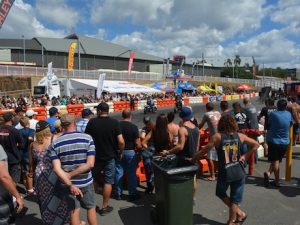 Mark says he was disappointed Honda and John Sample Group (Moto Guzzi and Aprilia) were not present at the Brisbane Moto Expo, but hopes to have them on board for Melbourne. "We want to be able to showcase the whole industry."
No doubt, more importers will attend the next event now that it is FCAI sanctioned and there are no competing events.
Confirmed Melbourne Moto Expo features:
Australia's largest display of new motorcycles
Kids 'Come and Try Zone' (giving beginners the opportunity to learn from expert coaches)
Australia's largest vintage, custom, classic and performance motorcycle displays. (A 3000sqm hall will be set up to display these bikes)
Custom Garage (including workshops for motorcycle enthusiasts to learn modification tips and techniques)
Huge line-up of live motorcycle entertainment from Australia's top riders
Demonstrations from host and three-time World Superbike Champion Troy Bayliss
Massive clearance sale area featuring apparel, helmets, safety gear, boots and more
For more information on exhibiting at Australia's leading motorcycle exhibition click this email link.