Triumph has announced a Special Edition Thruxton Ace to commemorate the close association with the famous Ace Cafe in North London.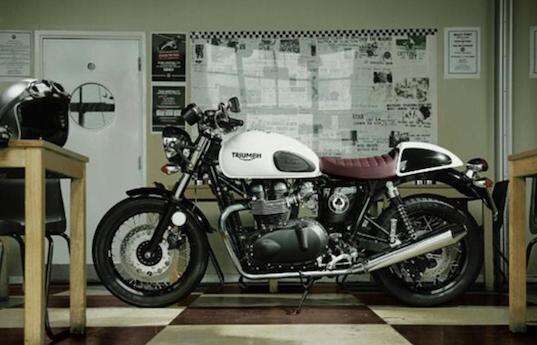 It features a black-and-white Ace Cafe paintjob, sculpted Oxblood custom seat, detachable seat hump,  bar-end mirrors and handlebar plaque. It is available now for order in Australia, but will not arrive until November. Price has not yet been finalised.
A range of Triumph accessories is also available for the Thruxton Ace including a choice of two Arrow exhausts, a brushed alloy skid plate, anodised and machined throttle body caps, alternative seats, fuel caps, and chrome parts.
The Thruxton Ace comes with an unlimited mileage, two-year factory warranty. Service intervals are every 10,000km, or one year, whichever is soonest.
The Ace Cafe was the London truckers' café that became a favourite haunt of Britain's bikers and a powerful symbol of post-war counterculture. The Ace Cafe gained notoriety as the biker hang out in the early 1960s and formed an instrumental piece of the café racer culture of the era.
To celebrate the rich association of Triumph's history with the Ace Cafe, the Special Edition Thruxton Ace was revealed as part of the annual Brighton Burn Up celebrations over the weekend.
More than 25,000 café racer fans arrived at the Brighton seafront to share and celebrate their passion for dropped handlebars, roaring exhausts and old-style rock and roll.