Triumph Australia will join a global recall on various Thruxtons over side stand spring issues and the Speed Twin over a gearshift linkage fault.
A spokesman for the Australian distributor, Peter Stevens Importers, confirms "Australian bikes are affected and customers are being contacted as information comes to hand".
An official notice for the Speed Twin has been posted by the Australian Competition and Consumer Commission with VINs (attached at the end of this article).
There is no official notice yet for the Thruxton.
Thruxton recall
The sidestand recall apparently affects 2016-2018 Thruxton, 2016-2019 Thruxton R, and 2020 Thruxton TFC models.
It seems the spring may vibrate through resonance, weakening it and causing it to break.
If this happens, it could allow the side stand switch to activate and shut off the engine.
The replacement spring sits inside a rubber sleeve, preventing the resonance.
Speed Twin recall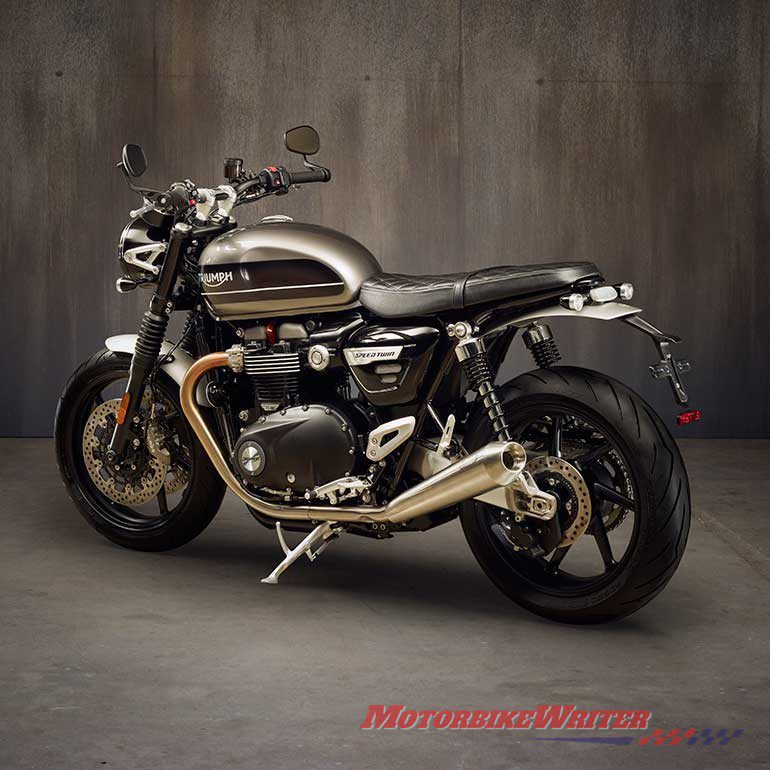 Affected 2019-2020 Speed Twin models may develop a loose ball joint in the gearshift lever linkage thanks to contaminated thread locking compound.
This could result in excessive movement at the end of the shift lever and riders will find gear shifts more difficult or even impossible.
Triumph can fix this issue by simply applying a new thread locking compound to the existing components.
This follows a Speed Twin recall last year for leaking coolant.
Owners of the above motorcycles should ask to schedule an inspection with an authorised Triumph Dealer "as soon as possible". If it needs a fix, it will be free of charge.
Bonneville recalls
The "Bonneville" range has been the subject of several recalls since they were introduced in 2016:
Even though manufacturers and importers usually contact owners when a recall is issued, the bike may have been sold privately to a rider unknown to the company.
Therefore, Motorbike Writer publishes all motorcycle and scooter recalls as a service to all riders.
If you believe there is an endemic problem with your bike that should be recalled, contact the ACCC on 1300 302 502.
To check whether your motorcycle has been recalled, click on these sites:
• USA
• Canada
VINs of affected Speed Twins
| | | | |
| --- | --- | --- | --- |
| SMTDAD85H4K930677 | SMTDAD85H4K933515 | SMTDAD85H4L966209 | SMTDAD85H4L984056 |
| SMTDAD85H4K930685 | SMTDAD85H4K933520 | SMTDAD85H4L966215 | SMTDAD85H4L985409 |
| SMTDAD85H4K930689 | SMTDAD85H4K934602 | SMTDAD85H4L966220 | SMTDAD85H4L985413 |
| SMTDAD85H4K930692 | SMTDAD85H4K934609 | SMTDAD85H4L966229 | SMTDAD85H4L987547 |
| SMTDAD85H4K930696 | SMTDAD85H4K934618 | SMTDAD85H4L966234 | SMTDAD85H4L987664 |
| SMTDAD85H4K931332 | SMTDAD85H4K936593 | SMTDAD85H4L966243 | SMTDAD85H4L988711 |
| SMTDAD85H4K931336 | SMTDAD85H4K936598 | SMTDAD85H4L966337 | SMTDAD85H4L988795 |
| SMTDAD85H4K931342 | SMTDAD85H4K936604 | SMTDAD85H4L966409 | SMTDAD85H4L990445 |
| SMTDAD85H4K931346 | SMTDAD85H4K938830 | SMTDAD85H4L966523 | SMTDAD85H4L991069 |
| SMTDAD85H4K931349 | SMTDAD85H4K938846 | SMTDAD85H4L966924 | SMTDAD85H4L991838 |
| SMTDAD85H4K931355 | SMTDAD85H4K940552 | SMTDAD85H4L966935 | SMTDAD85H4L991852 |
| SMTDAD85H4K931357 | SMTDAD85H4K940557 | SMTDAD85H4L966943 | SMTDAD85H4L994029 |
| SMTDAD85H4K931359 | SMTDAD85H4K940562 | SMTDAD85H4L966993 | |
| SMTDAD85H4K931361 | SMTDAD85H4K940568 | SMTDAD85H4L966999 | |
| SMTDAD85H4K931367 | SMTDAD85H4K940764 | SMTDAD85H4L969914 | |
| SMTDAD85H4K931370 | SMTDAD85H4K940775 | SMTDAD85H4L969936 | |
| SMTDAD85H4K931373 | SMTDAD85H4K941333 | SMTDAD85H4L969938 | |
| SMTDAD85H4K931376 | SMTDAD85H4K942449 | SMTDAD85H4L970915 | |
| SMTDAD85H4K931427 | SMTDAD85H4K943877 | SMTDAD85H4L970924 | |
| SMTDAD85H4K931430 | SMTDAD85H4K943881 | SMTDAD85H4L970928 | |
| SMTDAD85H4K931433 | SMTDAD85H4K944068 | SMTDAD85H4L970933 | |
| SMTDAD85H4K931439 | SMTDAD85H4K944084 | SMTDAD85H4L970947 | |
| SMTDAD85H4K931442 | SMTDAD85H4K944290 | SMTDAD85H4L971260 | |
| SMTDAD85H4K931445 | SMTDAD85H4K944414 | SMTDAD85H4L971264 | |
| SMTDAD85H4K931876 | SMTDAD85H4K944422 | SMTDAD85H4L971270 | |
| SMTDAD85H4K931893 | SMTDAD85H4K946309 | SMTDAD85H4L971273 | |
| SMTDAD85H4K931913 | SMTDAD85H4K946314 | SMTDAD85H4L975746 | |
| SMTDAD85H4K931936 | SMTDAD85H4K948866 | SMTDAD85H4L975748 | |
| SMTDAD85H4K931961 | SMTDAD85H4K948874 | SMTDAD85H4L976606 | |
| SMTDAD85H4K931982 | SMTDAD85H4K950427 | SMTDAD85H4L976607 | |
| SMTDAD85H4K932007 | SMTDAD85H4K950431 | SMTDAD85H4L976609 | |
| SMTDAD85H4K932019 | SMTDAD85H4K953315 | SMTDAD85H4L977057 | |
| SMTDAD85H4K932031 | SMTDAD85H4K953948 | SMTDAD85H4L977513 | |
| SMTDAD85H4K932044 | SMTDAD85H4L956359 | SMTDAD85H4L977517 | |
| SMTDAD85H4K932053 | SMTDAD85H4L956367 | SMTDAD85H4L977519 | |
| SMTDAD85H4K932062 | SMTDAD85H4L957850 | SMTDAD85H4L977521 | |
| SMTDAD85H4K932067 | SMTDAD85H4L958274 | SMTDAD85H4L977523 | |
| SMTDAD85H4K932075 | SMTDAD85H4L958612 | SMTDAD85H4L977524 | |
| SMTDAD85H4K932322 | SMTDAD85H4L958616 | SMTDAD85H4L977526 | |
| SMTDAD85H4K932333 | SMTDAD85H4L963812 | SMTDAD85H4L977966 | |
| SMTDAD85H4K932343 | SMTDAD85H4L963884 | SMTDAD85H4L978484 | |
| SMTDAD85H4K932351 | SMTDAD85H4L963970 | SMTDAD85H4L979046 | |
| SMTDAD85H4K932361 | SMTDAD85H4L964028 | SMTDAD85H4L979047 | |
| SMTDAD85H4K932369 | SMTDAD85H4L964109 | SMTDAD85H4L980095 | |
| SMTDAD85H4K932377 | SMTDAD85H4L965824 | SMTDAD85H4L980147 | |
| SMTDAD85H4K932384 | SMTDAD85H4L965829 | SMTDAD85H4L980994 | |