The Return of the Daytona
The 765 engine first appeared on Triumph's Street Triple, and now it looks like a new Daytona will get that engine as well. The motorcycle spies over at Motorcycle News spotted the new bike riding around. The images of the return of the Daytona with that new engine were shot in Spain. With them comes some concrete detail and plenty of speculation.
There are a few things that can be gleaned from the images. As Motorcycle News points out, there is a lot of this new bike that looks very familiar. Some things like the swingarm and frame look pretty much the same. It's also clear that the engine is new, and most likely the 765 engine from the Street Triple. Triumph may have to tweak the engine to get more out of it.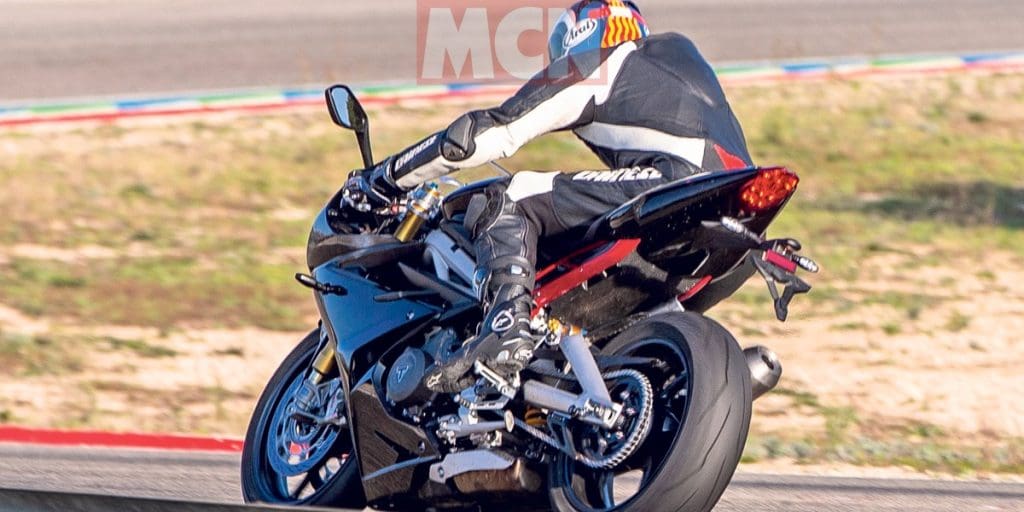 You can see hints of what looks like Öhlins fork and shocks and some obvious Brembo brakes. Motorcycle News suggest the rear shock is the same as the one used on the previous bike. The company's TFT full-color display will likely make an appearance, adding some tech features and rider modes, such as Road, Sport, and Track to the rider's list of options.
Triumph has been pretty hush, hush about this model. While it obviously exists due to the photos, who knows when the company will actually let the bike debut or how much money it will cost when it finally does. My guess would be Spring of 2020 for a production model, but if Triumph got a bur in its butt, it might kick this bike out into the world at the end of 2019.
There's also a chance for a Triumph Factory Custom (TFC) version of the new Daytona. Although Triumph has made no indication, there's no reason to suggest it wouldn't make one. The company plans to churn out TFC versions of other models and the new Daytona would make a good addition. We'll keep an eye and an ear out for more info on this model, should be a cool bike.