Motorcycle Rain Boots Review Summary
I know good boots when I see them.  In another life, my wife and I owned and operated a dairy farm in upstate New York.  We also worked for the local Cooperative that visited local dairy farms and took milk samples from each cow to determine how much milk they were making and to test for butterfat content.
You pretty much live in overboots when you're working in and around dairy farms, and I wore about every brand, type and configuration of boot you can think of and more.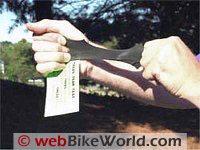 I even ordered a pair of "Wellies" from England once and had them special delivered just to see if they would work any better than anything I could find in the U.S.  The point is — I know boots!  And the Treds overboots seem about as durable a product as I've ever encountered.
They're made of 3 mm thick latex natural rubber.  The manufacturer says that natural latex rubber stretches 800% and will not crack even at low temperatures.
They sent me a sample piece of the boot material that is pre-cut with about a 1″ slice, and they dared me to test its stretching ability and tear resistance.
I can literally take this sample piece in both hands and pull just as hard as I can while still maintaining a grip and it does not even begin to tear (see photo below).
They claim it has 4000 pounds of tensile strength and 210 pounds per inch of "trouser tear" strength. This is some pretty tough stuff!  I sure wish they made these boots back when I was "yanking teats"…
Treds makes several different styles of overboots, but the ones we reviewed are specifically designed to fit over the typical work boot that might be worn when riding a motorcycle.
I used them on a pair of Red Wing 10" lace-up work boots, and I also tried them over a pair of Dainese sport-touring motorcycle boots and they fit nicely over both.  Their ability to stretch helps them to conform to the different shapes of these two boots.
Treds Overboots come in sizes that will fit a shoe size from extra-small (shoe size 3-4) to extra-extra-large (17-19).  To figure out which size will fit you best, the Treds website has a two-page document that can be downloaded and printed.
The two pages are taped together, then the work boot or motorcycle boot is placed on the paper and the diagram will indicate which size Treds should be ordered.  I ordered the large size based on their recommendation, and it fits beautifully over both my size 10.5 (U.S.A.) Red Wing work boots and the Dainese touring boots.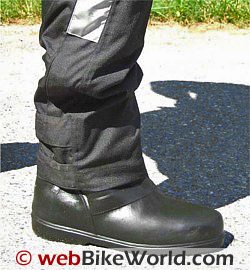 Treds Overboots are easy to put on; the inside seems to be specially finished to make it easy to slide them over clunky work boots, and they have a nice, big opening that will swallow almost any configuration of boot.
They also come off fairly easy once you learn the trick — I slide one hand down inside the boot along the back and grab the heel on the outside, and they usually come right off with a minimum of effort.
Here's a photo (left) of the boot over my Red Wings — those are my Tour Master overpants and you can see they fit nice and snug over the top of the boot.
I guess there's not much to talk about when it comes to style and rain boots, but the Treds Overboots are vaguely reminiscent of the engineer style motorcycle boot that's pretty popular in some circles.  There are a series of snaps at the top of the boot, which help snug up the large opening to fit under your rain pants.
One neat feature of these boots is that there is no right or left boot.  They are built on a "Unilast", so it makes for one less thing you have to worry about when putting them on.  Simply grab the nearest boot and slide it on.
I can't imagine anything that would be more waterproof than the Treds Overboots.  There's no way that any water will get in unless there is a hole poked in the rubber — and even then, my guess is that it would have to be a pretty big slice, as it seems like the resiliency of the latex rubber might prevent leaking from a tiny hole.
Since I've never had good luck with any of those "breathable" fabrics that are claimed to be waterproof (they never seem to be waterproof and they don't breathe!), I'd just as soon have a nice pair of boots that can breathe for the 99% of the riding that I do, and then use a pair of overboots like these that are likely to be more waterproof than anything else you can find when it starts to pour.  There's nothing worse than wet feet in my opinion!
The 3 mm thickness doesn't seem to make much of a difference in walking or riding; I hardly noticed that I had the boots on when walking (and in fact, they seem to give you more traction) and only noticed a slight difference in the feel on the foot peg or under the shift lever.
They also seem to give a better feel for the road when stopped in traffic or at a stoplight; this helps when the roads are wet and slippery.  The boots have a cross-tread pattern underneath that helps give traction, and although I didn't measure the thickness of the bottom of the boots, they seem like they will provide excellent wear.
The Treds Overboots are also "unconditionally guaranteed against all defects of material or workmanship".  The price is right — these boots are leagues above the cheap imitations, so if you're in the market for wet weather protection, this is the boot for you.
See Also:  The wBW Review of the 2010 Version of Treds Waterproof Motorcycle Rain Boots
wBW Product Review:  Treds Over-the-Shoe Boots

Available From:  Treds; manufactured by Advantage Products Corp., Cincinnati, Ohio.
Suggested Retail Price:  $29.99

Colors:  Black
Made in:  U.S.A.
Review Date:  August 2002
Note:
  For informational use only.  All material and photographs are Copyright © webWorld International, LLC – 2000-2011.  All rights reserved.  See the webBikeWorld® 
Site Info page
.  NOTE:  Product specifications, features and details may change or differ from our descriptions.  Always check before purchasing.  Read the 
Terms and Conditions
!
Owner Comments and Feedback
Comments are ordered from most recent to oldest.
Not all comments will be published (
details
).  Comments may be edited for clarity prior to publication.
---
From "B.L.":  "I ordered myself a pair of them in size XL.  While waiting for them to arrive I also picked up a brand new pair of Red Wings to go with them.  I got a pair of size 16D 2218 Steel Toe Logger Boots.  Check them out on the Red Wing web site, they are really heavy boots.
I was amazed when the Treds arrived.  I laced up my new Redwings and the Treds slid over them like they were dress shoes.  You really can't tell you're wearing the Treds over the heavy work boots.   I must admit that I find myself wearing the Treds for all sorts of chores, riding, camping, fishing etc.
I have not worn the Red Wings without them yet.  I just need to thank you again for your review and information regarding them.  I don't think I would have discovered them with out it.  Next weekend I'm going to give them a run over my Alpinestars Tech 8's that are size 16 as well when I run my ATV."
---
From "P.C.":  "I don't think I can add much more to your original review of the Treds boots.  My experience with them is that I placed my order online and had them at the house within a week.  My normal riding boots are heavy, lace-up, boxy work boots and the Treds are easy to slip on and also easy to take off.
They are rugged enough that I use them around the house doing various outside chores and have also gone for long walks in them with no noticeable wear occurring in the 6 months or so that I've owned them.  I especially like the suppleness of the rubber as it seems to impart to me almost the same tactile 'feel' to the foot controls of my bike as with no overboots.
Yes, they are a little bulky to pack, say, in a tank bag, but, with a little judicious folding, you can reduce them to about the same dimensions as an averaged sized pair of rain pants.  I ride all year 'round and here in the mountains of Western NC the weather can be unpredictable and the Treds are one piece of kit that I always have with me.  They're a quality product that does a great job, offered at a fair price and made in the USA…..I'm a satisfied customer!".
---
From "M.F.":  "Excellent, I love my TREDS!  I almost can't wait until it rains so that I can check them out. I hate driving my car in this LA traffic.  I commute 120 miles round-trip.  The motorcycle almost cuts my time in half & it is consistent.  I ride in the rain more than I take the car.
The TREDS fit great.  The LG are just slightly long on my size 11 steel-toes.  My heel & sole fit very well down into them.  The look like they would actually take a good deal of walking, which off course won't be necessary.  I suspect they will last me a lifetime. Thanks for the review."