Tourmaster Sentinel Jacket Review Summary
Tourmaster Sentinel Jacket Image Gallery
The Tourmaster Sentinel jacket is an excellent choice for an outer layer rain and foul weather garment. It meets the claim of being both 100% waterproof yet it has some ventilation, which makes it more comfortable in warmer temperatures. The jacket has adequate storage in the three outer pockets and it stows compactly in its own pouch. It's competitively priced and I found it to be money well spent.
It's been a bit over 10 years and around a quarter of a million miles in all types of weather since I returned to motorcycling and you'd think I'd have the "gear" thing figured by now. But I guess I'm just a slow learner… My tall, lanky build makes it darn near impossible to find "off the rack" gear that fits me properly, and unlike the Editor, I don't have manufacturers wooing me with all of their latest and greatest riding gear!
With a limited budget, my goal was to find a four-season riding jacket that had good breathability, since it can get really hot and muggy here in the Mid-Atlantic region. But I also needed something that was truly waterproof so I could dispense with carrying rain gear all together. Just pull over, slide some zippers shut without dismounting the bike and get back on the road; that was my dream.
After going through a few jackets, I thought I had found the answer to my quest for the "one jacket does it all" with theOlympia AST (All Season Touring) jacket (review), but alas, in the end, it failed to meet up with its claim of being 100% waterproof.
In my opinion, if a garment claims to be 100% waterproof (as some do), then with all vents and flaps fully secured, I should be able to ride through a moderate to heavy rain storm without any water intrusion. There's nothing more distracting for me than that feeling of water (usually cold) creeping through my riding gear and puddling in some sensitive area while I'm trying to concentrate on the road and traffic in less-than-ideal conditions.
With an upcoming cross-country trip and the recent discovery that my eight-year-old rain gear was no longer water tight, I had to make a decision whether to continue with the same brand as before or purchase something different. Once again, the opportunity presented itself to sample a different product.
My two biggest complaints with my previous rain gear was the total lack of breathability and the loose fit of the inner liner of the rain jacket. If the liner got even remotely wet or damp (from either rain or my own sweat), it was frustratingly difficult to don and remove.
I'm not a fan of one-piece rain suits; I find a jacket/pant combo to have far more flexibility. A two-piece suit allows the jacket to be worn alone while I'm at a rally or sightseeing should weather conditions dictate. For example, I clearly recall using my rain jacket while sightseeing on a previous, wet trip to Kentucky.
Conversely, the pants can be worn separately if desired. I've frequently pressed my rain pants into service while walking the dogs in the rain.
With the wide array of rain gear that's out there, making a choice was no easy task. Since I have also used my rain gear as an outer layer to stay warm, it couldn't be totally breathable like, for example, the Frog Toggs product (which also have a fit that is too loose for me).
With these thoughts in mind, I chose to give the Sentinel Rain Jacket by Tourmaster a try. Along with what I thought was a competitive price, it looked like it had the potential for good ventilation, which would offer some relief in warmer temperatures. By the way, I chose the Sentinel over the Tourmaster Elite II rain jacket, which does not use a breathable material and instead has a polyurethane-backed nylon, which could get too warm and damp.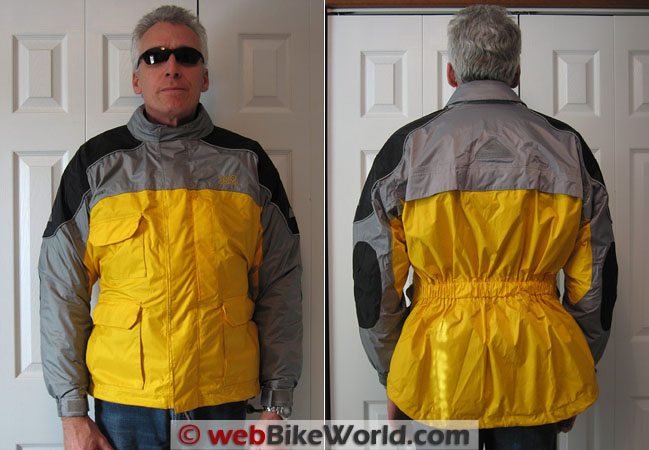 Tourmaster Sentinel Jacket – Construction
I was aware of the Tourmaster brand for many years and I have heard very good reports about their riding gear, but this would be my first purchase of a Tourmaster product. There have been many reviews of Tourmaster motorcycle garmentsposted on webBikeWorld over the years, with mostly good results.
The Tourmaster Sentinel Rain Jacket and Pants are listed in the "Rain Suits" section of the Tourmaster website. Tourmaster makes several different one- and two-piece rain suits, so there are plenty of choices. The Sentinel series seems to be a popular choice.
The outer shell of the Tourmaster Sentinel jacket is made from a waterproof and breathable ripstop nylon fabric with sealed seams. Included is a hood that can be pulled up under the helmet to prevent water from finding its way down your neck (more on this later). When not in use, the hood conveniently stows inside the collar without being a nuisance.
The front of the jacket is closed with a two-way zipper and finished off with a full overlapping storm flap secured with Velcro. The neck opening is lined with a soft material and whereas there is no specific adjustment for the neck, small compensations can be made at the top of the storm flap via the Velcro.
The sleeves have reinforced elbows and shoulders and the cuffs are held snug with sturdy 2″ (45 mm) wide elastic underneath, along with Velcro strips to ensure a tight seal.
A shock cord runs around the bottom seam of the jacket at the hem, allowing the jacket to be drawn tight, thus minimizing water and drafts from below. The tail of the jacket is longer than the rest of the garment, I assume to prevent it from riding up when seated on a bike. A zipper is included for attaching the jacket to the matching Sentinel Rain Pants.
The Sentinel Rain Jacket is sized to be worn over your normal riding gear and based on the Tourmaster sizing chart, I chose a Large (which is also the size riding jacket I wear) and the fit was dead-on.
Rather than use a waist belt to keep the jacket tight around the midsection (as with my previous rain jacket), Tourmaster uses a generous portion of elastic across the back to keep it taut. I found this to be far more effective in keeping the jacket snug in order to minimize any flapping or billowing, neither of which I experienced.
Built into the lower back inner liner is a convenient pouch for storing the jacket. Personally, I prefer to use "Ziploc" bags that can be compressed then sealed flat. I feel this helps reduce the overall stowed size and protects the garment from abrasion.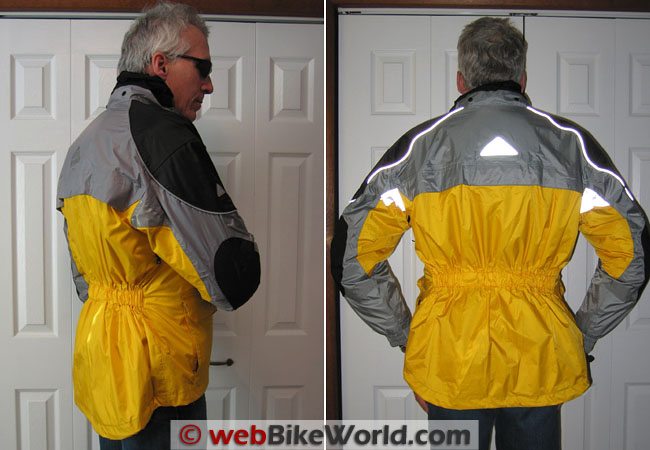 Tourmaster Sentinel Jacket Pockets
The Sentinel jacket has three "large waterproof bellows pockets" designed to "maximize carrying capacity", according to Tourmaster. Two pockets are located on the lower front and the third pocket is on the right chest.
I think the use of the word "large" is a bit of a stretch, since the pleats on the sides of the pockets are only 1″ (26mm) and do not extend across the bottom nor top of the pocket.
But since I only carry a minimum of items in the pockets of my rain gear, this wasn't a concern for me. These three pockets are all sealed against water intrusion with a storm flap held tight with the usual hook-and-loop fastener. Behind the each of the two lower pockets are non-waterproof hand-warmer style pockets with zippers, so you're going to want to be careful what you put in these pockets during inclement weather.
A waterproof map pocket is located over the left chest with a vertical opening. This pocket can also be used to increase air flow by folding the storm flap back on itself.
Tourmaster Sentinel Jacket Ventilation
Under each armpit of the Sentinel jacket is a waterproof, zippered 5″ (122 mm) vent to allow air to exit. A mesh lining surrounds the entire upper torso and an additional vent runs across the back which is 3/8″ x 15 ½" (10 mm x 309 mm).
The flap over the back vent has no means to seal it shut, but is stitched closed in the center 5 ½" (140 mm). Keep this in mind when planning to use the Sentinel Rain Jacket as a top layer in the cold.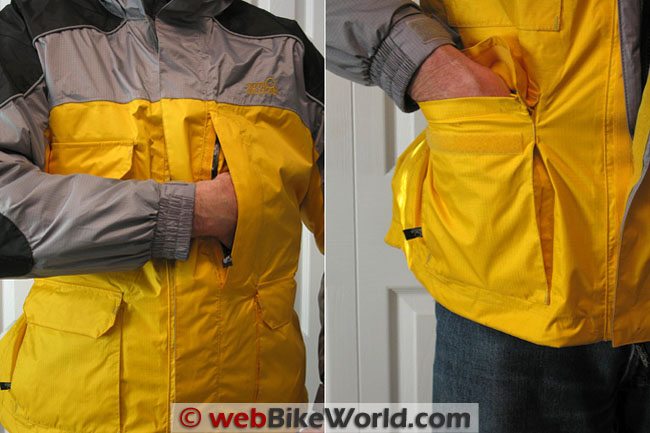 Reflectivity and Visibility
The Sentinel Rain Jacket is available in red, blue, black and the bright yellow color shown here. 3M Scotchlite brand reflective piping surrounds each shoulder, along with the signature Tourmaster log triangles on the back, rear shoulder/arm junctions and on each shoulder.
Although they light up very well in the dark, I wouldn't consider them blinding. But, when combined with a bright color, as the yellow I chose, it makes for an eye-catching combo. Visibility is definitely what we need during inclement weather and low-light conditions, right?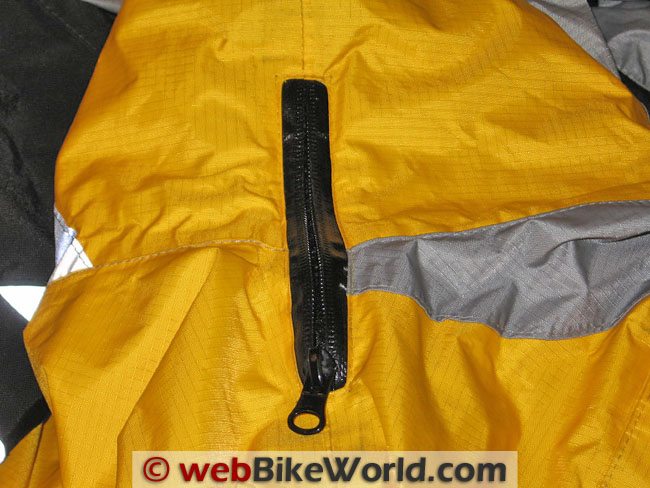 Waterproofing
Too often I've bought a motorcycle garment and no matter how often I ride, I just can't seem to experience all of the weather conditions necessary to provide a full evaluation of a product.
But on my trip west in the fall, I experienced a veritable potpourri of weather types including heat, dry, STRONG winds, a dust storm, snow, cold and HEAVY rain.
Most of day one of the trip was in moderate rain, but it was on the way home I encountered what some riders call a "frog drowner", but which I would term a "wall of water" that extended from Mexico to the Great Lakes. I tried for two days to pierce this "wall" and finally gave up, laying over for a day in Stillwater, Oklahoma.
So how did the Tourmaster Sentinel Rain Jacket perform in the real world? In one word, beautifully! Not a drop made its way through the jacket, despite at least two days of some of the worst rain I've ever had the displeasure of riding through.
When it was raining, the temperatures were seldom above the mid to upper 40's. Anticipating warmer weather on this trip, I chose to use the Sentinel jacket as an outer layer should it get cold, which did it. When I used it in this manner, it performed well, but I did notice some air infiltration because of the open vent on the back.
The one weather condition I didn't encounter was rain on a hot day, but based on how the jacket performed otherwise I think the venting will provide sufficient comfort.
Sentinel Jacket Rain Hood
Oh yeah — about the rain hood. This was my only disappointment and I might be nit-picking.
I would have preferred the hood to pull further over the top of the head, because if I wasn't careful when donning my helmet the hood tended to get pulled back and off the back of my head. But when in place, it did an excellent job of keeping any rain from entering around the back of the collar. So that's my only complaint with the Tourmaster Sentinel Rain Jacket.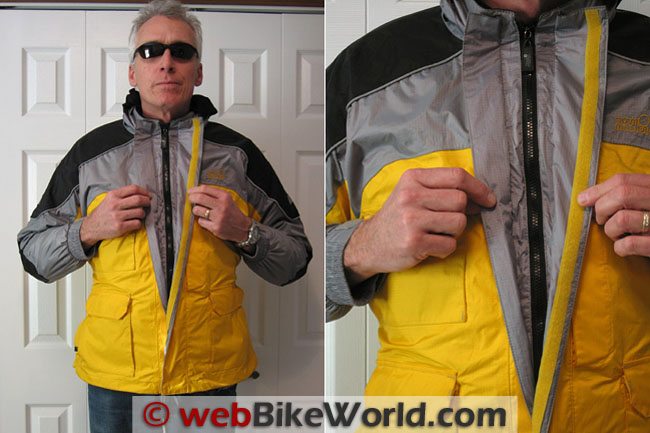 Conclusion
I find the Tourmaster Sentinel Rain Jacket to be an excellent choice for an outer layer rain/foul weather garment and it stands up to its claim of being both 100% waterproof yet possesses some ventilation to make it more comfortable in warmer temps.
There is adequate storage in the three outer pockets and it stows compactly in its own pouch. Competitively priced, I found it to be money well spent.
More wBW Motorcycle Clothing Reviews
w

BW

 Product Review:  Tourmaster Sentinel Rain Jacket

Manufacturer: Tourmaster
List Price: $84.99
Color: 

Red, Yellow, Blue, Black

.
Made In: China
Sizes: XXS to 4XL
Review Date: January 2011
Note:
 For informational use only. All material and photographs are Copyright © webWorld International, LLC since 2000. All rights reserved. See the webBikeWorld® 
Site Info page
. Product specifications, features and details may change or differ from our descriptions. Always check before purchasing. Read the
Terms and Conditions
!
Owner Comments and Feedback
---
From "J.W." (02/11):  "My experience with the Tourmaster Sentinel has been slightly less glowing than what has been presented here.
When first purchased, within a month or two the front zipper pull and one of the mounts for the waist shock cord had broken. I sent it back and Tourmaster replaced it under warranty, although I got stuck with the bill for return shipping.
A few months later, the zipper pull on the replacement jacket broke also. If you plan to use this jacket for cold weather riding, might as well figure out how you want to replace the pull before have to wrestle with it on the road.
Another minor oddity, the reinforced elbows have always sat at 90 degrees to my actual elbows and would do nothing if I ever went down with this on. This kind of quality has been my experience with all Tourmaster products I've bought. The Sentinel pants have the liner tearing out from the inside at the top of the bottom zippers from pulling them on and off over boots (that is why the zippers are there, isn't it?). They also developed a dime sized hole in the thigh mysteriously.
I also own the Caliber pants and one of the waist adjusters ripped off entirely and many of the little Velcro bits are starting to peel off in the corners.
In general, the sentinel suit was good for the price, performs well as an extra layer in cold weather and has been fine in the few rain rides I've been on. The two piece design is adaptable while working for my tall lanky frame, but the bits falling apart and Velcro all over has me hoping to find an upgraded suit soon before much more falls off of it…"
---
From "I.L." (01/11):  "I've worn this jacket through some of the most intense rainstorms that the British Isles can produce. Irish rain is not like rain anywhere else; it can soak through cast iron but the Tourmaster is its equal. Superbly easy to fit over a jacket and utterly rainproof.
One quibble: it is almost impossible to fit gloves inside the sleeves. Water leaking into the gloves and the resultant cold hands takes some of the shine away. Please, Tourmaster, make a similar jacket with more room at the cuffs and I will be your slave forever."
---
From "M.C." (01/11):  "Great review of the Tourmaster rain jacket! These are more realistic for the average motorcyclists out there. As cool as $800 dollar jackets are, they represent only a fraction sales of motorcycle gear. It is very disappointing to spend $300 plus on a jacket that does not live up to the "waterproof" claim. Keep up the good work and lets see more product reviews for regular folk."
Editor's Note: Thanks for the feedback, just wanted to make sure everyone understands that this isn't a replacement for a motorcycle jacket, but it's a good solution for low-cost waterproof capability. Buy a non-waterproof or less expensive riding jacket with abrasion protection and armor, then keep a Tourmaster Sentinel to wear over it when it rains.