German motorcycle accessory company Touratech has released high-end aluminium Zega Evo panniers in black or silver with a new mounting system.
Touratech says the mount is more robust than its predecessor system and can be attached and taken off easily thanks to the rounder design of the fasteners.
Simply slide the hooks on to the rack and push the tension lever down until it clicks into place. To remove, pull on the tension lever and lift the pannier from the rack.
Yet they say they are secure and won't fall off on the roughest track.
Zega Evo sizes
The waterproof Zego Evo come in 31-litre, 38L and 45L capacities and cost $1150.01 each in black and $1069.59 in silver.
Weight is 5.9kg for 31L, 6.4kg for 38L, 6.9L for 45L.
To better organise your luggage, there are fastening hooks on the inside of the lid. The outside of the lid also has high-strength attachment eyes.
Zega Evo comes with a webbing carry handle integrated into the lid recess.
Touratech has been making the Zega family of aluminium panniers for more than 25 years.
Like its predecessors, the new Evo is made of high-strength 1.5-millimetre-thick aluminium.
The new lid catches retain the popular hinge function that allows the lid to be opened from both sides or removed completely.
The lid and base of the pannier are manufactured using a modern deep-drawing process, which eliminates the need for unattractive welding seams.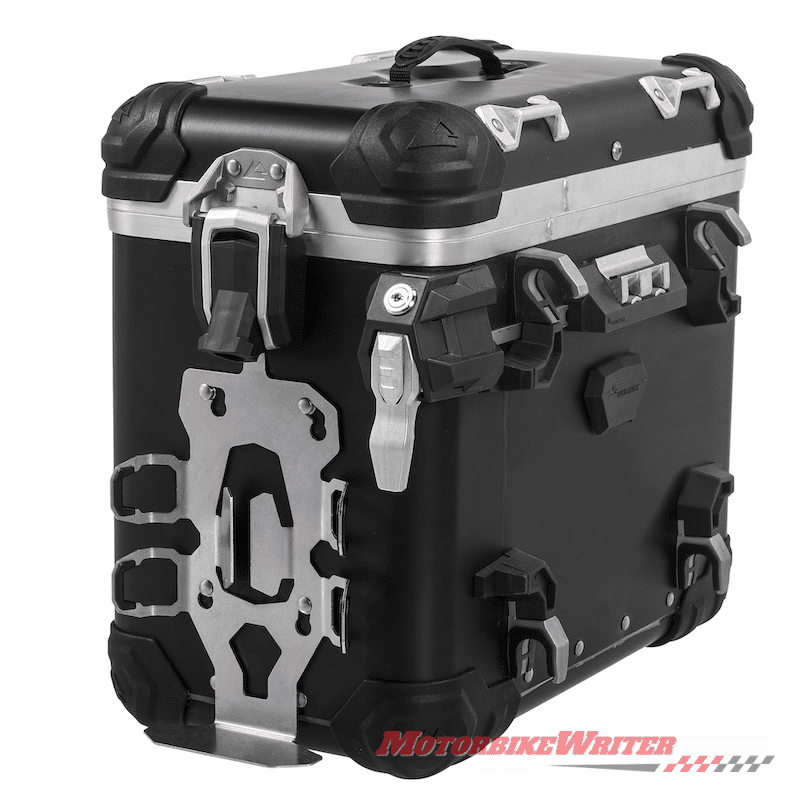 Waterproof
The outer shell and base are attached by high-quality, waterproof rivets and the pannier is sealed with silocone.
The lid has a tongue and groove profile with an integrated silicone seal, which guarantees a watertight seal.
The newly developed ventilation system relieves the pressure in or on the pannier if there's a change in altitude.
This means you can open a pannier at high altitude even though you closed it thousands of metres down in a valley.
Zega Evo has accessory fixing pins to attach the special Evo accessory holders without drilling holes in the case.
Touratech has mounting units to suit most adventure and touring motorcycles.