German adventure accessories company Touratech has produced a range of high-end suspension that is tailored specifically for adventure riders.
Touratech Australia spokesman Robin Box says he tested the suspension in Germany and was impressed with the increased level of traction, especially over corrugations.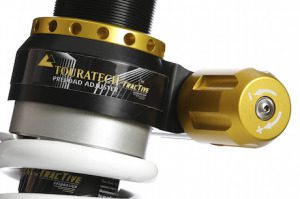 "Ohlins suspension is very good but they cover a very wide spectrum of uses from sportsbikes to motocross, but the only area Touratech covers is the adventure market," he says.
Touratech developed the suspension over three years with Dutch suspension specialists TracTive who have experts from WP and BMW suspension.
"They set out to make something that was unbelievable durable and robust and works straight out of the box," says Robin.
"I did a bit of riding in Germany on an 800 and 1200 and the first thing I noticed was the improvement in traction. It seems like it didn't slip.
"It also gives a better ride on corrugated uphill corners where the front usually chatters and the back won't get traction. It's better than what we expected."
The other main attraction in the top-end models is the suspension's ability to take a big hit and not bottom out thanks to hydraulic bump stops which are also used in top-end Ohlins units.
"It means you can be more aggressive," Robin says.
Of course, you pay for what you get and Robin says they are as expensive as Ohlins which they no longer stock.
"If you put the top-end extreme suspension on both ends of a BMW 800 Adventure it's about $4500 which is about the same as Ohlins," he says.
"But out of the box, the clickers are even in the right spot. Even novices can use them. There is also a good user guide included that doesn't lose you in technical jargon.
"We don't take an order until we know the rider weight and load and set the clickers to suit."
At the moment, Touratech fork cartridges are only available for the BMW and Triumph 800 models, but more are being added. However, there are shocks for "pretty well all the adventure bikes".
Touratech Suspension is available in four versions: The Explore shock has rebound adjustment, but no hydraulic preload adjuster; Explore HP adds a hydraulic preload adjuster: Expedition adds rebound, high and low speed damping adjuster and remote reservoir; and the top-end Extreme has the hydraulic bump stop and all adjustments.
Robin says the shocks and cartridges have alloy bodies for better heat dissipation than steel.
The suspension is built for use with standard or heavy loads, and comes with 50% more pre-load adjustment than standard shocks.
Other features:
• Oversized 16mm high-strength shaft made of chrome-moly steel for maximum strength and durability.
• A floating piston separates the nitrogen and the oil to prevent oil foaming. This ensures the shock will have smooth and consistent performance even in punishing environments.
• Cold forged 6082 T6 aluminium shock body machined to exacting standards offers high-strength and maximum heat dissipation.
• High-strength stainless steel bushings ensure the mounting points of the shock will go the distance.
• Low-friction seal with integrated Teflon back-up ring maximises performance and extends the life of the shock.
• Adjustable preload to accommodate long-distance quantities of luggage or a passenger.
• Available in a range of spring rates to match the rider's weight and requirements.