The key aspects of the TORC helmets are the design and style which makes them a work of art. There is a TORC helmet for every type of rider. TORC proudly states that you can't spell moTORCycle without TORC. The company wants to establish itself as an undisputed leader in motorcycle accessories.
For the most part, it caters to the requirements of the riders of different categories. TORC has manufactured some low-range, mid-range and high-range helmets that fit different budgets. In the TORC T50 route 66 helmet review, you will find out why it is a good choice if you value safety and style.
Benefits
Finding a stylish and comfortable helmet under $100 is incredibly difficult. If you have a tight budget, you have to make compromises with the choice of your helmet. When you get safety, you won't be satisfied with the fit. If the helmet fits well, there is always a problem with the design. The T50 helmet is a good choice that has a unique style, solid shell design, comfortable fit and reliable safety.
Features
The T50 helmet is an open faced 3/4th helmet that is ideal for your regular commute. If you are a daily rider, you will enjoy riding with this helmet. This helmet is also a good choice for long rides during the day. This helmet weighs just 4 pounds and it is certainly one of the lightweight helmets you can find under $100.
One of the major problems that you often see with lightweight helmets is the flimsy shell quality. The T50 helmet is tough, and you can realize how safe you feel with this helmet as you wear it during your rides.
Shell Design and Quality
TORC helmets are inherently tough. The looks of TORC T50 route 66 helmet can be deceiving with cool graphics. The helmet is light weight, but it is durable. The advanced ABS shell has DOT approval, and that is enough to prove the strength of the shell body.
The large shell body with thick padding provides adequate safety and fit. Premium build quality is generally hard to find in helmets under $100. If you want to be satisfied with a single helmet for your frequent short rides and long road trips, this T50 is the ideal choice.
Comfortable Fit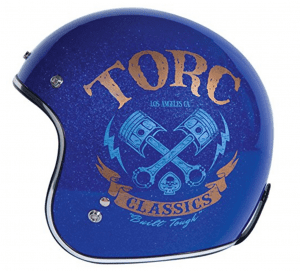 Not all bikers are fond of full faced helmets. Especially, if you live in hotter areas, you can't tolerate the cooked feeling inside a stuffy helmet. Even though the full faced helmets come with tolerable ventilation features, nothing can give the joy of feeling the wind on your face.
The T50 helmet from TORC is a 3/4th helmet that lets you feel the wind and enjoy the ride without getting sweaty and stuffy inside the helmet. The helmet is designed to cancel wind noise through the sufficiently thick padding.
The inner liner is made of an ultra suede material that is antimicrobial in nature. It means that your liner won't get moldy or smelly after a few wears. The inner liner wicks away moisture even though it looks and feels like luxurious leather.
The plush liner won't scratch you when you are riding at high speeds. Above all, it is removable and washable. All you need to do is quickly rinse it with some water and air dry the liner. The thick padding provides protection for your head while eliminating wind noise. However, when you ride faster than 60mph, you have to deal with more wind in your face.
Graphics and Style
One of the most notable features of the T50 helmet is the cool graphics and design. Just because you don't want to spend $500 for a helmet, it doesn't mean that you have to be satisfied with a simple helmet with a boring design. The TORC T50 route 66 helmet comes with unique graphics that are vintage inspired. The Piston Head graphic design in metallic blue sparkle color is just the right design to bring out your sense of style.
It is ideally suited for both men and women bikers. If you want to show your tougher side as a woman, you will fall in love with this helmet. This helmet can be found in an array of colors and unique graphics that can suit the dressing style of most of the bikers.
Safety
Despite the low price range, the T50 helmet scores well in terms of safety. The five button snap system and 3 snap peaks keep the helmet steady while you ride it. The thicker padding eliminates wind noise and provides optimal protection should you meet with an accident. It is also DOT approved for superior protection.
Other Factors for Consideration
The TORC T50 helmet comes with a small black visor. It can be useful to prevent the sun in your eyes when you are riding on sunny days. The visor can be easily removed if you have your own sunglasses for sun protection.
This helmet can fit half and full visor that is compatible with the snap fitting system. However, you need to do your research before purchasing a visor because the super slim helmet may not support all standard visors. The chin strap is solid, but it is too long. Some of the bikers have complained that the chin strap has extra cord that creates a loop and hangs down. However, it doesn't distract you while you ride the bike.
If you want to make heads turn with your helmet, but you don't have a big budget, the T50 route 66 helmet from TORC is just right for you.