This is the ultimate motorcycle luggage for people who travel as this top box converts to a wheelie bag, leaving a rack to secure your helmet, a USB to charge your phone and rain covers for your seat and helmet.
So far the Wheelrider is only a prospective product, but the inventors are running a Kickstarter crowd-funding campaign to get enough money to go into production.
It's one of the smartest designs we've seen.
Basically, it's a standard top box and purpose-built rack.
When you park, you can easily unlock and detach the top box from the rack, then pull out the extendable handle and wheel it away on to a plane or into your office/work.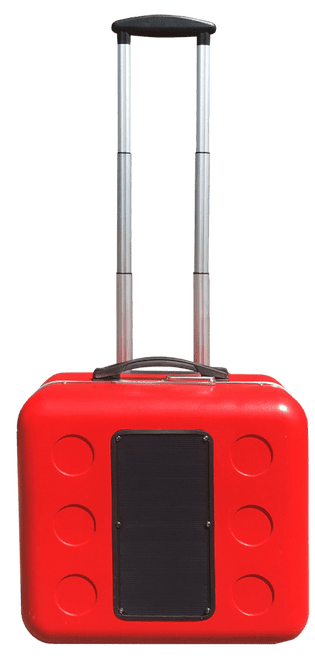 Meanwhile, there is a high-tensile 5mm steel wire in the rack that you can use to secure your helmet.
The Wheelrider comes with interchangeable lids so you can have it in standard airplane carry-on size of 25cm (9.8in), or fit the higher lid to store a full-face helmet.
Inside are three compartments, including a padded laptop pouch. You can also remove the interior compartments and have one big case for bulky items such as your helmet.
Accessories include a twin USB powerbank to charge your phone and/or tablet while you're parked via an integrated 6W solar panel and a small pouch that contains waterproof covers for your helmet and the seat so you come back to a nice dry cockpit.
The developers hope to go into production mid-2016 at a cost of $US480. It will come in six different colours and a carbon-fibre model at $2000.
They need $100,000 to get started and have so far raised $5000 on their Kickstarter site with a month to go.