There is no disputing Tom Cruise's passion for motorcycles and now there is no question he does most of his own motorcycle stunts.
This video shows Tom performing a daring motorcycle jump.
Even though he is tethered, he still had to ride the narrow ramp and make a giant leap of faith as this video shows.
The video was shot in the UK where he is filming Mission Impossible 7.
Back in March we also showed a video of Tom learning how to wheelie a BMW G 310 for the film on a UK airfield after filming was moved from Italy due to the coronavirus pandemic.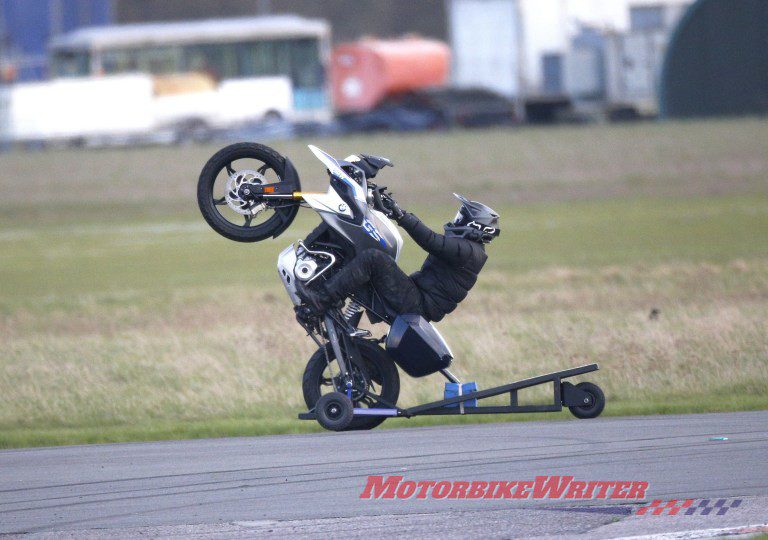 Again, he had a safety device to prevent being flipped off the bike or falling off.
Tom, 57, is a motorcycle fan and also rode a BMW R  nineT Scrambler in the Mission Impossible: Fallout movie.
He is known to request a motorcycle scene in most of his movies.
There is no release date yet for the seventh installment of the Mission Impossible series.
Tom will also reprise the Kawasaki GPZ900R made famous in Tom Cruise's 1986 Top Gun in the Top Gun sequel.
It was to screen in June this year, but has been pushed back to July 2021 due to the pandemic.
Tom began riding at the age of 10 and owns several motorcycles including a Vyrus 987 C3 4V worth more than $100,000.
His first movie role with a motorcycle was Top Gun where he rode the Kawasaki Ninja GPZ900R.
Since then he has ridden in many movies including Oblivion, Knight and Day, and Edge of Tomorrow.