Toby Price has staged a last-ditch attack on American Ricky Brabec's lead in the penultimate stage of the Dakar Rally but failed to make up enough time.
The Australian two-time Dakar winner attacked early and clawed back almost six minutes on the Honda rider who seemed to take it easy.
Toby's attack placed him fifth on the 379km special stage that included about 80km of sand dunes. It was the second part of a two-day marathon stage with no outside help for the riders.
Top 5 finishers on stage 11
| POS. | N° | DRIVE-TEAM | MARK-MODEL | TIME |
| --- | --- | --- | --- | --- |
| 1 | 5 | | ROCKSTAR ENERGY HUSQVARNA FACTORY RACING | 04H 09′ 22" |
| 2 | 2 | | RED BULL KTM FACTORY TEAM | 04H 09′ 31" |
| 3 | 16 | | RED BULL KTM FACTORY TEAM | 04H 12′ 10" |
| 4 | 17 | | MONSTER ENERGY HONDA TEAM 2020 | 04H 12′ 15" |
| 5 | 1 | | RED BULL KTM FACTORY TEAM | 04H 15′ 11" |
The leading KTM rider is now third overall with only the largely ceremonial final stage to come tomorrow.
That would mean Ricky becomes the first American to win the Dakar and also end KTM's record winning streak of 18.
Toby had said he was "comforted" by the fact that he virtually sacrificed his third rally win by being the first to stop for fallen rider Paulo Goncalves in the seventh stage.
Sadly Paulo later died and the eighth stage was cancelled in his honour, leaving less opportunity for Toby to make up time.
Toby's likely podium finish is still a very commendable feat.
"It's been a good stage and at the moment Honda just needs to protect their lead," he says.
"The guys are riding fast and riding smart. It's definitely making it hard for us to try and make up that gap.
"We're doing our best, we're trying to keep in the fight. We've only got one more day to go. We're at the end of day eleven."div class="videoWrapper">

(Sorry about the ads. They're Dakar's not ours.)
Top 5 outright rankings
| POS. | N° | DRIVE-TEAM | MARK-MODEL | TIME |
| --- | --- | --- | --- | --- |
| 1 | 9 | | MONSTER ENERGY HONDA TEAM 2020 | 38H 33′ 28" |
| 2 | 5 | | ROCKSTAR ENERGY HUSQVARNA FACTORY RACING | 38H 47′ 24" |
| 3 | 1 | | RED BULL KTM FACTORY TEAM | 38H 56′ 02" |
| 4 | 2 | | RED BULL KTM FACTORY TEAM | 39H 03′ 21" |
| 5 | 12 | | MONSTER ENERGY HONDA TEAM 2020 | 39H 03′ 37" |
Other Aussies
Other Aussies have also performed well throughout the rally while more than 50 competitors have dropped out from crashes or mechanical failure.
Mr Consistency, Rodney Faggotter (Yamaha, Queensland) has finished all but yesterday's stage in the top 20.
He finished today in 19th place and is ranked 13th outright.
On the previous stage he stopped to help a crashed rider and was given the time back by the officials.
That have him an outstanding best sixth place on the 10th stage.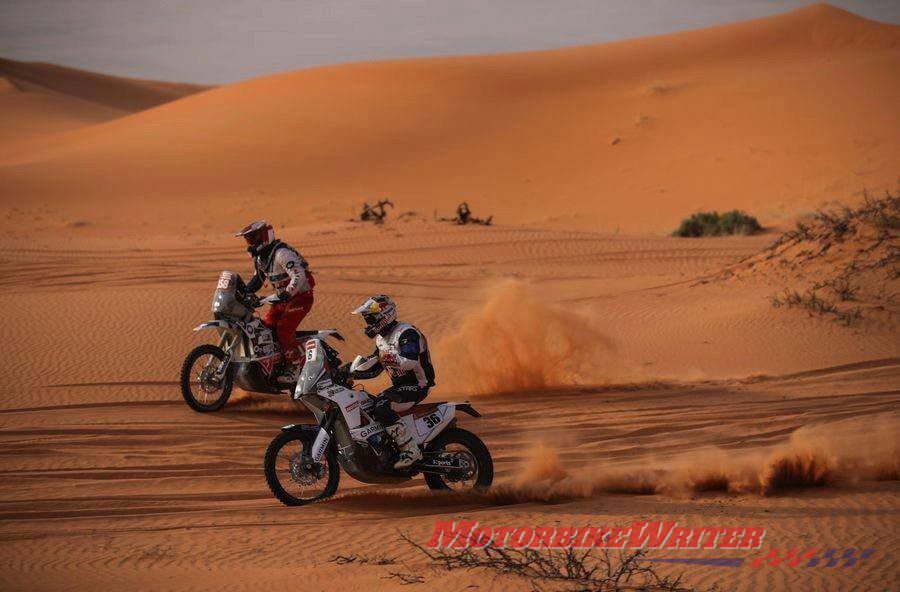 Fellow Aussies Ben Young (KTM), Matthew Tisdall (KTM) and Brisbane schoolteacher Trevor Wilson have also done well to keep going.
Ben finished 58th which would be his best result yet. It puts him at 57th outright in his second Dakar.
Trevor finished in 8oth position and is now 76th outright, while Matt was 94th and is now 96th and last.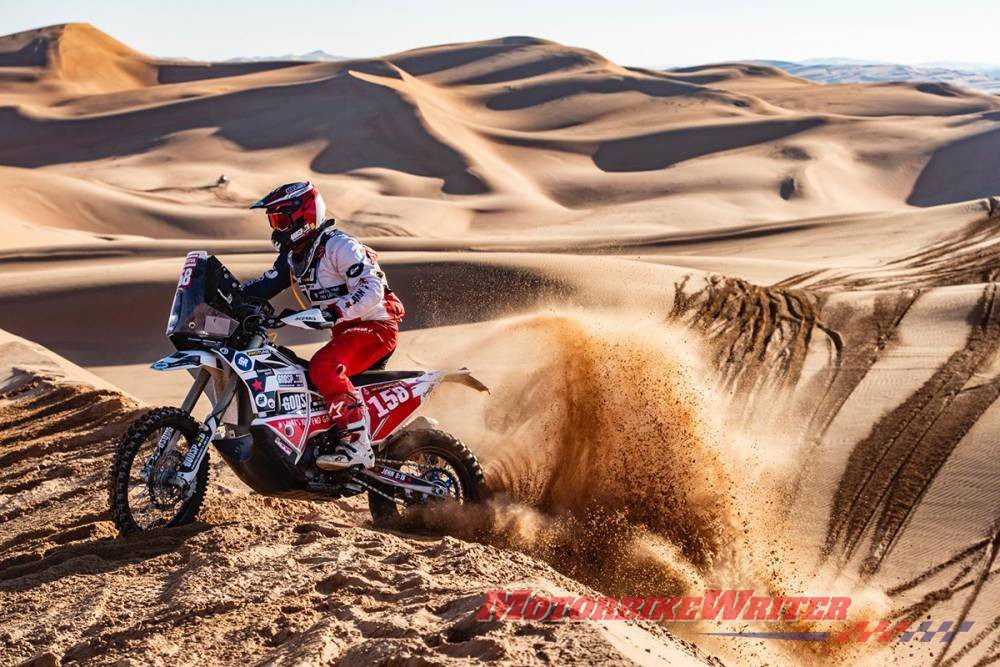 For the first time the Dakar rally is being run in the one country, Saudi Arabia, after being run in 35 countries on three continents since 1978.
Toby aids firefighters
Like many Aussie sports stars and celebrities, Toby is raising money for the bushfire appeal.
He is auctioning his starting jersey and pants for firefighters
Toby is also doing his bit for the current critical bushfire situation by auctioning his starting jersey and pants with proceeds going to the NSW Rural Fire Service.
It is open worldwide, just send in your bid in Australian dollars on his Facebook page or Instagram.
Current highest bid is still $13,001.
Auction closes on Saturday (18 January 2020) at 5pm (AEST).
If you can't bid, please donate on this link. Sp far he has raised abouot $5000.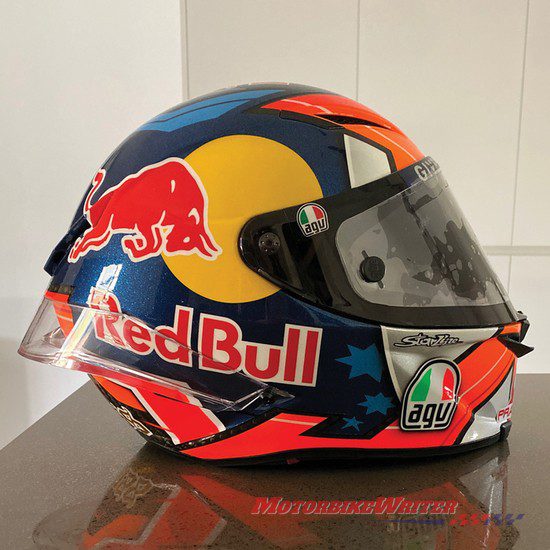 Meanwhile, Aussie MotoGP racer Jack Miller put his 2018 MotoGP helmet up for auction to raise money for the bushfire crisis.
The auction has closed with 22 bids and the winner bidding $18,000.
Jack will sign and send the helmet to the winning bidder.
Two-time MotoGP champ Casey Stoner says he will auction an old race suit for the first time, but no details are available yet.
Meanwhile, Deus Ex Machina founder Dare Jennings is raffling off his 1977 Triumph T140V.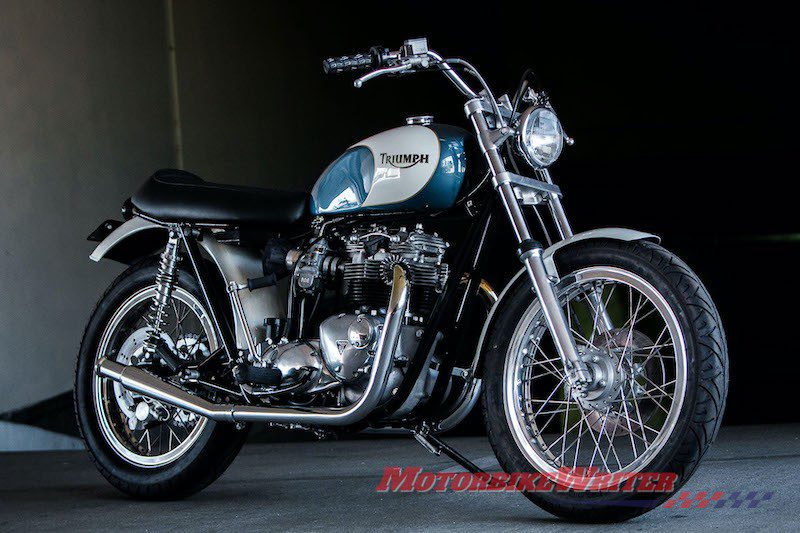 Money raised will be split among the Australia Red Cross, Save The Animals and Rural Fire Service.
You have the chance to win it by making at least a $50 donation via PayPal.