After leading on the first day and dropping back to ninth, Aussie Toby Price has scored his second stage win in the Dakar Rally and moved up to second outright.
The title holder is chasing his third Dakar victory and KTM's record 19th consecutive win.
He finished the gruelling 453km special stage of rock and sand just 1:12 minutes in front of Husqvarna rider Pablo Quintanilla (Chile) followed by his teammate Andrew Short (USA).
Fellow American and Honda factory team rider Ricky Brabec was fourth and remains in top position outright, now just 9:06 minutes in front of Toby.
Toby's teammate Sam Sunderland, Britain's first Dakar winner in 2017, crashed half way through the stage and is not out of the event.
He has participated seven times and finished only twice after five crashes.
Stage win
Toby says he pushed hard on the stage, which is unusual as he usually leaves his attack until the second week.
"It's been a good day," he says.
"I pushed hard at the start, made some good ways and by then I caught up with the Honda boys.
"Ricky and them were in front, but, yeah, it's been a good stage.
"It's actually the first time I've ridden with a whole big group, so it was quite enjoyable, but at the end of the day they are competitive so we need to stay in front of them.
"We're happy with the day and we'll see how day six goes now… I think that's what we're up to… I'm starting to lose count of it all."
Queensland veteran competitor Rodney Faggotter (Yamaha) was 23rd and moves up one outright position to 16th.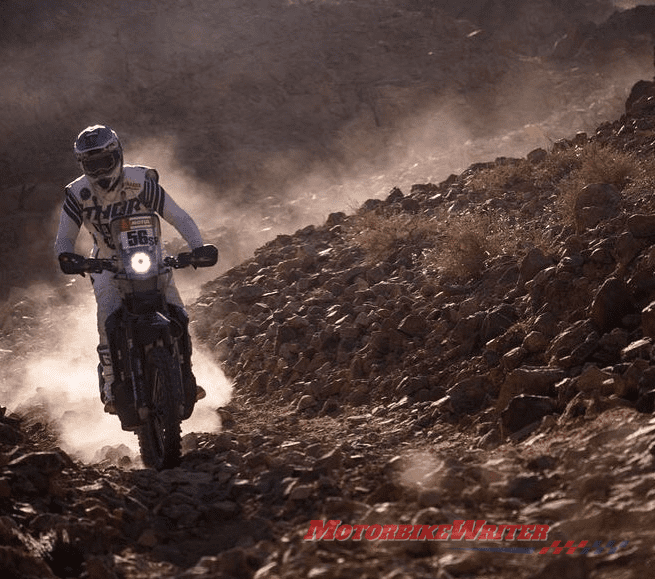 He says he dropped a couple minutes finding a waypoint, but otherwise had a "solid and safe day".
"Was another full-on day and up to this stage this is the fastest Dakar in overall speeds I've done."
Fellow Aussie Ben Young (KTM) again finished a respectable 64th in his second Dakar and moves up 14 places to 64th.
Matthew Tisdall (KTM) finished 115th out of 124 stage finishers, yet is mysteriously listed as last outright in 113th, up from 124th. 
There were 158 riders competing in this years event.
Tomorrow's massive 477 km special stage is almost all sand which should suit Toby.
For the first time the Dakar rally is being run in the one country, Saudi Arabia, after being run in 35 countries on three continents since 1978.
Top 10 outright rankings
| POS. | N° | DRIVE-TEAM | MARK-MODEL | TIME |
| --- | --- | --- | --- | --- |
| 1 | 9 | | MONSTER ENERGY HONDA TEAM 2020 | 19H 07′ 19" |
| 2 | 1 | | RED BULL KTM FACTORY TEAM | 19H 16′ 25" |
| 3 | 7 | | MONSTER ENERGY HONDA TEAM 2020 | 19H 18′ 51" |
| 4 | 5 | | ROCKSTAR ENERGY HUSQVARNA FACTORY RACING | 19H 23′ 20" |
| 5 | 17 | | MONSTER ENERGY HONDA TEAM 2020 | 19H 27′ 44" |
| 6 | 2 | | RED BULL KTM FACTORY TEAM | 19H 38′ 13" |
| 7 | 12 | | MONSTER ENERGY HONDA TEAM 2020 | 19H 38′ 43" |
| 8 | 16 | | RED BULL KTM FACTORY TEAM | 19H 41′ 19" |
| 9 | 59 | | KLYMCIW RACING | 19H 57′ 06" |
| 10 | 19 | | SLOVNAFT RALLY TEAM | 20H 04′ 12" |
Toby aids firefighters
Like many Aussie sports stars and celebrities, Toby is raising money for the bushfire appeal.
He is auctioning his starting jersey and pants for firefighters
Toby is also doing his bit for the current critical bushfire situation by auctioning his starting jersey and pants with proceeds going to the NSW Rural Fire Service.
It is open worldwide, just send in your bid in Australian dollars on his Facebook page or Instagram.
Current highest bid is still $13,001.
Auction closes on 18 January at 5pm (AEST).
If you can't bid, please donate on this link.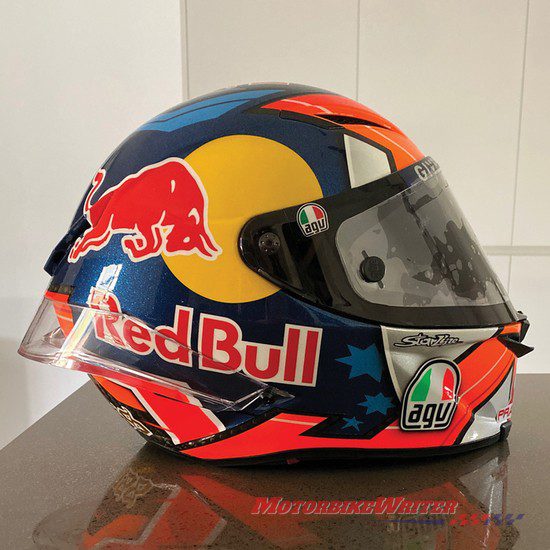 Meanwhile, Aussie MotoGP racer Jack Miller is also putting his 2018 MotoGP helmet up for auction to raise money for the bushfire crisis.
The auction is open worldwide until on Sunday (12 January 2020) at 5pm (AEST).