Aussie two-time Dakar Rally winner and current title holder Toby Price has come out fighting from day one with a resounding win and two-minute lead in the first stage.
The KTM Red Bull number one rider usually plays safe in the first week of the Dakar Rally, attacking later in the rally as he did last year wth his come-from-behind victory.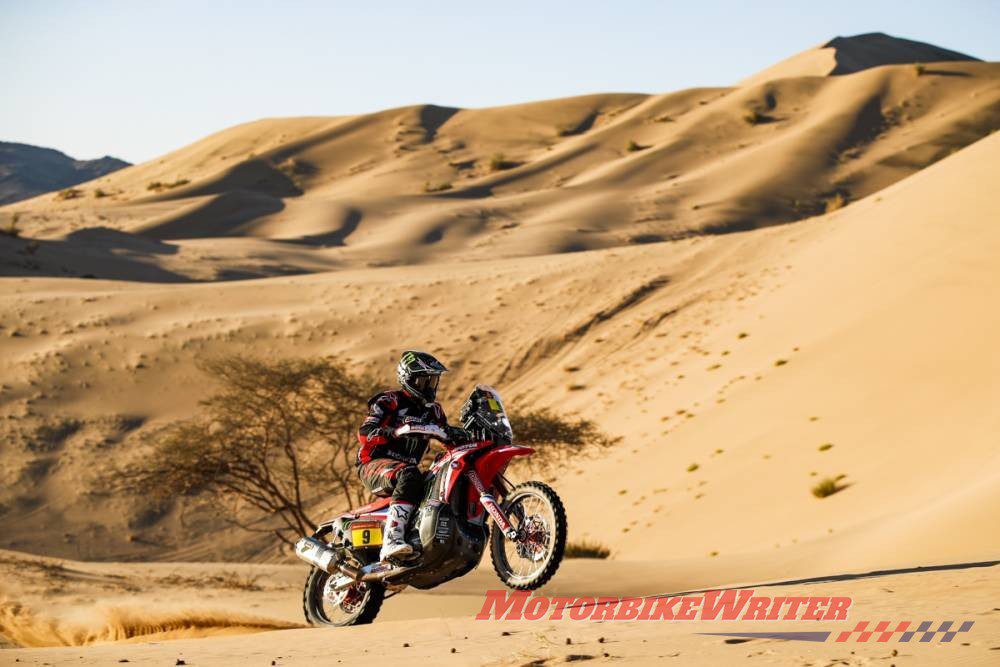 The fighting Aussie was two minutes and five seconds ahead of American Ricky Brabec (Honda) followed by KTM teammate Matthias Walkner, despite problems with his road book.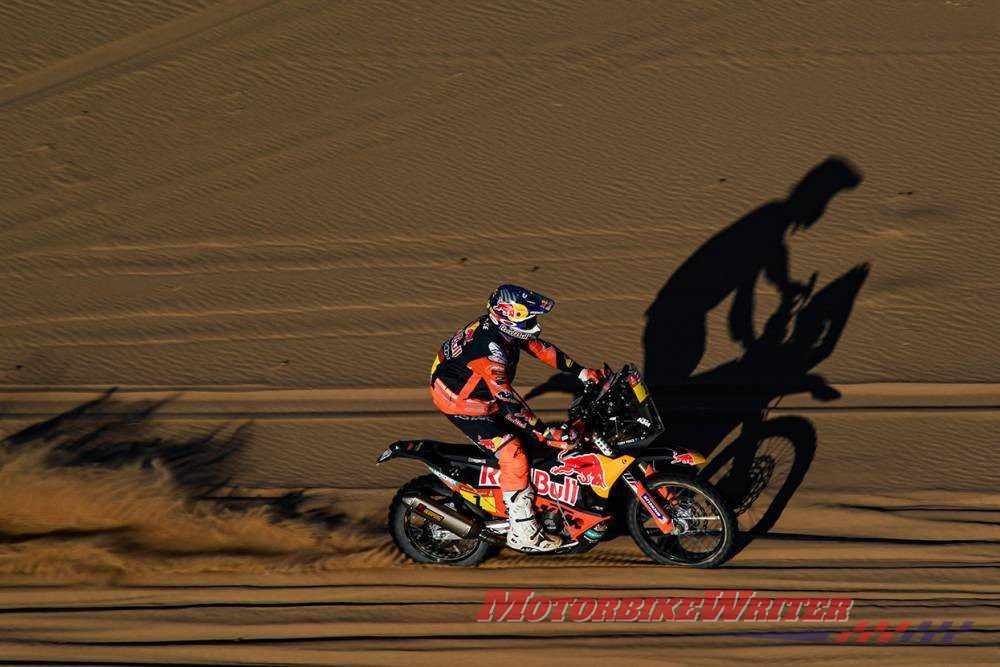 "My road book walked out on me after 15-odd kilometres, so it was strange," Toby says.
"I was quite lucky in one way because I managed to follow on some dust and just keep up with the guys. Once the road book is gone, then you're pretty much driving blind.
"At the moment it looks good on paper, but I think we have a bit of a penalty coming."
Indeed, he did cop a two-minute penalty but is still five seconds in front.
"It's not the greatest start, but it's still a long rally to go," Toby says.
"We're in good shape, we feel good on the bike and we're happy."
Veteran Queensland competitor Rodney Faggotter (Yamaha) is in 25th position with fellow Aussies  Ben Young (Duust) in 92nd and Matthew Tisdall (KTM) 129th.
The route left Jeddah for a 433 liaison and a 345km special stage along the coastline through mainly sandy terrain with some rocky sections toward the end.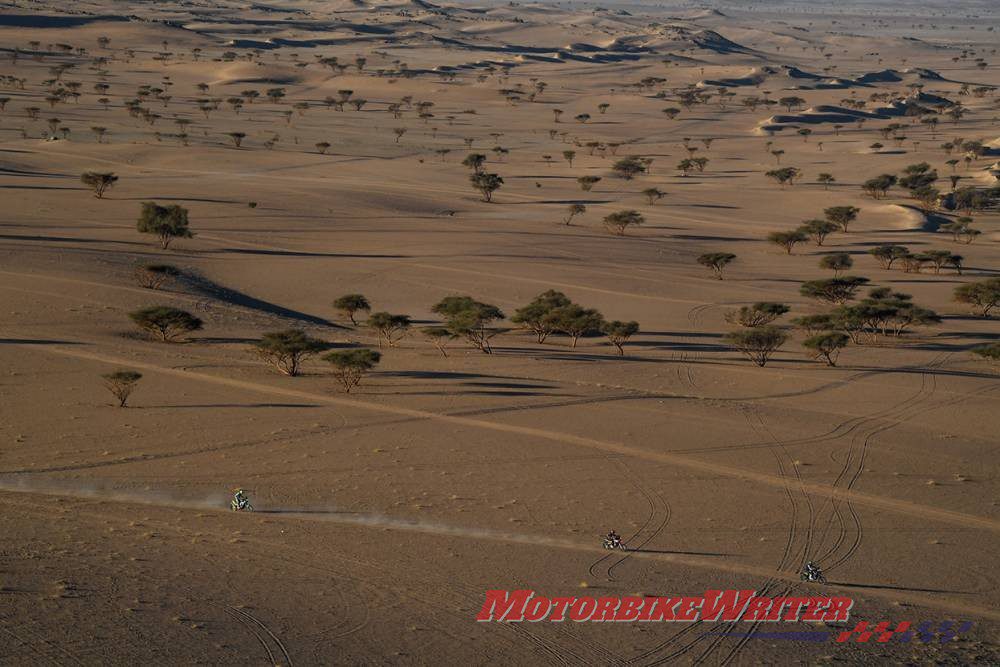 Yesterday's highlights will be screened on SBS TV tonight at 6pm (check local guides).
We will publish daily updates each morning until the rally ends on January 17.
Toby aids firefighters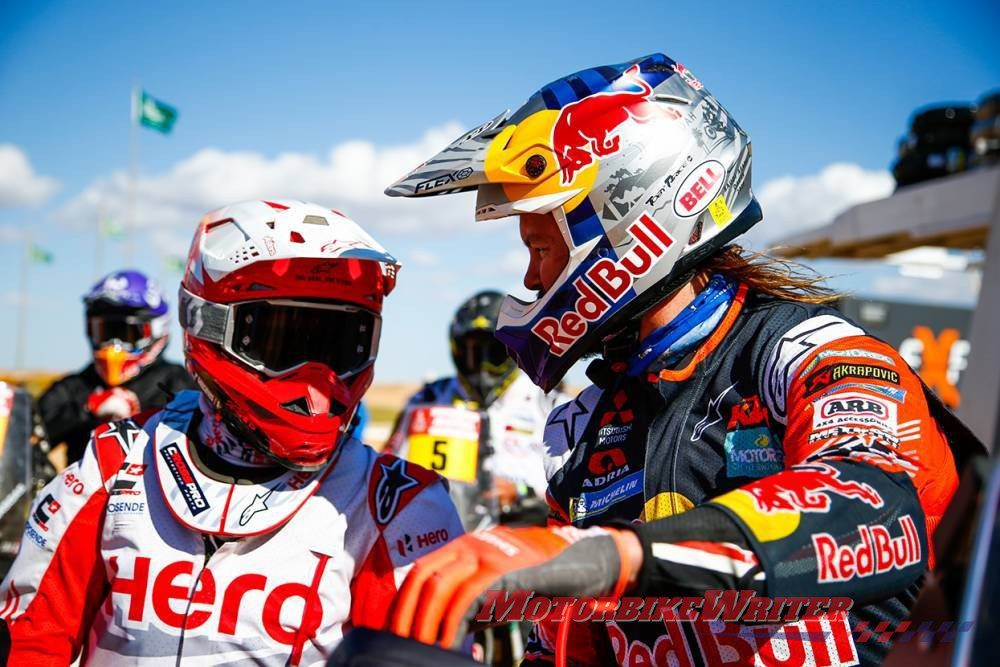 Toby is also doing his bit for the current critical bushfire situation by auctioning his starting jersey and pants with proceeds going to the NSW Rural Fire Service.
It is open worldwide, just send in your bid in Australian dollars on his Facebook page or Instagram.
Current highest bid is $13,001.
Auction closes on 18 January at 5pm (AEST).
2020 Dakar
For the first time, the Dakar Rally is being held in just one country, Saudi Arabia.
It began in 1978 passing through several countries from Paris to Dakar in Senegal.
In 2008 the rally was cancelled due to terrorist threats in Mauritania and resumed the following year in South America but kept the name as it retained the "Dakar spirit".
That should mean it is a challenging rally with lots of different climates, terrain and navigational challenges.
So far the terrain just looks sandy.
However, they have made the navigation tougher, so the race won't be just about flat-out speed, but navigational skill.
As for the usual travelogue of beautiful scenery, it seems it is now just sand, sand and more sand.
Dakar organiser ASO last year signed a controversial five-year deal with the tainted nation criticised for human rights violations including the murder of American newspaper reporter Jamal Khashoggi. 
The Muslim nation also has a poor record on its treatment of women which could have been an issue with the rally organisers as many women now compete.
However, in  2018 Saudi women were finally permitted to ride motorcycle and drive trucks.
The organisers say other Middle East nations may be added in future years.