Tirox Chain Wax Image Gallery
Is this finally a replacement for the late, lamented and beloved DuPont Teflon Chain Lube (review)?
Remember? That was the "Multi-Use Dry, Wax" stuff that everyone loved.
It was the perfect motorcycle chain lube.
Or was it?
Here we are, 10 years later and time and technology marches on.
Rumor has it that the original DuPont product (which was suddenly and strangely discontinued in 2012) might not have provided the dedicated type of lubrication needed for motorcycle chains and sprockets.
Those same rumors claim that the old Teflon formula also may have been leaking behind the O-rings on a motorcycle chain, causing the grease inside to dissolve.
II can't say that's true one way or another; in fact, I/we used the original DuPont formula until the last can died, with no problems to report.
Nevertheless, the absence of the DuPont chain lube left a big hole in the market. And some brains got to work on a plan.
Which brings us to the new Tirox Synthetic Chain Wax.
Quite frankly, you'd never know the difference between the Tirox chain lube and the original DuPont lube. The former is what appears to be an exact duplicate…but better.
First of all, it "disappears" just like the original DuPont spray — a good thing because you don't want greasy oily slimy sticky stuff all over your chain. All that does is attract dirt, which is ground into the chain and sprocket. Exactly the opposite effect that you want.
Also, the Tirox Synthetic Chain Wax is specifically designed for motorcycle use, where the DuPont product was not. Tirox claims that the new formula is specifically designed to keep dirt from collecting on the chain and to prevent leaking past the O-rings.
We've been using it for the last couple of months and I have to say, it works…just like the old DuPont formula: not sticky and it dries and disappears on the chain.
The Tirox lube comes in a huge 420 gram (14.8 oz.) spray can; enough to last a few seasons at the very least.
They even pack a pair of rubber gloves under the lid. The only issue? It doesn't come with a spray tube, apparently. The sprayer works OK, but don't overdo it — you want to spray on just enough to coat the chain.
If you get the sprayer too close, or if you linger on one spot too long, you'll get too much overspray or residue and that reduces the disappearing act effect.
There's not much more to say, so here are some photos: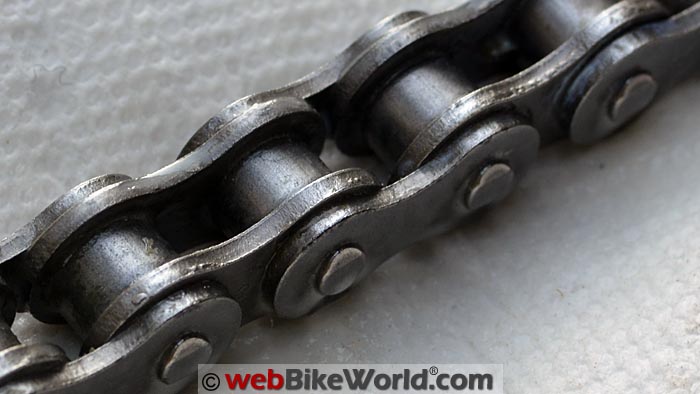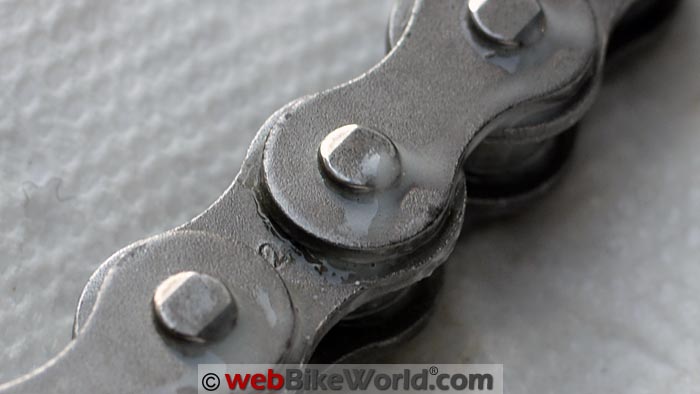 From the Manufacturer
"Because the majority of chain lubes on the market tend to clump up and clog everything, many riders tend not to lube as often. I tell everyone who buys this to lube more often. Don't be afraid. I use it after a ride to even do a quick cleaning, before the solvent and our proprietary "Tacifier" kicks in.
I am considering creating two versions: light and heavy. Some users want to see something substantial on their chains and sprockets and version 2 will be heavier and also for dirt riders/motocross bikes."
Conclusion
The Tirox Synthetic Chain Wax is the 2015 replacement for the classic DuPont Teflon Multi-Use Dry, Wax chain lube that everyone loved.
Ten years is a long time and technology has improved, so we now have the same type of disappearing chain lube that feels dry and clean, yet keeps your chain and sprockets lubricated.
See Also: Tirox Speed Wax Detailer Review
w

BW

 Review: Tirox Synthetic Chain Wax
Made In: Canada of U.S. parts.
Note:
 For informational use only. All material and photographs are Copyright © webWorld International, LLC since 2000. All rights reserved. See the webBikeWorld® 
Site Info page
. Product specifications, features and details may change or differ from our descriptions. Always check before purchasing. Read the
Terms and Conditions
!
Owner Comments and Feedback
---
From "G.U." (August 2015): "One of the big selling points of the DuPont dry wax chain lube was that you could buy it at Lowe's for about $6 per can. The Tirox stuff is expensive, just like every other motorcycle specific chain lube, except the Wal-Mart stuff."
---
From "D.A." (May 2015): "I love the site, and many reviews are timely and informative. This one is lacking. There's a quote in there, saying "We've been using it for the last couple of months and I have to say, it works" What does this mean?
Did you test it over a set number of miles and see how much the chain and sprockets wore when compared to other chain lubes? If not, then what other measure is there that tells us that "it works?"
Do we even actually know if chains will last longer with this lube vs. not using any lube at all? You might think so, but how can we know without testing?
I mean, there's all kinds of stuff I can spray onto a chain that dirt doesn't stick to that turns invisible after you spray it on. I think my wife has some Pam in the kitchen; maybe I should try that?
The point is that it's fine to say that it _seems_ like it's a good product, what with it keeping dirt away and drying quickly, etc. but it's going too far to declare that it works just because you sprayed it on there and nothing bad happened.
As I said, most of your reviews are great .This one is, well, to put it kindly, not. I only bring this up because the wBW site is trusted by many, and as such should be held to a higher standard. If I was reading this on Motorcycle.com or in the newly terrible Cycle World magazine I'd never bother."
Editor's Reply: To be honest, chain lubes are basically impossible to objectively review, for a number of reasons.
First of all, modern O/X ring chains just don't need much lube. Keep 'em fairly clean and free of rust and adjusted correctly and they'll last. It's basically not possible to know what effect one brand of lube or another has on chain life.
Second, just about any old stuff you spray on them will do the job. Just keep away from the sticky lubes that attract dirt. There's just not much difference between chain lubes. Find one you like, spray it on once and a while and you're done.
There is no way to tell whether one works better than another for reducing wear or friction.
You'd need to create some type of scientific chain tension system in a laboratory and run a chain and sprocket set under simulated road conditions for thousands of miles and then precisely repeat that test with different lubes, then measure wear.
All of our reviews are subjective and we have never stated anything different. I'm pretty much at the end of reviewing chain lubes because there just isn't much more to say and there isn't much difference between any of them other than the sticky factor.
For the Tirox lube, all I can really say is that it dries like the original DuPont formula and it seems to work fine. If you look back at all of our chain lube reviews, they basically say the same thing, so this Tirox review is no different.
The main point of this review was to let our readers know there's a new lube that is very similar to the much beloved DuPont formula that is no longer produced. If anyone has real scientific data showing chain lube type vs. wear, I'd be happy to publish it.
---
From "J.D." (May 2015): "The UPS guy just delivered the can of Tirox Synthetic Chain Wax that I ordered after reading your recent review. I'm writing only to let you know that a generic "straw" (the one I used was in a can of WD-40) will fit into the nozzle of the Tirox can and using it kept me from overspraying my chain.
I just hope that in the long run, the Tirox is as good, if not better, than the DuPont product was. Thanks for finding and reviewing the product."
---
From "D.N." (April 2015): "I'm glad the Tirox seems to work well, but the Motul Chain Lube Road is also a perfect substitute!"
---
From "A.K." (April 2015): "Tirox sounds good. I had used the DuPont lube for years based on the webBikeWorld recommendation and liked it a lot. I still have a supply of the small bottles for trips.
My replacement for the old DuPont has been BMW's Chain Lube with "Moly", part #72 60 2 240 336. It contains PTFE and molybdenum disulfide, sprays on easy, and dries completely with a barely visible film. I would suggest giving it a try sometime. Love your site."