Australia's top and most senior stunt rider still has a few tricks up his sleeve. While he won't say how old he is, Matt Mingay has been stunt riding since 1997, has held three world records and says he is not even thinking of retiring.
Since 2006, Matt has been stunt riding on Harley-Davidsons which, he says, are not the easiest bike for performing tricks. However, he says there are a few things you can do to make your bike more stunt-worthy.
"First, change the gearing to slow it down. That also makes it more torquey," he says. "Next thing is to put a rear handbrake on it under the clutch lever so you can use the rear brake no matter where you are standing on the bike. You'll also need bars all over it for your feet. But the most important thing when learning is a crash cage around the engine casings because you will drop it."
What, you think Harleys are just for slow riding, or that you just load it on the back of your truck to transport it (Click here to check out a bad-ass loading ramp for Harleys) to some motorshow and show off to your biker friends?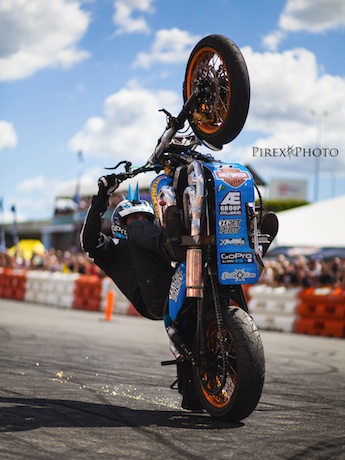 Matt says that most beginner stunt riders lower the tyre pressures to about 18psi which slows the bike's reactions, giving the rider more time to react. "But as you get better you run higher pressures so you can do faster stunts. I run 35psi in the Harley. A lot of people stick around 25. Higher pressures means the faster everything reacts so it gets a lot twitchier and if you are doing big circles or drifting it doesn't fold or run off the bead and high-side you."
Matt loves making things difficult for himself so he stands out from other riders, which is why he's stunting on Harleys – two 1200 Sportsters and a Wide Glide. "When I started in 1997 it was on Jap bikes, but I needed something to make me different from the rest and at the time there was only one other person in the world stunting on Harleys and that was Jason Pullen in America. So I took up the challenge and did it on a Harley."
Harley-Davidson Australia gladly came to the party and challenged Matt to wheelie and "trash" a variety of machines including a V-Rod Muscle, Fat Boy, Heritage Softail and even an Ultra. I first met Matt at the press launch of the Street Rod in 2006 when he had just started riding Harleys. Matt impressed the assembled motorcycle journos with a dazzling display of wheelies and drifting that we didn't think was possible on such a heavy and long rig. "It's definitely a challenge throwing around 300kg-plus. The Fat Boy was right up there as the toughest, but I still managed to get them all on the back wheel and do standup donuts."
Now here's the big tip you've been waiting to hear all along from our top stunter: What's the secret to pulling wheelies on such monsters? "The secret? Hold the thing flat, dump the clutch and yank it as hard as you can. It's really all in the technique. You have to find where the power curve is, bounce the front and dump the clutch at the same time it unloads. If you get it right, you get right."
And if you don't? Well, Matt warns it can get ugly and it can hurt. He's broken 36 bones in his career. "Not all of them were stunt riding; a few of them I did being an idiot."
Matt started his career by entering and winning a couple of wheelstand competitions at Brisbane's Lakeside race track. "It kind of blossomed from there. A couple of promoters approached me and asked how much to put on a show. I said $500 and didn't expect them to accept it. I was a motor mechanic apprentice at the time, but pretty soon I threw my job in and I've never done anything but stunting since."
He has held three World Records in his time for the fastest wheelie over 1km at 225km/h, fastest stoppie at 217km/h and the most donuts in a minute at 25. "I'm looking at claiming another world record mid-year, so stay tuned. I can't tell you what it is now. As soon as you let it out of the bag, someone else will try to crack it. There are lots more stunts to conquer and I have lots of plans up my sleeve. It's never-ending in the way tricks are progressing in the world. In Australia we are third or fourth down the scale in ratings. I'm looking up to American stunt tricks and trying to copy them."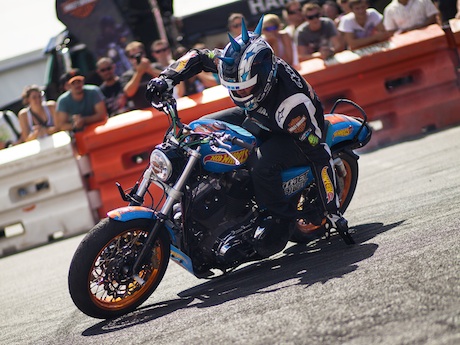 These days Matt is very busy lately performing at the V8 Supercar rounds, Australian Superbikes, MotoGP, Formula 1, drag racing, corporate events and almost every major motorsport event in the country in front of a combined audience of 2.5m people a year. Matt has also performed as a stunt double for many movies and commercials including Mission Impossible 2 and Bollywood films.
"A lot of people have this vision in their heads that I do a few skids and wheelies and in between I lie on the beach and drink cocktails. I'm working seven-days a week, 11-hours-a day," he says. "When I do get time off I don't want to touch the bike at all."
His favourite stunt is a high-speed power burnout from lock to lock, but he doesn't get the opportunity to perform it these days. "Stunting has lost its edge. It used to all be high-speed, but now it's all slow carpark stuff. There's not many do the high-speed stuff any more. The high-speed stuff is the most dangerous. I used to do a trick where I would jump off the back of the bike wearing titanium shoes and ski behind it at 230km/h. I've done it a few times on a Harley but not much anymore."
Matt will perform at the HOG Rally in Cairns next month where he is bound to delight the Harley fans. One trick he won't be performing just yet is circle wheelies while sitting on the handlebars, but he's not far off it. "I've done them a few times, but I never do a trick I haven't mastered 100% in front of a crowd as I don't want to stuff up. At the moment it's a very hit-and-miss trick. If you fall, you fall from a very high height and it usually ends in tears."
Matt says he is often asked if he will pass on his tricks at a stunt riding school. "There's not really such a thing as a stunt school in Australia. I've been asked whether I will teach people and unfortunately in this day and age insurance is an issue and something I don't want to be responsible for. Maybe it's something I'll do when I do retire. Not that I'm planning on retiring yet. At the moment I am busier than I've ever been. I get a few young guns come up through the ranks and think they are number 1 and I still manage to blow them away."