The cold weather and snow still give some of us troubles but that doesn't mean you should put away your motorcycle until spring. Riding safely and comfortably during the cold weather is possible! Checkout our infographic provided by the Motorcyle Lawyer Arizona.
To keep you warm and safe on the road, please follow these tips.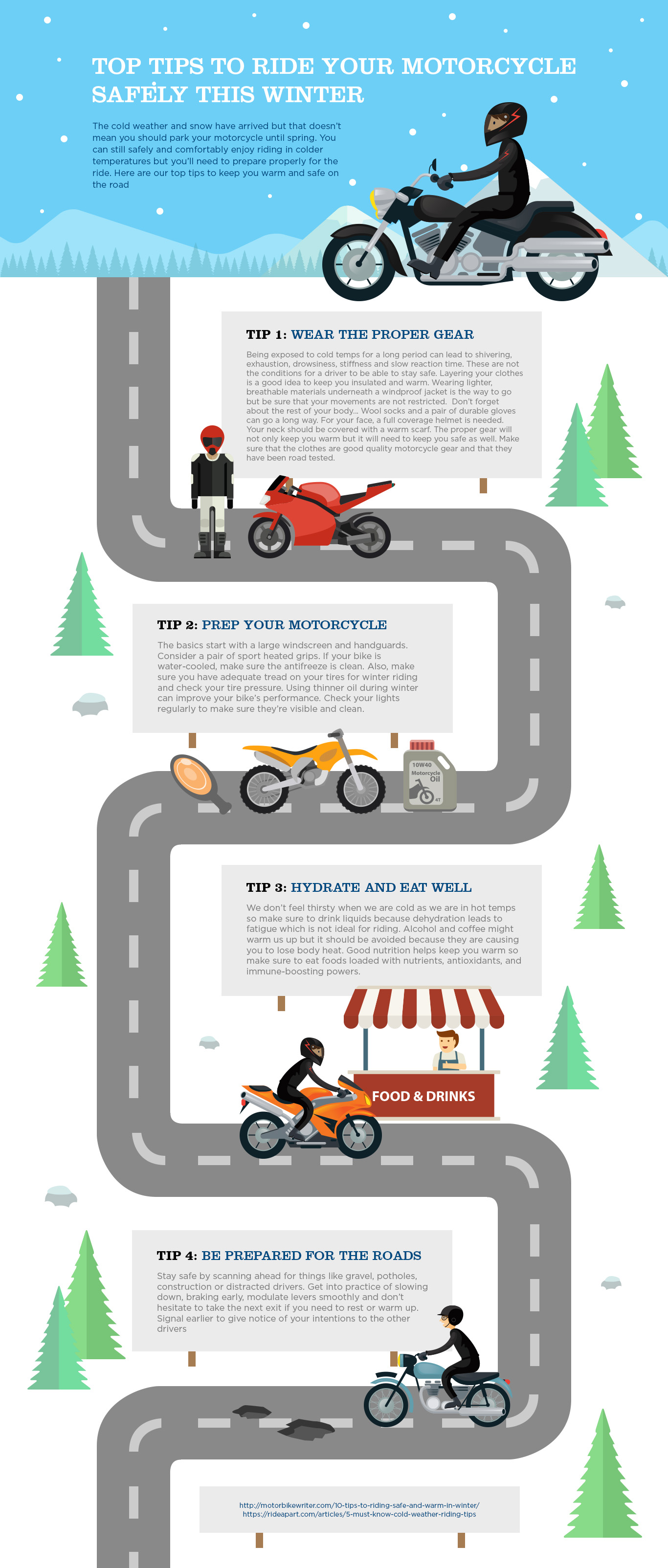 Tip 1; Proper Gear
Shivering, exhaustion, drowsiness, stiffness and slow reaction time are some consequences of exposing yourself to cold temps for too long.
Layer your clothes to keep you insulated and warm.
Wearing lighter, breathable materials underneath a windproof jacket.
Wool socks and a pair of durable gloves can go a long way.
A full coverage helmet is needed.
Your neck should be covered with a warm scarf.
Tip 2; Motorcycle Prep
A large windscreen and handguards.
Consider a pair of sport heated grips.
Make sure the antifreeze is clean.
Adequate tread on your tires for winter riding.
Check tire pressure.
Use thinner oil to improve bike's performance.
Check you lights regularly to make sure they're visible and clean.
Tip 3 ; Hydrate and Eat Well
Drink liquids because dehydration leads to fatigue.
Avoid alcohol and coffee might because they lead to body heat loss.
Good nutrition helps keep you warm.
Tip 4; Be Prepared For The Roads
Scan ahead for things like gravel, potholes, construction or distracted drivers.
Slow down, braking early, modulate levers smoothly.
Signal earlier to give notice of your intentions to the other drivers.
Take the next exit if you need to rest or warm up.