The end appears to be coming for noisy motorcycle exhausts as noise detection devices are being trialled in the UK and Paris while Australian authorities monitor the trials.
Both the UK Department of Transport and French noise pollution agency Bruitparif are trialling devices that detect the noise, identify the culprit, take a photo and can even automatically issue a fine.
While they are set up to detect any noisy vehicles, the Parisienne devices are specifically targeting motorcycles with one set up in Saint-Forget, a hilly rural area near Paris popular with riders.
These "noise cameras" or "noise radars" are still under trial and no fines have been issued fines yet, but it may not be long before they are being used in Australia and other countries.
In India, police take a less technical approach with a subjective assessment followed by smashing the offending exhaust pipe on the roadside.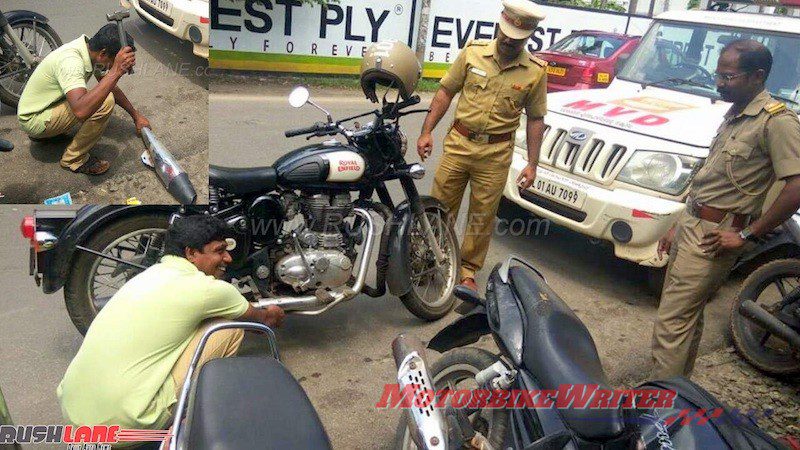 In June, they made an example of their crackdown by steam rolling confiscated pipes.
Noisy trials
When the UK trial was announced in June, we contacted police and road authorities in each state to gauge their interest in the noise cameras.
We received mainly non-committal replies saying they monitor the development and introduction of all traffic enforcement technologies around the world.
WA Police were the only ones to admit they were actively monitoring the UK prototype noise cameras and said they would "seek information on its operational effectiveness".
Queensland Transport and Main Roads say they have trialled other equipment but only to detect noise levels of heavy vehicles.
"Although the technology can potentially be used for detecting noisy, modified or defective exhausts in light vehicles and/or motorcycles there is currently no plan to extend the trials or legislation to include those vehicles in Queensland," a spokesperson told us.
How the systems work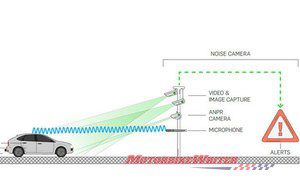 The UK DoT could not supply us with any images of the camera or details of how they work, but they did provide this tiny drawing showing a camera pointed at an oncoming car.
Surely the camera should be behind the vehicle!
They say the camera function will identify the type of vehicle and its legal sound level (decibels or dB) to assess whether to apply an infringement.
In Europe, motorcycles have maximum noise levels of 73-77dB, depending on engine size, while cars are about 82dB.
Australia has much more lax levels of 94dB level for motorcycles (100dB if built before 1984) while it's 90dB for cars (96dB before 1983).
But since the requirements for testing noise levels are so complex and prone to inaccuracies, we wonder about the accuracy of a device positioned up a light pole.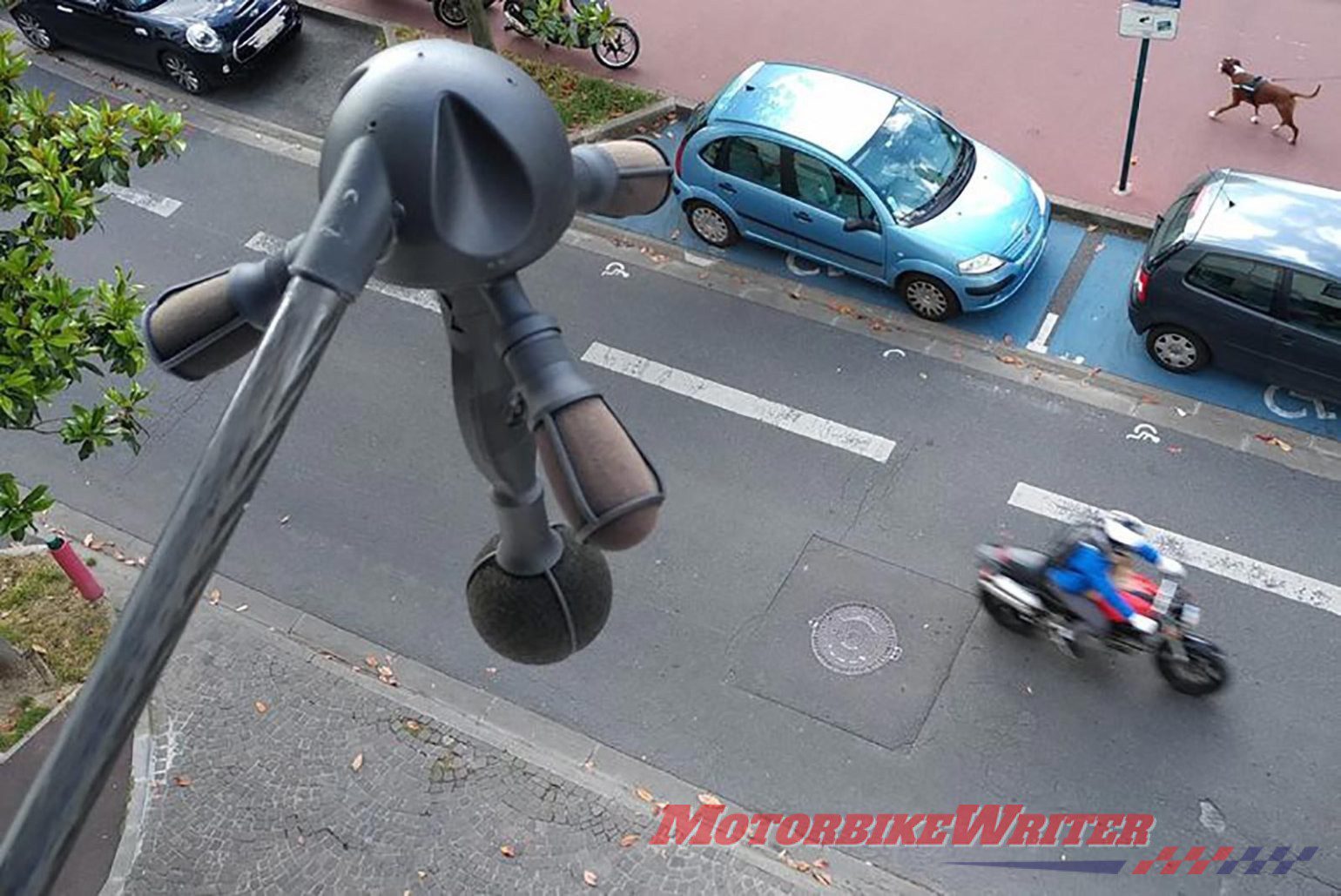 However, French noise pollution agency Bruitparif says their device is very accurate.
It has four microphones that measure decibel levels every 10th of a second and triangulates the source of the sound.
The device displays a picture of an "acoustic wake" as a trace of coloured dots trailing a vehicle.