The time has come to park our motorcycles, act responsibly and safeguard the health and livelihoods of ourselves and others as the pandemic closes borders in three states and the NT.
As of midnight tomorrow (25 March 2020), the Queensland border will be closed and police will be patrolling the many roads from NSW.
Queensland joins South Australia, Western Australia and the Northern Territory who have also closed their borders.
If you do not have a valid and essential reason to enter those states and the NT, you will have to self-isolate for 14 days.
There will be various penalties of up to $13,000.
The following Queensland/NSW roads will be closed from 26 March 2020:
• Nerang-Murwillumbah Road at Springbrook
• Tomewin Mountain Road at Currumbin Valley
• Kent Street at intersection with Toolan Street at Coolangatta
• Dixon Street roundabout with no access to Queensland from Charles Street to Florence Street at Coolangatta
• Dixon Street at intersection with Bay Street at Coolangatta
• Miles Street at Coolangatta opposite Len Peak Oval.
Borders patrolled
Queensland Deputy Commissioner Steve Gollschewski says police officers and other officials will be out on the road "as of one minute past midnight tomorrow night, making sure that these measures work".
That rules out the usual weekend club ride across the border and back.
The PM's office has issued simple advice on travel: "The Prime Minister has recommend against all non-essential travel in Australia."
Queensland Premier Annastacia Palaszczuk goes even further: "Stay in your suburb."
While those are only recommendations at the moment, we imagine that if people do not curtail unnecessary travel, they will become enforceable bans.
Are riders really a threat?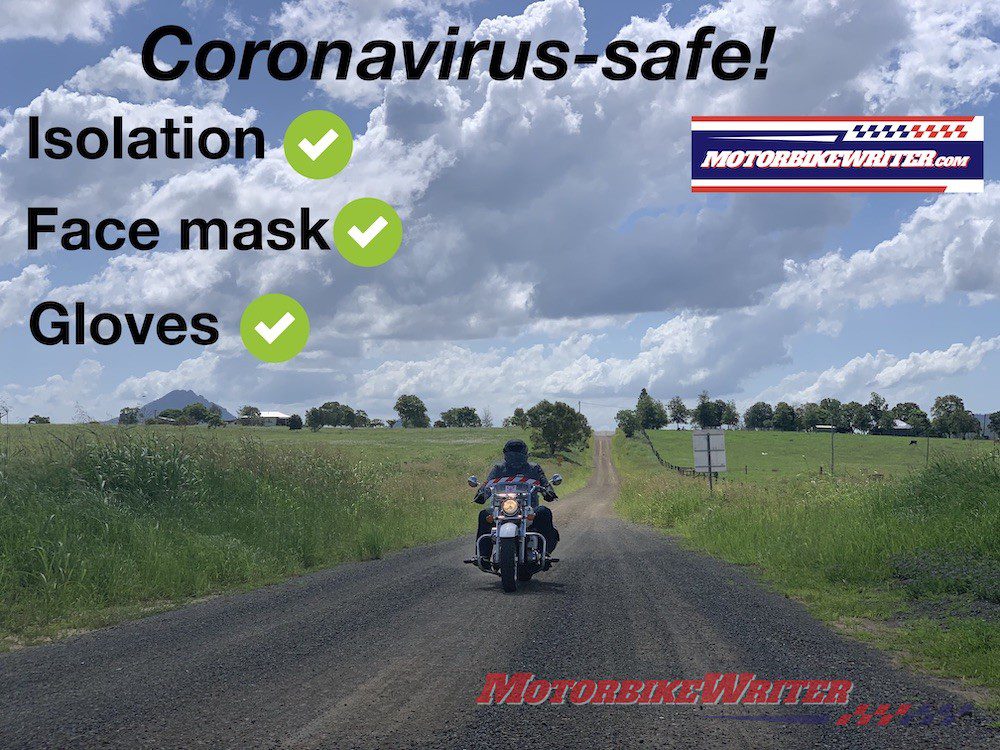 We have previously argued that solo riders who wear a helmet and gloves and don't stop anywhere except for fuel are no threat.
However, that is not correct.
Queensland Health point out that a helmet is not an effective surgical mask and gloves are really no barrier as the coronavirus can survive for up to a day on your gloves.
In the meantime, if you touch your face, put your gloved hands anywhere that other people might touch (fuel pump, table, credit card machine) or take your gloves off with a bare hand, then you could transmit a live virus.
Scientists say Covid-19 can survive in the air up to three hours, up to four hours on copper, 24 hours on cardboard, 48 hours on stainless steel and up to 72 hours on plastic surfaces.
So it's time for riders to act responsibly and park our bikes or limit use to commuting and other necessary duties.
Riding brotherhood
Riders are part of a brother/sisterhood where we look out for each other, so let's look out for the health and job security of our riding buddies!
Time to stop being selfish about our leisure activity and put the greater good first. The sooner we do, the sooner people get their jobs and health security back and we can ride again.
What image of riders would it display to the public if you are seen riding in a pack with others this weekend while the rest of society is locked down?
If you don't believe the virus is spreading rapidly, click here to check all the latest Covid-19 stats in Australia and around the world.
| State | COVID-19 cases | % of all cases in Australia | % of Australia's population | Deaths |
| --- | --- | --- | --- | --- |
| NSW | 818 | 43.4% | 31.9% | 5 |
| VIC | 411 | 21.8% | 25.9% | 0 |
| QLD | 319 | 16.9% | 20.0% | 1 |
| WA | 140 | 7.4% | 10.3% | 1 |
| SA | 134 | 7.1% | 6.9% | 0 |
| TAS | 27 | 1.4% | 2.1% | 0 |
| ACT | 32 | 1.7% | 1.0% | 0 |
| NT | 5 | 0.3% | 1.7% | 0 |
| | | | | |
| Totals | 1886 | | | 7 |
For all health alerts across the nation related to this pandemic, click here.
Now click here for details on how to hibernate your bike for the coming months of inactivity.
Meanwhile …