Brazen British thieves have torched a vintage Triumph Thunderbird in an Instagram video because the owner wouldn't pay a £1000 ($A1765) ransom.
The video was posted on the closed-group Instagram account "biketakerrr", sparking calls for the social media network to prevent criminal acts being posted and to help police find the thieves.
We can't show you the video because we have been rejected from following their account.
The good news is that while police are yet to make any arrests, the bike was recovered from a Bristol field. It is reported that it was not totally destroyed and could be restored to its former glory.
Torched Triumph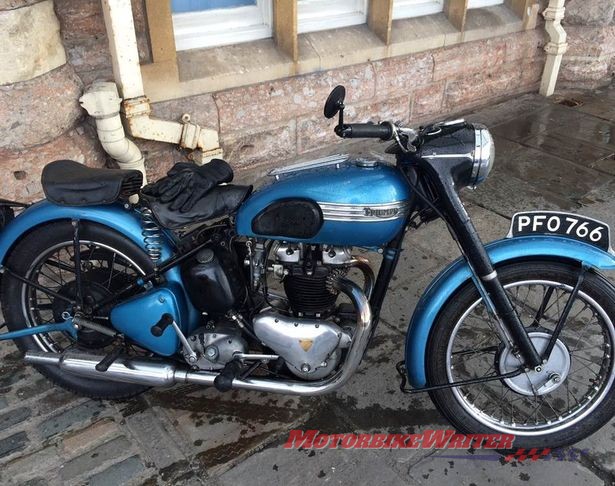 The bike torched in the video is a 1951 Triumph Thunderbird worth up to £10,000 ($A17,650).
It was stolen from the owner's garage and a "ransom note" posted on Instagram.
When the owner failed to pay, the thieves torched the bike and released the video on Instagram and tagged the owner in the comments section.
Their comments include: "Told u [sic] give me a grand but you didn't listen rude boy"; "Uno [sic] the drill, don't pay gets burnt"; and "He had the chance getting it back he never took it so unlucky."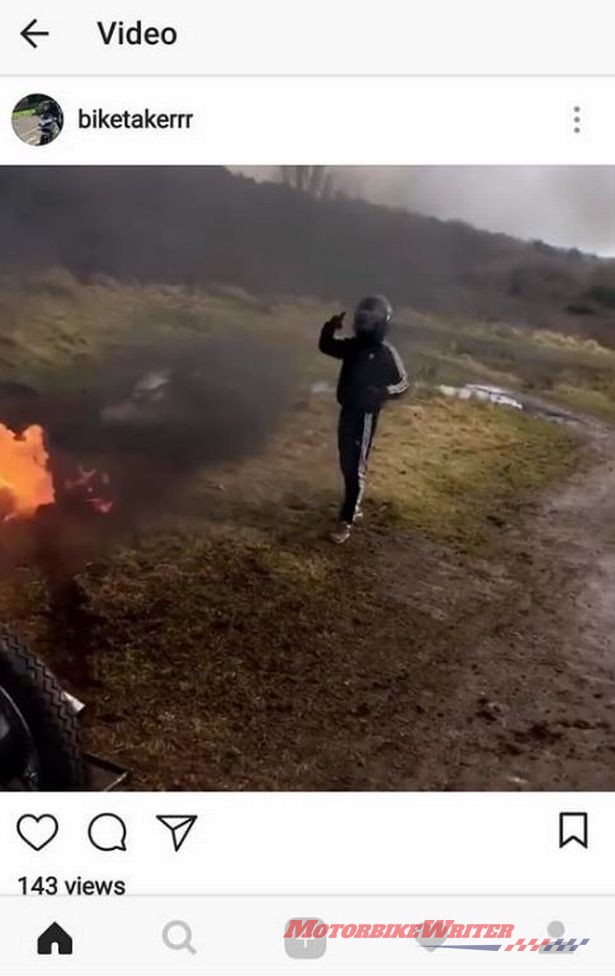 Avon and Somerset Police say they are "pursuing a number of different lines of enquiry".
Surely Instagram has to take some of the blame for allowing criminal acts to be posted.
They should also be able to do more to point police in the right direction to find the culprits.
Last year police started up a special investigation, named Operation Buell, to monitor the gang's online presence, resulting in several arrests.
However, it appears the gang is still active.
UPDATE
Since this article was posted Instagram has closed the account.
Avon & Somerset Police say they arrested an 18-year-old man on "suspicion of theft of a motor vehicle as part of Operation Buell".
"The man, who was arrested yesterday (18/2), has been released under investigation while our enquiries continue," they say.
Rampant UK theft
The theft, arson and attempted extortion is the latest in the plague of motorcycle theft sweeping the United Kingdom.
More than 30,000 motorcycles were stolen in the UK last year and only 40% were recovered, either damaged, in pieces, or written off.
Almost half were stolen in London, prompting Mayor Sadiq Khan to call a special summit with representatives from Honda, Suzuki, Yamaha, BMW and Piaggio, urging them to do more to "design out" motorcycle theft.