REV'IT Clare Ladies Jacket Review Summary
Review Summary
The new REV'IT Clare women's jacket offers a great look and style for riding or just to wear around town. The protective armor that is included is certainly concealed well enough for this to pass as simply a stylish leather jacket. The short waist and slim fit make it very comfortable to wear when riding or even driving.
Pros
Thick,
High-quality leather
Thermal Liner
Inner pocket
Chest pocket
Slit hand pockets
Double jeans loop
8-inch waist connection zipper
Seesmart CE Level 1 armor at elbows and shoulders
Multiple stitching in impact areas
Covert style for everyday wear
Cons
Arms are very narrow
3 season jacket
Poor airflow
No back protection included
REV'IT Clare Ladies Jacket Image Gallery
The new REV'IT Clare women's jacket is a very classic tight-fitting leather jacket. As soon as I touched it, I knew that this was not just any leather jacket. This was a top quality piece of leather craftsmanship. The leather is actually Iceland Buffalo which allows for a certain degree of softness without sacrificing durability. The weight of the jacket is about five pounds with the only shoulder and elbow protection so the feel is definitely that of a well made and durable jacket. Nothing about this jacket looks or feels low quality.
A Great Leather Jacket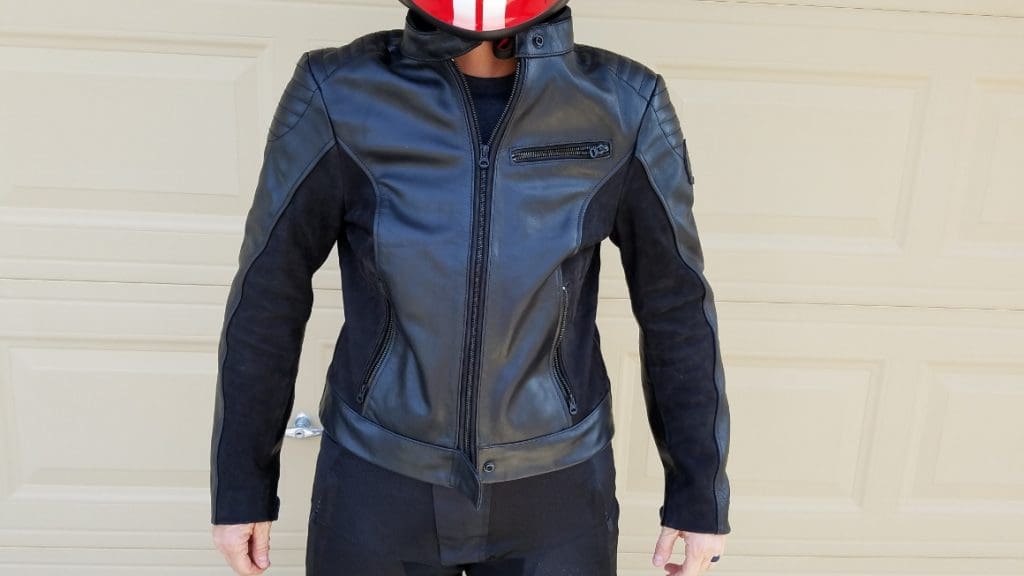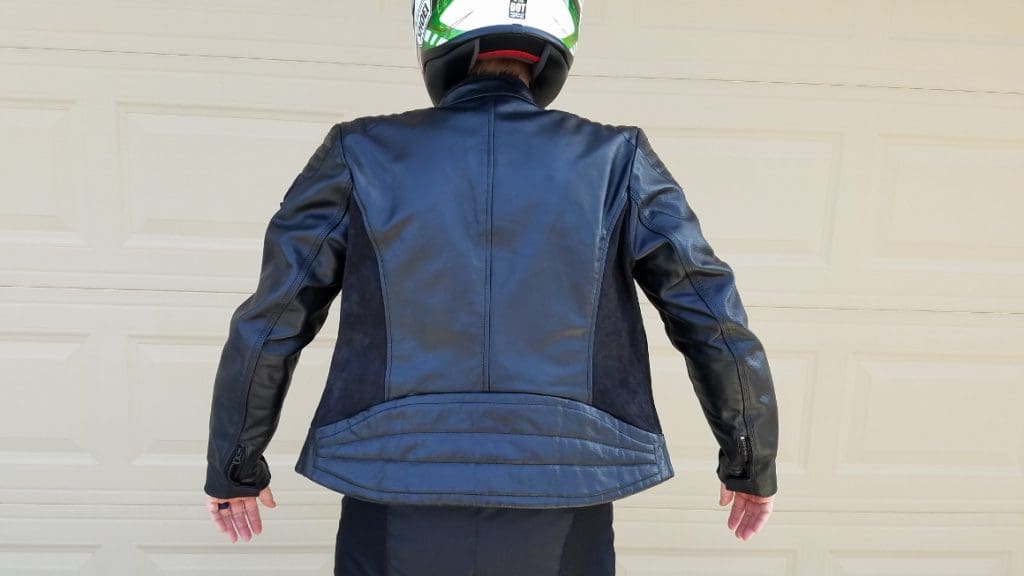 From a customer care perspective, this jacket arrived in perfect condition and was packaged very carefully which is not always the case with motorcycle gear. I guess that the manufacturers assume that the stuff can take a beating so the packaging is usually minimal. But the Clare arrived wrapped in plastic and with tissue paper covers on all of the zipper pulls.
The Clare is offered in three colors dark brown, black and red. The size ranges from 34 to 44. I have never worn any of the REV'IT ladies jackets so I referred to the sizing chart and determined that I should try a size 42 to accommodate my waist size. My concern was that with no expansion panel or spandex at the waist, anything smaller could have been too tight.
I am 5'10" and weigh about 155. The 42 is a good waist size for me as I wear a 32. The shoulders and the arm length are also good but the chest and collar area are a little large. In addition, the arms are cut fairly narrow so the upper arm is a bit snug.
Pricing
The jacket sells for $549.99 with the Seesoft CE Level 1 shoulder and elbow protection but no back protection. A Seesoft back protector insert can be purchased for an additional $49.99. Being in the $550 to $600 range or more depending on the additional armor that you select, the Clare is on the high end of the spectrum with regards to cost but it is also on the high end of the quality spectrum making it a good value even at the $500 plus price range.
The Clare – Full Features
Fit and Comfort
The Clare is a very classic design on the cafe style or vintage motorcycle jacket but with the twist of being cut to fit a woman. This style can be very challenging for women as the full leather jacket has no Spandex or Polyester expansion panels. So the jacket will either fit you or it will not, there are not a lot of ways to snug here and extend there to customize the fit.
Taking that into consideration, following the REV'IT sizing guide is very important if you have not had the opportunity to try on the jacket at a local store. And even when following the guidelines, REV'IT clearly includes a disclaimer below the chart.
| | | | | |
| --- | --- | --- | --- | --- |
| NUMERICAL SIZE | ALPHA SIZE | DRESS SIZE (IN) | CHEST (IN) | WAIST (IN) |
| Numerical Size 34 | Alpha Size – | Dress Size 4 | Chest 31-32 | Waist 25-26 |
| Numerical Size 36 | Alpha Size – | Dress Size 6 | Chest 32-34 | Waist 26-27 |
| Numerical Size 38 | Alpha Size XS | Dress Size 8 | Chest 34-35 | Waist 28-29 |
| Numerical Size 40 | Alpha Size SM | Dress Size 10 | Chest 35-37 | Waist 29-30 |
| Numerical Size 42 | Alpha Size MD | Dress Size 12 | Chest 37-38 | Waist 31-32 |
| Numerical Size 44 | Alpha Size LG | Dress Size 14 | Chest 39-40 | Waist 32-34 |
| Numerical Size 46 | Alpha Size – | Dress Size 16 | Chest 40-41 | Waist 34-35 |
Note: Sizing information is provided by the manufacturer and does not guarantee a perfect fit.
Leather is a unique material in that is actually improves with age and proper care. A thick piece of leather will be slightly rigid when it is new but with wear, it will soften to be much more pliable and comfortable. Though the Clare is definitely constructed with thick leather, the fact that it is 70% Iceland Buffalo allows it to be more comfortable from the first time that you put it on.
The remaining 30% is made of goatskin. The perforated goatskin panels are located on the sides of the jacket and the underside of the arms to allow for additional airflow. I was very pleasantly surprised at the comfort and flexibility from the moment I slid the sleeve on my arm.
Key-Fit Areas – Top to Bottom
The collar of the Clare is a little large for me but not so loose that I found it to be uncomfortable. In addition, the weather was warm and I was only wearing a t-shirt. In cooler weather, there is certainly room to add another layer and still fit well without feeling too snug. The collar, which is not quite 2 inches, is a rigid but ultra soft solid band of leather with a heavy duty snap closure. There is no adjustment so this is one area that either fits or does not fit.
The shoulders of the Clare are cut generously for a woman's jacket. I have relatively broad, square shoulders and was glad to find that I could easily put the jacket on and take it off without it binding on my shoulders. I was also impressed that I had a complete range of motion in this slim cut leather jacket. Again the shoulders are not really adjustable in that the back of the jacket is solid leather and there are no expansion pleats. If you fall in between sizes and have larger shoulders, I would recommend going up to the larger size to have better mobility.
The bust area is also solid leather and offers no expansion pleats or Spandex panels. This area is not an issue for me but ladies who are more well endowed could feel a little cramped or confined. And having large shoulders and a larger bust could make this jacket feel very confining. Another factor to consider is that adding a thicker back pad is also going to shrink the bust area by about an inch so keep that in mind when making a size selection.
The sleeves on the Clare are very true to the old style biker jacket with the long narrow cut and the precurved elbows. I have fairly long arms and the 24 inch long sleeves work perfectly for me. I am often frustrated when I find a perfect jacket only to reach forward toward the bike grips and have the sleeves fall several inches short of my wrists. But that is not the care with the Clare.
What I did discover is that the upper arm area was snug. I have about a 12-inch bicep, slightly larger than the "average" woman but by no means huge. The sleeves are still functional when I am in a t-shirt but a sweatshirt makes them very tight. With the liner in the jacket, the sleeves are also bordering on too tight.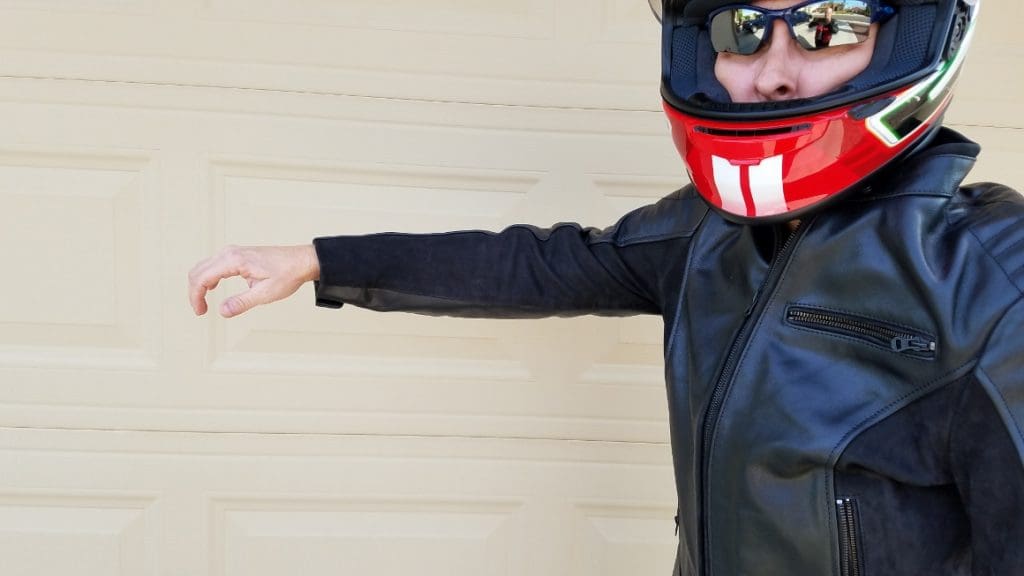 The cuffs are a simple finished leather and have no fabric or elastic material. There is a 6-inch metal zipper that is very easy to use and has proven to be very durable during my testing. Inside the zipper is a full 2-inch flap of leather to protect your skin or a shirt sleeve from the zipper and to block any cold air that might permeate the zipper fabric. A single large snap completed the cuff closure tab. When zipped and snapped the circumference of the cuff is almost 9.5 inches and will accommodate a small glove. In very cold weather, a larger lined or insulated glove would fit very well over the Clare cuff in a more gauntlet style.
The waist of the Clare is solid leather 2-inch band with a single snap closure tab. Again, there are no fabric or adjustment tabs so the size you order is just what you are going to get. I measured my size 42 and the waistband is almost exactly 42 inches. Knowing that this is a short jacket and that a true waist measurement is taken around the top of the hip bones at the navel will help you to determine which size to purchase. Even though I am tall, I am short waisted so this jacket naturally sits lower over my hips more than at my true waist. I chose to order a little large so that the jacket waist can easily settle down over my hips and not be too tight and bunch up at my waist when I am riding.
Inside the waist are also two jeans loops and an 8-inch connection zipper to attach the jacket to riding pants. I also want to point out that the back of the waist area is scalloped to a little over 3 inches in the middle of the back. This extra inch or so is just enough added length to keep your lower back or pants waistband covered even when you are leaning forward in an aggressive riding position.
Pockets and Storage
The Clare offers the traditional slit hand warmer pockets on the front with zipper closures. The zipper is almost 7 inches long and allows for easy access to the pockets as well as a decent amount of storage for a phone or other items. The external chest zipper pocket has a smaller opening at not quite 5 inches but would easily accommodate a license or other small item. The inner pocket is secured with a single snap and measures 6 inches across by 7 inches deep. For a slim fitting minimalist design, the Clare offers very functional pockets and storage space for necessities such as a phone, wallet and even a glasses case.
The Liners
The entire jacket offers a 100% polyester liner which is perforated for airflow. The finish is very soft and makes it easy to slide into the jacket. The liner is also thick enough that it provides a good layer of protection between your skin and the seams of the jacket. I never had any issue with abrasion or discomfort from any seams
The detachable thermal liner is also 100% polyester. It is a full sleeve liner and the main body portion is quilted. To secure the liner in the jacket there are 16-inch zippers on each side as well as a snap loop at the back of the collar and color-coded snap loops at each cuff. Inside the thermal liner are two additional pockets so you will still have storage space in cold weather. With the liner installed this could easily be a winter weight jacket.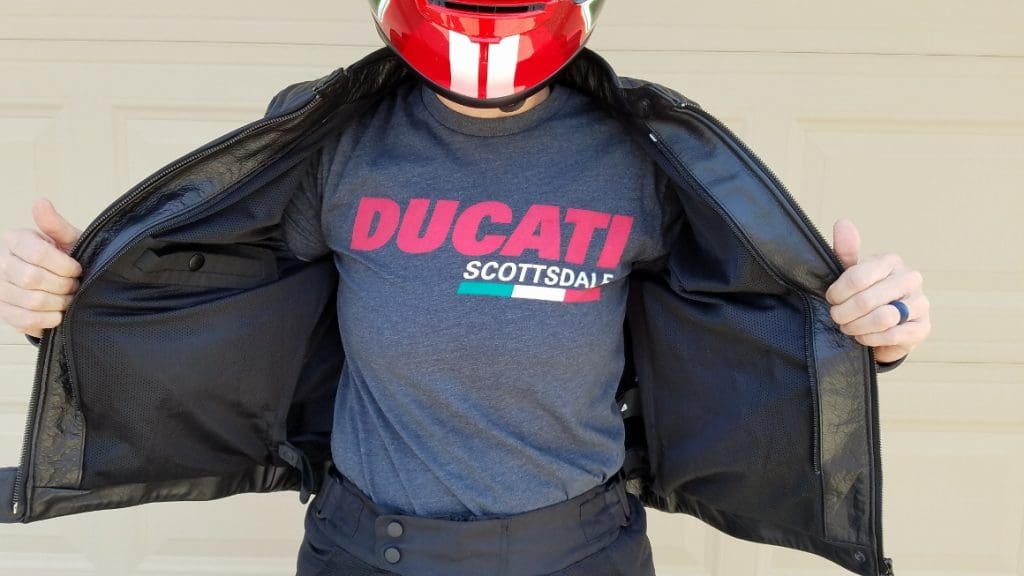 The Armor
The protective armor in the Clare is very well concealed. The shoulders and elbows hold their shape because of the Seesmart pads but if you did not know they were there you would never guess that this is a motorcycle specific jacket. Seesmart CE Level 1 protectors for the elbows and the shoulders are included with the purchase of the jacket. All of the included armor is removable so you do have the option to upgrade it or to remove it to wear the jacket when not riding.
The jacket also has a back protector pocket, which measures not quite 8.5 inches at its widest point by 17 inches long, for the Seesoft CE Level 2 Type RV back protector which is sold separately for $49.99. It is also important to note that the Seesoft back protector is offered in 3 sizes which correspond to the size of the jacket so refer to the chart to order the correct size.
Type RV / Size 03 fits 34 – 36
Type RV / Size 04 fits 38 – 44
Type RV / Size 05 fits 46 – 48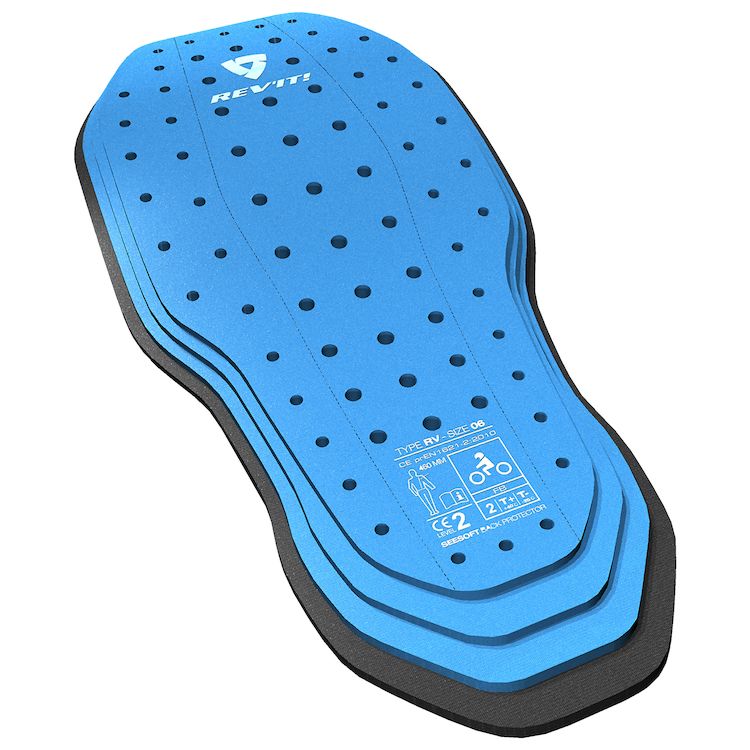 The Seesmart elbow and shoulder armor is a very unique design using a grid of hexagonal pieces to provide impact protection. The grid systems allow the armor to be very flexible and to allow a huge amount of airflow. In addition, I think that in the event of a slide this armor would add some solid abrasion protection. I must admit that at first glance I was very skeptical of the Seesmart but after a few rides, I definitely see its benefits and function in a hot environment.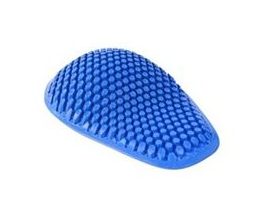 The Ventilation
Living in Phoenix, Arizona I am always looking for gear that is going to offer great ventilation and allow air to continue to circulate. The Clare is advertised as, "fully perforated panels at the sides and under the arms let the wind flow through to keep you cool during warm rides".
I have to say that is the only thing about this jacket that I question.
I wore it in 65 degrees with only a t-shirt and could not feel any air circulating or flowing through the goatskin inserts. At 80 MPH, I still felt no air moving and as the temperature began to creep up near 80 degrees I found that I was getting pretty hot.
Being a desert dweller, I have investigated other perforated leather jackets because I like the idea of the added protection of the leather. Not only is abrasion an issue in the event of an accident but so are burning from the excessive temperature of the asphalt. It is not uncommon for the road to reach a surface temperature of over 140 degrees. To put that into perspective, an egg fries at 144 degrees and 131 degrees cause second degree burns to the skin on contact.
Leather provides much better protection from asphalt burns than any mesh I have found. Most of the other jackets that I have looked at such as the Alpinestars Faster Airflow and the several Dainese perforated selections all have visible perforations. I feel that these offer a better airflow and might be better suited for really hot climates.
But even with questionable perforations and air flow in triple digit temps, I am still a big fan of the REV'IT Clare when I want a classic leather jacket that is cut to fit a woman's body shape.
The Competition
There are a few other jackets out there with a similar cut and style, however, I believe that the Iceland Buffalo leather really is superior to the bovine leather being used by other manufacturers.
With that said, the Alpinestars Oscar Shelley is a comparable price and style but only offers a flannel vest liner making it less versatile. The Dainese Racing 3 jacket is also the same style and price range but is geared more for racing and does not include a thermal liner. And all of these jackets offer a back protector pocket but do not include any protector with the initial purchase.
The Verdict?
I am a huge fan of the simplistic and classic design of the REV'IT Clare women's leather jacket. It offers a slim fit and a short-cut which makes it very comfortable when seated on a bike.
In addition, REV'IT took the time to find a great leather that offers durability and amazing comfort even before the jacket is truly broken in. I also like that they found a way to offer ample packet space to eliminate the need to wear a backpack for items such as glasses, wallet, and phone.
And finally, I have a new appreciation for the Seesmart armor that I was introduced to in the Clare. It is certainly functional and I will consider trying it out in some of my other summer jackets because of the great airflow.
If I were to be able to request a change or improvement in the Clare, it would certainly be to have larger perforations in the goatskin panels. For me, that would truly make this a jacket with the potential to be worn year round. And at over $500 I would have liked to have gotten the back protector included, especially considering the fact that the back protectors are size specific for this jacket.
Being that the Clare is made from very high-quality leather, I look forward to continuing to wear it as it continues to break in and become even more comfortable. I have no expectation of finding any issues with the durability or longevity of this product. My expectation is that this would be a one time purchase that will never need to be replaced if it is properly cared for. And in the event of an accident, I feel like the Clare will provide all the abrasion protection that I need a good level of impact protection thanks to the Seesmart armor.
Pros
Thick, high-quality leather
Thermal Liner
Inner pocket
Chest pocket
Slit hand pockets
8-inch waist connection zipper
Seesmart CE Level 1 armor at elbows and shoulders
Multiple stitching in impact areas
Covert style for everyday wear
Cons
Arms are very narrow
3 season jacket
Poor airflow
No back protection included
Specs
Manufacturer: REV'IT
Price (When Tested): $549.99
Made In: India
Alternative models & colors: Red, Black, and Dark Brown
Sizes: 34 / 36 / 38 / 40 / 42 / 44
Review Date: May 2018