Carl Zipfel Talks About the GMC CarbonPro Bed
I'm not going to tell you what truck to buy and this wasn't sponsored by GMC, but it's pretty cool that a truck company is thinking of motorcyclists when it designs the bed of its truck.
Carl Zipfel was a professional motocross racer. Upon graduating from college he was able to land a job with General Motors. As of now, he's worked there for nearly three decades. One of his latest roles was to help design the Sierra 1500 pickup truck's new CarbonPro bed. He recently told Cycle World how the bed is designed with loading and unloading (specifically motorcycles) in mind.
"The CFRP (Carbon Fiber Reinforced Polymer) material gave us some formability advantages over steel as well, which is what led to the specific wheel chock features in the front of the box. Combined with our MultiPro tailgate step feature, the CarbonPro bed makes loading a motorcycle, quad, or mountain bike easier and safer, and generally more convenient," Zipfel told Cycle World.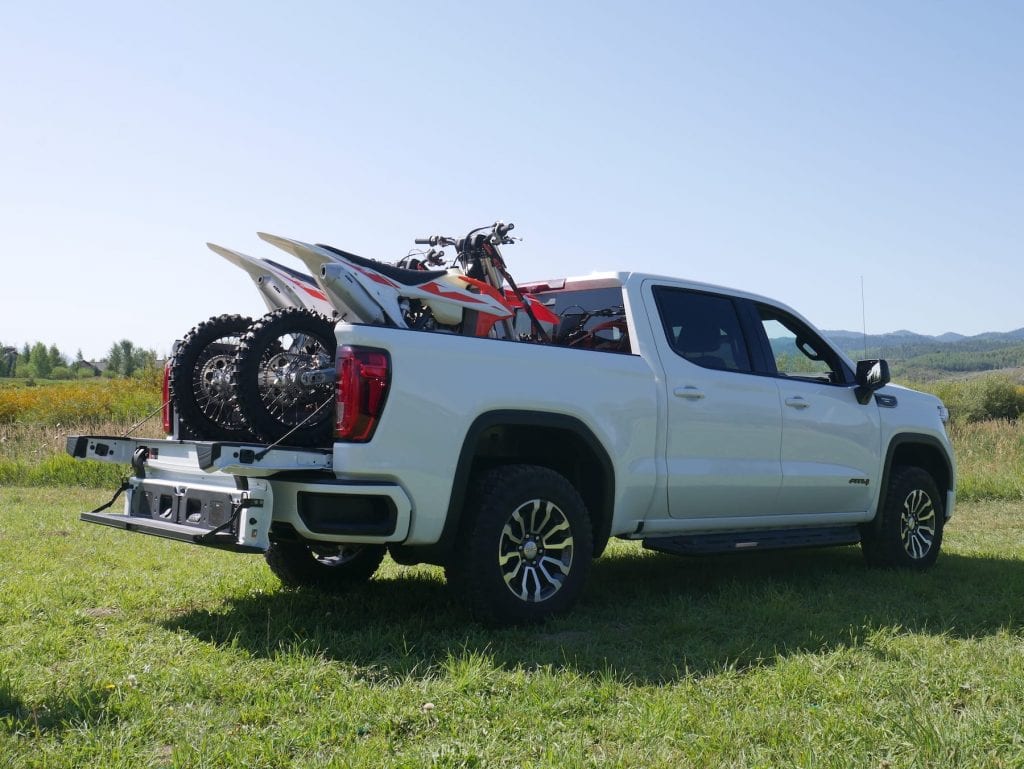 I personally had a chance to test the new GMC Sierra for an automotive website when GMC did its press drives. I saw the guys load some dirt bikes into the bed of the truck. I can say from that experience that Zipfel is right. Loading and unloading bikes from the CarbonPro bed looks easy.
While the built-in wheel chock feature is really nice, perhaps even nicer is the MultiPro Tailgate. It provides a very easy step up. when paired with a ramp, you can get a bike into the back of the pickup very easily.
I asked one of the GMC PR guys there if you could load easily without the ramp, and he said even that is easier with the MultiPro Tailgate. Get the front wheel up on the step and then just step it up again and you're in the bed. From there it's a matter of lifting the rear wheel in.
Regardless of whether or not you use a ramp (I highly recommend it), the GMC Sierra 1500 has a great offering with this. I do have to note that both the MultiPro Tailgate and the CarbonPro bed do not come standard in the lower trim levels of the truck it's only offered on SLT, AT4, and Denali trim levels. At those trim levels, you're looking at a price tag on the pickup truck of at least $44,300, $50,800, and $54,700 (USD) respectively.