Manufacturer's Information
Category:  Motorcycle cleaner
Type: Spray Bottle, 32 oz. (946ml)
Made In: U.S.A
Retail Price: $12.95
Claims – "Spray on and wipe bugs away."
For Use On – Motorcycle windscreens, windshields, paint.
Claimed Features – Bug remover. Will not remove wax. Drip resistant. Non-abrasive.
Application –  Spray on, let stand for several seconds, wipe off.  Keep surface wet until all bugs are removed
Our Opinions
Here's another apparent secret formula used by private pilots to clean bugs off the windscreens of their low-flying airplanes.  We gave it a try to see if it would work as well on motorcycle windscreens and fairings.
Unfortunately, the perfect bug remover doesn't exist yet, in our opinion.  That would be some type of liquid that can be sprayed on and wiped off in a single swipe, completely removing every bug, bug carcass and the rest, while leaving a nice, shiny finish.
That Bug Stuff didn't seem to work any better or worse than our control bug remover, Glass Plus.  That Bug Stuff has a slightly thick consistency, so it does seem to stick to the surface that's being treated, whether it is a windscreen or a painted surface
But it doesn't really do anything more than would be expected from any other motorcycle cleaner or bug remover — the 'screen gets wet and you can wipe the bugs off.
We gave it a workout by trying it on the bugs that seem to always collect on the front of the BMW's engine case.  This may be one of the hardest areas to clean because the bugs and residue really stick to the hot engine case, making it very hard to clean if it isn't done right away.  The dirt seems to get baked on
The two photographs illustrate a before and after the use of That Bug Stuff, and it did a pretty decent job in this area.
Try Aircraft Spruce for many different and unusual cleaners and polishes.  By the way, see the wBW review of RejeX polish, which works very nicely as a polish and a "soil barrier" to prevent bugs from accumulating in the first place.  We found that surfaces treated with RejeX seem to be much easier to clean when they do get dirty
Again, the question to ask is "Compared to what?" when evaluating motorcycle cleaners, polishes and wax.  In our opinion, That Bug Stuff doesn't seem to work any better or worse than other types of general cleaners, such as Glass Plus or even good 'ol soap and water.   We give it a 2 out of 5 rating.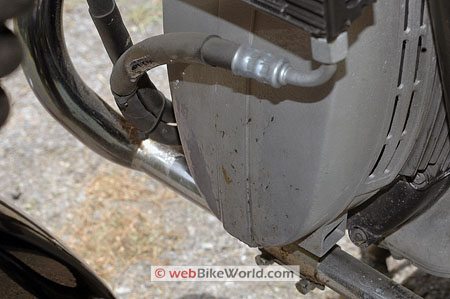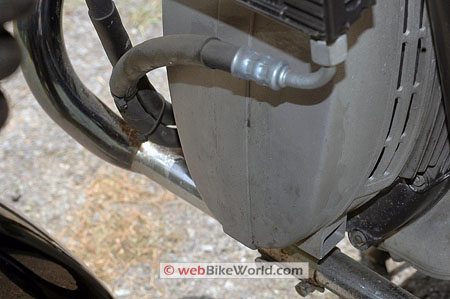 Review Date:  May 2007
Note:  For informational use only.  All material and photographs are Copyright © webWorld International, LLC – 2000-2011.  All rights reserved.  See the webBikeWorld® Site Info page.  NOTE:  Product specifications, features and details may change or differ from our descriptions.  Always check before purchasing.  Read the Terms and Conditions!