Teiz Motorsports Navigator Image Gallery
The Teiz Motorsports Navigator two-piece outfit is a delight to wear.
It is comfortable with ample venting and insulation and it is made with quality components and obviously some thought about a motorcycle rider's needs.
I think Teiz Motorsports has put together an excellent product at a competitive price point.
At 6' 3″ (190.5 cm) tall and with a 37″ (94 cm) inseam — and weighing only 180 lbs. (81.6 kg)…apparently I'm built nothing like the standard motorcyclist.
Most or all of the motorcycle apparel manufacturers just don't make clothing that is tailored to fit my shape.
Oh sure, a few of them make what they call "Tall" sizes, but those are usually only about 1″ (25.4 mm) longer than their standard lengths. Obviously, that doesn't cut it for me.
It just doesn't seem right that a manufacturer will offer an XXL, XXXL or larger, in either a jacket or pants, but not a true EXTRA LONG!
The only way I have been able to find pants or jackets that are long enough to fit me properly is to have them custom made to my measurements, but this is usually a costly option, if it's available at all.
It is often mentioned in webBikeWorld reviews that if the armor doesn't stay in place during a crash, then it can't provide the level of protection for which it was designed. This is very evident to me with "off the rack" garments, which I usually have to buy one size larger than I need to get close to my necessary length. Obviously, this results in a poor fit (too loose) on the rest of my body.
As a result of all these problems, I have accumulated a varied assortment of gear in my closet over the past several years. I still have the custom-tailored Gerbing "Ultimate" Suit I bought 11 years ago specifically for cold weather, but it doesn't have the level of protection I have since come to expect in my riding gear, so only the heated liners are in use at this point.
At one point, I thought I had found the answer — at least for a jacket — with the Olympia AST (review), but alas, over time I found that it fell far short of the claims made for it. It's still in my closet, but has been relegated for cold weather use only and it just may be put up for sale.
For riding pants, I did find  great pair that fits "like a glove": the Motoport Kevlar Police Pants (review). But, of course, those were custom-made for me.
This problem goes beyond fit. If I'm not comfortable, whether it's riding in the heat or the cold, I'm not enjoying the ride as much…and perhaps not paying as much attention to the task at hand as I should be.
So I'm on a never-ending quest for a more versatile motorcycle riding outfit. And since new fabrics are always being developed, maybe — just maybe — they've found the answer to my dreams (and I won't have to sell a kidney to cover the cost)!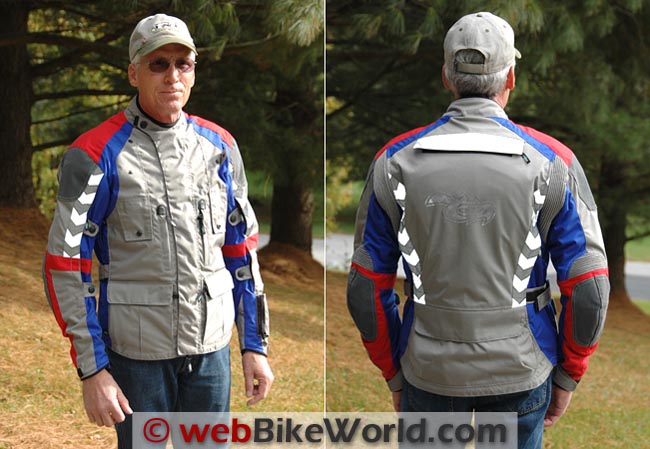 Introduction
The Teiz Navigator is a new two-piece riding outfit which is now available in custom sizes. Since the Editor knows about my problems finding motorcycle gear that fits, I was asked to do the evaluation. Needless to say, he did not have to ask twice!
Some of the Teiz Motorsports products were reviewed previously on webBikeWorld, including the Teiz Cross-Continent mesh suit (review) (now called the "Lombard") and both the Tioga and Camino leather jackets (review) and the Teiz Saratoga leather mesh jacket (review), which are apparently no longer in prodution.
Teiz Motorsports is owned by Ghazi Farooq and his wife Hani. As an avid motorcycle rider, Ghazi was always browsing through riding gear (like the rest of us) when it suddenly dawned on him that many of the products he was looking at  (and buying) were manufactured in his native country of Pakistan.
This got the neurons zinging around and during one particularly boring day at work, while playing with 1's and 0's (that's computer language) at his San Jose, California job, an idea came to him to start his own riding gear company. And that's how Teiz Motorsports was born.
One of Ghazi's goals was to make the "perfect" one-piece riding suit, along with making other types of riding outfits. That one-piece suit idea has come to fruition in the Teiz "Power Shell", which we hope to review in the near future.
In the meantime, let's take a look at the new Teiz Motorsports Navigator two-piece outfit.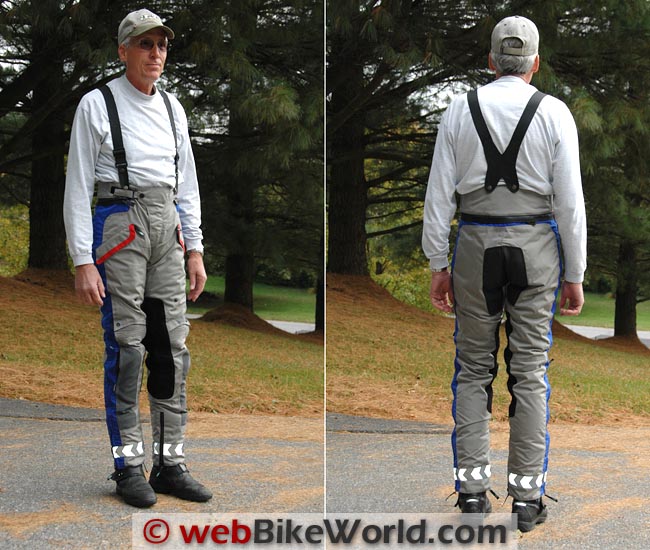 About This Review
First of all, I have to say that the $699.00 price tag for the standard off-the-rack size Navigator outfit, consisting of the jacket and pants, is very attractive. There's an extra charge of $100.00 each for a custom-made jacket or pants, but that's still a bargain for a custom-made suit with these specifications.
We received one of the very first Navigator outfits a few months ago, so it's important to note that this outfit was a near-production-ready prototype. It was also one of the very first Navigator suits that was custom made.
So I provided feedback to Ghazi and the Navigator is constantly being refined (which is another benefit of having a custom-made product — running changes can be easily made!). Also, we discussed the best methods for getting accurate sizing information from individual riders who choose the custom-made option.
Since the Navigator is available only as a two-piece outfit, I'll describe both in this review, with the jacket first, followed by the pants.
Teiz Navigator Details
The Teiz Navigator jacket has a shorter cut than the typical 3/4-length jackets I usually wear. The Navigator is in between a short and long style, like the "5/8" jackets reviewed on webBikeWorld. The jacket shell is made mostly from 500 denier Cordura and it has SuperFabric ballistic panels added to the shoulders and elbows.
I wasn't familiar with the SuperFabric product, but it's supposed to be the "hot lick" in abrasion resistance, exceeding that of Kevlar and is used in many high-end products. Rev'it, known for their high-end and high-quality garments, started the SuperFabric trend with the Cayenne Pro (review)and it's now used in gloves and other brands of high-end clothing.
Rather than just bonding the SuperFabric to the jacket shell like some other manufactures, Ghazi advised me that the  SuperFabric used by Teiz is double-stitched to the Cordura because their research indicated that bonded-only SuperFabric can separate from the jacket shell over time.
While on the subject of protection, Teiz has chosen to use SAS-TEC brand armor throughout the jacket and pants. The jacket includes a SAS-TEC back protector, unlike most of the other manufacturers, who often use a lesser quality back pad with lower (or no) certified levels of protection.
If you've got the time, it's worth a look-see at the SAS-TEC website. They have a cool virtual "Testcenter" [sic] online test lab where you can "test" the different types of armor and see for yourself the differences in protective qualities.
The Teiz Navigator jacket uses CE Level 1 armor in the shoulders and elbows that exceeds the EN 1621-1 required standard levels by 40-50%, according to Teiz. And Teiz has chosen to up the ante by using CE Level 2 back protector in the Navigator.
As I said, this is where some companies save a few pennies, but Teiz has opted not to cut corners in this department.
Comfort
OK, I got a little ahead of myself there! Starting once again at the top, I want to mention the collar. Oh, how soft it is! Not sure what type of material they used but it feels like soft suede and is really comfortable on the skin. The collar is held shut by a snap and a short piece of hook-and-loop fastener.
This "bespoke" jacket was made to my measurements and the collar fits perfectly…provided I don't have anything else covering my neck. If it's cool and I have even a thin neck wrap on I can't quite get the collar closed enough to snap it shut…and still breathe anyway.
If I'm wearing a balaclava, forget-about-it and unfortunately there's not enough hook-and-loop to really keep the collar secured. Perhaps eliminating the snap and using a longer strip of hook-and-loop would work; that way the collar would have a wider range of adjustment.
It's well worth noting that Teiz has included some nifty anchor points designed to keep the collar fully open in hot weather to maximize airflow and to keep you from getting beat to death by a loose, flapping collar.
A double-acting YKK zipper with fine teech is covered by a full storm flap down the front, which is secured with hook-and-loop fasteners. I had a little bit of trouble getting the zipper started (especially when wearing gloves) due to the small size of the zipper and zipper pull, but I eventually got it sorted. Still, I think a larger gauge zipper might be better in this location.
Accordion-like stretch panels are built into the arms just above the elbows and on the back where the arms meet the body. These panels give the wearer more range of motion without the typical bunching.
Adjustable straps on either side of the waist allow you to match the fit of the jacket to your torso as inner layers are added or removed (or after that big roadside Bar-B-Que lunch).
Teiz has decided to go with sleeve cuffs that close with hook-and-loop fasteners, which provide a wide range of adjustability from tight (for those cool days) to loose to allow additional air flow up the sleeves for those hot days on the trail.
Ventilation
Before I get into the array of vents that the jacket is equipped with, I want to point out that Teiz Motorsports has opted not to make the Navigator waterproof, although they will make waterproof liners on special request.
Personally, having riding gear with and without waterproof liners, I can argue the advantages and disadvantages of both.
When the flaps, which are located on either side of the chest, are opened and secured, they will expose ventilated panels nearly 8 square inches (51.6 cm/sq) in surface area. Both flaps are held shut via hook and loop.
11″ (27.9 cm) long YKK fine-tooth zippers on both sleeves reveal vents for incoming air, while 8″ (20.3 cm) zippered vents at the armpits and 6.5″ (16.5 cm) on both sides of the back handle the exiting air.
Two straps on each arm, with three adjustments each, allow the sleeves to be tensioned as needed to keep the armor in place and the sleeves from flapping in the wind.
There is a vertical zippered pocket on the either side of the chest which double as vents or pockets for quick access items. These are where I've taken to keeping my wallet and eyeglass case.
The inside of the Navigator has the usual "sport mesh" lining that helps keep the Cordura away from your skin and aids venting.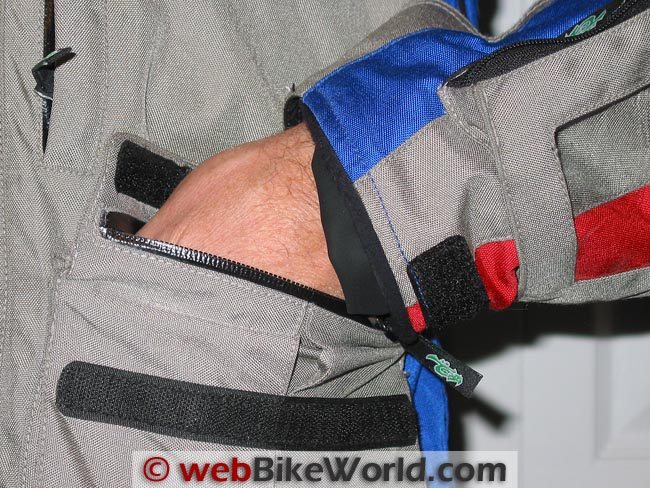 Pockets and Storage
Since we're on the subject of pockets, the Navigator Jacket has two decent sized cargo-style pockets up front on the waist, both of which are waterproof. Each is closed with a waterproof zipper and a storm flap.
I'm really pleased that Teiz has chosen to make the pockets waterproof, even though the jacket itself is not. This way, if you're caught in a brief shower without a rain suit, the contents of the pockets will stay dry. I have a custom ventilated jacket that uses waterproof liners and none of the jacket pockets are waterproof, so I have to keep small plastic bags readily available if I'm going to stow items in the outer pockets and the weather looks wet.
Behind each of these cargo pockets are "hand warmer" style pouches which, judging by the zippers, could very well be waterproof also.
On the back there's a large storage pouch which is also waterproof with the same zipper and storm flap design that is used on the front. I asked Ghazi, why they added a waterproof pocket on the back. His idea was that it would be a great place to store documents that need to be kept fairly flat and dry.
On the bum (that's British for rump) there's a "fanny pack" for additional storage. I'm not sure how much "stuff" other riders pack in their jackets, but I have found that I only need a couple of pockets to carry the necessary items most often accessed while on the bike. By the way, there are no pockets on the inside of the jacket or liner.
Insulation
This brings us to the liner, and yet another product: Exkin. First used in the Rev'it Cayenne Pro (review), here's the description from that review: "Exkin is a new material; it's a moisture wicking fabric that was tested at two times the warmth factor of the DuPont Thermolite insulation used in the original Cayenne, at half the thickness! This means that a 1 oz. liner is as warm as the old 2 oz. version."
The liner is attached to the inside of the shell via two zippers, one on either side of the main zipper, and the usual straps at the cuffs and waist.
I noticed the sleeves on the liner don't extend all of the way to the very end of the jacket sleeve and at first thought this was an "oops". But once wearing the jacket with the liner in addition to a sweater, or my heated liner, I found the cuffs did not suffer from the same over abundance of material as some of my previous jackets have. A nice touch indeed!
There's also a shock-cord style draw string with locks around the bottom seam of the jacket that can be tightened to help shut out those pesky drafts when riding in the cold.
My only disappointment with the liner is that it is not designed for wear as a stand-alone jacket because of the way it's constructed. I frequently use a liner as a light jacket when off the bike, which helps reduce the amount I have to pack when on a road trip. Ghazi hinted to me that Teiz is currently working on an updated liner that will address this matter.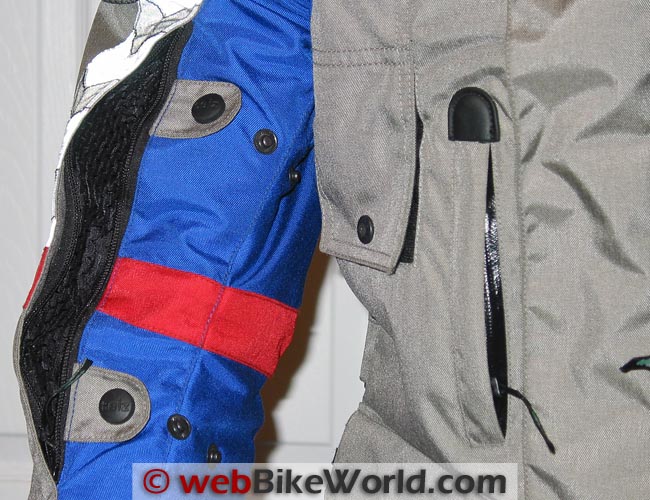 More Features
So, what else has Teiz built into their Navigator? On their strong theme of safety and protection, Teiz has included a full-length waist zipper that joins the jacket to the matching pants.
But, if for some strange reason you're not wearing the matching Navigator Pants, they've been kind enough to include an 8″ (20.3 cm) YKK zipper attached to the jacket, along with its mating piece, for attaching to another brand pants and an additional  30″ (76.2 cm) YKK complete zipper assembly.
Both of these are the larger-gauge YKK zippers I'm familiar with. I must admit that this is the first jacket I've had that has a full waist zipper and it's pretty cool…as long as I'm not in a big hurry to use the bathroom.
Teiz Navigator Reflectivity
Teiz has equipped their Navigator Jacket with an array of retro-reflective tape. 13″x 1.5″ (33 x 3.8 cm) arrow-like strips run down either side of the back along with a 10″ x 2″ (25.4 x 5 cm) piece across the back compartment flap. Both sleeves are dressed with 10.5″ x 1.5″ (26.6 x 3.8 cm) reflective strips on the front like the ones on the back.
All of these strips really pick up the light and stand out even when taking a flash picture in the daylight.
Teiz has chosen to include on their Navigator Jacket something other brands don't have or will charge extra for: a small pouch on the left sleeve with a clear "window".
This is a pocket I have found to be the handiest place to keep my earplugs and keys. No longer am I digging around in a jacket pocket for either item, which always work their way to the bottom. Now I can see right where they are.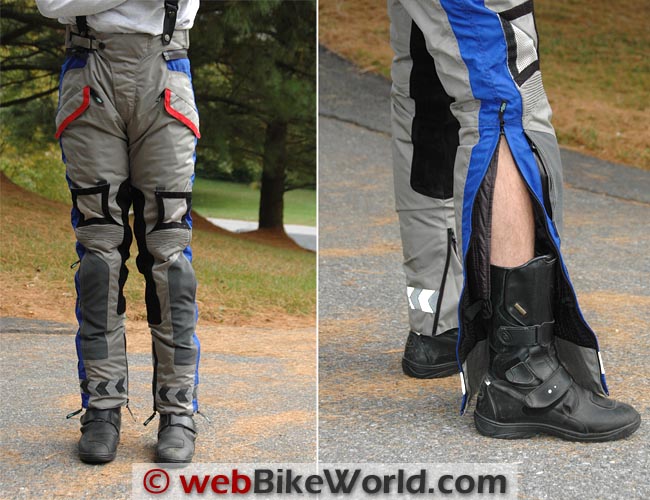 Teiz Navigator Pants
The pants that are part of the Navigator outfit are also constructed with a foundation of 500 denier Cordura and include a sport mesh lining throughout the inside.
The waistband has accordion-like stretch panels on each side which allow for compensation as layers are added or removed or possible fluctuations in one's waistline. This helps to keep the pants snug, but also allows the wearer to move more freely with minimal bunching or binding.
Instead of using a waist belt, Teiz has chosen to use suspenders, but because of my extra-long torso, the supplied suspenders were too short. This resulted in a continuous "wedgie" which was most uncomfortable.
Because the pants were made to fit my build, the suspenders really aren't necessary unless I do a lot of walking, such as hustling around the range when teaching the motorcycle safety classes. I'm sure I can find a longer pair…
The front of the waist, along with a 5.5″ (14 cm) long, fine toothed, YKK zippered fly, is held closed with three snaps and some hook-and-loop. For some "fine tuning" of the beltline a strap is passed through a loop, pulled back on itself and secured with hook-and-loop material. This enables the wearer to snug the waist up as much as an additional 1 1/4″ (3.2 cm) if needed.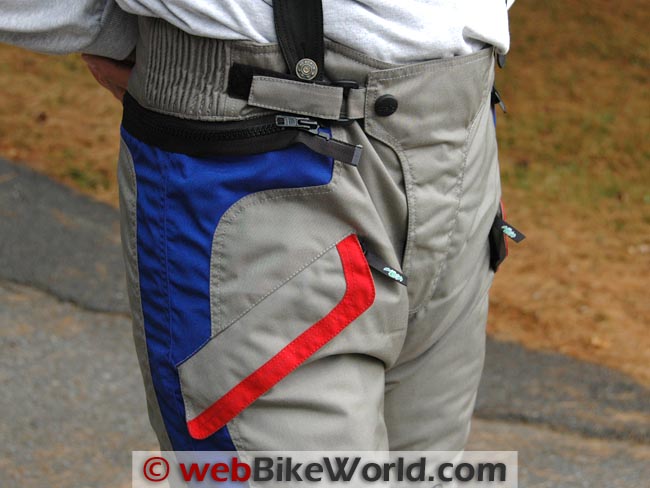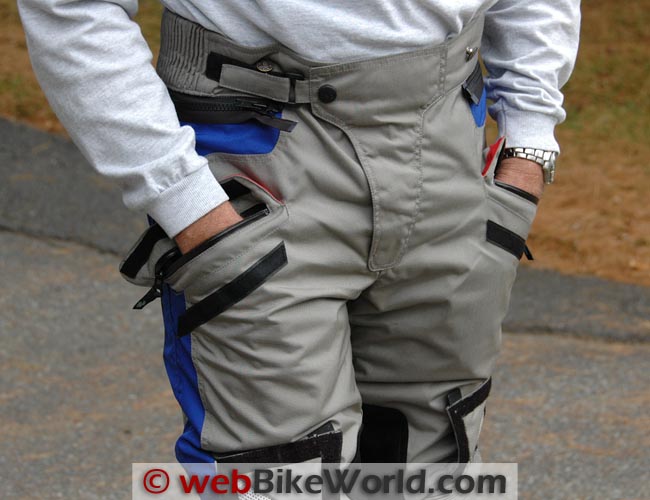 Pants Pockets
Similar to the jacket, Teiz has conveniently provided the rider with two waterproof pockets, one at the top of each leg with "slash" cut openings which are closed with waterproof zippers and storm flaps. The flaps have a contrasting red stripe along the edge which adds a nice visual touch.
These pockets are large enough for me to comfortably insert my entire XL-sized hand and are approximately 10″ (25.4 cm) deep.
Vents are located on each thigh which, when opened, expose 6-1/8 square inches (15.5 cm) of mesh material allowing air to flow into the legs. Each of these flaps is held closed with hook-and-loop and open with a mating snap higher on the thigh.
There's also a handy rubberized pull tab on each flap to aid in operation. I found these to be easy to open, secure with the snap and close without having to take my eyes off of the road and definitely allowed air to flow into the pants.
By the way, all of the snaps on the jacket and pants are covered with a rubberized material.
Padding and Armor in the Navigator Pants
Above each knee is a pleated panel which, once again, allows greater freedom of movement. Just below these pleats and continuing down each shin is a 3.25″ (8.2 cm) wide x 14″ (35.6 cm) long section of Superfabric, behind which resides CE-level 1 Sas-Tec armor.
The Sas-Tec armor is held inside a pocket easily accessed through a zipper on the outside of the knee for custom fitting to your leg dimensions. For protection, CE Level 1 Sas-Tec armor is located over both hips.
Down the center of the inside of these pockets is a strip of hook-and-loop material, which allows adjustments for the position of the knee armor. I had some difficulty with these strips in that, first of all, the pants have to be on the rider, otherwise the pocket becomes so bunched up it's difficult to tell which end's up.
But, I found even with the pants on the knee armor was awkward to reposition to its highest point and, since the armor is rounded on the lower edge, it tended to creep to one side of the hook-and-loop, then slowly work its way down in the pocket.
Maybe crosswise strips of hook-and-loop or two parallel, vertical strips would keep the knee armor better secured in place.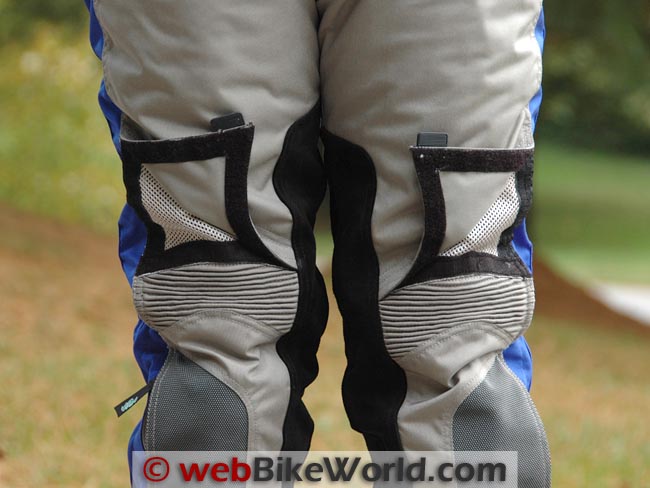 Navigator Pants Zippers
Leg zippers include 21″ long (53.3 cm) zippers down the outside of each leg with another 9″ (22.6 cm) zipper on the inside. The inside zippers are for fine tuning the fit to the style boot you are wearing. YKK-brand zippers with fine teeth are used here, apparently so they will better fit inside a pair of boots if you choose to do so.
Wearing the Navigator Pants
You're going to have to put the pants on first since there's not enough room to slip your boots through the pant legs.    This brings me to two items I really enjoy about the Navigator pants.
Teiz has seen fit to sew a section of "grippy" material onto the seat area making these the only pants I have owned that don't slide around on a bike seat. The other is a suede-like material on the inside of both legs which helps you grip the tank, or body work, with the inside of your legs when standing on the foot pegs without damaging the paint work.
I wish I had had the Navigator outfit during my trip on the Trans Labrador Highway this past summer; those patches would have come in real handy!
The same highly retro-reflective, arrow-like panels that are on the jacket sleeves, run around both pants leg cuff for safety and visibility.
An Exkin liner zips in at the waist and fastens with three loops and snaps for each leg 5″ (12.7 cm) above the cuffs. Two of the loops sewn into each pant leg are right next to the zippers and one got thoroughly fouled in the zipper on one outing and had to be cut. Maybe I zipped it up wrong, but I couldn't get out of the pants until the loop was carefully cut and the zipper slowly worked free.
On the Road With the Teiz Navigator Outfit
If you've read this far into the review you're probably wondering "So how does the Navigator fit and perform on and off the bike?"
Well, I can honestly say this is by far the most comfortable riding jacket I've ever worn. In a matter of minutes I didn't even notice it was on as it just became a part of me.
With a shorter length than my usual 3/4-length jackets, it eliminates any bunching when seated on the bike. There's no binding or restriction of movement, nor any interference from the armor.
I've logged probably 40-50 hours in the outfit so far, all of which were at temperatures between 27 and 70 degrees F (3 to 21 C), since the real hot weather ended before I received the outfit. About 10 hours of that included range time while I was teaching the Motorcycle Safety classes.
Although I haven't worn the Navigator in hot weather, based on the amount of air I was able to get flowing though the vents on the warmest days I had available, I'd have to say if you're looking for more air flow, you're going to have to buy a fully ventilated jacket.
The Exkin liner supplied sufficient insulation, but if it was under 50 F (10 C) and I was traveling over 50 mph (80 km/h) on my BMW R1150GS with the small stock windscreen, I had to add a sweater or use my heated liner since I don't have a lot of "natural" insulation.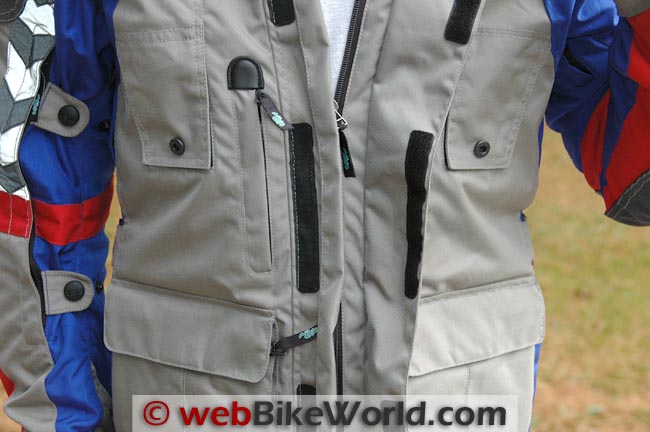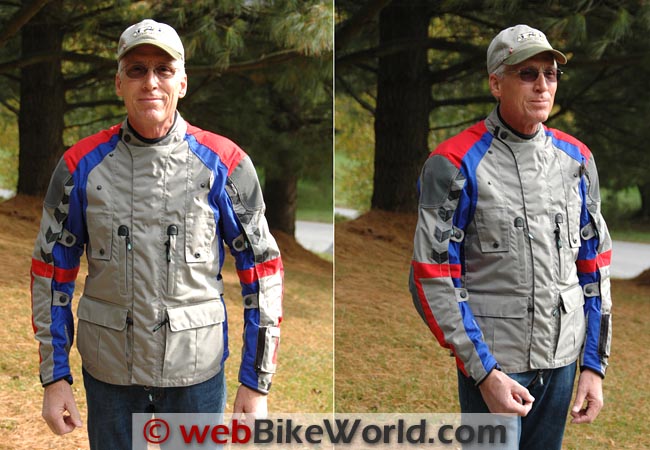 Conclusion
All in all I found the jacket from Teiz Motorsports Navigator 2-piece outfit to be a delight to wear. Comfortable with ample venting and insulation, built with quality components and obviously some thought about a rider's needs, I think Teiz Motorsports has put together an excellent product at a competitive price point.
Although available in a wide array of colors, we received the Navigator outfit in the grey, blue and red combo which drew positive comments from riders and non-riders alike.
Although most of the pictures on the Teiz website show the Navigator in a dual-sport environment, it should perform well no matter what you're riding. With the pants attached to the jacket via the full waist zipper you have one nice-fitting, well made outfit.
w

BW

 Product Review: Teiz Navigator Jacket and Pants Outfit

Manufacturer: Teiz Motorsports
List Price: $699.99 (custom sizes +$100.00 for jacket and +$100.00 for pants).
Colors: Gray/Blue/Red. Black/Gray. High-Viz/Black/Gray.
Made In: Pakistan
Sizes: Jacket: S to 3XL plus custom sizes. Pants: 36 to 52 plus shorts and longs or custom sizes.
Review Date: January 2012
Note:
 For informational use only. All material and photographs are Copyright © webWorld International, LLC since 2000. All rights reserved. See the webBikeWorld® 
Site Info page
. Product specifications, features and details may change or differ from our descriptions. Always check before purchasing. Read the
Terms and Conditions
!
Owner Comments and Feedback
---
From "G.W." (January 2012):  "I own both a Teiz jacket (leather) and an Olympia AST the author refers to in his article. I have found the Tiez offers a great quality product at the price point and is very well designed.
However the one big issue I have with their jacket is at 6 ft and 178 lbs, I find it is designed to optimally fit a much more slender person. The size large I needed to fit my 42 in chest has sleeves that could be at least ~2-4 cm shorter making them tough to stuff into gauntlet gloves and the long body has a tight fit over my slim to medium width hips.
The Olympia AST fit which the author complains about just about fits me perfectly in a size medium and seems to have a slightly higher finish quality to the Teiz. I did pay considerably more for the Olympia so I guess this is to be expected.
The difference in this area is not substantial. Based on my own experience though along with the fact the Teiz seems to fit the abnormally tall and slender reviewer perfectly I can't help but think the fit of their gear is heavily biased towards those with a tall and slender frame."
Editor's Note: Chris' Teiz Navigator jacket and pants were custom ordered, as described in the review. Also, just to note that we reviewed both the Teiz Saratoga leather jacket (review) and Teiz Camino leather jacket (review) and the sleeve lengths on those jackets were fine and normal when compared to other motorcycle jackets.