Interesting gloves not designed for motorcycling.  There are probably more appropriate motorcycle gloves out there for about the same price.
We receive many emailed suggestions for new products to review; some are good leads while others are put in the "Someday Maybe" pile.
But four or five random emails in a short amount of time asking about the same product usually gets our attention.  Such is the case with these tactical gloves.
For some reason, webBikeWorlders — in their eternal quest for better and cheaper — collectively started thinking about the use of tactical police gloves for motorcycle riding.  Why or how the interest in this type of glove came about — especially with the gazillions of dedicated motorcycle gloves out there — remains a mystery.  Who knows what thoughts lurk in the deepest regions of webBikeWorld readers' minds??
So we reluctantly ordered up a couple of pairs of said mitts.  Let me make it clear that these are not motorcycle gloves; they are designed for police use, and it's probably unfair to evaluate them for motorcycle riding.  But, ever responsive to our customer's needs, I'm forging ahead anyway.
After all, there have been many other cross-functional products that we've discovered over the years, and discovering a motorcycle use for an off-the-wall product is loads of fun, so why not these?
Now I know as much about tactical gloves for police work as I do about the inside of a jail cell: nada.  And since one or two of the emails suggested that we try these "5.11" gloves from Streicher's, a popular supplier of police equipment, I figured that was as good of a source as any.
I learned that there are plenty of sources for this type of gear; in fact, not to get into the politics of the thing, but it strikes me as odd that there is such a huge industry built around supplying all sorts of complex gear to police forces around the world.
When I was a kid in the Big City, the local beat cop had a heavy blue uniform and a nightstick that he knew how to twirl — and use — like a pro.  Some of the Corporals and Sergeants actually carried a .38 Special.  That was it — no black fatigues, no combat boots, not even a patrol car and, certainly, no tactical gloves.  How times have changed…
Look around for police gear and you'll find dozens of different types of specialty gloves, boots and even socks amongst the gear choices, along with many different types of pants, shirts and more.  I can't help but think that the industry helps drive the "need" for some of this stuff through aggressive marketing — does the East Burlap Police Department really need 17 different types of tactical gloves, each designed for a specific use?
Anyway, the two we chose are the 5.11 Tactical (more on that name in a bit) Series "Tac-AK" and "Tac-NFOE".  Apparently, the "AK" stands for "Tactical Application Glove With Kevlar" and the "NFOE" means "Tactical NOMEX Flight Ops Extended".  See what I mean about ultra-specialization?
The black AK's are made from Kevlar with leather patches looking much like you'd find on regular motorcycle gloves.  The Kevlar is supposed to provide protection from scratches, so I think the combination of these two products, which are commonly found on motorcycle gloves, is what attracted webBikeWorld visitors to wonder if tactical gloves are a solution.
The "NFOE" gloves are slightly different; they are tan-colored and have a longer gauntlet, much like the type found on a motorcycle glove.  They're made from Nomex fabric, which is the stuff used by auto racers and others because it's fireproof.
These also have leather on the wear areas, and a pretty nice "hook-and-loop" wrist closure.  Neither of these gloves are even close to waterproof; the fabric feels more like a thick cotton than anything special to me, but such is the magic of modern textile technology.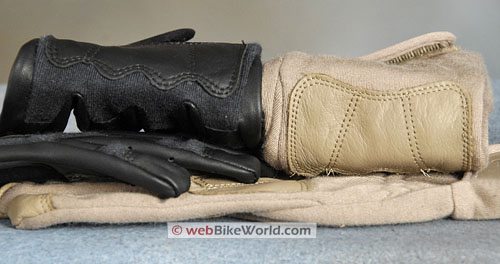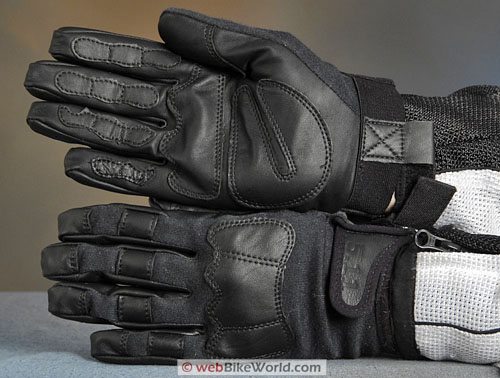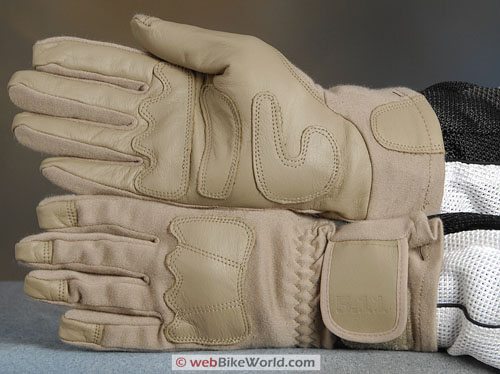 By the way, here's more about the "5.11" designation, which is described on the 5.11 Tactical company's website:
"5.11 Tactical Pants with the patented tactical strap and slash pocket design were originally developed for rock climbing. "5.11" is a rock climbing difficulty level as listed in the Yosemite Decimal System. With skill levels ranging from 5.0 (easy) to 5.10 (difficult), 5.11 is even more grueling. 5.11 is officially defined as, "After thorough inspection, you conclude this move is obviously impossible; however, occasionally someone actually accomplishes it."
Both of these gloves are relatively comfortable and actually feel like other motorcycle gloves I've worn.
Gloves either use external or internal stitching in the fingers, and there are pros and cons for both types of construction.  Both pairs of these tactical gloves use internal stitching and I can feel the stitches in and around my fingers and fingertips; I don't care for that feeling, in motorcycle gloves or any other.  I prefer external stitching and smooth insides, but that's just me.
If I had to choose between the two, I'd definitely take the tan-colored "NFOE" gloves, which are also available in black.  They seem more comfortable and the underside of the fingers is completely covered with leather, which is a one-piece section that starts on the palm.  This gives a more consistent feel all the way up the fingers, right to the fingertips.
The Nomex material that makes up the body of the gloves is very comfortable, and it feels stretchy; I'm not sure if that's a characteristic of Nomex or not, but it makes for a very nice, close-fitting glove that is a perfect fit for my hand.  Both of these gloves are a size large and they fit true to size, in my opinion.
Both gloves are actually very good for hot-weather riding also, if you don't mind the lack of armor.  The fabric lets in a lot of air and the thin material feels much less bulky than just about any motorcycle glove I can think of.
But the big question is protection: how would these tactical gloves hold up in a slide?  Truth be told, I'd prefer to have some cow and armor between me and the road.  But maybe the thin patches of leather on the tactical gloves would at least provide some protection, and they must be better than nothing, right?
Conclusion
When all's said and done, this was an interesting diversion into a rare possibility that we'd find a cheaper or better substitute for motorcycle riding gloves.  But since the tactical gloves aren't really cheap, at $44.99 each, at least half that argument is void, because it doesn't take much searching at all to find some decent-quality basic motorcycle gloves for that price.
If the tactical gloves had some type of knuckle armor and maybe thicker leather patches and some padding, it may be possible that they'd make a decent set of gloves for motorcycle riding.  But then they wouldn't be tactical gloves, would they?
Product Review:  Tactical Gloves
Available From:  5.11 Tactical Series
Suggested Retail Price:  $44.99
Colors:  Black, Tan
Sizes:  S to XXL
Made in:  China
Review Date:  September 2007

Note:  For informational use only.  All material and photographs are Copyright © webWorld International, LLC – 2000-2011.  All rights reserved.  See the webBikeWorld® Site Info page.  NOTE:  Product specifications, features and details may change or differ from our descriptions.  Always check before purchasing.  Read the Terms and Conditions!
Owner 

Comments and Feedback

Comments are ordered from most recent to oldest.

Not all comments will be published (

details

).  Comments may be edited for clarity prior to publication.
---
From "M.":  "I like the idea.  Mostly because I am (cheap) and I like to have gear that has multiple uses.
The first pair of gloves that I ever used for motorcycle riding was a pair of Combat Vehicle Crewman (CVC) gloves that the Army issued me when I was riding around in an armored vehicle.  They were great.  Thick OD green Nomex, medium thickness black leather, SUPER comfortable, and when I sprayed them with Camp Dry, good enough for the occasional Georgia shower, best of all they were FREE!!!
Since then I have worn standard Nomex flight gloves, mostly as a backup when the dog ate my riding gloves, and recently my backup pair of gloves has been a pair of the newly issued tactical gloves made by a company called SW Motorsports that now provides the gloves for Camelbak.
See I like the idea of one pair of gloves that I can wear at work and on the ride home.
Agreed that they are not the best for the bike, but then again neither are the deerskin work gloves that are my primary riding gloves.  But they are the best for me.
It seems to me that the motorcycle gear companies charge an exorbitant amount of money for a glove that has all kinds of pretty things attached to it and don't seem to offer a glove that is basic and still provides the protection.  So for someone like me (and many other Soldiers and the like) tactical gloves are a great option, especially when they are issued to us."
From "K.A.":  "I have seen these (Duluth Trading Company DTPro Kevlar work gloves) in the Duluth trading catalog and have wondered for the price ($34.50) for Kevlar stitched work gloves.  Some of my $40 to $60 gloves have come apart at the seams with just normal use and I wonder how they would hold up in a accident?
Also, if they can make this glove for @ $35 with Kevlar thread the motorcycle glove companies should be able to make on for a little more with some armor.  They even have a gauntlet pair!"