Tactical Boots Review Summary
Tactical Boots Image Gallery
Are you willing to forgo some of the features of motorcycle-specific riding boots?
Then try the Ridge Outdoors "9000 Ultimate Zipper boots" and the Blackhawk "Warrior Wear Light Assault Boots".
They will cover most — perhaps all — of your riding needs.
They are both rugged, functional, extremely comfortable, and cost less than most motorcycle boots.
I've been wearing one or the other of these pairs exclusively on my bike this riding season, and am extremely pleased with both.
Before I begin, let me note that both of the boots in this review do not have motorcycle-specific protective features.
Those include things like toe sliders, reinforced toe and heel cups and ankle protectors.
But as has been mentioned before on webBikeWorld, nearly all of us make compromises on some aspect of our gear, based on comfort, convenience, usefulness, and cost.
While I wouldn't take this argument to the extreme of condoning riding in flip-flops and shorts, I do think these particular boots are a very good compromise between protection and the other reasons you'd choose a boot.
In fact, I think that both of these may actually afford more protection than many motorcycle-specific boots.
For instance, I also own a pair of the Sidi Doha boots (review) (with the original red stripe!). I'd say that the Blackhawk Light Assault boots, being about 1½" taller, offer more ankle protection than the Sidi Doha boots — and the Ridge Ultimate boots are taller still.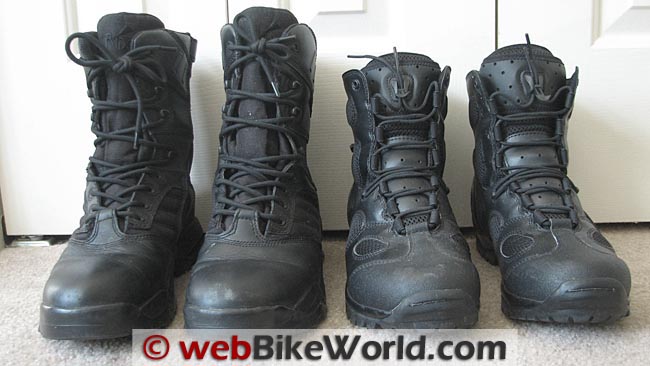 The Ridge Outdoors "9000 Ultimate Zipper" Boots
The first pair of boots in this comparison is the Ridge Outdoors "9000 Ultimate Zipper" boots. Ridge Outdoors makes work boots, tactical boots and the 9000 Ultimate Zipper boots are one of 9 different boots currently in their "Motorcycle" lineup.
These remind me of the tall black boots I received in basic training, some 40+ years ago, in the Army.
Except that the 9000 Ultimate Zipper boots are waterproof, have a zipper as well as laces, are much more comfortable, and I don't have to spit-shine them every night.
I was looking for some rugged boots that were tall, waterproof, and closed with a zipper and these — and very few others — fit the bill.
These are my boots for multi-day, out-of-town, trips, as well as day trips with "iffy" weather, i.e., whenever you can't tell whether you'll encounter rain.
With the proper socks, they'll work with temperatures into the 40s; I've worn these a few times in the upper 30s, but my feet did get cold. I bought this pair at Americade in 2012, where Ridge Outdoors was one of the vendors and I have put about 6,000 to 7,000 miles on them since.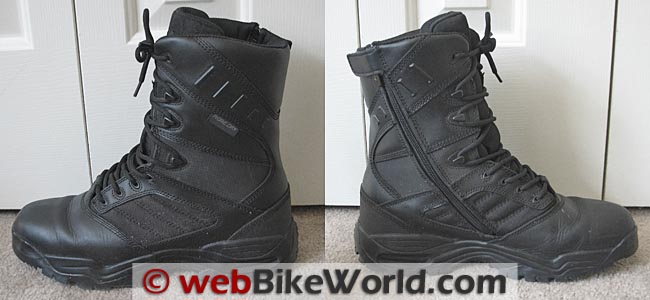 Ridge Outdoors "9000 Ultimate Zipper" Boots Details
Height: I often wear the Firstgear HT Overpants (review) when doing serious traveling, and I wanted to make sure that the Ridge Outdoors (the company name) boots were tall enough to remain underneath the bottom cuffs (especially in the rain), as the cuffs generally creep upward as I move around.
The Ridge Outdoors 9000 Ultimate Zipper boots pass the test, whereas mid-length boots will not. The 9000 Ultimate Zipper boots are about 10″ tall on the outside, and a little over 8″ on the inside.
Water Resistance: I've ridden in a few days' downpours without incident. The zipper is on the inside, anyway, and there's an extra flap in the lower area of it.
Zipper: I'm not fond of having to loosen, and then tighten, the lengthy laces in tall boots; it's nice to have laces to help ensure an optimal fit.
But after that I'd rather not bother.
I snugged up the laces when I first got these boots, tied a double-knot at the top, and haven't messed with them since. Ridge Outdoors states: "YKK Full Length Zipper w/Velcro Zipper Keeper."
Comfort: These are the most comfortable tall boots I've ever worn. While not officially part of my requirements, it's what make these boots a keeper. The 9000 Ultimate Zipper boots have an "Air & Gel Shock Absorbing Heel" and it works. The footbed, tongue, and sides are all nicely padded, too.
Breathability: not so much. Things don't get clammy in hot weather, but there's not much air movement. Ridge says they employ a "Dri-Lex Waterproof Membrane," which I suppose is their version of Gore-Tex.
You folks with Gore-Tex in your boots: that's more of a get-rid-of-the-sweat system than flow-through breeze ventilation, right? On the flip side, the 9000 Ultimate Zipper boots wouldn't cut it for cold-weather riding if a breeze was flowing through.
Traction: Very good. Ridge Outdoors says the sole is "1A Carbon Rubber Outsole… Oil, Slip & Static Resistant". The soles also do a good job at damping vibration.
Weight and Size: A single 9000 Ultimate Zipper boot (in size 11) weighs about 771 grams (27.2 oz.). Sizing seems normal to me; i.e., I wear size 11 in sneakers and shoes too.
Miscellanea: there's no pad for shifting — despite the fact that these are listed in the Ridge Outdoors "Motorcycle" category (don't need a toe shift pad for a Harley, eh?) — but the toe-box leather is thick enough that I haven't noticed any left-side wear.
Ridge describes the construction of the uppers as "Full Grain Leather Toe Box/Ripstop Nylon".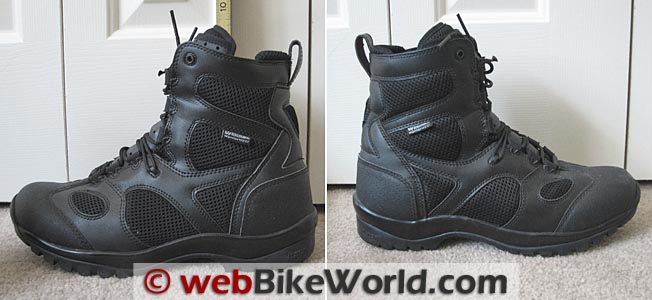 Blackhawk Warrior Wear Light Assault Boots
Blackhawk is another company that makes tactical gear for police, military and others.
The second pair of boots is the Blackhawk "Men's Blackhawk Light Assault Boots". Yes, BLACKHAWK! consistently refers to itself in all caps and an exclamation mark, but I'll just use "Blackhawk" here.
To me, these boots evoke the footgear worn by SWAT teams, at least as I see them on television (i.e., not being a celebrity, my house hasn't been "SWATTED" yet). You might also think of them as akin to typical hiking boots, but on the tall side.
I was looking for a pair of boots for mild-to-hot-weather day tripping: reasonably protective, comfortable, and with good air flow.
Yep, I've had those low Sidi Doha boots (review) for some years now, but the problem with them is that they are not that comfortable — stiff footbed and sole — and they don't breathe all that well, either.
The Blackhawk Light Assault boots make up for that, big time.
I bought these in May 2013 and have since put more than 2,000 miles on them. While that's a lot fewer miles than I have on the Ridge Outdoors 9000 Ultimate Zipper boots, remember that the Blackhawk Light Assault boots are my day-trip boots; I've actually ridden a lot more days with them.
As its own overview, Blackhawk describes the Light Assault boots as a "Lightweight, agile tactical boot." As you can see in the photos, much of the leather outside surface is interrupted by sections of thick mesh.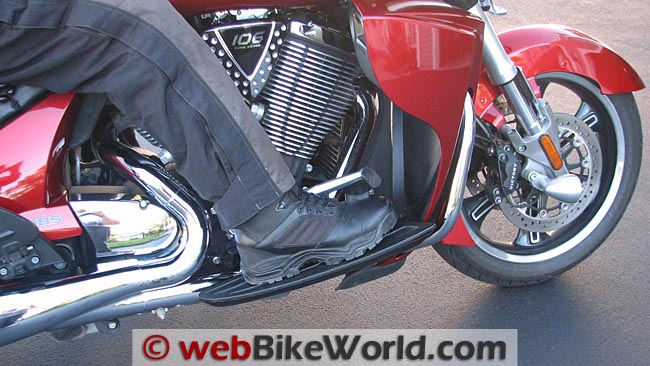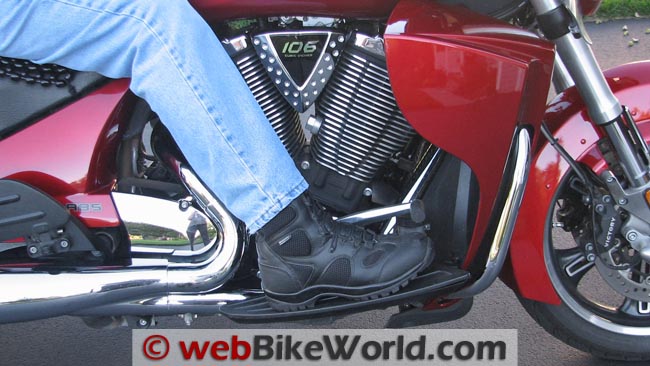 Blackhawk Warrior Wear Light Assault Boots Details
Height: the Blackhawk Warrior Wear Light Assault boots are about 8″ tall on the outside, almost 6½" on the inside. (The Sidi Doha boots, for comparison, are about 6½" on the outside and about 5½" on the inside).
This makes them tall enough to afford protection — most assuredly over-the-ankle, and then some — while not so tall as to hinder walking in any way.
Air Flow: Excellent. If I stick my feet out from behind the lowers on my bike, we're talking about feeling an actual breeze.
Blackhawk notes that the boots' "Ventilated, quick-drying properties are ideal for waterborne operations or hot-weather ops" and, with respect to air flow, it employs "Lightweight, breathable nylon mesh and abrasion-resistant, quick-drying, synthetic microfiber upper."
Further, the Blackhawk Light Assault boots use some of the same material as the Ridge Outdoors 9000 Ultimate Zipper boots; i.e., "Dri-Lex inner lining wicks away moisture and dries quickly."
Water Resistance: Never been out in them in heavy rain. In light rain, no inside wetness…but then, I have great weather protection on the Victory Cross Country Tour (review).
From the Blackhawk web site: "Ventilated, quick-drying properties are ideal for waterborne operations or hot-weather ops." I guess that means that if they get soaked, they'll at least dry quickly.
Comfort: Superb. Here's all you need to know: when I return home after a day trip, I keep these boots on, rather than change into my customary sneakers, for lazing about the house, finishing up chores, watching the tube, etc.
The Light Assault boots are the only pair of boots that has earned this distinction with me.
The flexibility of the sole and footbed are both above average. Blackhawk states that the "Washable, antimicrobial, custom-molded OrthoLite footbed provides quick-drying, breathable cushion that is highly abrasion resistant and will not break down or lose effectiveness over time".
Traction: Very good. Blackhawk states that the Light Assault boots have a "Vibram 'Trail Run' oil-resistant rubber outsole". As with the Ridge Outdoors 9000 Ultimate Zipper boots, the soles are also adept at damping vibration.
Weight and Sizing: A single Light Assault boot weighs about 638 grams (22.5 oz.) in size 11; put another way, despite being significantly taller (and, did I mention, far more comfortable?), a Light Assault boot weighs about 14 grams (~1/2 oz.) less than a Sidi Doha boot.
As with the Ridge Outdoors 9000 Ultimate Zipper boots, sizing for the Blackhawk Light Assault boots seems normal to me.
Miscellanea: The Light Assault boots do not have a shift pad. Both the toe box and heel, however, are either covered with or constructed entirely of a pebbly, rubberized, material; in actual use, this seems to be a very good anti-abrasion strategy.
Finally, the Blackhawk Light Assault boots uses a trick lace fastener, in conjunction with its speed-lace holders and back pull-on-assist loop.
It's a clip, made of some sort of plastic (which seems strong enough for the job — no problems), with a tiny ribbed surface that clamps the laces in place when folded upright.
To tighten the laces, just pull them both up, hold, and flip the clip in place. There's also a cavity behind the clip-holding material and the front of the nicely-padded tongue to tuck in the ends of the laces.
To loosen, pull the ends of the laces out from their nesting place in front of the tongue, swing them forward and down, and the clip will open, i.e., swing down.
At that point, let go of the laces and pull the tongue itself up and forward; the laces will relax their grip via the speed-lace system, the tips of the laces will wind up just above the clip's grip area, and you can pull the boot off. It works well: easy and quick.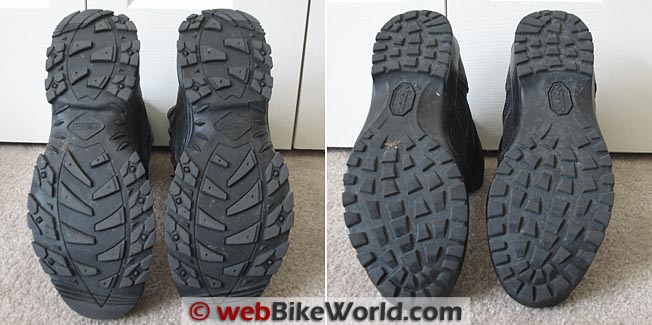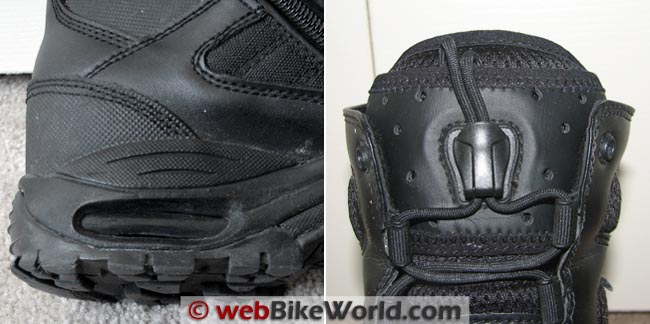 Conclusion
If you're looking for rugged, highly comfortable, boots, you could end your search here.
The tall Ridge Outdoors 9000 Ultimate Zipper boots are a multi-season, all-weather pair of boots and the Blackhawk Warrior Wear Light Assault boots have you covered for mild- to hot-weather riding.
Both the Ridge Outdoors and the Blackhawk boots are well-made; they have comprised my riding footgear for about 10,000 miles now, and there are no rips, tears, thread problems, and so forth.
And I haven't polished or even cleaned them, aside from taking a wet paper towel a few times to wipe off some dirt.
Yes, you have to be willing to live without some of the safety features often found in motorcycle-specific boots, which is the sort of choice we make every time we gear up.
Note that these are still rugged boots, not fashion statements. If you can believe some of what you read on the Internet, both the Ridge Outdoors 9000 Ultimate Zipper boots and the Blackhawk Warrior Wear Light Assault boots are being worn (or have been worn) by U.S. combat soldiers.
The upside is that you'll wind up with some practical and extremely comfortable boots; boots you can walk around in when you get off your bike. And you'll probably save a good deal of money, too.
The Ridge Outdoors 9000 Ultimate Zipper boots list for $150.00 but you can find them for about $120; the Blackhawk Warrior Wear Light Assault Boots list for $174.95 but you can find them for about $135.
Happy riding.
w

BW

 Review: Ridge Outdoors 9000 Ultimate Zipper Boots
Manufacturer: Ridge Outdoors
List Price: $150.00
Color: Black
Made In: China
Sizes: 4-14
Review Date: October 2013
w

BW

 Review: BLACKHAWK! Warrior Wear Light Assault Boots
Manufacturer: BLACKHAWK!
List Price: $174.95
Colors: Black or Tan
Made In: China
Sizes: 5-15 (Black), 4.5-15 (Tan)
Review Date: October 2013
Note:
 For informational use only. All material and photographs are Copyright © webWorld International, LLC since 2000. All rights reserved. See the webBikeWorld® 
Site Info page
. Product specifications, features and details may change or differ from our descriptions. Always check before purchasing. Read the
Terms and Conditions
!
Owner Comments and Feedback
---
From "J.S." (May 2016): "I got these (Ridge Outdoors 9000) boots last year. While 'motorcycle' boots may be better in a crash, I would rather walk around in these, by far.
The quality is excellent. Protection is very good. Certainly better than a sneaker.
I can still 'feel' the shifter when I use them, as opposed to some moto boots I have tried. I got them for about $125. I'd buy them in an instant, again."
---
From "B.C." (March 2015): "I currently ride using tactical boots. They do not provide much protection against breaking your ankle. They are good for abrasion protection, and impact in the areas where they are beefy (sole and toe area).
If you hold most any tactical boot, you can easily bend it sideways, forward and backward at the ankle joint. It is not rigid there, such as a snowboard or downhill ski boot.
I just tried on a Dainese TR-Course Out boot today. It is for motorcycle track racing. It provides much greater resistance sideways, and limits forward and back motion at your ankle joint. It also had a lot of hard plastic on the sides and shin, providing impact protection where the tacticals don't.
At the motorcycle store, I also saw a lot of "motorcycle" low top shoes that in my opinion are junk. But if you compare tactical boots to race specific motorcycle boots only, I think there is a significant difference in ankle protection.
I would like to know how common broken ankles are in street crashes. If they are common, then it may make sense to wear the high dollar racing type boots."
Editor's Reply: I don't think there is any data kept on the types of injuries sustained in motorcycle accidents. But many riders have told me that "real" motorcycle boots are important.
Tactical boots or work boots probably offer more protection than sneakers, but good-quality motorcycle boots are usually better.
The most protection is provided by full race boots, but they're mostly too uncomfortable to wear on the street. So, like many other motorcycle choices, it boils down to your personal risk assessment equation.
---
From "K.H." (November 2013): "While I personally haven't tried the models mentioned in this review, I as well as many other MSF RiderCoaches I know teach and/or ride regularly in modern, lightweight "Tactical Boots".
As many of the RC's I teach with are LEO's, they ride with what they wear on duty. In my case, they're Bates Enforcer's (12″ tall, side-zip with laces, leather/rip-stop nylon uppers, non-insulated, non-waterproof).
Yes, they're light, comfortable, ventilate well, and are comfortable to walk around all weekend  on 135 degree F pavement on an MSF range. Additionally, they offer more protection than sneakers, non-over-the-ankle footwear and most other non-motorcycle-specific footwear.
Unfortunately, besides the convenient side-zip entry, they don't offer most of the protective features present in motorcycle-specific footwear. The  missing  toe-shift patch and the toe/upper foot  pain that results, gets old when you're riding for hours and/or are constantly on and off the bike.
And you don't want to stub your toes/upper foot on M/C hard parts…MSF R/C duty should merit combat pay!
Along the same lines, a non-reinforced heel cup can also be a real "pain" on a motorcycle…don't ask! As a general rule, I usually eschew lace-up footwear anywhere near a M/C, as those laces can/do loosen and can catch on hard or rotating parts, with possibly disastrous results.
In fairness, even my lace-up Sidi NY'ers and Doha's, both of which have laces and a Velcro-secured strap to retain the laces, still can have  their laces come loose and can be a major PITA.
Finally, while the soft, cushiony, usually oil-resistant soles on tactical boots do offer excellent traction, they also tend to wear quite rapidly on asphalt.
The lightweight construction, while adequate for LEO and/or some Military Duty, makes me question how much foot protection one would actually get in the event of a crash.
Personally, for what they cost, I'd go for something motorcycle-specific over tactical boots. Just my $0.02 and some food for thought. Thanks for another fine review. Keep up the good work, wBW!"
---
From "J.K." (November 2013): "Good article on tactical boots. I've been using some Magnum Stealth II 8″ lace-up tactical boots since 2008 for about 30,000 miles of mostly road riding, and they are still going strong.
I bought the non-waterproof version, but have subsequently made them water-resistant by slathering them with Sno-Seal once a year.
I've never been down in them, but I think for on-road riding they provide enough protection to make a significant difference. They are comfortable enough to allow me to get off the bike and hike around, even over rough terrain, even in hot weather.
At the end of a long day on the bike I'm not dying to get my boots off. In fact, I would say they are amongst the most comfortable footgear that I own. If my dedicated hiking boots ever wear out I think I might replace them with a pair of tactical boots.
One thing to add is that the traction on my boots is fantastic, which I find very useful even while road riding. With other boots on I've slipped a few times on slick pavement or gravel, while the tactical boots provide sure footing.
Traction is an underrated attribute that should be noted in any boot review."
---
From "D.N." (November 2013): "Here is another choice for a non-motorcycle type boot (Guide Gear 13″ Steel Toe Boot). These are only $78, waterproof and they're 13″ tall. No zippers though.
It appears they are only available in 2 sizes but I think they have just run out of other sizes temporarily."
---
From "K.D." (November 2013): "My comments are in response to "S.C."s comment (below) that "…non-motorcycle specific boots are a significant risk for riders."
There was a study published in May 2011 by Liz de Rome of The George Institute for Global Health (Sydney, Australia) and others entitled "Motorcycle Protective Clothing: Protection From Injury Or Just the Weather? .pdf format, studying the effectiveness of motorcycle gear in protecting riders as they crash.
One of the things they observed in studying 212 motorcycle crashes is that of the 76 riders wearing shoes or joggers, 55.3% of them sustained foot injuries.
Of the 57 riders wearing non-motorcycling-specific boots, 26.3% of them sustained foot injuries.
Of the 17 wearing motorcycle boots without armour, 35.3% of them sustained foot injuries; of the 62 riders wearing armoured motorcycle boots, 32.3% of them sustained foot injuries.
The only significant advantage of armoured boots over non-motorcycle boots is the 4.8% vs. 8.8% rate of cuts/abrasions injuries.
I'm going to wear the best boot that will protect me from the elements, stay on my foot in a crash, and allow me to be comfortable when I'm not on the bike. Sometimes that means work/combat style boots; sometimes that means motorcycle boots."
---
From "S.C." (November 2013): "I am going to agree with the letter from "J.H." (below) and say that I believe non-motorcycle specific boots are a significant risk for riders. I believe you are doing a disservice to your readers in recommending them.
I was recently on a ride in the Ozark Mountains with a group, and one of the riders went down into a roadside ditch where his Bonneville caught fire and was a total loss. His only significant injury was to his ankle, and he was wearing "work" boots.
In Oklahoma, it is extremely hot in the summers with more than 50 days over 100 degrees being common.
For me to say that it is just too hot and uncomfortable to wear gear is the same rationale you are using when describing discomfort from walking in motorcycle specific boots. It just ain't that bad compared to the alternative!"
Editor's Note: We rarely "recommend" any products; we report on many products and it's up to our readers to make their own personal risk/reward calculus.
Are "work" or tactical boots better than flip-flops or sneakers for motorcycle riding? I'd think yes. Are they as good as dedicated motorcycle boots? That's more difficult to answer.
Just because a boot is listed as a "motorcycle" boot does not necessarily mean that it has more or better protection than a work boot or tactical boot.
If your Bonneville-riding friend who unfortunately crashed had been wearing "motorcycle" boots, would his ankle have been injured more or less? No one will ever know.
Bottom line? Learn as much as you can from the webBikeWorld reviews and make an informed purchasing decision based on your personal criteriae.
---
From "D.W." (November 2013): "I have a few pairs of Ridge boots but the one I use on 99% of my rides is a pair of Ridge Ghost boots. These are the vented version. Side zipper, etc. I have had them for 4-5 years now.
No idea how many miles on them. I average around 15,000-18,000 a year.
I have a Triumph 800 XC and DR 650 that get most of my mileage. I use them for almost every kind of riding I do now. The exception is when I ride my KTM and use the Sidi ADV boot.
I like the vented boot as I do not like hot feet. For some reason, if my feet get too warm, I get sleepy. Must have been something in my upbringing. Even crossing small creeks, I stay warm and dry. I can barely tell any wear on the sole of the boot. I figured I would have replaced these a few years ago.
Happy to say they are almost as good as new. Good boots."
---
From "H.S." (November 2013): "Being an Army Veteran, I have always leaned towards this type of boot, be it for work with a safety toe or most riding using the same work boots.
I found it interesting how "J.H." commented that during his crash the steel toe came off.
I am not sure my motorcycle- specific boots would have helped in that given circumstance but have noticed construction style varies widely on the boots I have owned through the years.
A brand I consider to be my favorite is Belleville and they make only military style boots and construction of these has never failed me.
A much lighter-weight Bates safety toe boot was much more flimsy in construction but weight was also much less.
I have some old boots and think you should see if a method could be made to test boots to see how they might fare in a crash situation, then put a call out to your readers to donate used boots for testing.
Editor's Reply: I wish there was a U.S. based non-profit organization that tested motorcycle clothes for protection and safety, it sure seems like someone could/should start a business like that.
We have no way of testing products here but I have learned that there is a lot, lot more to it than meets the eye.
I have also learned over the years that there are two problems with owner crash reports. First, no two crashes are the same, so what worked or didn't work in one crash may have no bearing on the next.
Second, there is always the "compared to what?" factor.
For example, a rider reports he/she was wearing boots/helmet/jacket/gloves/etc. that protected or didn't protect in a crash. But it will never be known if a different brand or type of product would do the same or better or worse.
About the only thing we as motorcycle riders can go by is the European CE standards and the various worldwide helmet standards.
---
From "K.D." (November 2013): "As the Tactical Boots author has, and those who have made comment have, I've enjoyed a pair of Converse 8" water-proof, side zip, non-insulated tactical boots over the last riding season and find them far more comfortable than the Shift riding boots I've owned for several years.
The point I want to make is that tactical boots are available with a variety of features that allow purchasers to make decisions for themselves.
A quick Google search for "military boots" or "tactical boots" will yield many sites to consider for information, education and procurement. Within some of those sites you can filter results for features such as toe construction — no toe, composite toe, steel toe or aluminum toe protection.
Then within the filtered results you can find information in the product descriptions as to ankle protection, water proof, side zip, insulated, non-insulated, steel shank, plastic shank, etc.
Having multiple choices is a great thing and tactical boots that you can configure to your requirements are a great option."
---
From "J.D." (October 2013): "I've been riding for two years now, 27,000 miles, virtually all of those miles in Corcoran XC1585, 10-inch side-zip jump boots. These are a variation of Corcoran's original WWII paratrooper boot; the side-zip is incredibly convenient.
All leather, made in USA, same price range as the two boots in the review.
They're among the most comfortable shoes I own. I not only wear them for the ride to work, but all day at work, unless I need to swap them out for the dress shoes I leave at the office.
I've been down in them twice, and I'm still wearing the same pair every day. Yes, they're scraped and scuffed, but that's it."
---
From "T.M." (October 2013): "Excellent review! I'm currently using Oakley's SF (Special Forces) Assault 2.0 boot for commuting and it's is NICE. I like that I can stand in these things all day, and not get tired.
They are flexible enough to get good feedback from the foot controls on my CBR while still having a thick enough sole that I can finally flat-foot the bike."
---
From "J.H." (October 2013): "I just finished reading your review Tactical Boots Comparison, Ridge Outdoors 9000 Ultimate Zipper Boots vs. Blackhawk Warrior Wear Light Assault Boots and the author did make a statement regarding compromises when wearing non-motorcycle-specific boots.
I had a low-side off three years ago while while wearing steel-toed work boots which where not motorcycle-specific boots.
Perhaps I experienced a one in a hundred experience, but during my off, I was pinned under my sport-touring bike as we both slid down pavement. All of the motorcycle-specific gear that I was wearing protected me doing exactly what it was designed to do.
However, my left foot was pinned under the bike, top of the foot facing the pavement and the steel tow was torn off the boot. I ended up with three broken toes, a broken foot and road rash on the top of my foot.
I do not know whether any of the pairs of Sidi boots that I have since bought (all reviewed by webBikeWorld) would have performed better, but I was taught a lesson that good gear is worth the price.
I have no doubt that my Shoei RF-1000 (review) saved my face, that my Alpinestars gloves saved my knuckles (my left hand was pinned under the bar ends), and my Tourmaster riding jacket and pants saved my from a broken elbow and road rash.
Thank you for the great work you guys do. I am one that always checks webBikeWorld before making a decision regarding my gear."