Suzuki Australia has "Australianised" the V-Strom 650 with rugged accessories and a derestricted model. A similar V-Strom 1000 could be following in their tracks later this year.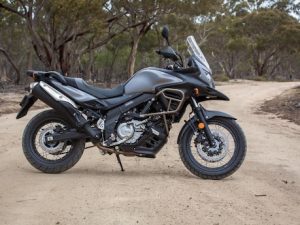 The full-powered 650XT model costs $11,490 (+ORC) and has 50.5kW of power, which makes it the most powerful in its class. Meanwhile the 650XT LAMS model with 35kW in pearl white costs $10,990, just $700 more than the standard LAMS version.
The full-powered 650XT also comes in either matte grey or pearl white with genuine Suzuki hand-guards, bash plate and engine protection bars.
They both feature sturdy DID wire wheels, retaining the same tubeless tyres as the cast-wheel model.
Suzuki Australia spokesman Lewis Croft says the two additional "cross country" 650 models were in response to "growing public demand".
"We Australianised it because that's what people have wanted for a long period of time so they could take it on the roads less travelled," he says.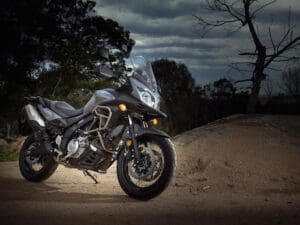 The three-model 650 V-Strom range is still powered by the four-stroke, DOHC, 645cm3 90-degree V-twin which is a willing and torquey engine. It's also narrow and light which makes it ideal for adventure touring. They are also backed by Suzuki's two-year, unlimited-kilometre warranty.
Lewis says they are also looking at an Australianised version of the V-Strom 1000 later this year with a long list of accessories including luggage.
However, he says it may not necessarily have the khaki paint job of the Desert V-Strom which is available in Europe and the USA.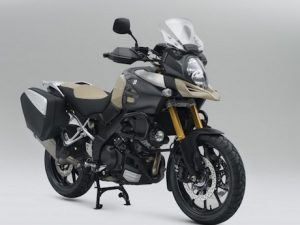 The Desert Edition 1000 is kitted out with panniers, centrestand, engine bars, a Garmin 590 SatNav, heated grips and LED fog lamps, but there is no word on what the Australianised version would include.
The Australianised version could be called the Overlander and is expected to cost closer to $20,000, than the $15,490 of the standard model.