Suzuki V-Strom 1000 ABS Tank Bag Review and Installation
The Suzuki V-Strom 1000 ABS tank bag accessory is a high-quality (and expensive) piece of luggage.
It may be worth the cost though, because the bag fits the bike perfectly and it mounts on a ring lock on top of the fuel filler, so there's nothing to scratch the tank.
The Tank Bag…and Parts
You'll need to order 3 different parts for a complete tank bag assembly; something I only discovered after the tank bag arrived without the necessary mounting parts (see the Tank Bag Notes in the V-Strom 1000 ABS Blog).
In addition to the tank bag itself, called the "Suzuki Ring Lock Tank Bag" (part 990D0-04600-000; $249.95), you'll need the Ring Mount (part 990D0-04100;  $52.95) and the Ring Mount Adapter (part 990D0-04610; $56.95).
That's a grand total of $359.85 — yeeowch!
Depending on shipping costs, you may be able to save a few bucks by buying the SW-Motech tank ring for $39.99.
Then you can buy one of the Twisted Throttle SW-Motech/Bags Connection tank bags, which are available in several different shapes and sizes (Twisted Throttle is a webBikeWorld affiliate retailer).
Actually, the Suzuki accessory tank bag and mounting parts are said to have been manufactured by SW-Motech.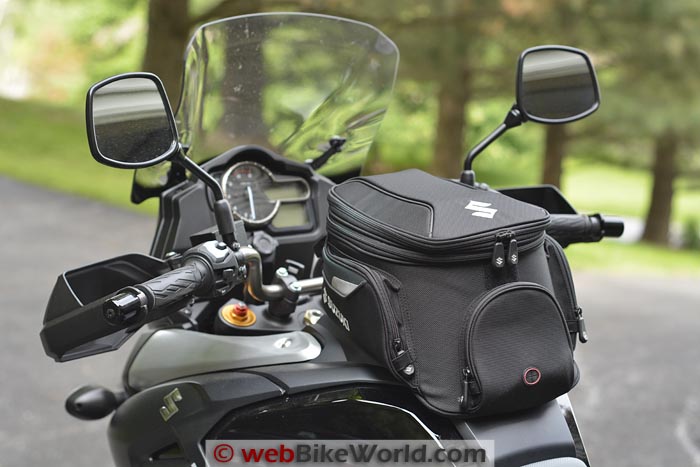 ---
Where to Buy Suzuki V-Strom Tank Bag
Check Reviews & Prices on Amazon
See More: Motorcycle Luggage, Motorcycle Accessories, Motorcycle Helmet
---
Mounting the Tank Bag
My biggest gripe with the Suzuki tank bag system is that the owner has to drill through the bottom of the tank bag to mount the adapter plate parts that snap on to the fuel filler ring.
Suzuki should have done this at the factory, first of all because at the prices their charging, it should be a bolt-and-go process.
Do you really want to buy a 250-buck tank bag and the first thing you have to do is drill some holes through it?
I found the instructions to be rather vague, and that's my second gripe. It took me quite a while to get it all figured out and actually there are 3 sets of instructions, one with each part, which make it more difficult.
The tank ring and adapter instructions refer back to line drawings on the tank bag instructions, which doesn't help.
But, now that I did all the hard brainwork, you have this detailed webBikeWorld review to use as a reference, right?!
Here's a tip: I've learned the hard way after many "I told you so" lessons that the most important thing you can do is read the instructions slowly and carefully several times until you fully understand what they're describing.
Lay out all the tools and all the parts and hardware and familiarize yourself with the nuts and bolts. Then do a dry run through the procedure before you start.
Believe me, the one time you discover something was different from what you may have originally thought or assumed, it will be worth the extra time and effort.
Here's a photo of the instructions and if you click on the text links in the description box, you can view a larger-sized individual photo of each, showing the parts, hardware and tools required. Also linked below the photo are .pdf's of the line drawings that nicely illustrate the assembly; i.e., how the darn thing goes together.

Tools Required
You'll need a Phillips #1 screwdriver (I use the excellent Wiha Micro-Finish screwdrivers (review)) and a 3 mm and 4 mm Allen wrench (I use the Craftsman T-handle hex wrenches (review)).
And if you have one, a torque wrench that goes down to a miniscule 3 Nm.
You'll also need a metric scale (ruler) and an electric or battery-powered drill and an 8.5 mm drill bit or its vintage equivalent, the 21/64, which is just 0.2 mm smaller.
Note that the Bags Connection branded EVO tank bags that use the same clip-on method come with an 8.5 mm drill.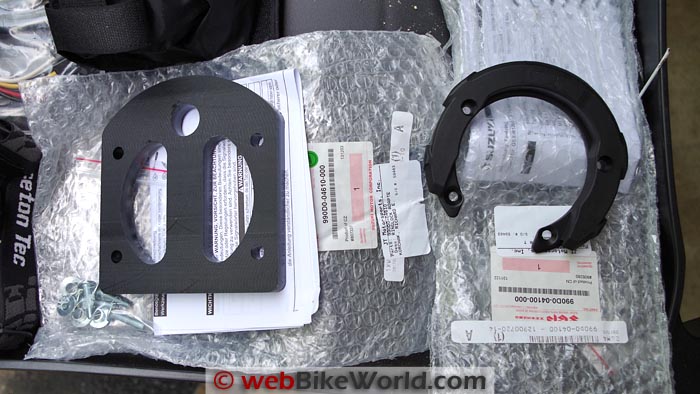 ---
Where to Buy Suzuki V-Strom Tank Bag
Check Reviews & Prices on Amazon
See More: Motorcycle Luggage, Motorcycle Accessories, Motorcycle Helmet
---
Let's Get Started
Since a picture is worth 1,000 words, let's do it that way…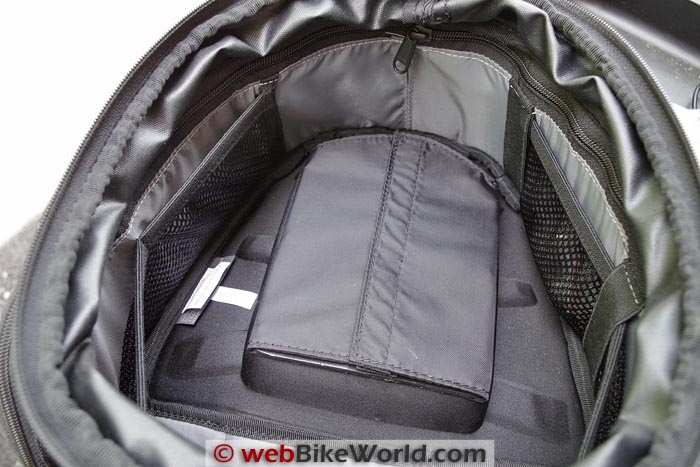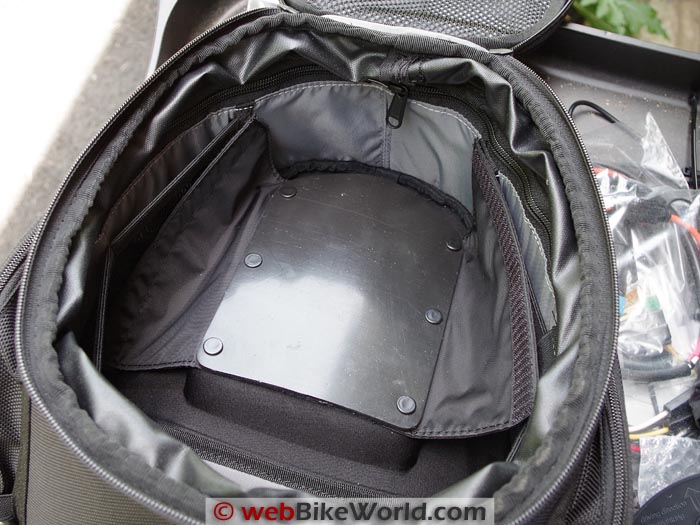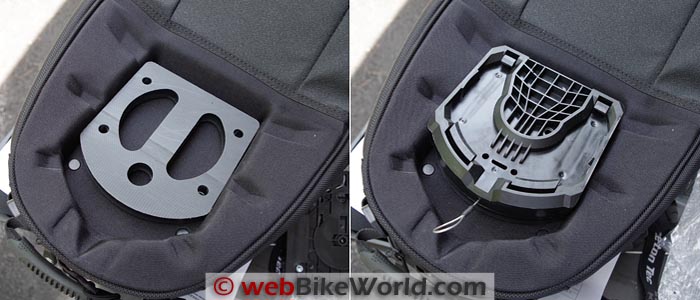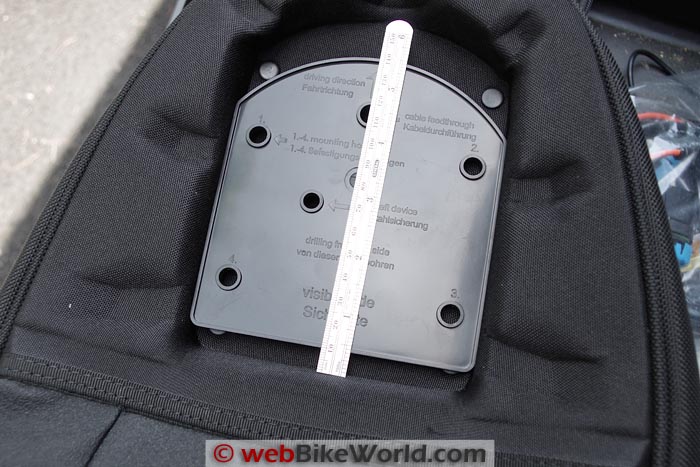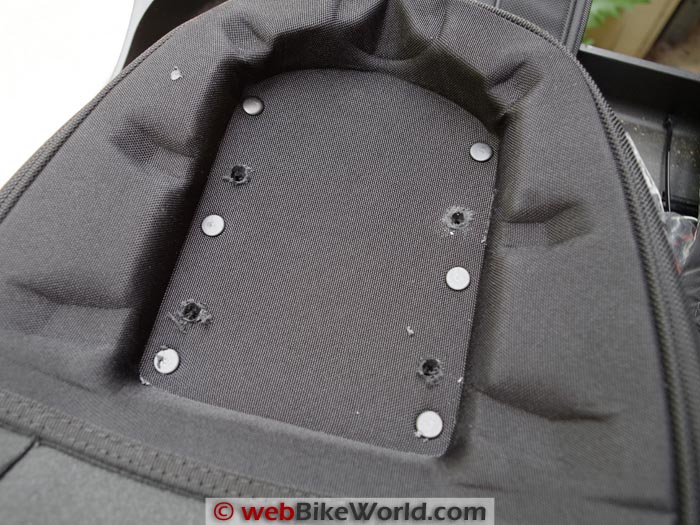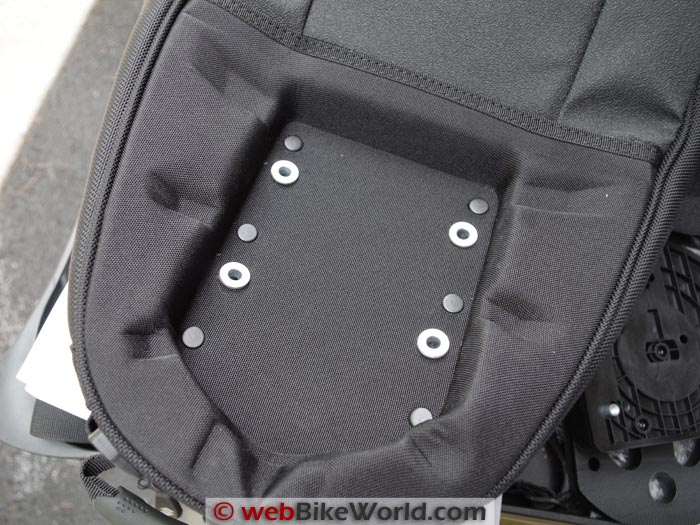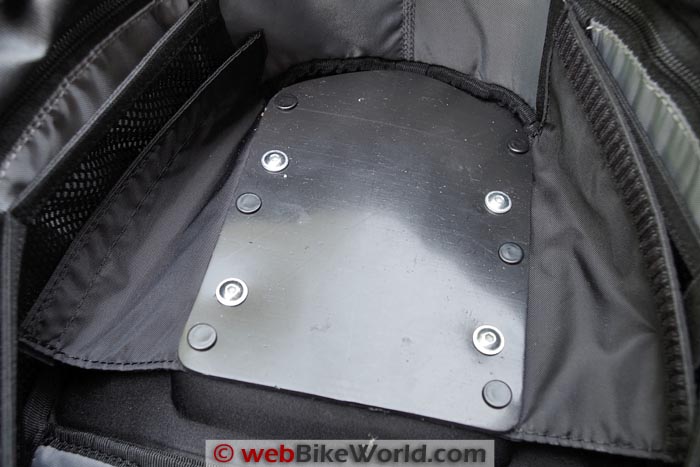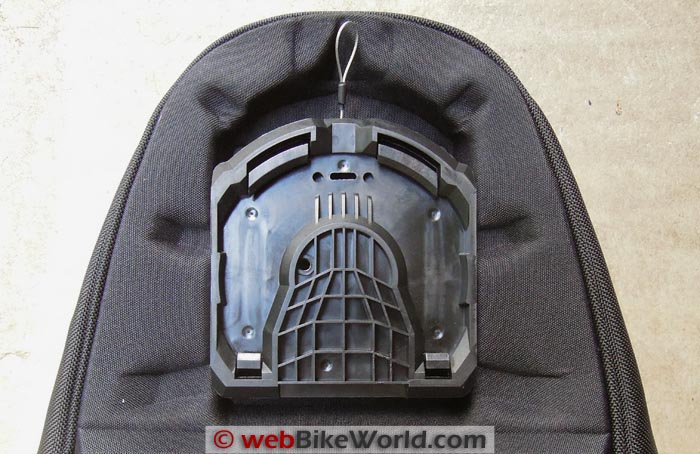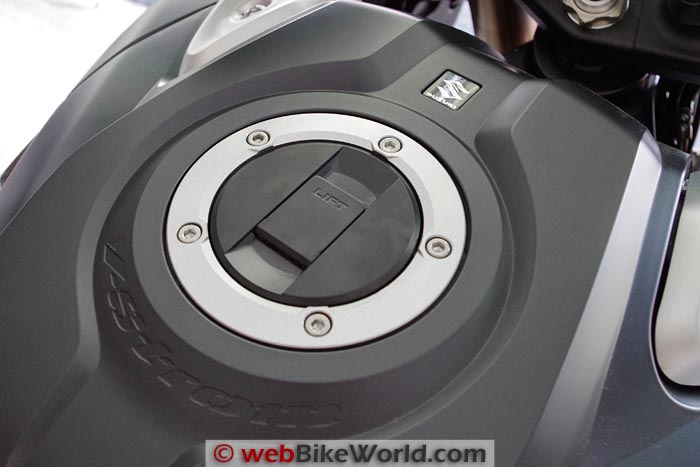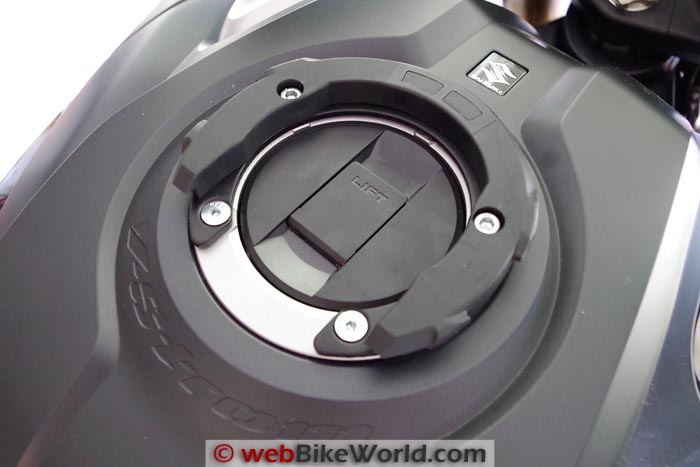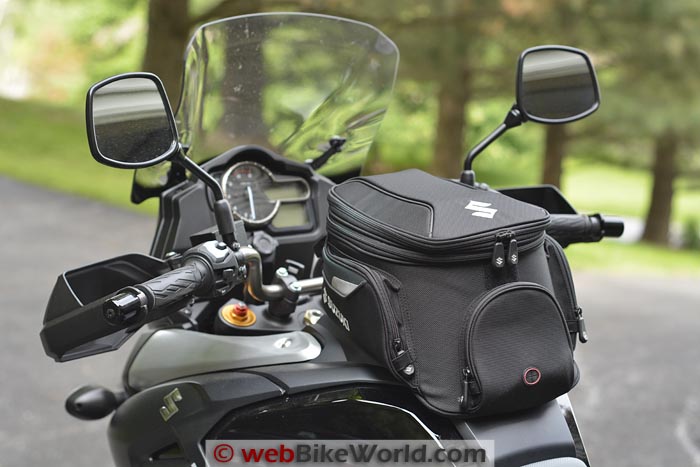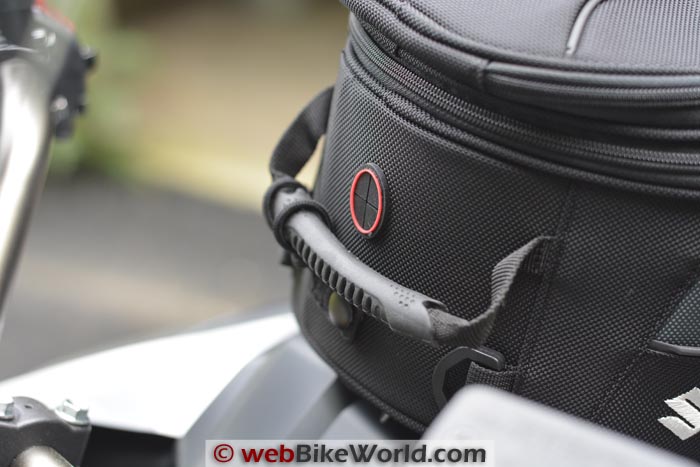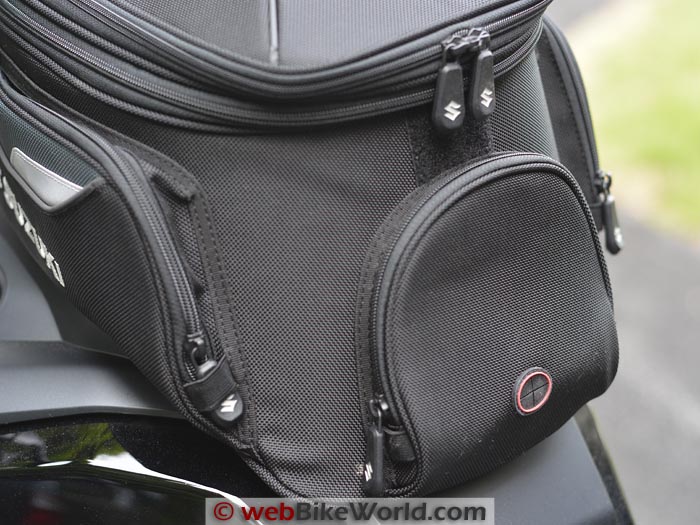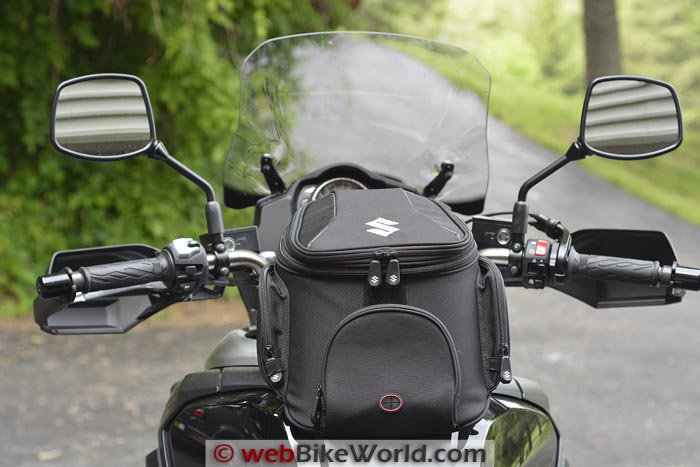 Conclusion
The tank bag for the Suzuki V-Strom 1000 ABS is a nice piece of gear that adds to the carrying capacity of the Adventure model.
The Quick Lock tank bag mounting system works well and keeps the bag from rubbing on the paint. It's fairly easy to remove but easier to install on the locking ring.
The initial installation process is more difficult than it should be, but anyone with fairly basic mechanical skills and a few tools should be able to do it. Don't forget: read the instructions carefully and take your time!
More wBW: Suzuki V-Strom 1000 ABS Blog  |  wBW Motorcycle Reviews
Note:
 For informational use only. All material and photographs are Copyright © webWorld International, LLC since 2000. All rights reserved. See the webBikeWorld® 
Site Info page
. Product specifications, features and details may change or differ from our descriptions. Always check before purchasing. Read the
Terms and Conditions
!
---
Where to Buy Suzuki V-Strom Tank Bag
Check Reviews & Prices on Amazon
See More: Motorcycle Luggage, Motorcycle Accessories, Motorcycle Helmet
---
Owner Comments and Feedback
---
From "J.P." (June 2014): "I have the SW-Motech version of that EXACT tank bag mounted on my Suzuki GSX1250FA that I traded-in my 2004 Suzuki DL650 V-Strom for. I was also put off by the price, but the design appealed to me so I pulled the trigger.
I also took my time installing the unit, measuring twice, three times, four times, five times…….before finally drilling (!) into my new bag. It was worth it in the end.
I love the quick attach and detach mounting, how it stays off the paint, and how it allows me to mount my iPhone 5S as a nav unit.
I bought the accessory holder that allows mounting of a cell phone or GPS device and it works like a charm. I also bought, what the heck, in for a few hundred bucks already, the map case that attaches to the top of the bag for highway maps. Works great.
So with the full monty, I have cell phone, navigation, power for my cell phone, and a map, all within easy reach on top of this very functional tank bag. Expensive, but a very functional and pleasing to use set up.
Oh, my release lanyard was in place on my SW-Motech version and it snaps nicely to the front carry handle. If you can afford the coin, this is a worthy addition to the bike."
Other WebBikeWorld Luggage Posts