Despite rumours of force-fed induction, Suzuki has revealed its Concept GSX with traditional drivetrain, but futuristic styling at the Tokyo Motor Show.
The official Suzuki press release doesn't give much away, except that it is likely to have a traditional powertrain: "Suzuki's powerful, rider-friendly inline-four engines deliver an outstanding combination of fuel economy and endurance. Their technologies are reflected in numerous GSX-series models including the GSX-R1000, the Hayabusa, and the GSX-S1000. The concept GSX symbolizes the high-performance bikes that bear the GSX name. It gives form to Suzuki's sportbike-making spirit and evokes a cocoon from which the company's future sportbike models will be born.
There is also no word about what will become of the concept but it follows the release of the turbo-charged Recursion concept at last year's show which has since been buried.
Suzuki also revealed a 50cc moped, GSX anniversary colours, a GSX 150 called Gixxer, a 50cc scooter with diverse carrying capacity and its 2016 GSX-RR MotoGP bike which means it will be back again next year after its return this year.
In all, nothing exciting, new or revolutionary, just steady as she goes.
The weirdly named Feel Free Go! is Suzuki's vision of an engine-powered cross bike with a twist shifter and a saddle-type seat.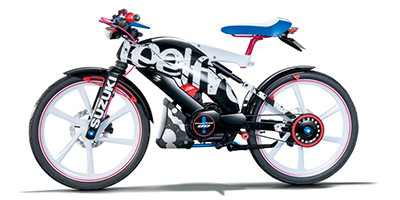 The Gixxer is a 150cc street sportbike launched in India in August 2014. It has won 13 Indian bike-of-the-year awards.
Its presence on the stand indicates the company is ready to unleash the bike on the rest of the world.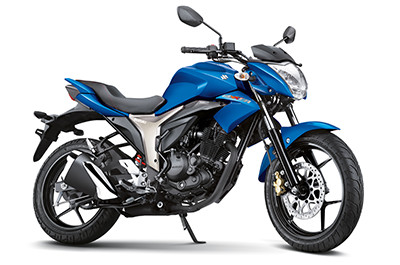 The Hustler Scoot is a versatile luggage carrier powered by a 50cc engine.
A conventional underseat luggage bay is complemented by a removable, carryable luggage case that mounts between the rider's feet. There's more room for luggage on the rear carrier and on the sides of the bodywork.
With the luggage case removed, it can carry longer luggage items such as a tennis racket.