An In-Depth Guide to the Suzuki Quadrunner 250
The Suzuki Quadrunner 250 is a 31 horsepower sport utility ATV manufactured by Suzuki Motors for general off-road use. It weighs 557 lbs and distinctive features include a rigid frame and sporty appearance as well as the ability to add a hitch to perform some yard work. The LT version has a sporty appearance with racing plastics while the LTZ version comes with front and rear cargo racks. The Suzuki Quadrunner 250 has a top speed of 45 MPH in stock condition and weighs 557 lbs.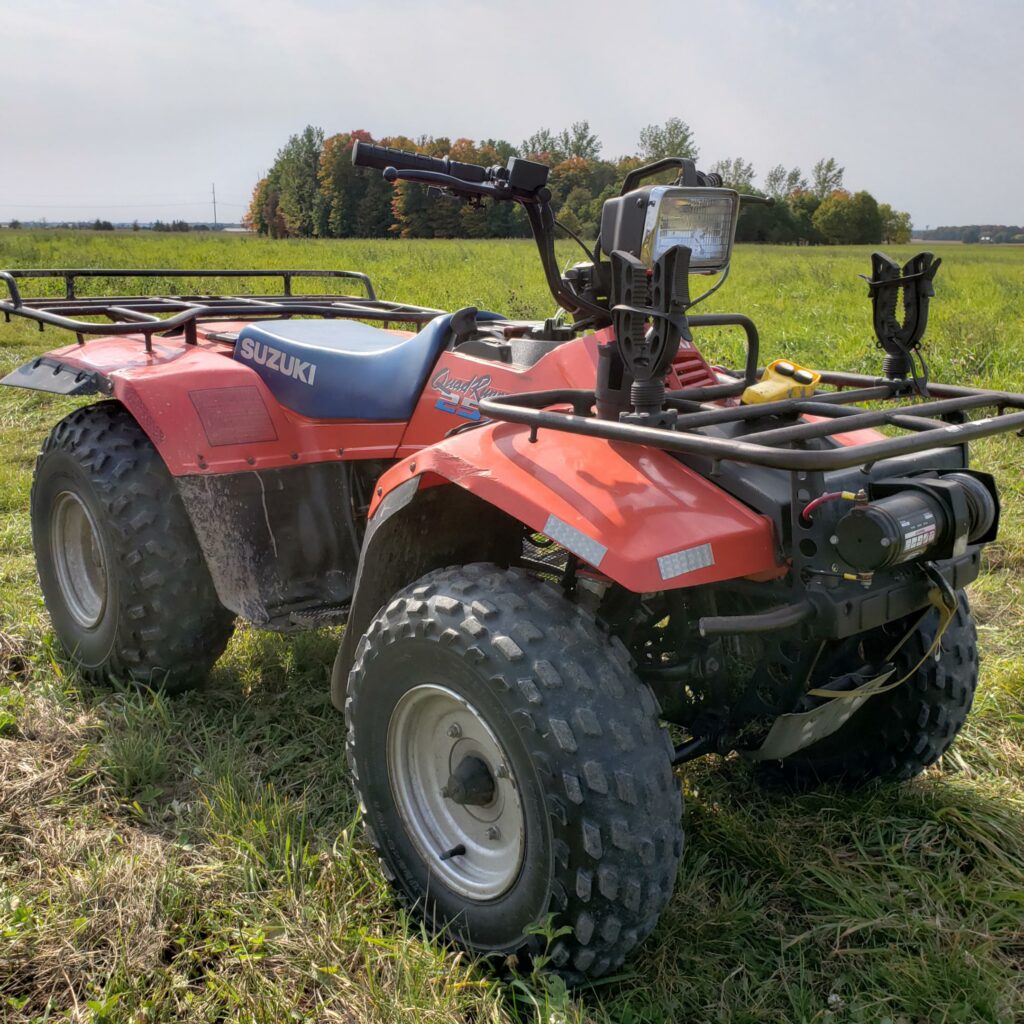 The 250 Quadrunner uses an electric starter to start it's single-cylinder four-stroke engine. The air-box is high off the ground to prevent clogging the engine while mudding. A twin combustion chamber engine design improves the power and gas consumption of the engine for better performance.
The Suzuki 250 Quadrunner has a five-speed transmission and an automatic clutch. It has three riding modes, 2WD, standard 4WD and 4WD with front differential lock. The rear drive is integrated while the front drive is powered through a drive shaft.
Suzuki 250 Quadrunner dimensions are 81.9 inches long, 44.5 inches wide and 41.9 inches tall. A wheelbase of 45.3 inches and a seat height of 31.5 inches proved perfect for most riders. 7.9 inches of ground clearance and a dry weight of 557 pounds give the Suzuki 250 great handling characteristics at speed. Hydraulic drum front brakes and mechanical rear brakes provide stopping power. AT 22 x 8-10 front and AT 25 x 12-10 rear tires are perfect for working on the farm and having a little fun on the trails. The 250 Quadrunner fuel capacity is 3.2 gallons.
Suzuki Quadrunner 250 Specs
Overall length: 2080 mm (81.9 in.)
Overall width: 1130 mm (44.5 in.)
Overall height: 1065 mm (41.9 in.)
Wheelbase: 1150 mm (45.3 in.)
Suzuki Quadrunner 250 Seat height: 31.5 inches
Ground clearance: 200 mm (7.9 in.)
Front Track: 800 mm (31.5 in.)
Rear Track: 800mm (31.5 in.)
Suzuki Quadrunner 250 weight: 557 lbs
ENGINE Type: 246cc 4-stroke, single-cylinder, air-cooled, SOHC
Bore: 66.0 mm (2.598 in.)
Stroke: 72.0 mm (2.835 in.)
Piston displacement: 246cc (15.0 cu. in.)
Compression ratio: 8.5:1
Carburetor: Mikuni BSR29
Suzuki Quadrunner 250 HP: 31 HP
Air cleaner: Foam element
Starter system: Electric & recoil
Lubrication System: Wet sump
TRANSMISSION Clutch: Wet multi-plate type, auto/centrifugal
Transmission: 5-forward, 3-subtrans. w/reverse
Gearshift pattern: All up, foot operated
Primary ratio: 3.250 (65/20)
Gear ratios: 1st: 3.083 (37/12)
Gear ratios: 2nd 1.933 (29/15)
Gear ratios: 3rd 1.388(25/18)
Gear ratios: 4th 1.095(23/21)
Gear ratios: 5th 0.913(21/23)
Gear ratios: reverse 2.833 (34/12)
Secondary ratio: 1.062 (17/16)
Final ratio (front): 3.090 (34/11)
Final ratio (rear): 3.647 (62/17)
Subtrans. super low: 3.176 (17/18 x 37/11)
Low gear: 1.480 (37/25)
High gear: l.l12(11/25×43/17)
Drive system (front): Shaft drive
Drive system (rear): Integrated Geardrive
Front suspension: Independent, double A-arm, oil damped, 5-way preload
Rear suspension: Independent diagonal swing-axle, oil damped, 5-way preload
F. wheel travel: 85 mm (3.3 in.)
R. wheel travel: 95 mm (3.7 in.)
Caster: 3° 30'
Trail: 16 mm (0.6 in.)
Steering angle: 40° (right & left)
Turning radius: 2.7 m (10.5 ft.)
Front brake: Drum
Rear brake: Drum
Front tire size: AT22 x 8-10 PP
Rear tire size: AT25 x 12-10 PP
Ignition type: CDI Box
Ignition timing: 5° B.T.D.C. below 1800 r/min 30° B.TD.C. above 3800 r/min
Recommended Spark plug: NGK DR7EA
Battery: 12V 50.4 kC (14 Ah)/1OHR
Generator: Three-phase A.C.
Headlights: 12V 30/30W x 2
Tail lights: 12V SW
Speedometer light: 12V 3W x 2
Suzuki Quadrunner 250 Top Speed: 45mph in stock condition
Neutral light: 12V 3W
Main fuse: 20A
Power source fuse: 15A
Fuel tank, including reserve: 12.0 L (3.2 gal.)
Reserve tank only: 2.0 L (0.5 gal.)
Suzuki Quadrunner 250 oil capacity: 3500 ml (3.7 qt.)
with filter change: 3600 ml (3.8 qt.)
Differential gear oil: 150 ml (5.1 oz.)
Load capacity: 380 lbs. (including tongue weight)
Towing capacity: 400 lbs. on uneven ground
Towing capacity: 904 lbs. on level ground
Rack capacity (front): 66 lbs.
Rack capacity (rear): 132 lb.
250 Quadrunner shocks are mounted to a front A-arm suspension and rear diagonal swing axle for exceptional handling. Front and rear cargo racks along with a hitch for pulling a small trailer give the Suzuki 250 Quadrunner a lot of versatility and hauling options. An ATV winch is optional and two 30-watt fender mounted headlights allow the rider to ride or work in a poorly lit environment.
Related Posts