Suzuki LT500r Specs, Weight and Quadzilla's Top Speed
The LT500r is an all-terrain vehicle manufactured by Suzuki Motors and affectionately named the "Quadzilla". It weighs 392lbs and has a 500cc engine giving the Suzuki LT500r a top speed of 82MPH in stock condition. Suzuki made the Quadzilla from 1987 until the 1990 model year. Seat height is 31.1 inches.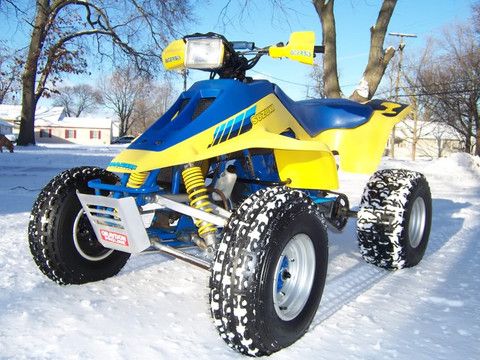 The LT500r is perhaps best known for being too strong, it's high performance design unfortunately led to several injuries and its sale was discontinued as a result. On the bright side that served to make it a rare ATV today. It is no longer the fastest stock ATV available but it is perhaps the most notorious.
Suzuki LT500r Specs
Displacement: 499.5cc
Bore and Stroke: 86mm x 86mm
Compression: 7.2:1 (corrected 6.3:1)
Carburetor: Mikuni TM38SS, flat slide
Lubrication: Oil premix
Ignition: Suzuki PEI (CDI-type), 4° @ 1,000rpm, 12° @9,000rpm
Starter: Primary kick
Suzuki LT500r Top Speed: 82MPH
Transmission: 5-speed, manual clutch, no reverse
Final Drive: #520 chain, O-ring sealed
Overall Length: 1,920mm (75.6in.)
Overall Width: 1,205mm (47.4in.)
Overall Height: 1,110mm (43.7in.)
Suzuki LT500r Seat Height: 31.1 inches
Wheelbase: 1,345mm (53.0in.)
Ground Clearance: 110mm (4.3in.), at rear axle
Dry Weight: 178kg (392 lbs)
Fuel Tank Capacity: 13 liter (3.4 gal) including reserve
Front Wheels: AT21x7-10
Rear Wheels: AT20x11-10
Brakes: triple hydraulic disk, single piston caliper designs
Front Suspension Travel: 9.1in., double A-arm with adjustable preload
Rear Suspension Travel: 9.1in., Full Floater linkage, adjustable preload
Caster: 10°
Trail: 42mm (1.7in.)
Toe-in: 11-19mm (0.4-0.7in.)
Turning Radius: 2.8m (9.2in.)
Suzuki motors has designed and manufactured several industry firsts, a sign of a company willing to be on the leading edge.
Related Posts