Suzuki Motorcycles Australia will add a full-powered version of their popular learner-approved SV650 to their lineup next month.
There is no price difference on the two models which are $8990 (+ORC) or $10,190 ride away.
They now match the SV650X which also comes in LAMS and full-powered versions at $9490 (+ORC).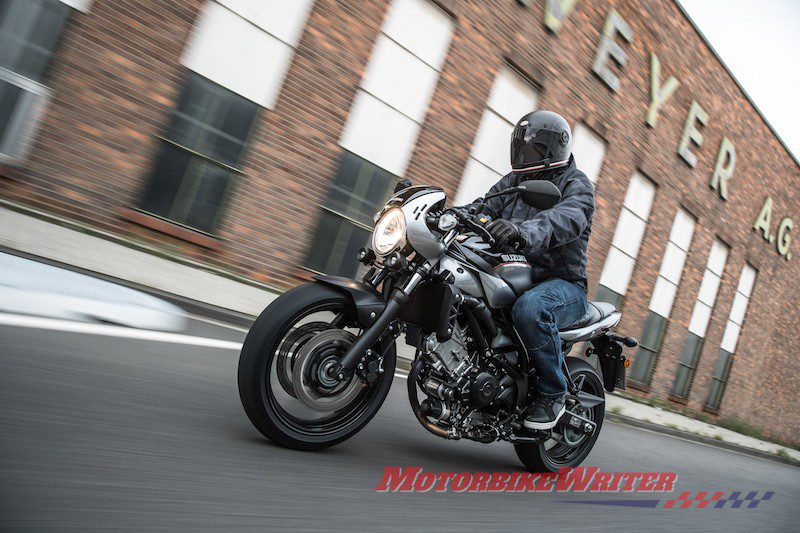 Yamaha also has LAMS and full-powered versions of their MT-07, but charges $9899 for the LAMS version and $10,299 for the full-powered model.
Full-powered SV650
The LAMS versions of the SV650 and SV650X have output restricted to 35kW of power at 8500rpm and 56.5Nm of torque at 4000rpm via the ECU, not mechanical restrictions.
Unfettered, the 645cc V-twin engine has 56kW of power at the same revs but more torque up in higher revs with a peak of 64Nm at 8100rpm.
Suzuki claims fuel economy is 3.8L/100km for the LAMS version and only slightly more for the full-powered model at 3.9L/100km.
The new SV sits in a modified Gladius steel trellis chassis with a reduction in kerb weight by 8kg to 197kg and a low seat height of 785mm.
It also gets a new radiator with a bigger fan, a new brightness-adjustable LCD instrument cluster, LED taillights and a luggage loop.
The SV models feature 290mm dual front disc brakes and 240mm rear brake disc with Nissin ABS technology.
A helpful feature for novices and pros alike is the "low RPM assist" system which lifts revs when you let the clutch go to avoid stalling. Great for low-speed filtering and to ensure no embarrassing stalls when you get to the front of the traffic-light queue.
The Suzuki Easy Start System also makes engine starting easier with just one touch of the starter button.
Both models will be available in Metallic Triton Blue and Pearl Glacier White colour schemes.