Drivers who illegally use a mobile phone while driving should have their licence suspended as they do in Canada, says the Motorcycle Council of NSW.
Chairman Steve Pearce says the use of mobile phones and the addition of other in-car distractions needs "urgent action" by the NSW Government.
On September 17, NSW increased the penalty for illegally using a mobile phone while driving in from four to five demerit points.
This follows drivers being fined for not only talking on their phones, but updating their social media profiles and even taking selfies.
However, Steve says the MCCNSW believes it "does not go far enough to deter the use of mobile phones in vehicles".
"We think that licence suspension for mobile phone use should be mandatory," he says.
"The growth of in-car displays is also a concern to MCCNSW as they offer additional distraction to drivers in a road and traffic environment which is becoming busier and increasingly unforgiving."
Mobile phone fines vary across the nation:
Fines around the world
Fines vary around the world from no fine in many Asian countries to thousands of dollars and licence suspensions in Canada.
New Zealand has an $80 fine which matches their low fines for speeding. Consequently 3.5% of Kiwi drivers use their phone while driving compared with about 1.5% in Australia.
Almost half (24) of American states have no hand-held phone ban. Some states only issue fines if the driver is in a school zone or committing some other traffic offence such as speeding. Arizona and Montana even allow drivers to text!
The toughest measures in the USA are in California. The state has a $US150 fine (about $A205) for the first offence and more than $US250 (about $A345) for a second violation and one point.
Canada has a distracted driving offence which attracts a $1000 fine and three demerit points. A second conviction could mean a fine of up to $2000 and a seven-day licence suspension. A third offence could mean a fine of up to $3000 and a 30-day suspension.
Fines in Europe vary from less than €50 (about $80) and one point in eastern Europe to €420 (about $A675) in the Netherlands and up to six points in the UK.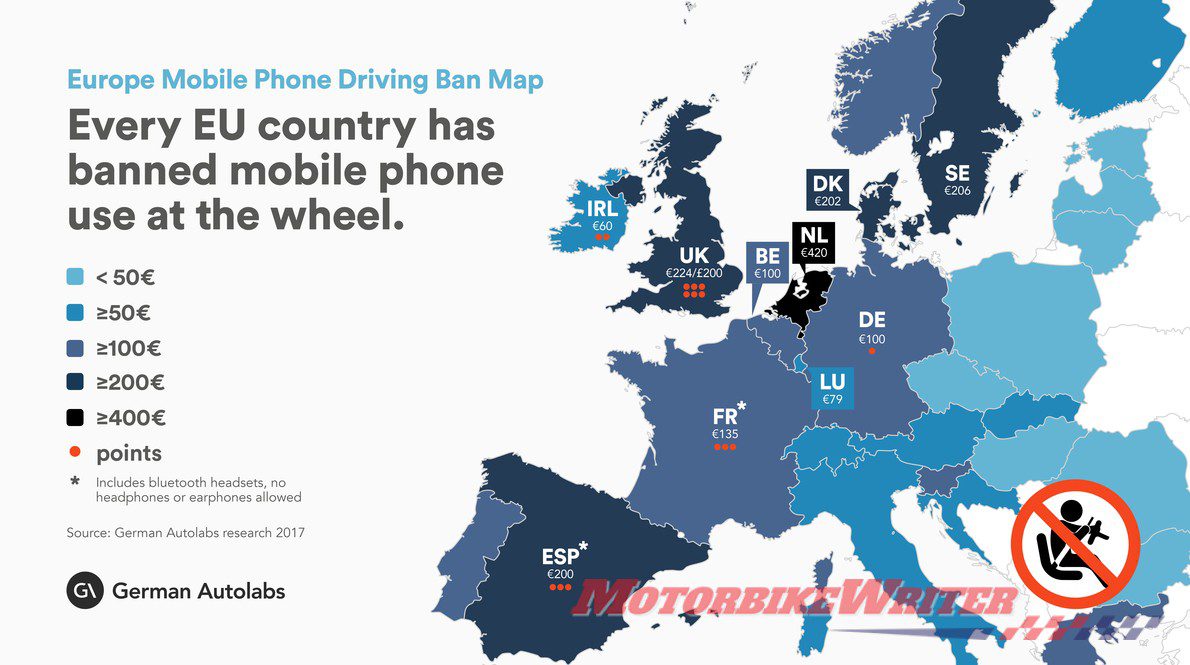 Safety measures
The call for tougher driver distraction penalties is among recommendations for motorcyclist safety in Steve's address this week to launch October as Motorcycle Awareness month.
Other rider safety recommendations include:
Mandatory training to move from a small to large capacity motorcycle licence;

More accurate crash data and specially trained motorcycle investigators; and

Increased research on the danger of automated vehicles to riders.
Road Safety Ride
NSW Motorcycle Awareness Month gets a kickstart on Sunday (7 October 2018) with a Road Safety Ride from Thornleigh to Kariong via the Old Pacific Highway.
The ride will also raise money for MARI (Motorcycle Accident Rehabilitation Initiative) which supports fallen riders.
It starts with breakfast at 8am at Bunnings Thornleigh (corner Pennant Hills Rd and Phyliss Ave) before the ride at 9.30am, ending at The Waterfall Cafe in Kariong.
The Centre for Road Safety will show their Roads We Ride video on the Old Pacific Highway at the Thornleigh Community Centre next door. MCC of NSW will show videos on MotoCAP, the recently launched rating system for motorcycle protective clothing.