Superstition is the way for motorcycle riders probably because we are so vulnerable to the weather, road conditions, wildlife and livestock and other motorists. We need all the help we can get! 
Even multiple world champion racer Valentino Rossi (image above from MotoGP.com) is superstitious.
He goes through a set routine before every race squatting next to his bike's footpegs and plucking his leathers out of his undies as he exits the pits. Or is that just a matter of comfort!
Scientific studies have shown that adhering to a superstition creates a placebo effect that luck is on your side, giving you the illusion of control.
They found that those who adhere to a superstitious ritual or object generally exhibit more confidence. In turn, this affects performance.
However, we would suggest an advanced riding course is better than resorting to superstitions.
Motorcycle superstition
There are many motorcycle superstitions. We have looked at just a few here:
Guardian bells
The mediaeval legend of the guardian bell says that the bell attracts evil spirits who get trapped inside.
The evil spirits or gremlins are driven insane by the constant ringing of the bell as you are riding and lose their grip, falling to the ground.
That stops them causing you to crash or your bike from developing mechanical problems.
Some say the guardian bell doesn't work if you buy it yourself.
They say it only works or has twice the power if bought by a friend.
It also helps build camaraderie among riders.
St Christopher
Catholics would say it is not superstitious to carry a St Christopher statue, prayer card or medal, but simple religious belief or faith.
St Christopher is the patron saint of travellers, protecting them from the elements.
However, Catholics might also carry a statue, card or medal of St Frances of Rome who was declared the patron saint of motorists in 1952 by Pope Pius XI.
Underpants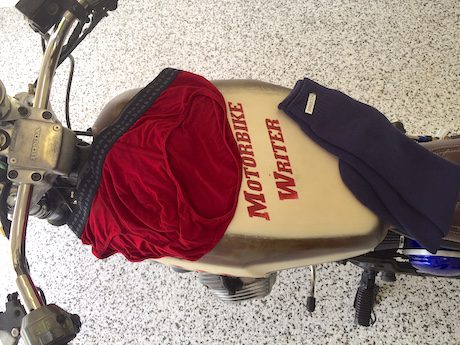 Mum always told us to wear clean underpants whenever we leave the house in case we are involved in some sort of accident.
However, some racers have a pair of lucky underpants that they always wear when they race.
It is often the pair of undies they were wearing when they won their first race.
Riders who've had a near-miss often declare the underpants they were wearing at the time as their lucky pair.
If you ask me, my Bamboo Textile underwear doesn't smell after a couple of days and that's lucky!
Dropping your helmet
Obviously a dropped helmet may be damaged and fail to provide adequate protection in a crash.
But that is not why it is considered bad luck by riders.
It has more to do with the possibility that if you are that clumsy or uncaring about your helmet, you may be more likely to crash through similar inattention while riding.
Dropping your helmet may not damage the helmet, depending on how far the drop is, but it's considered unlucky not to replace it if you do.
Click here if you would pay to have your helmet scanned after being dropped to see if it still safe to wear.
Rear footpegs
Never ride with the rear footpegs down … unless you have a pillion, of course.
It is believed that having them down invites evil spirits to hitch a ride, causing you to crash.
If there is any real correlation between crashing and rear pegs it could be that a rider who forgets to put the pegs up after their pillion gets off is more likely to also forget other things such as vital bike maintenance.
However, if you ever ride in a funeral cortege, the reverse is true. It is considered reverential to put the rear pegs down as you are inviting your departed friend for a last ride.
Green motorcycles
Pragmatists might say green bikes are harder to see against a backdrop of green countryside.
However, the superstition is believed to come from medieval times when green was considered evil.
It has roots in the automotive world thanks to several notable racing car crashes.
In 1910, a race car crashed and rocketed into a grandstand killing several spectators. A decade later, Gaston Chevrolet, younger brother of Chevrolet founder Louis, crashed his green car in a Beverly Hills race.
The most notable death was that of Formula 1 driver Jim Clark who crashed his green Lotus in 1968 at Hockenheim circuit.
Unlucky green motorcycles have their roots in crashes involving riders who bought damaged army-surplus motorcycles after World War II.
But just try telling a devoted Kawasaki rider that green is unlucky!
What superstitions do you have when riding?

 

Leave your comments below.