If you want to ride in the urban environment with some style and so you don't have to change your boots when you get to work or a social function, these Falco Ranger boots should suit.
They are not only stylish, but are also claimed to have CE European safety standard EN13634,2010 for protective motorcycle footwear. You can read all about the standard here.
The Italian-designed leather boots come in black or brown with D30 molecule impact protection technology that was developed for military use.
Visit this site for best motorcycle boots.
It uses "intelligent" molecules that flow freely while regular movement occurs.
In the event of an abrupt force, the molecules lock together to absorb the energy of impact and significantly reduce any force transmitted to the ankle or foot area.
The Ranger boots also have hard-wearing Vibram rubber soles which were originally developed for mountain climbers and have a lifetime guarantee.
These soles were specifically designed for motorcycle use, so they are not only durable and long lasting, but also resistant to oil and other lubricants.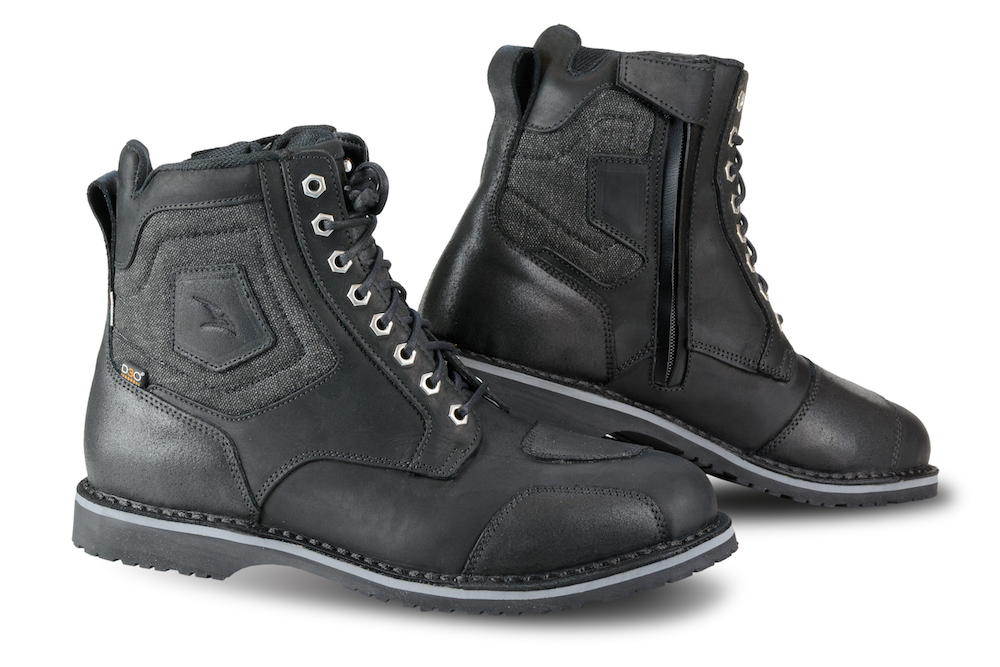 The upper part of the boot is made from premium-grade, oil-treated Italian leather with High-Tex membrane technology to repel water.
They are tested as waterproof after walking 100 steps in 5mm of water above the sole.
Many riders won't wear laced shoes because they are legitimately concerned about laces getting caught in the footpegs, gear shift or foot brake lever.
However, the Ranger boots have a lace loop hide pocket to keep the laces from tangling while riding.
You can also lace them up for the optimum fit, then use the convenient side side ankle zip with velcro tab which allows you to quickly put the boots on and take them off.
They seem like a great boot for commuting and weekend urban riding in comfort and style.
Falco Ranger boots cost $269.95 and will be available from April in men's sizes US 8 to 13.