Stubby Screwdriver Image Gallery
I hate when this happens!
I bought this "Bulldog" brand stubby screwdriver set, with 6 hex bits that store right in the handle, and now I don't remember where I got it or how much I paid for it.
No problem, right?
I still have the package, and it lists "Bulldog" as a brand of Newell-Rubbermaid, although they curiously don't list a website.
Does that mean that the package is pre-Internet?
I don't think so, because I do remember a bunch of them in a display when I bought it, and it seemed like they were being shown as a new product.
The Bulldog stubby screwdriver is a really handy little tool for motorcycle use — I keep it in my tank bag, but it will fit just about anywhere — in a pocket; under the seat; in the motorcycle's tool case; in the tail section…
Unscrew the top of the handle and inside are six little hex bits.
They include a #1 and #2 Phillips; a 1/8″ and a 1/4″ flat screwdriver; and an S1 and S2 square drive.
The bit holder on the screwdriver has a strong magnet to hold the bits, and the handle has a hard rubber "comfort grip".
The entire package is about as compact as I've ever seen and one of the reasons I like it so much is that it's so efficient, packing a lot of use in such a tiny size.
Also, 1/4″ drive bits are the way to go, because if they get dull, broken or chipped, or if you want to carry a different selection, it's so easy to replace them.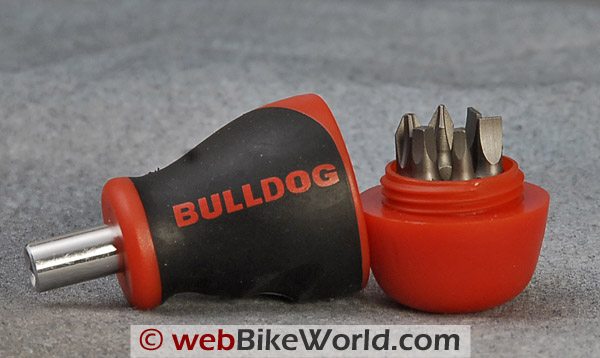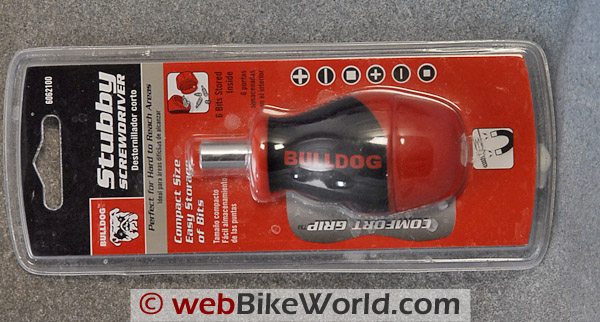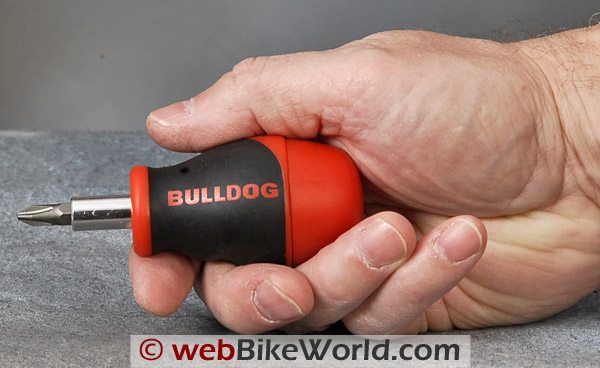 Bulldog Stubby Screwdriver
The Bulldog stubby screwdriver set it perfect for motorcycling — I bet if it featured a popular logo and it was sold in a motorcycle shop, the thing would go for $15.00 or close to it.
I wish I had the receipt, but I'm almost sure I paid only a couple of bucks for it.
I've searched high and low on the Internet since then to find one and it's like the product doesn't exist. Can anyone help?  The label reads "Bulldog Stubby Screwdriver" and it says "Compact Size, Easy Storage of Bits".
On the back it reads "A Division of Newell Rubbermaid". It's made in China, and the bar code UPC is 38548 09291.
If you can find one, let me know.
Which brings up another idea: I'm sure there are other types and brands of small screwdrivers that store the bits in the handle (although I bet none have the same combination of cheapness and quality as the Bulldog).
And there are certainly other compact multi-use tools that are perfect for motorcycling.
Crescent Dura-Driver
OK, here's another one, and this one's only slightly easier to find, and it certainly isn't compact.
I bought this when I bought the Bulldog stubby screwdriver set, and I do remember that it was on sale for $12.99, which was a steal, because I have found indications on the Internet that these sell for around $18.00 at a discount.
The Crescent Dura-Driver is also pretty handy; it's a full size (and then some) ratcheting screwdriver with a 4″ shank (the handle is 5-7/8″ long) and comes with 24 different 1/4″ drive bits.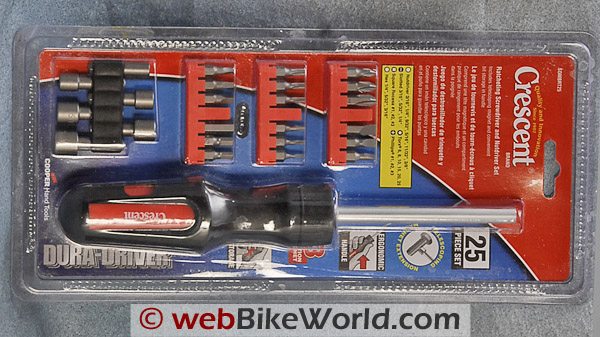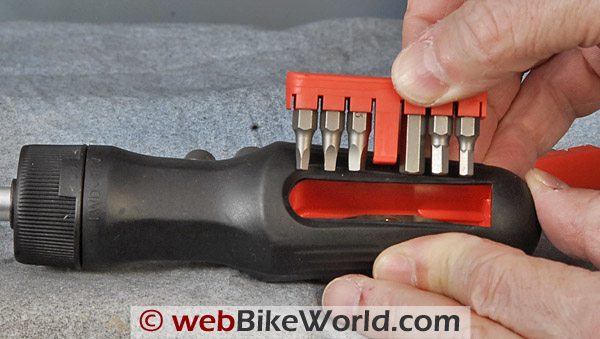 Dura-Driver Details
18 of the bits are held in 6-packs in the red plastic holders that fit into the handle.
That is, one six pack at a time fits in the handle, so you have a selection with you when you work in the garage. There's another holder with 6 nut drivers. The entire selection consists of:
Nut Drivers: 3/8″, 5/16″, 1/4″, 11/32″, 9/32″, 3/16″
Phillips Bits: Phillips #1, 2, and 3;
Flat Blade Screwdriver Bits: 5/32″, 3/16″, 1/4″;
Square Drive Bits: #1, 2, 3;
Torx Bits:#6, 8, 10, 15, 20, 25;
Hex: 1/4″, 3/16″, 5/32″.
Of course, the inch drive bits and inch nut driver sockets aren't very useful for motorcyclists.
But they can be easily replaced with metric bits for a mix-and-match, and you never know when you need an old-fashioned inch drive for something like a lawnmower or antique bike or something.
The screwdriver itself has a three-position ratchet: off, left and right.
Like any tool with a ratcheting capability, it isn't meant for humongo torque applications, but it works fine for anything but frozen nuts and bolts, where you should then be using specialized tools anyway.
Also — and I didn't realize this until after I bought it — the shaft of the screwdriver has a secret collapsing magnetic probe, which can be used to grab lost nuts and bolts and it also holds the bit in place.
The package for this one reads "Crescent Ratcheting Screwdriver and Nutdriver Set", part number SDMBRT25, and the words "Dura-Driver" are printed on the side.
"Dura-Driver" is a Crescent brand name for a line of single- and multi-use screwdrivers, bit drivers and nut drivers, but this 25 piece set (24 bits plus the handle) is not listed on the CCrescent and Cooper Tools Dura Driver website.
IIt may have been a special package or assortment put together for the store where I bought it, which may have been either Wal-Mart or Ace Hardware?
The handle has some black grippy material, but I'm not all that fond of the way it tapers towards the back. The single line of bits is concealed in the grip, and there's a spring-loaded button to push to pop out the bit holder.
The ratchet works by rotating a knurled plastic collar at the end of the handle, just before the shaft.
Again, I like these type of tools because they seem efficient. In effect, it replaces 24 different single-use tools.
No, these aren't the highest quality brands around, and I'm sure Snap-On or Craftsman or somebody makes really nice versions, but I'll also bet they don't sell for peanuts like this one.
And the quality of imported tools has risen dramatically over the years from back in the old days when something like this would have lasted for one use — if that.
UPDATE
Based on LT's info in the comments below, which says that the Bulldog Tools division was sold by Newell Rubbermaid to Rollins Bulldog Tools Ltd., I found the Bulldog Tools website in the UK.
It appears to be a manufacturer of garden tools, owned by the Rollins Group.
However, I can't find any tools other than garden tools…could it be that Newell Rubbermaid was using the Bulldog name for this line of screwdrivers by coincidence?
Conclusion
The Bulldog stubby screwdriver and the Crescent – Cooper Tools ratcheting screwdriver are inexpensive tools that can be very useful for motorcyclists.
It's amazing how something as simple as a screwdriver has been improved and its use greatly expanded with the availability of bits of all different shapes and sizes and with features like ratcheting and even a built-in magnetic part grabber. Tool lovers rejoice!
If you know of a source for either of these tools, or if you have other favorites, feel free to drop us a line at the email address below and we'll add it to the comments section.
w

BW

 Review: Bulldog Stubby Screwdriver  and
Crescent Dura-Driver Ratcheting Screwdriver
Manufacturer: Unknown
List Price (2008): Approx. $3.00 for the stubby and $18.00 for the ratcheting screwdriver.
Colors: Red and Black.
Made In: Stubby Screwdriver: China. Ratcheting Screwdriver: Taiwan.
Review Date: May 2008
Note:
 For informational use only. All material and photographs are Copyright © webWorld International, LLC since 2000. All rights reserved. See the webBikeWorld® 
Site Info page
. Product specifications, features and details may change or differ from our descriptions. Always check before purchasing. Read the
Terms and Conditions
!
Owner Comments and Feedback
---
From "D.T." (April 2012): "I was looking at your review of the Bulldog Stubby Screwdriver and noticed HM's suggestion of the Picquic instead. I concur.
Picquics are the best multi-bit screwdrivers I have ever used.
Their insertion and storage system is the best and most convenient. The bits are high quality and precise (compared to others I have used) and the company replaced happily a screwdriver (full sized) that I abused.
Great service and did I mention how much I like the way the bit insertion/storage system works?
No unscrewing of handles, shuffling through six bits trying to find the right one, dropping some etc. Just easy insertion and replacement. Worth the money.
The magnet to hold the bits in the holder is just the right strength and unlike a cheapo one I bought from Canadian Tire (actually not that much cheaper really), the magnet didn't fall out."
---
From "H.M." (1/10):  "Unfortunately those handy Bulldog screwdrivers were taken off the shelves at the Wal-Mart stores and are no longer available.
There is an equivalent called Picquic Stubby Multi-Bit Screwdriver which is just as compact, and you can get it with a "Teeny Turner" companion for smaller stuff for around $20.
I got one today and it looks like a high quality tool made in Canada.
By itself the Multi-Screwdriver is around $12.00, which is 3 times as much as the Bulldog cost. But it has just as strong a magnet and it comes with 6 Chrome Moly bits. I ordered a 2nd set just in case."
---
From Newell Rubbermaid (12/08):  "I wanted to respond to an article I found on your website concerning the Bulldog Stubby Screwdriver.
Bulldog Hardware is a Newell Rubbermaid division that supplies an assortment of home improvement items for the everyday DIYer.
Our product assortment ranges from nails, screws, and picture hangers to rope and chain, garage organization, and cabinet knobs and pulls.
Our products can primarily be purchased at most Wal-Mart store locations.
I noticed in the comments section of the article that someone posted a press release from 2004 regarding Newell Rubbermaid's divestiture for Bulldog tools in Europe.
At the time Newell Rubbermaid had two separate Bulldog product categories the one I mention above and a line of gardening tools in Europe. It was only the line of gardening related tools in Europe that Newell Rubbermaid divested in 2004.
Unfortunately, the stubby screwdriver mentioned in the article was recently removed from our Wal-Mart product assortment and is no longer available to the consumer.
However, we are constantly updating our product assortment and I urge you to check back frequently to see what items we have added to make your DIY project easier and more efficient."
---
From "B.A.":  "I've got another one for you: Kobalt 13-in-1 Ratcheting Screwdriver. I swapped some bits around (metric Allens and nut drivers), works pretty good. Most of the bits fit within the handle. My nut drivers have to go elsewhere."
---
From "K.W.":  "The best screwdriver set I have used is the Megapro 15-in-1 Hex Driver. They also have a ratcheting screw driver, and you can buy bits separately to put together your own custom screwdriver.
Lover your site, just used the Sea Foam carburetor method (review) to get my 2000 Bandit back on the road. Worked on the 66 Dream as well."
---
From FC1(SW) D.W.:  "Hi, great site and still my favorite helmet review place. The X-lite 901 (review) and GMAX GM68S reviews were right on!
Anyway – I also have a slightly off brand stubby in my tank bag, and have found a very useful addition: I picked up a narrow profile four inch extension from Sears, and it is just rubber-banded to the driver.
Now I can get to all those silly deep screws in the headlight and tail sections of the body.
Rubber side down!"
---
From "M.S.":  "I've had good use from the Folding T-Tool at Aerostich.It's great for those times when you have to remove the MC screws (that strip so easily) to add more brake fluid because you let it get down too low.
It's small so it's always in the storage compartment on my bike."
---
From "J.S.":  "Something similar from Sears and only 5 bucks, the Stubby Ratcheting Screwdriver.
---
From "L.T.":  "Newell Rubbermaid sold the Bulldog Tools line in 2004, Bulldog is a European tool distributor (don't know if they make tools).Here's part of their press release from Feb. 9, 2004:
ATLANTA, Feb. 9 (2004) — Newell Rubbermaid Inc. (NYSE: NWL) announced that it has completed the sale of its Panex Brazilian cookware division, several of its European picture frames businesses and its European Bulldog tool business.
These transactions are in line with the company's previously announced plan to divest under performing, non-strategic businesses to concentrate on its divisions with the highest growth and profit potential.
Bulldog, a European tool business that contributed $8 million in sales in 2003, was sold to Rollins Bulldog Tools Limited for an undisclosed amount. This business most recently operated as a part of the Irwin Group…
So if they sold Bulldog in 2004, I wonder why the screwdriver is still showing up as a Newell Rubbermaid product?"
---
From "M.I.":  "Look no further…Stubby Screwdriver…aka…Bulldog Screwdriver. Mfg: Newell Rubbermaid. # 6062100 1-800-464-7946
I purchased one today for $2.87 (tax not included) at my local Wal-Mart."
---
From "HBC":  "…If my grey cell storage processes are secure, I got my Bulldog stuff at AutoZone, or NAPA, can't remember just which…but I have seen them there, and possibly at Wal-Mart as well…now you've got me racking my brains.
I still have two of them in the garage and one goes with the travel kit all the time, the other is in my electronic box."