Stompgrip Traction Pads Image Gallery
Stompgrip Traction Pads provide an enhanced interface between the inside of the rider's legs and the motorcycle.
That's about the only way I can describe it!
The product is easy to apply (with a few tricks) and it effectively creates a greater amount of friction for the rider to grip the bike, which may or may not be desired.
I found the Stompgrip Traction Pads as I was trolling through a website, looking for DR650 accessories for the Budget Adventure Touring blog.
Stompgrip Traction Pads are a knobby anti-slip type of decal or transfer that is applied to a motorcycle fuel tank or other parts to to protect the paint and provide an improved gripping surface between the rider's legs and the bike.
I had a vague recollection of reading about some DR650 owners who tried it, and although I wasn't exactly sure I'd really need this capability, I thought they might look pretty cool on the bike anyway, so why not?
Let's face it — much of the hard-core gear installed on the typical "armchair" Adventure Touring bike is overkill anyway, so part of the fun is farkling up the bike for looks. There — I admit it!
I didn't know much about the product other than it was some type of rubbery plastic stick-on thingy that was applied to the side of a gas tank to provide a sort of enhanced grip capability.
I thought the little knobbies would soft and spongy, perhaps with a feel something like a thick bubble wrap.
I figured this would provide some cushion for the knees and allow the legs to squeeze the tank, which could provide a better "rider/motorcycle interface" in the corners.
So when the package arrived, I was a bit taken aback to discover that those little knobbies are actually rather hard dimples and not like bubble wrap at all, as you can see in the photos below.
But, it all turned out pretty nicely and the product actually does provide an enhanced grip, through the magic of friction.
Whether or not you need this or even want it is another question, but I'm pretty happy with my choice, and at the very least, the Stompgrip pads do help protect the paint.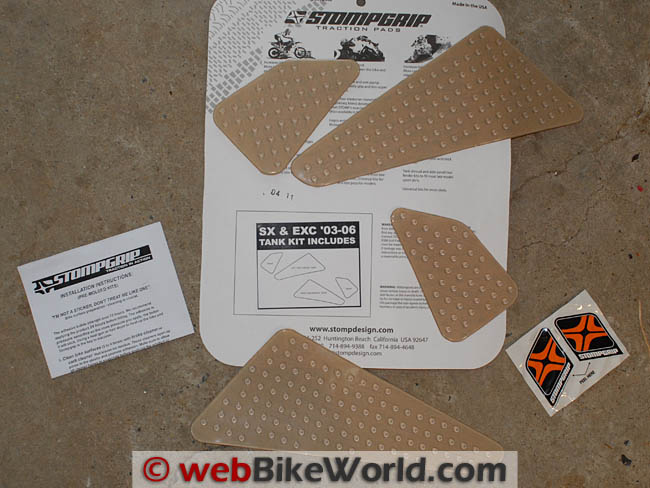 In the Package
Stompgrip makes traction pad kits for many different makes and models of street and dirt bikes, but for some reason, they do not currently offer a DR650-specific Stompgrip kit.
But an email to Stomp Design resulted in a suggestion to use the 4-piece kit (Part Number 33-5002) designed for the 2003-2006 KTM SX and EXC motorcycles.
The Stompgrip package includes various pre-cut traction pad pieces that have a very strong and sticky glue on the back, covered by a peel-away label.
The KTM kit contained four pieces, including two large panels for the sides of the fuel tank and two smaller panels that I assumed should be installed above the larger panels for extra traction.
Neither the package nor the Stompgrip website has much in the way of bike-specific layout and location information, and having never seen the product on an actual motorcycle, much less a DR650, I had nothing to go by.
But, having installed plenty of 3M Scotchcal paint protection film (reviews) on various motorcycles over the years, I figured there shouldn't be much to it.
Stomp Design does provide installation instructions and there are a few tricks to getting a good result, as I discovered.
One major difference between Stompgrip and Scotchcal is that the former uses a glue, while the latter is a slide-on proposition.
The glue is very sticky, so you'll want to make sure you know exactly where the Stompgrip pad is going to be placed and try to get it right the first time.
To install Scotchcal or other types of paint protection film, you spray on a mixture of water, a drop or two of dishwashing soap and some rubbing alcohol and slide the transparency on and move it around and squeegee out the air pockets.
You can move the film around, peel it off, try again and pretty much take your time to get it right. But there's no squeegeeing the Stompgrip pads obviously — not with those big knobbies sticking out.
The instructions do call for a good cleaning of the painted surface with something like a contact cleaner.
I always have a can of spray electrical contact cleaner around, because it comes in handy to remove any and all grease from critical parts if necessary, so that's what I used.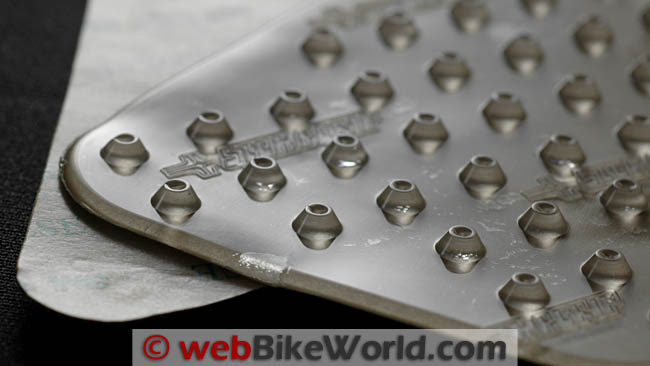 Installing Stompgrip Traction Pads
I recommend that before you start and before you do the cleaning — and especially before you remove the backing from the Stompgrip — that you make sure you know exactly where and how you're going to install the product.
First, make sure you have the right and left side pieces arranged correctly so that you don't grab the wrong one.
Before removing the backing, line them up on the fuel tank to make sure you know where you're going to place them.
There isn't an exact one-size-fits-all approach to locate the pieces and you'll also want to see if you can use some markings on the tank that you can use to align the transfer.
Again, once this stuff goes on, it stays on. It's not permanent, but it will not slide around once it touches the tank.
So I played around with the sections to get an idea of where they might fit.
It was fairly obvious where to place the two larger sections in this kit, although without photos or a guideline or having ever seen it before, much less on a DR650, I really didn't know where to place the smaller sections.
I figured they go above the large side panels, as shown in the photo below.
Stompgrip recommends heating the traction pads and the painted surface with a heat gun before applying.
Fortunately, I had just purchased the Steinel industrial-strength heat gun (review) for putting the shrink on shrink tubing, and it works great for heating up the Stompgrip traction pads (or removing decals). I'll be reviewing that product soon also.
I used the electrical contact cleaner spray to thoroughly clean the left side of the DR650 fuel tank first.
A few shots of the contact cleaner removes any surface wax, giving the surface a different feel.
It doesn't feel slippery, but slightly grabby when I ran my fingers over it, because the contact cleaner strips away any wax or polish or thin layers of grease.
Another suggestion is to make sure your hands are perfectly clean before you peel the backing off the Stompgrip. Any dirt or grease on your fingers will probably end up on the sticky glue and you'll be forever looking at your thumbprint underneath.
It happened to me, and I didn't realize until too late, so be forewarned.
After heating the traction pad (I was too scared to heat the surface of the fuel tank to anything more than lukewarm), grab the backing with a fingernail and slowly peel it off.
Line it up and the idea is to start at the side or bottom of the traction pad and slowly apply it, hopefully pushing out any air bubbles that will get trapped.
It's a bit tricky and again, the glue pretty much sticks once it touches anything, so it's important to get it right the first time.
Repeat with the upper section, making sure you lay it out first to know exactly where you're going to put it. The repeat on the other side of the tank.
The result for me is that the Stompgrip pads are very slightly misaligned on the two sides of my tank, but not enough to notice unless you walked back and forth a couple of times to study it.
That dirty fingerprint does show on the white paint though, as you can see in the photo below, at the lower left, about 3 rows up from the bottom.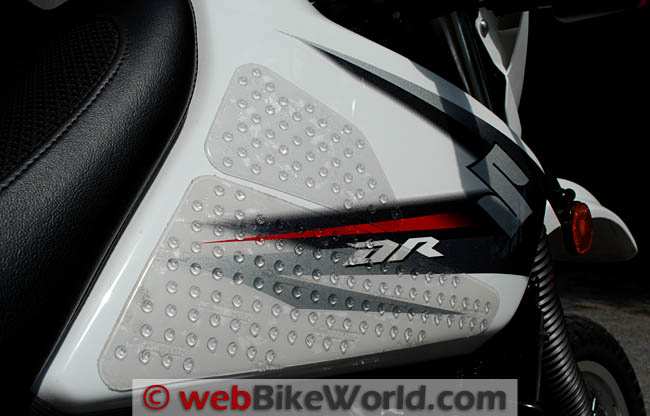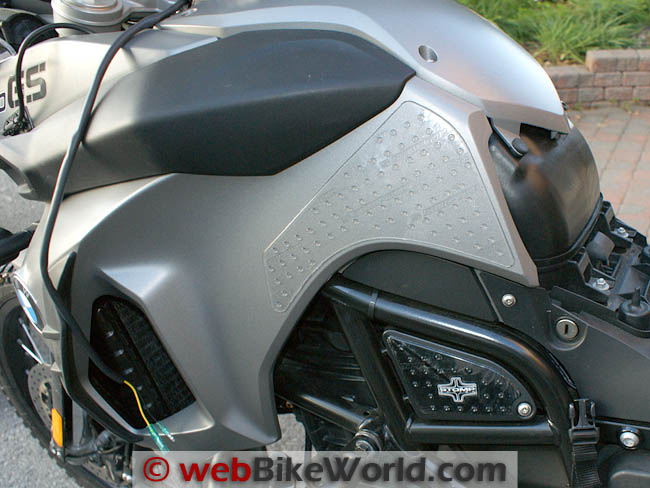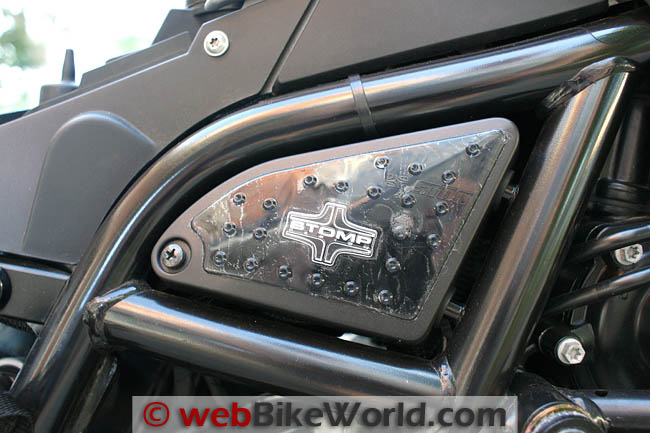 Riding With Stompgrip
To be honest, the Stompgrip pads are probably overkill for street riding with the DR650, because its peanut-sized fuel tank is so thin. I have to really concentrate to squeeze my legs enough to be gripping the tank between them.
But I wish I had this stuff on the GT1000 when I owned it and I can see where it could be a real benefit on a sportbike.
I wear either full armored textile pants or leathers whenever I ride, and the leather is thick enough to mask the bumps on the Stompgrip traction pads.
The Stompgrip does provide good traction, and I do notice it when I'm standing up on the DR650 off-road. I would imagine if you wear only a pair of jeans that you might feel the bumps on either side. But you don't ride in jeans, right?
Conclusion
In the end, I'm not sure how useful the Stompgrip Traction Pads are for me and the DR650, but they do look pretty cool and they will protect the paint on the sides of the fuel tank.
I'd be curious to know how sportbike owners, other DR650 owners or Adventure Touring bike owners feel about the product.
Installation is a fairly simple 10 minute or so process, although the manufacturer recommends waiting at least 24 hours before riding after the Stompgrip Traction Pads have been installed.
They say the glue builds strength over the first 72 hours.
Master Listing of All wBW Motorcycle Product Reviews
w

BW

 Review:  Stompgrip Traction Pads
Available From: Stomp Design
List Price: $29.95 and up.
Colors: Clear and Black.
Made In:  U.S.A.
Sizes: To fit various makes and models.
Review Date: May 2011
Note:
 For informational use only. All material and photographs are Copyright © webWorld International, LLC since 2000. All rights reserved. See the webBikeWorld® 
Site Info page
. Product specifications, features and details may change or differ from our descriptions. Always check before purchasing. Read the
Terms and Conditions
!
Owner Comments and Feedback
---
From "J.B." (05/11):  "I installed them on my 2003 SV1000s and the biggest advantage for putting Stomp Grip pads on your sport bike is to allow the use of less muscle to "pinch" the tank with your thighs allowing you to better support your weight and take pressure of your wrists.
This saves your thighs and wrists on longer rides with your Rocket! I've moved to a cruiser however if I ever go back to a sport bike the Stomp Grip pads will be installed."
---
From "C.R." (05/11):  "I've had the Stompgrip pads on an SV1000 for several years now and they do a great job of keeping your knees stuck to the tank on hard turning and braking (a real plus at track days).
There are only a couple drawbacks as far as I'm concerned:
1) If you don't install them correctly, you get nice little air pockets in the pad, which isn't pretty;
2) It's pretty hard on your riding pants, both textile and leather. If you ride a lot you'll notice that your pants fray or wear at the inside of your knees.
I also have the TechSpec grip pads on an SV650. Those look a little nicer (black pad on black bike), and aren't as rough on the gear, but they don't grip as well as StompGrip.
I'd recommend either product, it just depends on how much extra grip you need and which one fits your style."
---
From "S.L." (05/11):  "Having owned a DR650, and having installed Techspec's tank pads (Stomp competitor) on a few street bikes, I don't think the DR650 is the best test bike for them.
Being so narrow, you don't really "clamp" the tank of the DR with your knees like you would a traditional street bike.
I have put Techspec snake skin pads on my SV650 and FZ1 and they make a pretty big difference in core stability. You guys should give the Stompgrips (and try Techspec pads too!) another shot on a street bike.
I think you'll be very pleased! Keep up the good work wBW crew, you guys run a fantastic site!"