SPOT Gen3 GPS Image Gallery
The SPOT Gen3 GPS is the third generation of a GPS personal tracking system and satellite messenger system.
The SPOT GPS personal tracking system is designed to work with satellite-based communications.
This means that the unit should be able to function virtually anywhere in the world, even in areas that do not have any mobile coverage whatsoever.
SPOT users can be tracked via Google Maps by authorized users if they wish.
The SPOT Gen3 is pocket-sized and affordable.
It can be used for rescue, tracking and messaging where there is no mobile phone network.
Enhanced features in the Gen3 version include motion-activated tracking and considerably improved battery life, according to the company.
I know quite a few bikers who own a SPOT GPS tracker. The device can be used to summon help in an emergency or simply to record the progress of a journey for your loved ones…or for your own amusement.
As well as motorcyclists, SPOT trackers are carried by hikers, snowmobilers, pilots — anyone whose hobby takes them off the beaten track.
I was loaned a demo model of the SPOT Gen3, which boasts improved battery life, the ability to charge using a USB cable, and motion-activated tracking. This last allows the device to start and stop charting your progress automatically.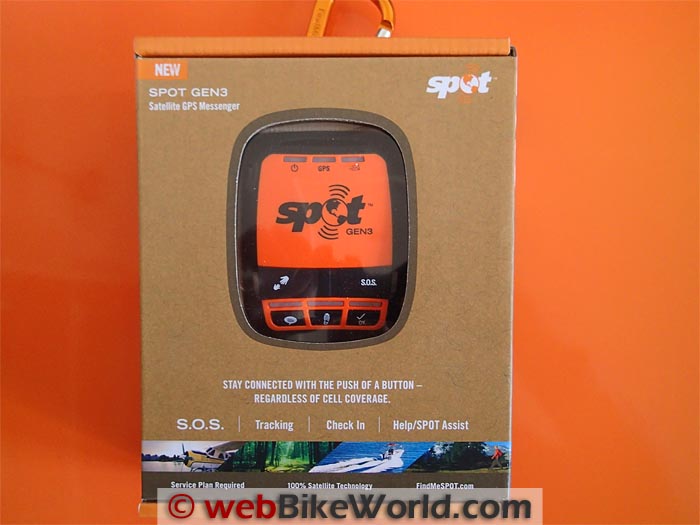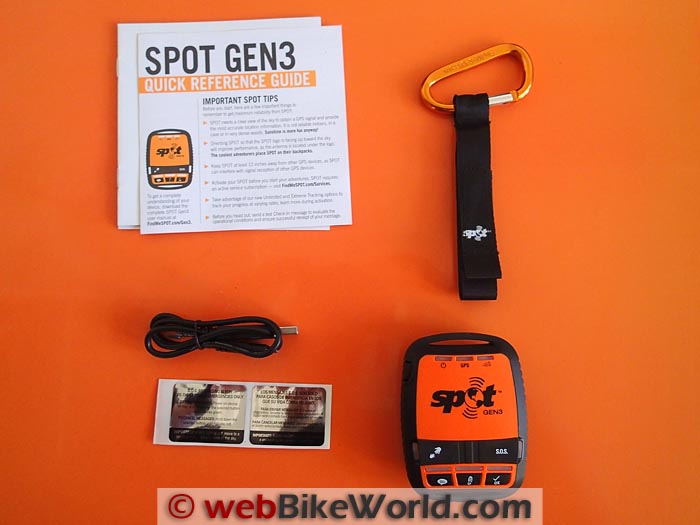 What's In the Box
The SPOT Gen3 itself, of course. A rugged-looking device in orange plastic and black rubber, 6.5 cm tall by 9 cm wide by 2 cm deep, and weighing under 125 grams.
According to the SPOT website, the device is resistant to vibration and condensation and it can be used at temperatures ranging from -30 C to +60 C and altitudes from 100 metres below sea level to 6,500 metres above.
There are five buttons on the front of the SPOT GPS, with symbols to describe their various functions: SOS, Help/SPOT Assist, Tracking, Custom Message and Check In. Each of these has a corresponding LED.
The power button is on the left side and there is a USB port on the back, with a rubber plug to protect it.
The battery compartment, situated on the back, is accessible by unscrewing two small D-ring bolts on the back of the device (you'll need to open this compartment during setup to find the serial number for registration).
The SPOT Gen3 GPS can be powered by four AAA batteries or by USB connection.
Also included are a shiny orange carabiner with wrist strap and a USB cable.
A quick reference guide provides all the information you need to get started with the SPOT Gen3 and there's also a guide to the GEOS emergency response service employed by SPOT.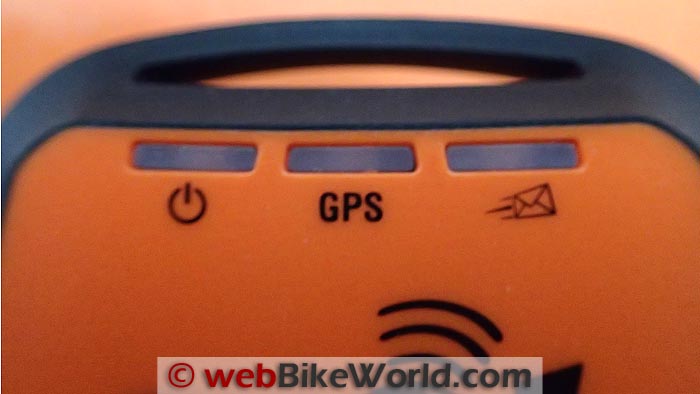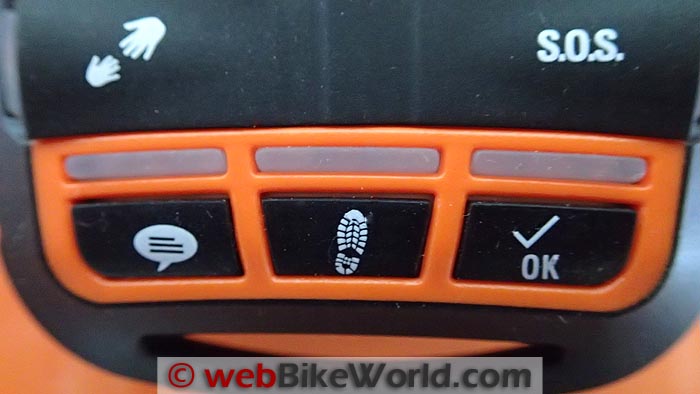 SPOT GPS Functions
The SPOT Gen3 has five functions. Two of these are for use in emergencies, while the other three are more to do with recording your journey and reassuring friends and family.
The SOS button, for emergency use only, summons help by sending a signal and GPS location toGEOS International Emergency Response Coordination Center, who will contact nearby emergency services to organise a rescue.
For non-life-threatening situations, pressing "Help" sends a message and GPS location to a phone number of your choice.
This could be perhaps a relative, a friend or your breakdown service (SOS and Help were disabled on my demo model — not that I would have wanted to test them anyway).
The Check In function, symbolised by a tick and "OK", does exactly what it suggests — emails and/or texts your contacts to let loved ones know you're safe. This could be very useful if you're out of range of mobile phone networks, or out of credit.
Send Message is similar, dispatching a message entered ahead of time on SPOT's website; a good one if you have agreed to get in touch at journey's end or from a specific location.
Finally, Tracking. This function is probably of the greatest interest to most users, most of the time.
It records your location at ten-minute intervals, plotting points on a Google Maps map; a permanent record for you, a follow-along adventure for others.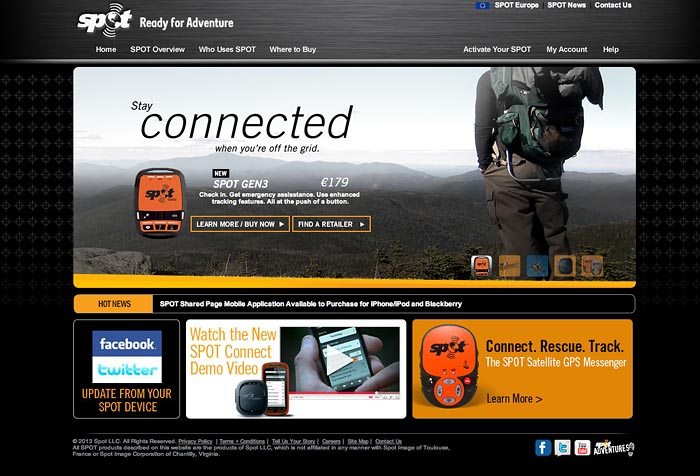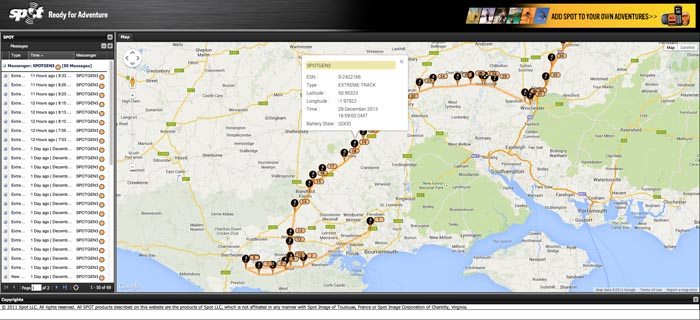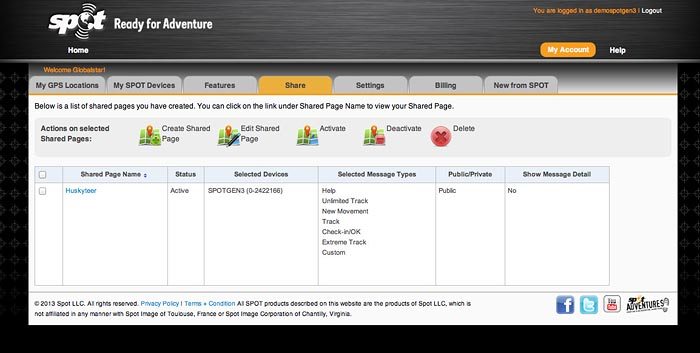 Online Setup
Before it can be used, the SPOT Gen3 needs to be registered at findmespot.com, using the details inside the battery compartment to set up an account.
Since I was using a demo model, I just needed to log in to the SPOT test account that was provided.
Using SPOT's tracking service requires an annual service plan.
Again, this wasn't relevant for the purposes of my test. But it's important to note that the basic plan in the UK and Europe costs €138 per year, and it's possible to add extras to create a tailor-made package.
These include Unlimited Tracking and Extreme Tracking, which provide more flexible and in-depth tracking options, and additional emergency options like GEOS Member Rescue Benefit, which reimburses rescue expenses and adds the option of rescue by private contractors.
Since the SPOT Gen3 has no screen or keyboard, all messaging options must be set up online before you set out.
This is where you select the number that will be contacted if you need to use the Help facility, who will receive the status updates you send using the Check In and Send message buttons, and the wording of your message.
I set mine up to email my own address and my partner's with the "OK" message and my own personalised message.
This is also where you can create and manage a tracking page. Using the familiar and portable Google Maps system, progress is charted by a series of pinpoints recording time, date and location.
This map can be private, shared to selected individuals by URL, or made public; some owners post their map to a biking forum so other forum users can follow their journey.
It's possible to update the firmware on the SPOT Gen3, using your home computer and the device's USB port (check for updates on the website and download software as required).
Personally, I found the website a little difficult to navigate, and this apparently has been a common complaint by many SPOT owners, as told on various forums and product reviews.
There are many options and it's not always clear what, or where, they all are.
For instance, the site told me it was possible to connect my account with Facebook and Twitter, but it took me a long time to find this option and I still wasn't sure if I'd activated it correctly.
I also had trouble — every time — finding the Shared Page I'd created to show my travels (if I'd been using the device in the longer term I would have bookmarked it).
But once you're up and running, it's time to hit the road.
On-Bike Setup
Bikers installing a SPOT tracker for a long trip generally employ a RAM mount, attaching it to handlebars or mirror stem, and specific mounts for the device are produced. Since I was only borrowing mine, I didn't want to go to that much trouble.
The device needs a clear line of sight to the satellites orbiting above, which rules out a top box (I tried it). Instructions suggest popping the SPOT GPS in a rucksack, so I tried the pocket of my bike jacket and had success.
Presumably a tank bag would work just as well. Then it was just a case of remembering to turn it on at the start of a trip and, ideally, off again at the end.

Riding With SPOT
The letter accompanying my SPOT Gen3 instructed me to turn it on and leave it for five minutes with a clear line of sight to the sky, allowing it to orientate itself. When the five minutes were up, I hit Track, slipped the SPOT in my pocket, and set off.
During a break, I seized the opportunity to fire off a quick OK and Message. All buttons need to be pressed firmly for several seconds before their function was activated.
I could tell by feel that the buttons had depressed properly, plus, a sequence of distinctive green flashes from the light for each function left me in no doubt as to whether my button-pressing had had the desired effect.
The GPS light flashes green during use if the GPS is working, red if it is unable to get a signal.
The SOS and Help buttons are larger than the other three, and could be quickly and easily activated even with gloves on if the situation was dire.
I was hoping to test the SPOT with some twisty country roads, but time and weather constraints meant it only got an airing on major routes, with a few B roads thrown in.
As you can see from the screenshot, updates are frequent enough to give a clear idea of the route, even when travelling at speed.
The SPOT stopped tracking during the hour I spent warming and refreshing myself at a pub in Stockbridge, and started again along with the bike.
The truly geeky have enough information to work out their average speed for the journey as a whole and particular sections of it, which is great if your trip has involved, for example, the Stelvio Pass.
The eagle-eyed might spot a straight line on the map where I transported it in its turned-off state. When I arrived home, I found SPOT had, as promised, emailed me updates and GPS locations.
I was so impressed by the SPOT Gen3's performance and ease of use that I rather wished I had requested to review it during the summer so I could have taken it on holiday.
Video: Using the SPOT Gen3 GPS Tracker (Video by SPOT)
SPOT Gen3 Specifications
(Press Release Edited by webBikeWorld.com) – SPOT LLC, a wholly owned subsidiary of Globalstar Inc. and leader in satellite messaging and emergency notification technologies, today announced the launch of the SPOT Gen3, the latest addition to the SPOT family of products.
The award-winning SPOT product line provides an affordable and vital line of communication with friends, family and emergency assistance on any adventure, from sailing to hiking, and from snowboarding to paragliding.
SPOT Gen3, the latest version of SPOT's satellite powered personal GPS messenger, is a rugged, pocket-sized consumer-friendly communications device.
It delivers even more enhanced functionality than earlier generations with more tracking features, improved battery performance and more power options including rechargeable and USB direct line power.
Thanks to the Tracking feature, SPOT automatically updates the user's location on Google Maps. Around the globe, over 2,500 rescues have been attributed to SPOT, including life-saving situations.
With the push of a button, SPOT users can:
Alert for rescue: transmits an SOS notification with GPS location to GEOS International Emergency Response Coordination Centre (IERCC).
Check In: let others know they are OK and have arrived safely.
Track: share their GPS location in real-time via Google Maps.
Message: send custom messages to family and friends regardless of mobile coverage.
SPOT Gen3 Features
Unlimited Tracking: Users can pre-set SPOT Gen3 to send messages that track their journey with options to send every 5, 10, 30, or 60 minutes.
Extreme Tracking: All the features of Unlimited Tracking, plus the added ability to vary the track rate down to every 2.5 minutes. Perfect for pilots and ultra-outdoor competitors.
Motion-Activated Tracking: SPOT Gen3 sends tracking messages at a chosen rate for as long as the device is turned on and moving.
Improved Battery Life: Approximately twice as long as previous SPOT devices with new power options including 4 x AAA Energizer Ultimate Lithium 8x batteries (L92); 4 x AAA Energizer NiMH rechargeable batteries (NH12); or Line Power with a 5V USB connection.
Coverage: SPOT satellite coverage spans the world, including Europe, Canada, continental United States, Mexico, Australia, Northern and Central Africa, much of South America and North-Eastern Asia as well as hundreds of thousands of miles offshore of these areas. More detail here.
Conclusion
In the UK, there aren't too many places where an on-road bike can go off-grid. Elsewhere in the world, however, even major roads can be a long way from civilisation, and within the British Isles, trail riders and green-laners can get themselves into some pretty remote and inaccessible spots.
And safety aspects aside, it's nice to have a record of exactly where you were and when — whether you're on a leisurely touring holiday or an Iron Butt ride.
You could even find out where you missed that turning you and your partner argued about for the rest of the trip.
The disadvantage, for me, is the annual subscription cost. I make perhaps one long trip a year, for which it would be nice to have safety backup and a record of the route taken. For the rest of the time I can't see myself using the SPOT.
If it were possible to subscribe to the service on a monthly or trip by trip basis, I'd find it a lot more useful.
This is a great device for sharing your progress with friends or placating an anxious parent. It can provide reassurance, particularly to lone travellers, it can summon assistance if your mobile phone lets you down, and it could conceivably save your life.
It takes up little room; it's tough; it uses little power and, after half-an-hour or so to set it up online, it's simple to use. It might be overkill for my regular commute, but it's definitely something I'd consider for a longer trip abroad.
Also: SPOT Trace Anti-Theft Tracker Review
w

BW

 Review: SPOT Gen3 GPS Tracker
Made In: Unknown
Colours: Orange/Black.
Sizes: N/A
Pricing and Availability (2014): SPOT Gen3 is now available in Europe, Middle East and Africa with an RRP of €179. EU Service Pricing is: Basic Service & Tracking: €138; Unlimited Tracking €39; Extreme Tracking €99; GEOS Insurance €15. RRP pricing in the UK is £150 with annual subscription services starting at £118 per year.
Review Date: January 2014
Note:
 For informational use only. All material and photographs are Copyright © webWorld International, LLC since 2000. All rights reserved. See the webBikeWorld® 
Site Info page
. Product specifications, features and details may change or differ from our descriptions. Always check before purchasing. Read the
Terms and Conditions
Owner Comments and Feedback
---
From "H.S.W." (January 2014): "The one thing I can't understand (I've been using a Spot product tracker in the US for the past 3 years) is why would you want to mount the thing on your motorcycle?
My argument is this: if you are involved in a crash and you and your bike are separated, and you need help, but the Spot is on the bike and you can't get to it, then you are out of luck.
I would advise that users of Spot Trackers keep the tracker attached to you. That way, if you need it, it won't matter where the bike is."
---
From "B.W." (January 2014): "I'd like to comment on Spot's service. I have their Gen 2 device. I subscribed to their Spot Assist towing service.
My bike's clutch failed in Tennessee (USA), in an area with very poor cell coverage, so I used the Spot's "Help" function to call for a tow.
They were, of course, unable to reach me by cell phone. They decided that they had better inform my emergency contacts, my wife and daughter, that I had requested help and was unreachable.
They did NOT inform that I had requested non-medical help (i.e., I didn't press the SOS button). So my wife and daughter promptly freaked out, assuming the worst.
Eventually, my phone picked up enough coverage that I was able to exchange texts with them and let them know I was OK. Then, I manage to receive a call from Spot, and confirm I wanted a tow to the BMW dealer in Chattanooga.
Then I got a call from the towing company, saying they received a tow request from Spot, but asking me for my location! Hello? I requested help from a GPS-based device. Why wasn't the location given to the towing company?
Thank goodness I got a little cell coverage so they could reach me!
The tow truck showed up in less than an hour, which was good, and the tow was only a few miles beyond the covered 50-mile radius, which was also good.
But Spot had given the tow company the address of an independent BMW CAR repair shop Luckily, the BMW bike dealer was only a few miles away.
When I complained about this to Spot via email, I got an automated response that said I had been assigned support case number "XXXX" — I'm not redacting that; it literally said "XXXX".
And I never received any further communication.
So, ultimately, my tow request was successful, but it likely wouldn't have been without cell coverage, which is one of the reasons for having Spot in the first place. I'm extremely disappointed."