Soft, Waterproof Women's Gloves: A Redux
This is the third in a series of women's motorcycle clothing reviews I'm doing, focused on Spidi motorcycle gear.
Burn did a review of the men's version of the Avant Garde gloves almost exactly one year ago in March of 2016.
This review of the "Lady" version is meant as a quick update from a women's point of view about what is essentially the same gloves.
I have a few added photos and we'll re-post a couple of photos from the original review.
I have a lot of motorcycle riding gloves. In fact, I've probably owned 30 or 40 pair over the last 10 years.
A few have worn out; a couple have been lost, but most have ended up shoved in the back of the closet because they just didn't fit well or work well on the bike.
Your hands are a very important point of contact with the motorcycle, so gloves have to be comfortable and also give you good feel for the controls.
This is especially difficult when it comes to designing cold-weather gloves, due to the extra bulk needed for insulation.
But I think Spidi has done a good job balancing the safety features, weather protection and comfort in the "Lady" Avant Garde gloves.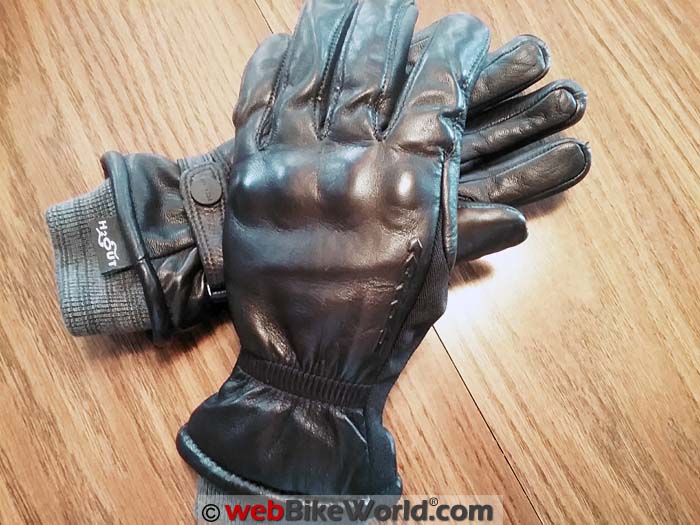 The term "Avant Garde" refers to new and unusual or experimental ideas and these gloves are an interesting combination of features and style that I've never seen before, so I guess they live up to their name.
At a casual glance, they just look like basic leather riding gloves.
But as Burn noted in his review, a closer look reveals that Spidi has managed to work some nice safety features into this classic style.
The female version — officially called the "Avant Garde Lady Leather Glove" by Spidi — uses all the same materials.
The women's version also has the same construction details as the men's version; for example, most of the exterior uses the same buttery-soft Italian leather that I fell in love with on the Spidi Ace Jacket (review).
But the Avant Garde gloves do have a stretchy cotton polyamide panel along the thumb side that also contributes a lot to the comfort and fit.
I do wish there was an option to wear the gauntlet over your sleeves, however, because the gloves are easy to put on under the sleeve cuffs but when it gets really cold, that allows more wind to penetrate up the sleeves.
Insulation
I don't have heated grips on my Harley-Davidson Softail Slim (report) and while most of my hands are protected by my windshield, the outer part of my hands are not, so the insulation in these gloves will be the determining factor for how much riding I do this winter.
As Burn noted, Spidi has chosen to use Primaloft insulation in the Avant Garde gloves.
Primaloft has been around for over 25 years and was originally developed to serve the needs of the US Army.
It was created to be a waterproof, synthetic alternative to goose down and is purported to be breathable, lightweight, and thin with superior softness.
It's also supposed to compress to make the items easier to pack, which is always a good thing with the limited storage on a motorcycle. They also don't take up much space in my saddlebags as they squish down to a pretty small size.
I can tell you that in fact, these gloves are not very bulky and combined with their incredible softness, this translates to very good feel for a winter glove.
Cold-Weather Riding
I wore the gloves home one night when it was damp and 60 degrees (F) and I discovered they were actually too warm, so I had to wait a while to test the effectiveness of the insulation, until the weather turned colder.
But finally we had some cool mornings, which made for a good test.
In general, I'd say that I can ride for an hour at highway speeds in temperatures down to about 40 degrees (F) and my hands stay warm until the last few minutes of the ride, when the tips of my fingers begin to get chilled.
So one hour at around 40 degrees (F) is about the longest and coldest I've ever been able to ride when wearing the Avant Garde gloves and that actually makes them the warmest gloves I've owned.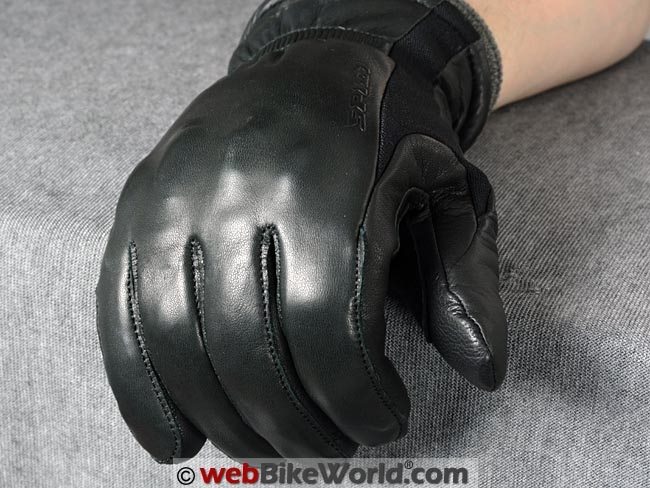 ---
Where to Buy Spidi Avant Garde Lady Gloves
Check Reviews & Prices on Amazon
Check Reviews & Prices On RevZilla
Also: Leather Motorcycle Boots, Touring Motorcycle Boots, Women's Motorcycle Boots
---
Safety Features
Again, Burn did an excellent job explaining the safety features, so I won't go through them all again.
He felt that you compromise safety when you choose "Urban" motorcycle gear and if you're used to wearing sport gloves, he's right.
But coming from a cruiser background, my perspective is a little different.
For me, the Avant Garde gloves are a step up in protection compared to my rather flimsy collection of cruiser gear.
The knuckle protector hidden beneath the surface of that beautiful Avant Garde leather feels like it has a little give, much like the armor in the Spidi jackets.
It also has good coverage and along with the leather, it should give better protection that my plain leather or mesh gloves.
Also, the elastic around the wrist feels tighter than the elastic in the Spidi STS-R gloves I reviewedand since the Avant Garde gloves include a leather retention strap, they are a lot harder to pull off.
In fact, I couldn't remove them at all with the strap cinched tight, so I'm confident they'll will stay put in a crash situation.
I also liked the snaps on the strap. On my hands, the second snap snugged it up nice and tight and I think the straps also are a nice complement to the overall styling.
The retention strap does run underneath the wrist instead of on top like most of my gloves however, so I had to re-train myself to reach under instead of over, as I found myself grabbing air the first few times. But it didn't take long to get used to it.
Sizing and Style
The Avant Garde gloves have a very classic leather glove style.
I've been wearing them with both the Spidi Ace Jacket (review) and the Spidi Stormy jacket (review)and they compliment both jackets very well.
The leather is gorgeous and the safety features are incorporated very well into the style of the glove.
The black snaps on the retention strap and the vertical stitching of the wrist elastic fit seamlessly into the classic style and the knuckle protector hidden under the leather is nearly invisible.
There is minimal branding on the Avant Garde gloves; just a small Spidi logo embossed in the leather on the back of the hand, so they are pretty subdued for motorcycle gloves.
I ordered mine in a size medium, just like the Spidi STS-R gloves, but the Avant Garde gloves are marked with a European size 7 instead of the size 8 in the sportier gloves. Perhaps that's why these fit a bit more snug?
There isn't that little bit of extra room in the palm and pinkie area that the STS-R gloves have, which means in fact that these gloves fit perfectly.
The fingers are also just the right length for riding; there is no pressure on my fingertips at all.
The main body of the gloves around the hand is a snug fit but that doesn't make the gloves difficult to put on or take off.
And most importantly, they feel very comfortable on the bike and I am also able to wear my wedding ring comfortably underneath.
The women's version comes in sizes XS to XL in US sizes and they are only available in the all black version shown in the photos.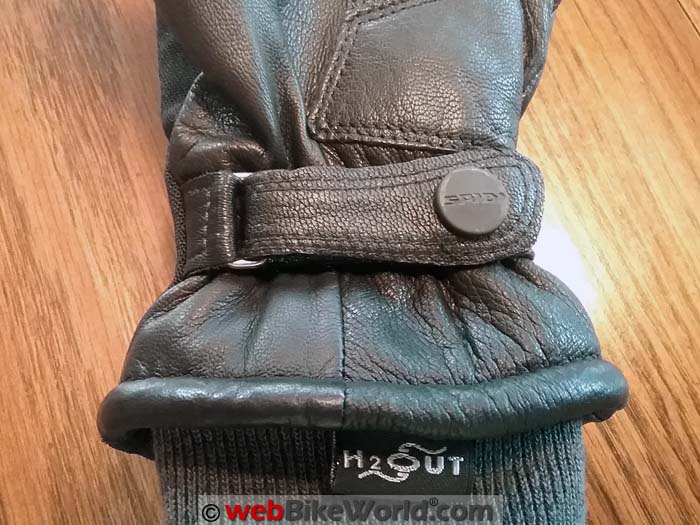 ---
Where to Buy Spidi Avant Garde Lady Gloves
Check Reviews & Prices on Amazon
Check Reviews & Prices On RevZilla
Also: Leather Motorcycle Boots, Touring Motorcycle Boots, Women's Motorcycle Boots
---
Are They Waterproof?
Burn did the webBikeWorld "Bucket Test" on the men's version of the Avant Garde gloves with the "H2Out" liner and they passed with flying colors.
To check for consistency in the women's version, I thought I should probably go ahead and repeat the test on this pair. But I must admit that I was loathe to dunk these gorgeous gloves in a bucket of water!
Just in case, I took some photos first, but I needn't have worried — they not only passed the bucket test with flying colors, but they didn't look any worse for wear afterwards.
The gloves also didn't seem much heavier after soaking in water for 5 minutes, so I don't think the outer layers took on all that much moisture.
The bucket test is a pretty severe trial for waterproof gear, so I have no worries that they will perform flawlessly in a mere rainstorm.
Conclusion
The Spidi Avant Garde women's gloves are another fine example of the superior craftsmanship exhibited by Spidi in all of their motorcycle clothing.
These gloves are gorgeous, they fit extremely well, they're waterproof and they're extremely warm.
One thing's for sure — they will not be joining my other cast-off gloves in the back of the closet! In fact, I'll be storing them on the bike for quick access in the future.
Also: Spidi Avant Garde Men's Gloves Review
w

BW

 Review: Spidi Avant Garde Women's Gloves
List Price (2017): $139.90
Made In: Indonesia
Colors: Black
Sizes: XS-XL
Review Date: April 2017
Note:
 For informational use only. All material and photographs are Copyright © webWorld International, LLC since 2000. All rights reserved. See the webBikeWorld® 
Site Info page
. Product specifications, features and details may change or differ from our descriptions. Always check before purchasing. Read the
Terms and Conditions
!
---
Where to Buy Spidi Avant Garde Lady Gloves
Check Reviews & Prices on Amazon
Check Reviews & Prices On RevZilla
Also: Leather Motorcycle Boots, Touring Motorcycle Boots, Women's Motorcycle Boots
---
Owner 

Comments and Feedback
Other WebBikeWorld Gloves Posts