Spidi Ace Leather Jacket Review Summary
Spidi Ace Leather Jacket Image Gallery
The very retro Spidi Ace leather jacket is also very popular. It's available in both women's and men's specific sizes and styling in black only. There's a "blackout" version for both women and men, with blacked-out stripes instead of the "Black/Ice" version with white stripes shown here.
Both Ace jackets are made from soft 0.8 sheep leather. The jackets include EN1621-1 certified Spidi "Multitech" shoulder and elbow protectors. The Spidi "Warrior" back protector can be fitted as an option. The Ace leather jackets also have a removable quilted insulating lining and the jackets can be attached to Spidi pants.
The very first motorcycle-specific jacket I bought was leather. Or perhaps it was "pleather", because it was quite cheap. But one thing's for sure: it was pretty thin. In fact, the first time I wore it I had a slow speed "incident" on a gravel road and shredded the jacket's elbow. It also had a non-removable quilted liner and sleeves that were so wide that they didn't stop the wind at all.
So that was a jacket that ultimately proved to be impractical for just about every season. Since then, I've worn mostly mesh gear and when the temperature drops, I just layer…a lot. But sometimes when it's cold and the wind is howling, it's nice to be wearing something solid, so I was excited to find the Spidi Ace Leather Jacket.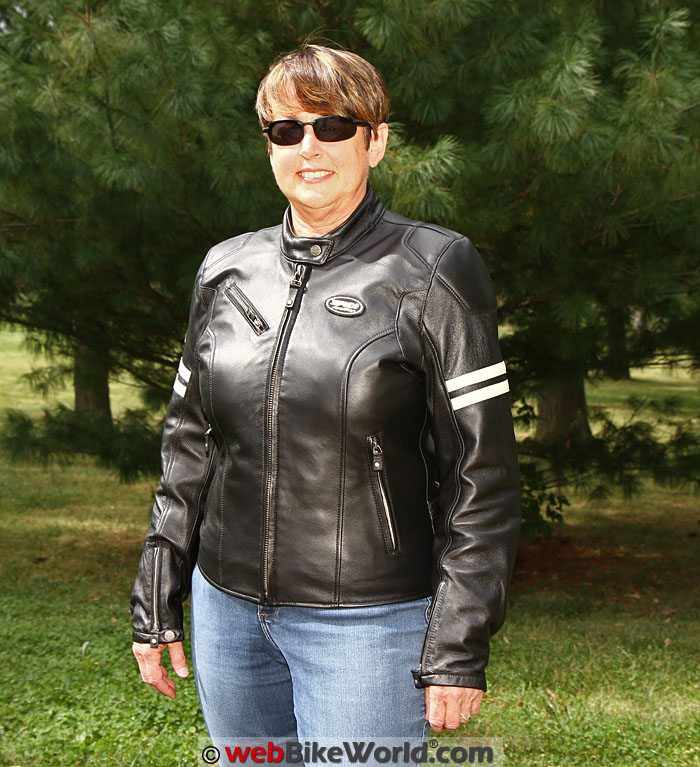 Construction
[asa2 tplid="6″]B00T6J2X9W[/asa2]
Spidi's Italian headquarters are located in Sarego, Italy, which is smack in the middle of the Vicenza leather district. With over 2,000 tanneries to choose from, they have their pick of fine materials for their leather jackets. I'm not sure why leather seems so much more luxurious when you pair it with the word "Italian", but for me it brings to mind images of fast cars and handmade furniture; the ultimate in craftsmanship and artistry.
So I had high expectations for the Ace jacket…and it doesn't disappoint. The 0.7 mm thick sheepskin leather is butter soft and oh-so-comfortable. It feels substantial but it is actually fairly lightweight for a leather jacket and what weight it does have disappears once the jacket is on.
The shell liner is smooth and silky and the inside of the collar is a soft corduroy fabric. The front zipper closure isn't branded but it is pretty heavy-duty and operates very smoothly and locks in any position and stays where you put it.
I like the bigger metal teeth also on the zipper, which makes it easy to fit the zipper halves together, even in the dark. It also has a nice leather zipper pull on it that's also easy to find, even with gloves on, and the zipper has a wind flap behind it to keep the wind from blowing through. The pocket and sleeves zippers are a smaller versions of the front zipper type, with metal teeth and smaller leather zipper pulls. They also stay where you put them and won't pull apart.
Snaps on the collar and the sleeve cuffs are marked with the Spidi logo but they too are metal, very sturdy and clip together with a definitive snap. The leather sections are all double-stitched with flat felled seams, except for the seam on the inside of the arm, which is definitely a low impact area.
The stitching is tiny and even; I went over this jacket with my super-powered reading glasses and I didn't find a single crooked stitch or loose thread.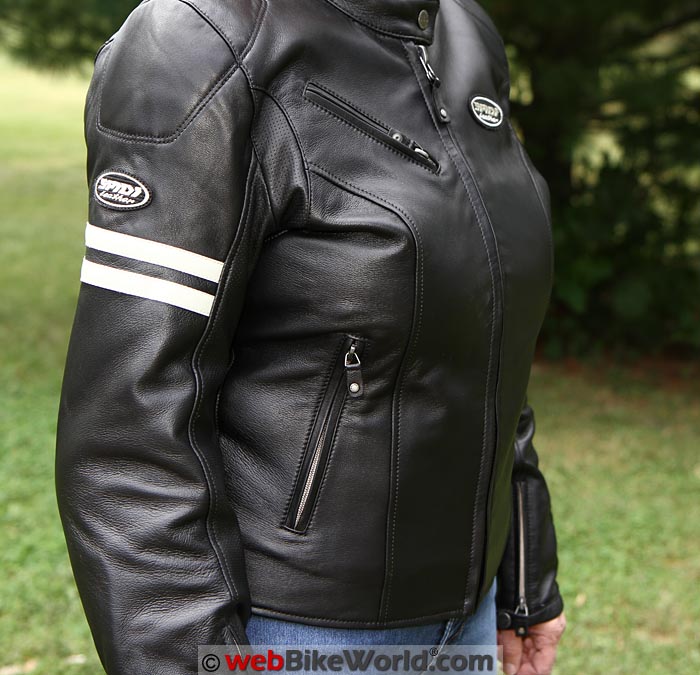 Pockets
[asa2 tplid="6″]B00T6J2X9W[/asa2]
Storage in the Ace jacket is covered with dual hand warmer pockets that measure 7" x 5" with a 6 inch opening, large enough to easily fit my hands.
There is also a diagonal pocket on the upper right chest area that's a lot bigger than it looks at 8" deep — plenty of room in there for a phone or iPod if you're into tunes while you ride.
Inside the jacket there is a 5" x 7" pocket on the left side. It has a vertical opening and closes with a black nylon zipper instead of metal.
It also has a nice detail on top with a little "garage" to tuck the zipper runner into when it's closed.
I suppose it keeps you from feeling the zipper if you're wearing a thin shirt.
This pocket is still accessible when the thermal lining is attached.
Removable Liner
And speaking of the thermal lining, it has the same silky feel and corduroy collar as the shell liner.
It has has 60 grams of insulation and when paired with the thick leather jacket shell, keeps me warm at highway speeds down to about 45 degrees F with just a thin T-shirt underneath.
With a long-sleeved base layer you could probably go down another 10 degrees pretty easily; that's as cold as I can ride anyway without my hands becoming frozen.
So that makes the effective temperature range of the Ace leather jacket about 35-85 degrees F; pretty versatile for a leather jacket.
I do have a windshield on my bike that blocks some of the wind from my torso, so your results may vary.
The thermal layer attaches with a nylon zipper on either side that zips down from the top (that's different) and there's also a strap at the top with a snap closure and three small nylon snaps in the sleeve.
My only nit to pick with this jacket is with the snaps that attach the liner sleeves.
Both sides of the snaps are black and they're hard to locate up inside the sleeve. A nice neon yellow or Husker red would be easier to see.
To make it easier to get the jacket on and tuck your gloves in, there are 5" zippers at the sleeve openings with a 1.5 inch gusset underneath.
Wrist closure is accomplished with a snap that fits in nicely with the retro styling that we'll look at more closely in a bit.
I can also fit winter gloves under the sleeves and they're slim enough that I can also fit the Spidi STS-R glove gauntlet over them.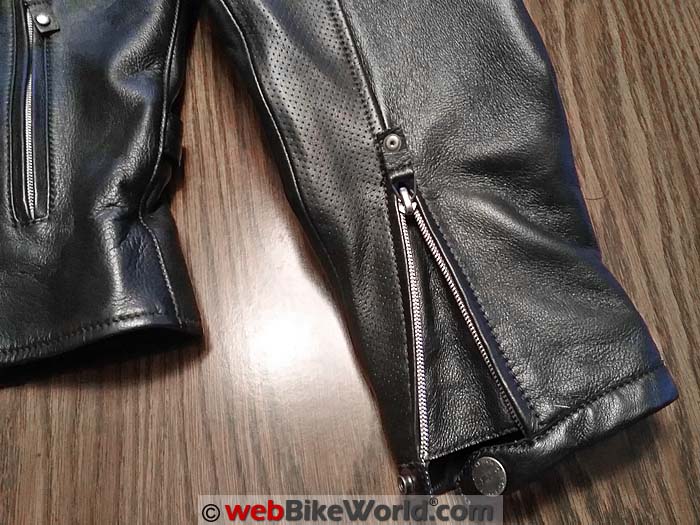 Ventilation
This section won't take long, because there isn't much ventilation in the Ace jacket.
But then that's to be expected, as leather jackets really aren't made for the heat of the summer anyway.
There are perforated leather panels on the inside of the arm, the back of the neck and circling around the underarm area that do help keep you cool to a certain extent.
The liner is not mesh but I can shine a light through the perforated areas, so air is getting through.
The ventilation here is especially noticeable in cooler weather, when I can feel cooler air flowing through under my arms, which I find quite refreshing.
Otherwise, there are no traditional vents on the Ace leather jacket.
Protective Features
The Ace jacket comes standard with genuine CE-rated shoulder and elbow protectors that fit into pockets tucked in the shell liner.
The protectors are very soft and pliable and stamped with the Spidi logo on one side and the CE EN-1621-1 rating on the other.
Overall, the protection provides good coverage but is very unobtrusive; I can barely tell it's there.
The jacket doesn't include a back protector, although there is a pocket for one that opens at the bottom and fastens with a row of small snaps.
Spidi suggests the Warrior L2 back protector ($69.90 list at RevZilla) to fill that space.
I think that a jacket in this price range should just include the back protector but I notice that this has become increasingly rare with high-end manufacturers.
There are no traditional reflective materials found on the Ace jacket.
But the white stripes on the sleeves (and the blackout stripes on the "Stealth" version) and the Spidi logos on the left chest and right shoulder are reflective when hit by the headlights.
The absence of any obvious reflective material may have been a concession to the retro styling.
If you really want it, I suppose you could add some reflective tape, but I'm not sticking anything on this gorgeous leather!
And finally, the jacket does include a strap in the back with a snap closure to attach to your riding pants.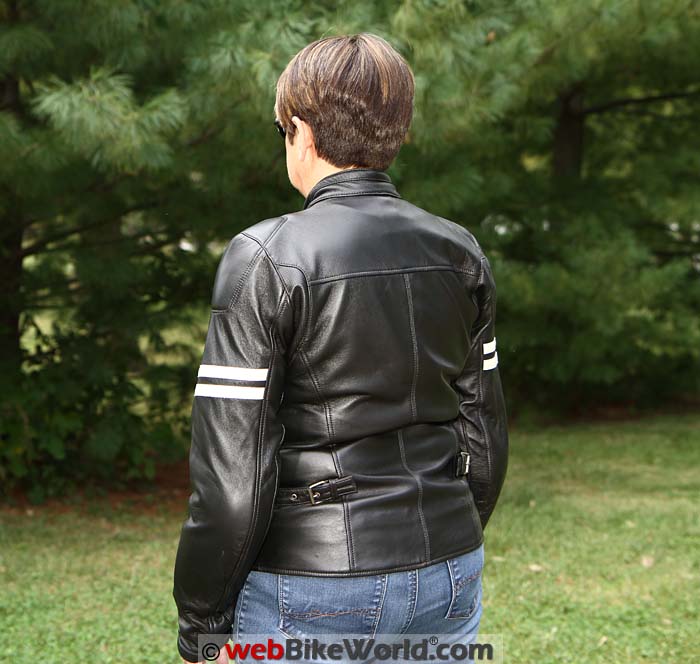 Fit and Sizing
[asa2 tplid="6″]B00T6J2X9W[/asa2]
I had a little problem with the size chart for the women's version of the Ace jacket on the Spidi website. Perhaps it is a translation issue but it appears that Spidi does its own thing with sizing.
The women's version of the Ace jacket is available in sizes 40-50 Euro while the men's version can be had from 46 to 60 (a 54 men's is about a US size large).
My only other European sized jacket is a 42 and it fits quite well, but on the Spidi site a 42 corresponds to a size small and I haven't been a size small in some time.
So I just my measurements to Spidi USA and let them decide on the size. They did a good job; their choice of a size 46 (36-38.5 US) fits much like my other jacket.
The chest area is a little snug, especially with the thermal liner inserted, but not uncomfortably so, and everywhere else it fits like a glove.
The sleeves fit closely enough to keep the protectors in place and are just the right length for a fist-forward riding position.
There is an adjustment strap at the waist to fine tune the fit also but I didn't have to use it.
If you have more of an "hourglass" figure, you can tighten the buckle about 1.5″ on both sides for a total of 3 inches of adjustment.
The men's version is nearly identical in every way other than the cut, shape and sizing.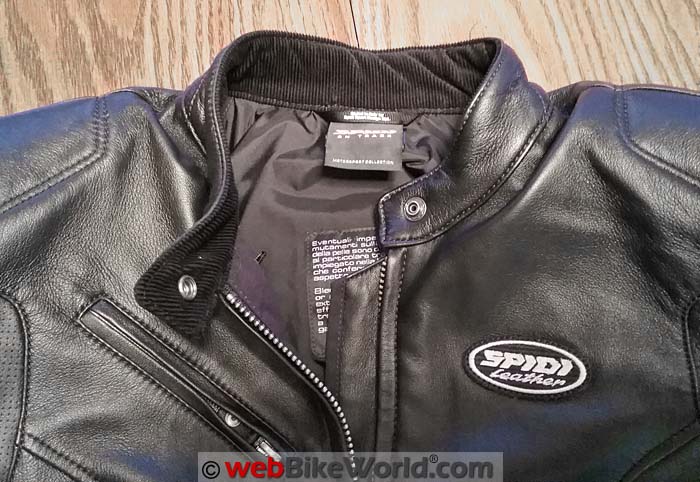 Styling
[asa2 tplid="6″]B00T6J2X9W[/asa2]
The Spidi website describes the Ace Jacket as "the most classic example of a leather motorcycle jacket, featuring a very essential design with strong references to the café racer world". I think that sums it up pretty well.
Café racer styled motorcycles were and are built to be lightweight, high performance machines with minimalist bodywork. And the Ace jacket follows that formula; it carries its weight well, performs nicely both on and off the bike, and has very clean and classic lines. (Perhaps the "Ace" in the Ace jacket is also a not-so-oblique reference to the famous Ace Café in London.)
But with its short stand-up collar and sleeve stripes, the Ace jacket would complement a wide variety of motorcycles styles, from the new café racer-inspired Triumphs to the retro design of my Harley-Davidson Softail Slim.
And Spidi has kept true to the styling references even in the small details, using snap closures, buckles on the adjustment straps and metal parts on all the exterior zippers.
I appreciate that attention to detail!
They also cleverly integrated the safety features, disguising the shoulder protectors with a seam detail so you could easily wear this jacket off the bike with no one being the wiser (although the little Spidi logos might give you away). Overall, this is a nice-looking jacket. The women I work with all wanted to try it on and wear it around the office and I had a hard time getting it back from a couple of them!
I even experienced a twinge of jealousy watching them parade around in it. I also must confess that I have been going into my closet occasionally just to admire it and take in that new leather smell. This isn't normal for me — I can't think of a single other garment in my possession that I would cross the street to save if it were on fire. But this jacket is just that sexy and attractive…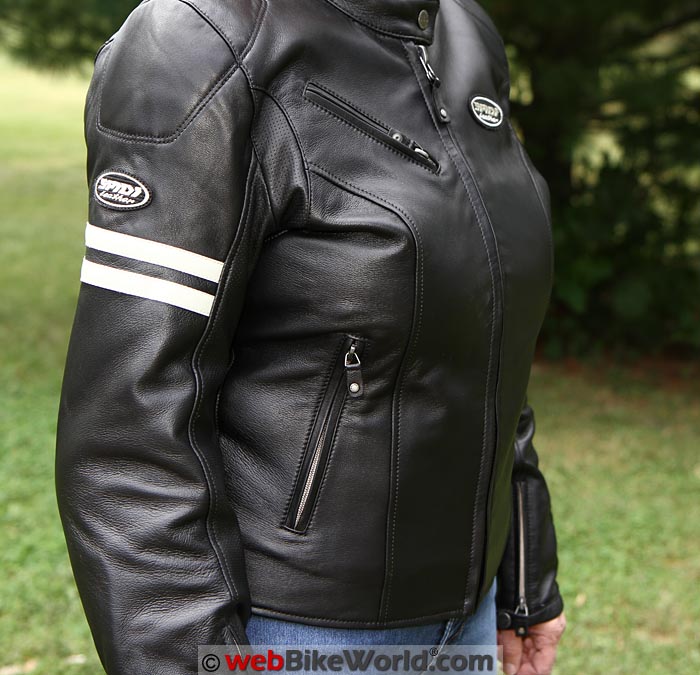 Sizes, Color Choices and Pricing
The women's Ace Jacket comes in European sizes 40 to 50 (translates to XS-XXL) which is a nice range. The men's version is available from 46 to 60. Two "colors" are available for both women and men: the Black/Ice color shown here and an all black "Stealth" version. Both versions have a list price of $559.90, which may seem a bit steep but it's really not bad for a premium quality Italian leather jacket of this type.
Plus, this is one of those "once in a blue moon" type indulgences you just have to go for and both the jacket and the styling will probably outlast you.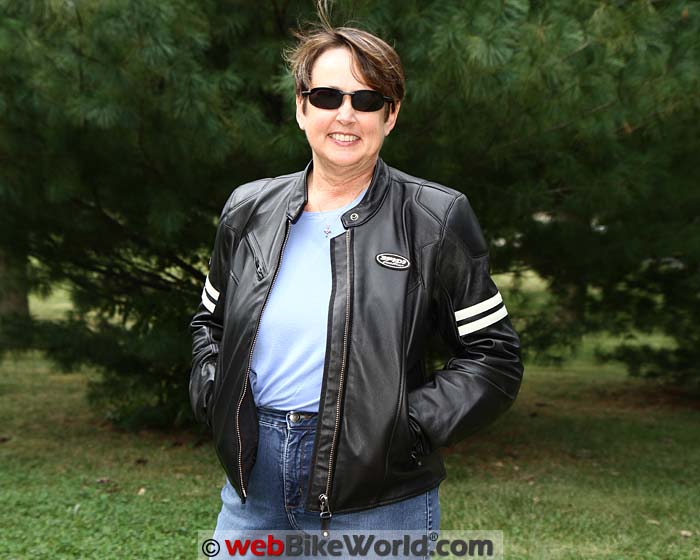 Conclusion
The Spidi Ace leather jacket is a premium-quality jacket that looks good and performs well both on and off the bike. It's the type of jacket that you will get attached to quite easily, because it makes you feel special every time you put it on. In fact, I can hardly wait for a chance to wear it again on my next ride!
w

BW

 Review: Spidi Ace Leather Jacket
List Price (2016): $559.90
Sizes: Men: 46-60. Women: 40-50
Review Date: October 2016