Slime vs. AirMan Sparrow Air Pumps Review
Small and lightweight, both feature 12 Volt air compressors and simple operation.
They can be easily packed to provide essential support at home or when on the road.
However, the units are not equal when it comes to quality, function and performance.
The AirMan Sparrow wins hands down, and not just because it managed to pump a steady volume of air into tires without fail.
A rematch might be in the offing, but unless there is a big change to the quality and performance of the Slime product, it won't be a fair fight and the outcome would no doubt be the same.
Introduction
The original aim of this submission was to conduct an evaluation of one portable electric air compressor, also known as a pump or tire inflation device.
But shortly after opening the box things proceeded to go downhill, rapidly.
Ever the optimist, I remembered an earlier related article by Rick and "Burn" in which the opening sentence was, "The search for the perfect motorcycle tire air pump continues".
I couldn't agree more. So, why evaluate one unit when evaluating two would provide so much more perspective on the whole situation? The reasoning behind all of this will become clearer…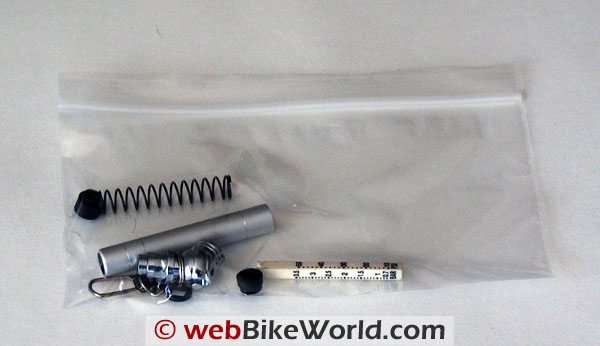 Background
We all know that correct air pressure for tires is one of THE most important issues to be dealt with on a continuing basis, yet so many of us ignore it completely or only think of it when reminded – positively or negatively.
Even though some physical effort is required, it must be done – there is no excuse for not doing it.
Even an OEM or aftermarket Tire Pressure Monitoring System, as I have on two of the Beemers, does not overcome the need to physically check tire pressures regularly.
As a test rider, it is the first thing I do every day before departing the garage, especially when getting on a machine that has not been exercised for some time.
I won't get into the debate over manual pumps versus electric compressors, small, large or otherwise.
Sufficient to say that I have a couple of manual air pumps and a couple of electric pumps.
The manual pumps are not the same standard as others reviewed on wBW, but are small hand-held devices acquired from local sporting good stores. They may be low capacity devices but they work.
Of late however, I have noticed that both manual pumps and electric compressor units are being stocked by motorcycle dealers and no matter what your individual preference might be an air pump of some sort is a critical piece of kit.
I usually carry one of each, especially when taking the longer road.
And before I forget, the other (really) essential ingredient to maintaining proper air pressure is a good quality air pressure gauge.
The two pumps involved in this tale are the Slime Power Sport Tire Inflator and the AirMan Sparrow.
Both are portable 12 Volt compressor style pumps and both lay claim to being small, lightweight and versatile, which they are.
What sets them apart is their respective overall quality and most importantly, effectiveness.
Slime Power Sport Tire Inflator Kit Overview
The Slime Power Sport Tire Inflator kit is, as its name implies, marketed by Slime, probably best known for its widely used tire sealant products.
The unit purchased is only one of many compressor models and kits offered by the company and it appears to be the simplest (base) offering, typically retailing for around $30.00 USD.
The compressor itself is a high power 12 Volt 300 PSI air compressor housed in a lightweight (thin) plastic casing. The main harness power cord with SAE connectors is 240 cm (8 ft.) in length.
Three SAE power connection harnesses with specific connectors — alligator clips, lighter adapter and direct battery hookup — are included.
The alligator clip harness is 45 cm (18 inches) long, while the other two are 35 cm (14 inches) long.
The soft fabric-covered air hose with Quick Clip is 45 cm (18 inches) long. Also in the case is a tire pressure pencil gauge rated for 10 to 50 PSI and a small instruction sheet.
The carrying case measures 4 in x 3.5 in x 2 in (H x W x D).
When everything is packed in the pre-formed carry case, my trusty scales indicated 854 g or 1.9 lbs., somewhat less than the publicized kit weight of approximately 2.2 lbs.
For packing purposes, less is better.
Contributing to the 'downhill' feelings mentioned earlier was the fact that the air gauge included in the Slime kit actually came in several pieces (photo above), all of which could be heard rattling around in the box when it was received.
The gauge had not been packed in the plastic cable bag, a fact that may have contributed to its demise. In any case, an inspection of the very cheap plastic pieces made me realize that it was beyond any hope of repair.
Just for the record, both air compressors were purchased independently at retail outlets and the quality problems with the Slime compressor may be confined to this particular unit.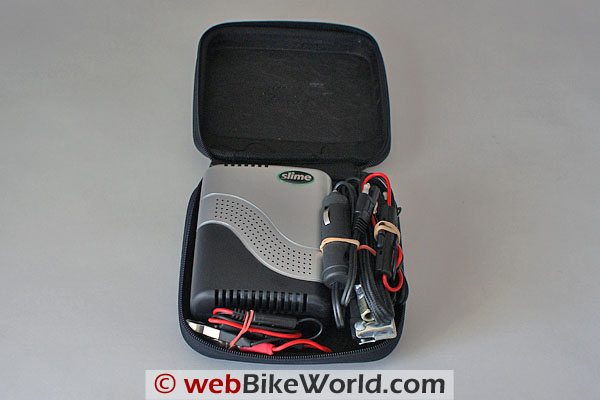 AirMan Sparrow Compressor Kit Overview
The AirMan is made by Active Tools A/S, a Danish company that has been producing compressors and inflators for over ten years.
The AirMan Sparrow in its basic form has been around for some time.
The company also produces active sealant products and related OE automotive products.
For what it's worth, the current version of the compressor is also identified as the AirMan Compact Air Compressor. No matter the packaging or name, it is widely available and typically retails for around $25.00 USD.
Compact and lightweight, the whole unit measures 65 x 150 x 130 mm (2.55 x 5.9 x 5.2 inches) and weighed in at 572 g (1.26 lbs.).
The unit features a 12 Volt 150 PSI compressor and is available with either alligator clips or, as mine is, with an ingenious power connector that adapts for use with both a cigarette (NA) or Powerlet/BMW-style plug.
A carry case is not really needed for the AirMan — it truly is self-contained.
The power cord is 49.6 cm (10.5 feet) long and can be safely wrapped up and stored inside the bottom of the housing. Topping it all off, literally, is a small built-in air gauge, marked for both PSI or bar.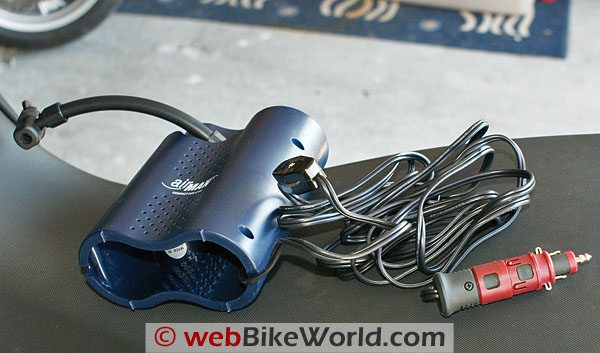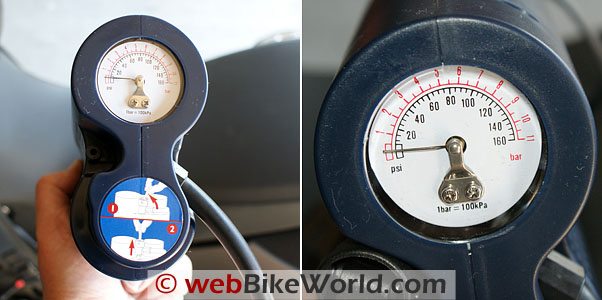 The Judges
The final measure of how effective the compressors are is just that, a measurement.
For this evaluation, I used two air gauges on hand, with a third being the gauge built in to the AirMan itself. One gauge is a heavy weight Accu-Gage 60 PSI item with a ten inch flexible air hose and heavy duty pressure fitting.
The second unit, made by Campbell Hausfeld, is an attractively styled one piece heavy chrome assembly with a 45-degree-angle pressure fitting.
It provides a digital readout and has a backlight to facilitate use in varying light conditions.
The Accu-Gage was my baseline and the Campbell Hausfeld averages one pound higher, while the AirMan Sparrow gauge agrees with the Accu-Gage – all in all, very little difference between the three of them.
Two Pumps, Two Tales
Neither compressor is truly 'high powered' – both will take more than a couple of minutes to bring a deflated tire back up to a minimal pressure and a bit longer to fully inflate it.
Both have warnings about not running the compressor for longer than the specified periods identified, and for good reasons, overheating being one.
Appreciating this, I undertook some small inflation tests first so as to ascertain function and performance levels of both units.
As the Slime compressor was to have been the primary unit evaluated, it went first.
The Bad
Once I had straightened out the SAE connector housed inside the top of the Slime air compressor housing, the main power harness was connected, although it did not seat very well at all and I was unconvinced as to how good a connection was actually being made inside.
Wanting to use the 15A BMW/Powerlet socket on the 2008 GS Adventure, I used the North American cigarette lighter plug harness first.
The necessary cigarette-to-Powerlet adapter cable was utilized and with the motorcycle running, the compressor was plugged in and then turned on.
'Poof!' — the 15A fuse on the Centech AP-1 strip had blown.
I replaced this fuse with a 15A item and tried again. After five seconds, the fuse blew again…not a good sign.
I know the Slime compressor is a heavy duty item, but as the alligator clip and battery terminal harnesses each have 15A glass style inline fuses assemblies, so blowing a 15A circuit on the Centech seemed strange.
So, I cranked up the SUV and used one of its 20A accessory terminals to provide power.
Turning on the Slime compressor resulted in power being supplied and being maintained, but in moving the unit or the power harness it became evident that there was a short or poor connection somewhere – frustrating.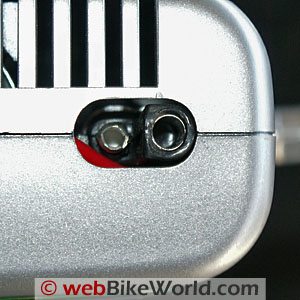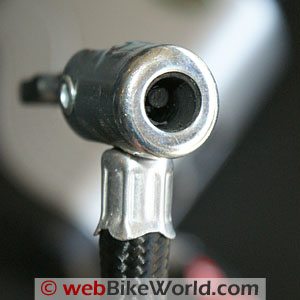 More Issues…
Along with this observation, three more 'issues' appeared as well.
The Slime air compressor is extremely noisy, it vibrates terribly (quick, where are the restraining straps) and, it (seemingly) generates very little air pressure. The air hose took about a minute to pressurize and just barely managed to get the kinks out of the soft hose.
After three minutes of letting the Slime compressor pump air, I shut the unit off and tried to quickly remove the air hose connection from the tire.
What a joke! I practically had to force it off the valve with both hands and in the process, lost as much, if not more air that might have been put in by the compressor.
With some practice using the metal-encased plastic connector on the Slime hose, it seemed to loosen up somewhat and another pressure test was conducted.
For all of the trials, I had lowered the air pressure in the tires to 20 PSI.
This time the connector went on without much effort and only a little air managed to find its freedom.
I turned the Slime pump back on, still powered from the SUV, and let it run for five minutes.
This time the connector came off without much effort and only a short 'puff' of air indicated some loss. In checking the air pressure with both gauges, readings of 21.5 and 22 PSI were observed…not much for the time involved.
I can put more in with a manual pump in half the time.
Wanting to give the Slime compressor every chance, I took the front tire down to the same 20 PSI and tried again…but this time I used the alligator clip harness connected to the battery on the big GS and started it up.
Same time frame, same results – less than three PSI pushed in to the tire. On the positive side, the air hose connector was getting easier to use…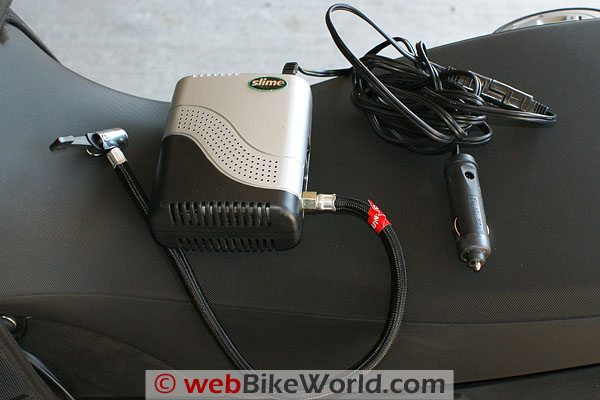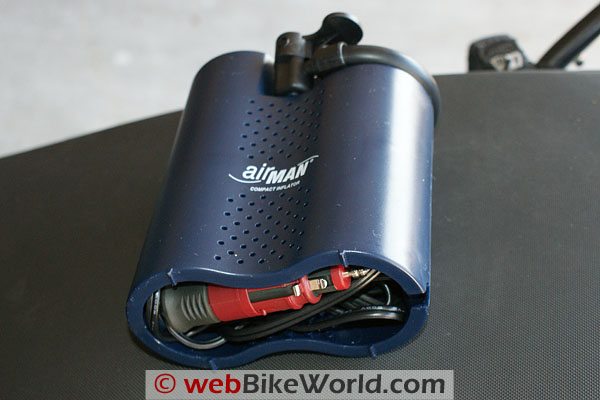 The Good
After a brief time out for a coffee and catch up on the notes, it was time to try the AirMan Sparrow unit, still nestled in its custom case (actually an old rubber-like shaving bag that holds the pump and air gauge perfectly).
The AirMan pump comes readily to hand and it is a simple matter to pull the power cord and connector out of the bottom housing and then release the air hose from its dummy connector on the top of the housing. Ready, set, go…
For objectivity, the SUV was again used as the power source, so the AirMan connector was adjusted to mimic a North American style adapter and plugged in.
With the AirMan pump sitting on the driveway, its heavy duty air hose and hard plastic valve is connected to the valve of the tire and the inline power switch activated.
The AirMan pump is far, far quieter than the Slime unit and gladly sits on the ground, buzzing slightly but not doing the 40 acre dance observed from the Slime compressor.
After five minutes, the connector was removed, with just a slight hiss of air heard. The air gauges indicated 30 and 31.5 PSI…almost back up to the 32 PSI start – good stuff!
As the AirMan compressor is rated at less than 10A, I removed the 15A fuse and put in a 10A fuse on the appropriate Centech slot for the circuit.
Quick manipulation of the power connector turns it into a BMW-style plug: into the 10A socket it went and the power switch turned on.
Five minutes of running the pump brought the smaller front tire back up to its start pressure of 36 PSI.
Conclusion
To put it all on the table, the Slime air compressor is an exercise in frustration. Its weaknesses add up to a failed product, at least the one I received, which was brand new, purchased from a motorcycle retailer.
Mass production and cost-saving practices are one thing: minimalist components and shoddy assembly are another.
The as-received condition of the (cheap) air gauge really was an indicator of how it was going to be.
Whether the small air gauge that is bundled with the Slime kit can be used reliably is a question that will have to remain unanswered for now.
The AirMan Sparrow on the other hand, although not perfect and with fewer accessories, just plain works.
The little compressor has been on more than a few road trips and while I have not had to use it yet (touch wood) others have and always successfully. Its built-in air gauge remains in one piece and actually works, really well.
All three air gauges, including the one on the AirMan, provided readings within 1.0 to 1.5 PSI of each other.
I believe the AirMan gauge can be trusted to provide a reliable reading.
From a purely subjective perspective, in following more than a few motorcycle forum threads from owners or users of both compressors, it seems that both of these brands can have their problems now and then.
But in general, the AirMan product is held in higher regard, is more widely carried and, is apparently more widely trusted.
So, to the distributor of the slime product, if you want to send along another kit to replace the one evaluated, I'm sure the Editor will be more than pleased to schedule a rematch of sorts and I will be pleased to referee.
In the meantime, I'm going to order another AirMan unit.
Editor's Note: About Those Names…
It's not clear where the "Sparrow" name came from for the AirMan compressor.
The manufacturer does not list the product by that name on their website (the Danish home website of ActiveProducts and the U.S. site is inoperative), instead calling it by the more prosaic "Everyday Compact Air Compressor".
UPDATE (7/09): Note from the U.S. importer regarding the AirMan Sparrow:
"It's now called the Tour60 instead of the Sparrow and it's made in China instead of Taiwan. It list for $24.99 instead of $36.99. I appreciate the kind words your company had on the unit."
Here is a .pdf spec sheet for the AirMan Tour air pump.
w

BW

 Review: AirMan vs. Slime Motorcycle Tire Air Pump Comparison
Manufacturer: Slime (AirMan out of business?)
List Price (2009): Slime: $39.95. AirMan: $24.99
Colors: Black (AirMan Sparrow). Silver (Slime).
Made In: China (Both)
Review Date: May 2009
Note:
 For informational use only. All material and photographs are Copyright © webWorld International, LLC since 2000. All rights reserved. See the webBikeWorld® 
Site Info page
. Product specifications, features and details may change or differ from our descriptions. Always check before purchasing. Read the
Terms and Conditions
!
Owner Comments and Feedback
---
From "P.H." (January 2013): "I owned an Airman Sparrow for a while. It worked well at home for my inflation needs, but didn't last that long before it died.
In the Slime world, I've had a cheap Tire Top Off that lived on the Concours. It failed after not much use.
They sent a me replacement but that one also didn't last long. Now I carry a larger Smart Spair SS-PDQ/06 without the case, which has been fine."
---
From "D.B." (4/10): "Since my AirMan Tour60 will be carried in a soft bag, not a saddlebag, I wanted to protect it from the inevitable rain storm. Good news: it fits perfectly in a zip-lock quart freezer bag. Waterproof!"
---
From "E" (5/09): "I tested these two pumps (here) along with the much more expensive cycle pump and Rob's Motopump and did not have any of the problems you did with the Slime.
I also bought 3 more of the slime compressors while they were on sale for $10.
I also own 3 of the AirMan compressors, two of them are the "automotive" versions, which use a longer hose made of a different (better) material and use a screw on valve instead of the plastic one.
Aside from those two changes it is identical to the "motorcycle" pump you tested.
I think you simply got a lemon or you bought it from a place that had VERY old stock. The first batch of the slime pumps were not made correctly in regards to the electronic connectors and adapters."
---
From "L.E." (5/09): "I too suspect that the Slime compressor you bought was defective and not typical. I have a $10 version; it didn't come with an air pressure gauge in pieces.
I found it pumps as well as any of these little guys do, makes and hell of a racket and jumps around like it's preparing to explode.
However, for the bucks I paid, I am satisfied. It is very compact and I'm confident it'll work on the road. It doesn't impress one with its quality, but it works well enough."
---
From "R.O." (5/09): "Once again great job with your test plan on the two products, I am in the market for a hand held air pump, and I was glad to see the RSS feed on this item.
Thank you for confirming how importing it is to keep the correct tire pressure, at all times. (unlike a car we have only 2tires)
One key part I was looking for that was not mentioned was:
How accurate was the air pressure for the "AirMan" (did it give false reading — 40 PSI but really 35, or 45)? Too many times, you go to a gas station, and their air reader say 40, but another station would say 45.
Anyway, keep up the good work, and keep telling the public 'that everything you test is bought at your local motorcycle shop or internet as a regular person'.
That so important, because if they knew that you were testing the product, they would ship you the best-of-the-best, and that not fair to buyers like myself.
AirMan win, and tell the company I am going to buy one, because of your test."
HBC's Reply: I purposefully took the AirMan Sparrow in to work on two days, and used it to pump air into three different test machines, as well as the wall-mounted system that is normally used, along with individual gauges.
All air pressures were measured with the Accu-Gage used for the evaluation, an Accu-Gage at work and the wall-mounted master gauge, as well as the built-in AirMan gauge.
Given these additional (ad-hoc) tests, I have no hesitation in confirming that the AirMan consistently provides readings that are within one PSI (plus or minus) of the other three two gauges.
My use of the term 'fairly accurate' was not well qualified in that section, although the information published elsewhere in the article provided more specific data."
---
From "J.A." (5/09): "I've carried a Slime air compressor on my bikes for over 10 years and used it many times to top off my tires at rally camp sites.
My Slime compressor came with a built-in gauge which I consider a mandatory component if you don't want to be disconnecting the compressor every few minutes just to check your progress.
Clearly my compressor is not the same as the one you tested.
I recently purchased a Harbor Freight compressor to carry in another bike.
It was too bulky and required that I remove the plastic case and carry the components in a zip lock bag. It seems to work well, though I've only tested it once to date. Complete with a gauge, it was on sale for $3.99.
On each of my bikes I also carry several CO2 cartridges as a back-up to the compressor."
HBC's Reply: I agree — we also carry cartridges and a full patch kit with us, along with a small one-tire can of compressed air (we usually go through two or three a year, as they get 'borrowed' by others). Spare tubes are now also carried for the F800GS…
---
From "J.K." (5/09): "I have had the Slime for a couple of years now. It has worked fine the couple of times I had to use it.
I think I paid $10.00 on sale somewhere, you get what you pay for. I did throw the pressure gauge away right away, any tire gauge that is "fairly accurate" worries me."
---
From "K.B." (5/09): "I have had the slime for a little over a year. Low price and compact, I figured it would be a great on the road tool.
I have used it intermittently and agree the little bugger does vibrate quite a bit.
Also it is prone to overheat if ran longer than the recommended period. But to date it has met the requirements, use it on both my bikes and even on the car once. Usually shut it off at a minute to allow it to cool.
Probably is not as efficient as a hand pump but it is less work.
Take care and keep the articles flowing, thanks for the great job you all do for the riding community."
---
From "H.S." (5/09): "The airman pump works well for me as well, but I bought a car specific pump that does not have the BMW type connection (but does include ball and air mattress type connectors).
The difference is that I only paid $10 CAD ($8 USD) at my local auto parts store (partsource). Great web site!"
Other WebBikeWorld Air Pump Posts